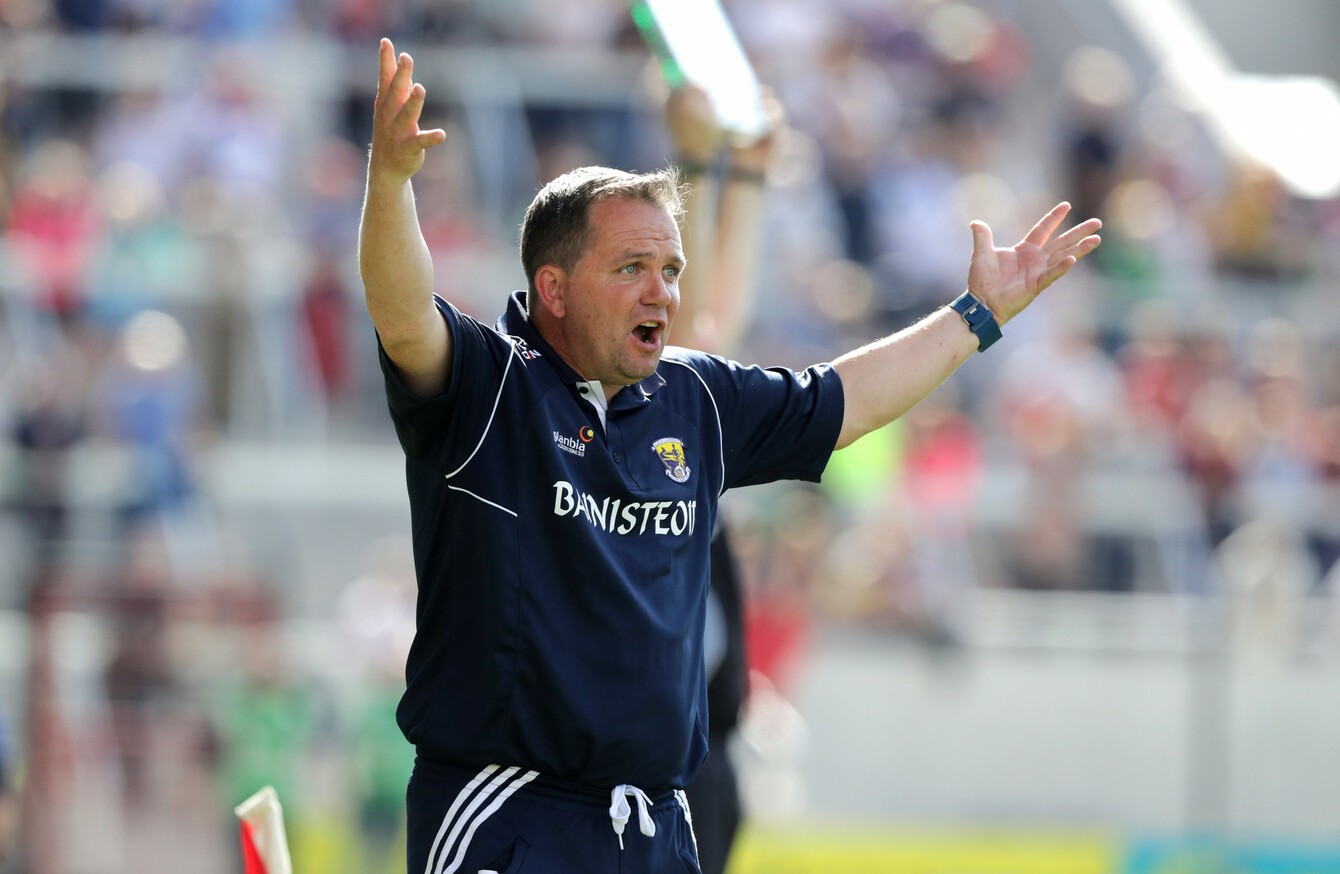 Wexford manager Davy Fitzgerald during his side's defeat to Waterford.
Image: Morgan Treacy/INPHO
Wexford manager Davy Fitzgerald during his side's defeat to Waterford.
Image: Morgan Treacy/INPHO
DAVY FITZGERALD HAS passionately defended his side's style of play following Wexford's quarter-final exit from this year's All-Ireland last weekend, stating that smaller counties must play to their strengths.
Speaking on Newstalk's Off the Ball last night, Fitzgerald responded to criticism from pundits for his use of a sweeper, highlighting the importance of such tactics for counties like Wexford to be able to compete.
"I don't have a problem with the guys that were giving criticism,"Fitzgerald said of criticism from Michael Duignan and Henry Shefflin in recent weeks.
"They were great hurlers in their own right but I don't think they understand exactly, from a management point of view, where the game is now and what you have to do to try and compete."
We all haven't got the same players in each county, right? Since the mid-1990s we've lost Offaly — they've obviously been trying to play a certain way, I don't know if it's worked or not — but we've lost them, and we've been pretty close to losing one or two others.
"Over the last 10 years, Kilkenny have won seven All-Irelands, Tipp have won two and Clare have won one. Now Clare have won one, and we used a sweeper in the semi-final and the quarter-final and if we didn't we would have been in big trouble.
"We had to, we had to play to our strengths, we had a very fast team that could move around so we had to play short and long ball.
In my view, you have to play with what you're dealt, and I think that's very important. It can't be the same rule for everyone or else you're just going to have the same two in your final every time — maybe three."
Fitzgerald also rubbished the idea of playing an off-the-cuff style of hurling.
"I get some laugh when I hear that", the Wexford boss added.
"It's actually hilarious. What they're saying is 'just get the ball and hit the ball'. That's the extent of the thinking."
He suggested RTÉ panelist Duignan return to management in order to experience the intricacies involved in the role.
I've met Michael on a number of occasions and I think he is a good guy and I like him. But that doesn't mean that I think he's right. Surely I'm allowed to have my opinion the same as he is allowed to have his.
"I'd encourage Michael, if he could, to just go down the sideline, get involved with maybe Offaly and put his thoughts into action and see how he gets on, because it's a different thing when you have to go down to that sideline and make decisions for 30 of a panel to get the best for them, to give them a chance to be successful."
The42 is on Instagram! Tap the button below on your phone to follow us!