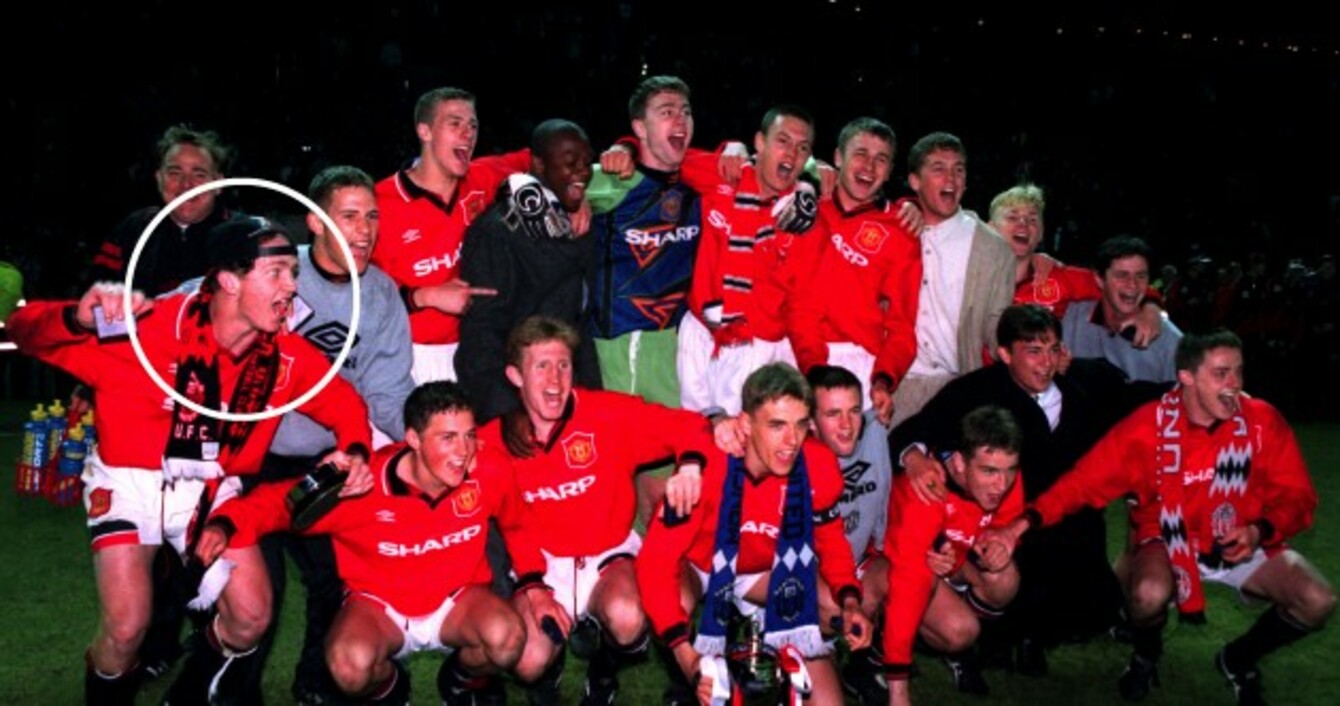 THERE ARE MOMENTS when you get a tingle down the spine as Dessie Baker recounts some stories.
It's 20 years since he left Manchester United and returned home to the League of Ireland, becoming a seasoned winner at Shelbourne and then Longford and Shamrock Rovers too.
But he learned his trade over a four-year period at Old Trafford, walking into the club at a time when the first-team were on the cusp of unprecedented success under Sir Alex Ferguson while the famous Class of '92 had just claimed a first FA Youth Cup in almost three decades.
"It feels like it was only yesterday", he says.
"My kids are going to school now and you're trying to tell them 'Your Da played for Man United'. It just makes you think back. People say I could've gone to a lesser club and made it because of being at a lower level but when the opportunity comes to play for a club like Man United, you can't refuse it. It's too hard to refuse it. Especially when Alex Ferguson was knocking at your door 24 hours a day trying to get you to sign.
I'd never change it. Never. When you look at the players who went to smaller teams and didn't make it and came back to the League of Ireland, some of them only lasted two or three years. I was six years at Shels and 13 years in total. The base I had from being at United stood to me when I came home, I think".
Baker started at Marks Celtic in Tallaght but signed for Crumlin United just before heading to Belfast for the annual Milk Cup. He was a guest player for Stella Maris and, despite the team not reaching the final, Baker was named Player of the Tournament – an honour later bestowed upon the likes of West Ham's Joe Cole (twice) and Michael Branch of Everton. Inevitably, clubs started sniffing around. But one left a lasting impression.
"I had 11 trials after that Milk Cup competition", he says.
"Meself and me father got the bus home from town after getting dropped back in Dublin. We were walking up our road and chatting about who was keen and where I was going to go to. At that time, we hadn't heard anything from Man United. We had a porch in our old place in Tallaght and as we're walking up the avenue, we see this man sitting inside. My Dad said, 'Do you know who that is?' and I'm saying, 'Nah, never seen him before'. Neither of us had. It was Joe Corcoran, the chief scout for United in Ireland. He was sitting in the porch waiting for me to get back that day. Nobby Stiles was the boss of the United youth team that had been playing in the Milk Cup and he said to Ferguson, 'I've seen a lad here. He's a Man United player and we have to sign him'.
Ferguson called Joe on his phone and spoke to me. He asked what my plans were. I said, 'Well, Spurs have been onto me'. And he butts in. 'Ah, they're no good', he says. I said, 'Liverpool have been in touch too'. He butts in again. 'Ah, Jesus – no good'. He asked me, 'Where's your first trial?' I told him it was Spurs for a week and then onto Leeds. And he said, 'Listen, you're coming to Manchester United after you're back from Tottenham'".
Baker impressed during his United trial. He scored twice after being thrown straight into action in a 'B' league game. Ferguson liked what he saw.
"'What are you doing next week?' he asked me", Baker remembers.
"I'm going to fly over to Dublin next Wednesday and have a chat with you and your Mam and Dad'. Les Kershaw (United's former chief scout and academy head) was with him at the hotel and they nearly had contracts in their hands already for me to sign on that Wednesday. I did end up going to a few clubs but none had the same impact".
Signing on as an apprentice, Baker's initial impression was of an intensely competitive place. It was sink or swim. There was a glittering array of young talent, assembled from all over the UK and Ireland but only a certain amount of seats at the table. It was ruthless but necessary.
"On my first day at the club, there were about 80 players training – that was including first team and reserves", he says.
"I was shell-shocked. I was thinking 'How can you pick four teams from 80 players?' First team, Reserve team, 'A' League and 'B' League. The coaches would decide a maximum of 17 players involved in each group. But that still left a bunch of players every week who didn't play, who weren't even on the bench.
People might look back and say, 'Oh, you only played in the 'B' League' but there were so many players who didn't play at all. Really good players who had come through academies and couldn't get a game. So just to get in these squads to play in these matches was an achievement…Like, the following year, I stepped up and moved into another dressing-room with David Beckham, Paul Scholes, Keith Gillespie, Ryan Giggs, Nicky Butt, Kevin Pilkington, Chris Casper – all of them had played first-team football at that stage and you're walking into this squad".
That group of players had set the bar at a dizzying level. The bulk of the Class of '92 had made the step up. Only a few slipped between the cracks. It wasn't looked upon as the staggering, inexplicable success story it was. Instead, it was looked upon as the new normal. Winning a Youth Cup was now expected. Graduating to the first-team was expected. And not everyone could cope.
"It was 100% or you were out of there", Baker says.
"There was a player who came over with me – Paddy Lee – and he didn't really play for 18 months. He struggled to keep the pace, he had injuries – it just didn't work for some people".
As he rubbed shoulders with United's elite young players and looked to emulate them, Baker saw how they rarely switched off. 20 years on, he's still marvelling at their relentless drive and how they never seemed to be satisfied with doing the bare minimum.
"Maybe I didn't quite go that extra inch", he admits.
Source: majox88/YouTube
"Guys like Beckham, the Neville brothers, Scholesy, Nicky Butt…I remember watching them as a first-year apprentice. They weren't even in the first-team yet but they were still carrying balls out to the training ground for more work, still in the gym on days off. Gary and Phil were first in and last out to leave. Giggs and Sharpe were in the gym after training. The Nevilles would travel with the Reserves up and down the country for a midweek game. We'd be doing some work the following morning and next minute you'd see the boys pull up in their car outside.
You'd go to the schoolboy sessions at night-time and take the young lads for training once or twice a week and who's in the indoor hall? Beckham trying to land a ball in the basketball net from 40 yards. That's why his range of passing was so good. And people don't know these things. I remember sitting there one day and just watching him. Eric Cantona, my main man and who I loved to bits, would come up and ask our goalkeeper to put his gloves on and go back out so he can do some shooting for an hour: that's an hour after first-team training had finished, by the way."
As much as the younger players were an inspiration, Baker was there as United won three Premier League titles and two FA Cups in four years. He was cleaning the boots of champions, of high-profile stars, of proven winners. He was watching from up close, learning about the environment and what made it so special.
Even over a crackly phone line and even after 20 years, you can still hear the excitement in his voice as he paints some vivid pictures.
"Getting to train with the first-team was huge", he says.
"Cantona, Schmeichel, Pallister, Bruce, Denis Irwin, Roy Keane – you don't see those kinds of players nowadays. Getting to see these players work – people can never take those memories from me. People might say I never played for the first-team but I trained with them, I went away with them, partied with them. These lads I grew up with. Keith Gillespie I lived with. Robbie Savage I lived with. Going into Ferguson's office and having the chats with him.
Giggsy would throw me a few quid for cleaning his boots. And Keano would throw me a lot of boots throughout the year. He'd come in from training after a stinker and say, 'Listen, keep them fucking things' and he'd just fling them at me. Someone would call me 'Irish' and Roy would say 'Excuse me? What the fuck are you talking about? His name's not 'Irish'. It's Dessie' and there'd be arguments over that. Peter and Roy had that love/hate relationship. Keano would try and stand up for me against Peter and they'd be arguing and I'm standing in the shower and thinking 'God, I'm only 16 and these lads are fighting over me'".
Baker was highly-regarded at United and was a key part of the club's 1995 Youth Cup success, when a team captained by Phil Neville and also featuring the likes of Terry Cooke, Ronnie Wallwork, John Curtis and Michael Clegg beat a Tottenham side boasting five Irishmen in a second-leg shootout at Old Trafford.
Cooke found the net in the 89th-minute to level on aggregate and take it to extra-time and then penalties. Baker scored his as Stephen Carr missed one for Spurs. Cooke, who would make his first-team breakthrough just months later, stepped up and won it for United.
The following year, Baker was eligible for the Youth Cup once more but United lost in a quarter-final against eventual champions Liverpool. Baker scored but a 16-year-old called Michael Owen got a hat-trick for the Merseysiders and upstaged him.
At the end of the season, his contract was up and he was summoned to talk to Ferguson.
"It was 50-50 with me", Baker says.
"Fergie said to me, 'If you came to us a year earlier, you'd be closer to the first-team now'. My room-mates at the time were Gillespie and Savage. They were part of that famous Class of '92 and were on the fringes of the first-team. But I was a striker and Fergie told me they were about to sign another one. Sparky (Mark Hughes) had already moved away.
Jovan Kirovski was an American lad and he played up front. What a player that fella was. Him and Scholesy used to play up front. But he had to play so many first-team games to keep his work permit and Ferguson couldn't promise it and he left.
Ferguson said, 'All of these players are going to get pushed back into the Reserves next season because of competition'. So I was faced with the prospect of more football with the Reserves or even the 'A' team. But he looked after me. He sent me to Nottingham Forest and I went on tour with them. It was just unfortunate. The Youth Cup that came before me was unbelievable".
Does he think it's the same way now? Are young players motivated by underage success and winning trophies? Are they inspired by their peers to push on and dig deep and graft and stay behind after training and practice their passing in a basketball court? Or does everything revolve around signing that first contract and the money it brings with it?
"They're a lot more aware now", Baker says.
The money that flies around with these kids going away…I don't think it's fair. I always thought the reason certain players made it at Man United was because they worked hard. They weren't on good money then. Fellas now are heading into posh digs, they have so many resources. We had nothing. We had a snooker table in a place we'd go to at night. The rest of the time was sitting in the digs and cleaning boots for the first-team. Is it like that now? I don't know. It seems to come too easy, I think. There's a silver spoon in their mouths. Money in the bank. When these guys turn 18, they have a £250,000 signing-on fee. After four years, do you hear of them again? Not really".
As the conversation ebbs towards conclusion, I ask Baker if there are some standout memories that immediately spring to mind from his time at United. He lists off quite a few – the Youth Cup success, getting to train with so many of his heroes. Oh, and one more.
"Eric's first game back after his ban was actually a Reserve team game at Old Trafford against Leeds", he says.
"There were 40,000 people there. He got injured after about 15 minutes and I came on for him. I remember the announcer – 'Eric Cantona replaced by Dessie Baker' and the crowd just all went, 'What? Who the fuck is this lad?'