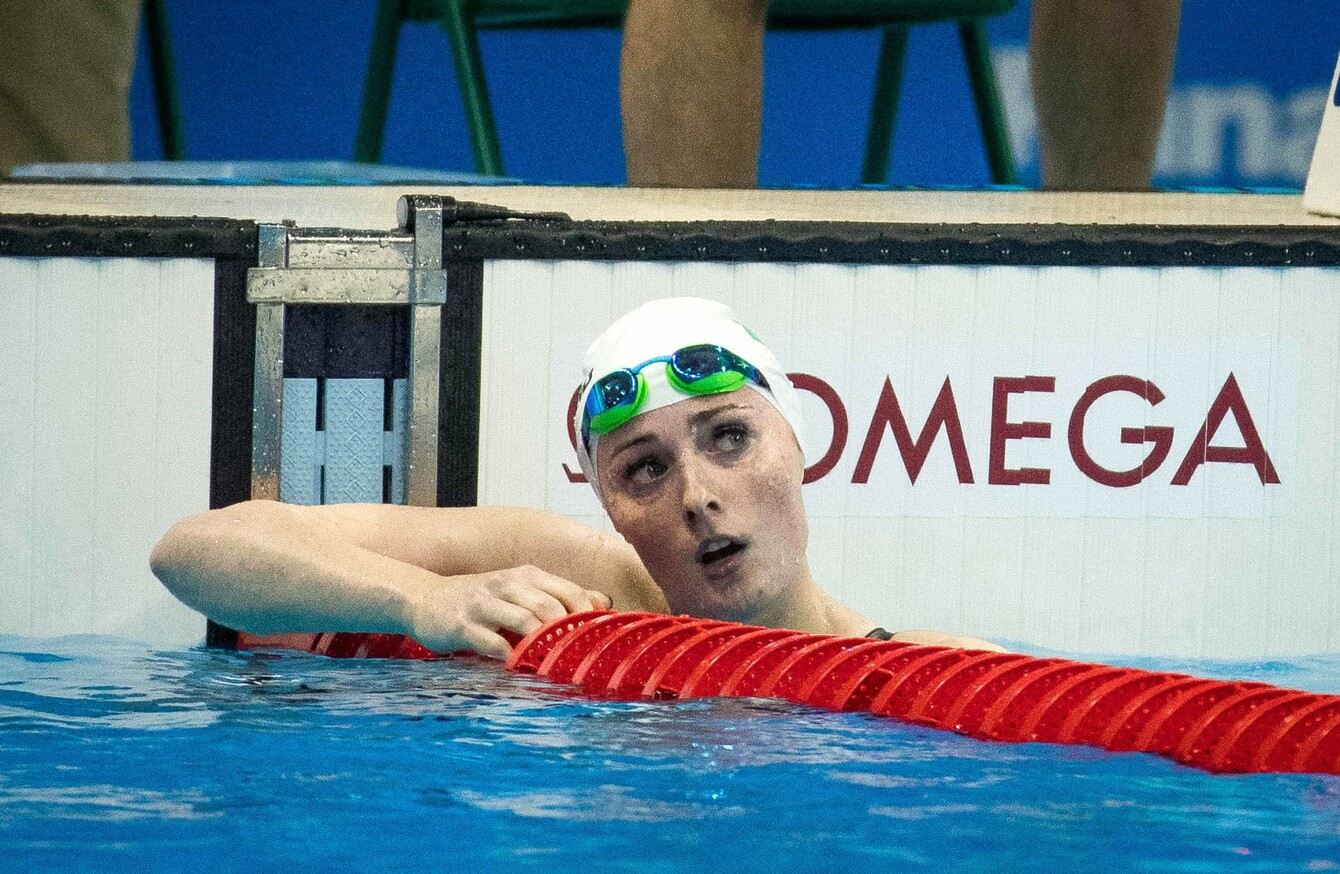 Ireland's Fiona Doyle after competing in the Women's 200m Breaststroke Heats at the 2016 Rio Olympics.
Image: Morgan Treacy/INPHO
Ireland's Fiona Doyle after competing in the Women's 200m Breaststroke Heats at the 2016 Rio Olympics.
Image: Morgan Treacy/INPHO
IN 2004, A young Fiona Doyle sat in front of the TV and watched in awe as the Olympic Games unfolded.
It was then that the Limerick native made a promise to herself — one day, she would compete at this grand event.
Fulfilling her childhood ambition, however, was far from straightforward.
Aged 20, she endured the bitter disappointment of narrowly missing out on the London 2012 Olympics, admitting in hindsight that she failed to put "swimming first and I was blaming everyone bar myself" for the mishap.
She later recalled: "When I didn't qualify back in 2012 I was devastated, it was like somebody had died, and I didn't even watch the Games when it rolled round because I'd trained my whole life for it and I missed out by less than half a second."
However, after many tears, intensive hours of training and plenty of support from her family, Doyle made up for her London disappointment in the summer of 2015, as she sealed qualification for the Rio Olympics by reaching the final of the women's 100 metres breaststroke at the World University Games in South Korea.
It was one of Doyle's best performances ever, though notable achievements in recent years have also included a silver medal in the 100m Breaststroke 2013 World University Games and a bronze medal later at the same event in 2015. According to the official Swim Ireland website, the 25-year-old star is also the Irish Record Holder in both the Senior Short Course and Long Course 100m and 200m breaststroke, as well as for 50m in the latter.
Doyle therefore looked all set to take Rio by storm until disaster struck. In October 2015, a car accident left her with concussion and severely hampered her preparation in the lead up to the Olympics.
It was a blow, but not an insurmountable one. Doyle persevered, though the pressure she put on herself was obvious.
In a pre-Games interview back in May, she spoke candidly about the difficulties of dealing with great expectations.
If I go to the Olympics and I don't perform, I'm going to be really upset, because I spent so long trying to get there and worked really hard at it, but I'm also aware that I'm going to let other people down, so that's nerve-wracking."
In the end, Doyle could not quite perform as well as she had hoped to. The Irish star had fulfilled her childhood dream of competing at the Olympics, but it was nothing like she expected.
The Swim Ireland High Performance Athlete of the Year for 2013, 2014 and 2015 just missed out on a place in the semi-final of the 100m breaststroke in Rio. She had needed to secure a spot in the top 16, but ultimately finished 20th, and was a mere .26 of a second off qualification.
A few days later, in the 200m breaststroke, she finished with a time of 2:29.76, and was nine spots off a semi-final berth in 25th place.
Doyle's frustration at this disappointment was exacerbated by certain athletes she described as "cheaters". Her 100m breaststroke heat was won by the controversial Russian swimmer, Yulia Efimova, who had originally been prevented from competing after testing positive for the banned substance meldonium.
To make matters worse, it was not even the first time Efimova, an eventual silver medallist in the 100m and 200m breaststroke in Rio, had failed a drugs test. In 2013, she served a 16-month suspension after anabolic steroids were found in her system.
The Limerick native was heavily critical of Efimova as well as authorities' lenient stance towards athletes guilty of breaking the rules.
Speaking to the Irish Times, Doyle accused FINA, the world swimming governing body, of caving in to pressure from Russian President Vladimir Putin, adding that Efimova had "gotten away with it again".
Suddenly, the glamour that attracted Doyle to the Olympic Games as a child was less apparent, while the murkier realities left her admitting that the experience of representing Ireland at the highest level had been "soured a little bit".
With several months now having elapsed since Rio, Doyle admits she is still coming to terms with everything that happened in that chaotic week.
I'm disappointed by it," she tells The42. "It definitely did not go as planned — a lot of it was out of my hands.
"I'm not sure I'm quite there yet in terms of finding positives… I still swam well, it just wasn't (as well as) I know I'm capable of.
I'm still glad I got the opportunity to go and see (what I could do). I was fitter and faster than I've ever been.
"But it didn't matter, I didn't get enough preparation beforehand at the start of the year because of the (car) accident.
I had only had one shot at it, so I'm disappointed. It's not a great place to be."
The experience of finally being at the Olympics, Doyle explains, was almost overwhelming at times.
It was difficult (compared with other swimming competitions) and it was more pure excitement… I think, in a way, that probably caught me off guard, because I wasn't expecting to be that excited.
"It was the Olympic Games, I felt like people should be running around like headless chickens, but everyone was so calm.
You can't really prepare for it if you've never gone… You can do everything (in terms of preparation), but it's a completely different ball game (when you're there)."
And as for her controversial post-race comments? While they were made in the heat of the moment, Doyle does not regret what she said in the slightest.
I've been around the block, I've done interviews, I'm aware of what I'm saying, even if I'm emotional.
"Everything that I said I still 100% stand by. I wholeheartedly believe in what I said. If I was to do it again, I'd say it again — I'd probably say more.
I don't think it's fair on athletes that if your country has enough money, you can dope as much as you want.
"I don't see it as fair that FINA turns around and the IOC turns around and says that 'we'll give them another chance'.
It's kind of turning their nose at those athletes that are actually trying to be clean."
While acknowledging that her performance was not good enough in Rio regardless of these controversies, Doyle remains steadfast in her antipathy for the status quo.
To do everything you possibly can to be clean and to know that you're competing against these athletes, it's heartbreaking. Particularly at the level of the Olympics. They only come up every four years.
"Every athlete is aware of these dopers, or has some idea of doping so that possibly there are question marks (over certain athletes).
Although I do not blame my problems on the situation at all. My performance was down to me and I'm not making excuses for it at all.
"But at the same time, it's frustrating as an athlete because we know what we should and shouldn't be putting into our bodies, we've been told over and over again that we are responsible for our bodies. If we are caught with something, then it's no one's fault but your own.
And for these people to be getting away with it, it kind of makes me think: 'What are (the anti-doping rules) for?'
"I don't think it's fair and I think governing bodies should be doing and saying more about it. I should have received a lot more support from governing bodies for what I said.
"But I think that's why a lot of athletes are afraid to say things, because the governing bodies are turning around and (effectively) saying: 'It's not a big deal.'"
So what of the future? Doyle says everything is "up in the air". Since Rio, she has been back swimming and trying to "have fun more than anything else" in the pool.
Earlier this month, she competed at the 2016 FINA World Swimming Championships in Ontario, reaching the semi-finals of the 100m breaststroke and finishing 13th ultimately.
In the years leading up to the Olympics, she was based in the Canada, and recently graduated from the University of Calgary with a degree in kinesiology — the scientific study of human or non-human body movement.
Despite returning home to Ireland for a short period over Christmas, Doyle will remain based in Canada as she continues with her training until August at least.
Doyle says that she has applied for medical school in Ireland and "depending on how that falls, I will continue swimming". For now though, she must wait and reflect on a somewhat frustrating year, but one that she will surely ultimately look back on with a degree of pride.
As she said herself back in May: "Every four years there are only 10,000 people who get to go to the Olympics and, of that 10,000, only 900 are swimmers. Break that down 50:50 and there are only 450 women in the world who get to go every four years and I'm one of them. People forget that so easily."
The42 is on Instagram! Tap the button below on your phone to follow us!