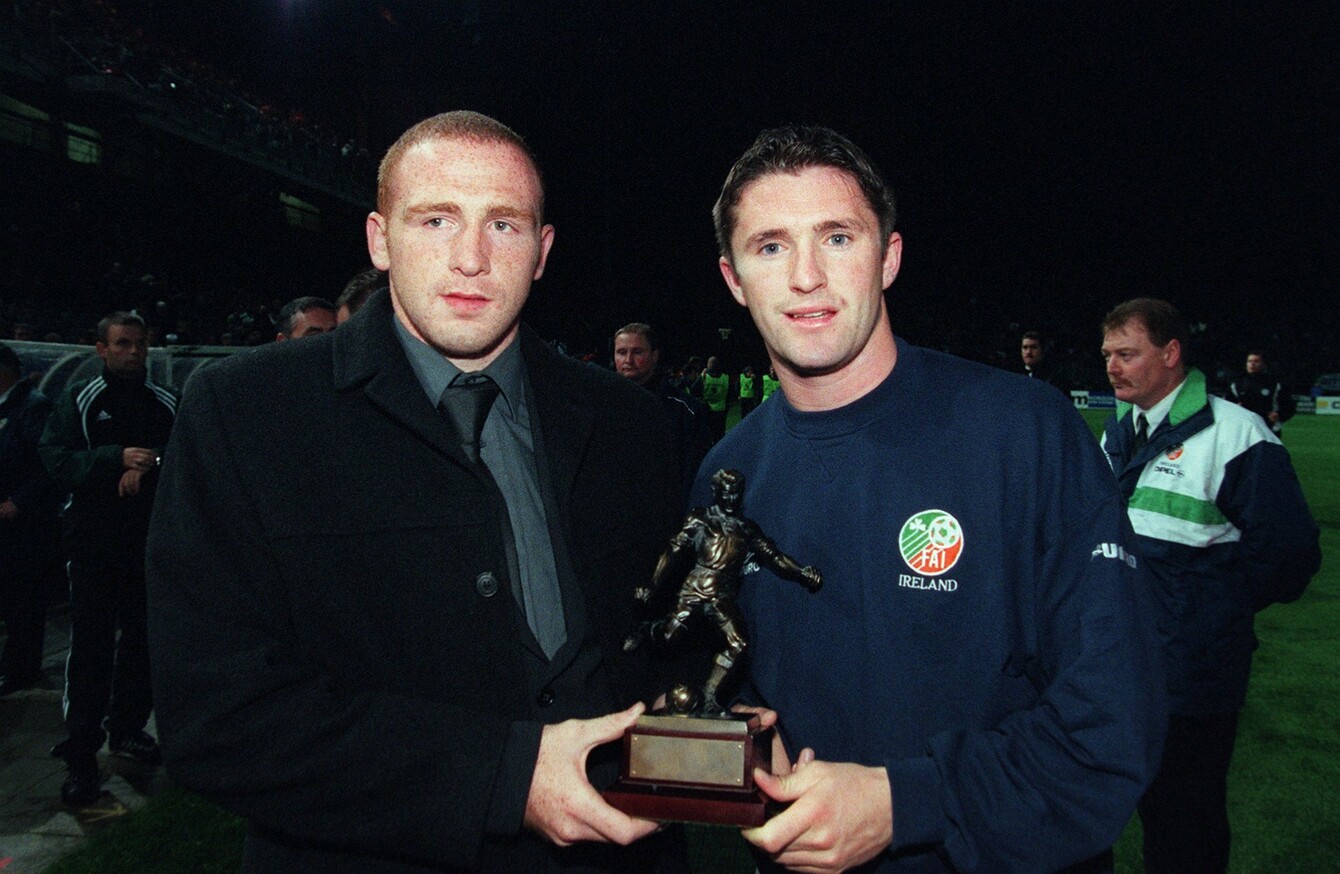 Robbie Keane presents Glen Crowe of Bohemians with his League of Ireland player of the month award in October 2000.
Image: Billy Stickland/INPHO
Robbie Keane presents Glen Crowe of Bohemians with his League of Ireland player of the month award in October 2000.
Image: Billy Stickland/INPHO
AS A FOOTBALLER, Glen Crowe needs little introduction.
In over a decade playing in the League of Ireland, he scored an incredible 159 goals, leaving him seventh on the all-time top goalscorer list.
In November 2002, his exceptional domestic form was recognised at international level. Don Givens, who was serving as caretaker manager following Mick McCarthy's departure, made Crowe the first League of Ireland player in 16 years to represent his country as he featured in an Athens friendly against Greece.
Not since Shamrock Rovers' Pat Byrne lined out against Czechoslovakia in 1986 had a player from domestic football appeared for Ireland. Crowe would go on to win one further cap in April 2003, replacing Robbie Keane as a last-minute substitute in a 1-0 home friendly win over Norway during Brian Kerr's tenure.
Yet for Crowe, the path to this momentous achievement and gaining renown as one of the League of Ireland's greatest ever players was far from easy. The dream of soccer stardom began when he was aged five years old, although it seemed more like a nightmare initially.
My older brother used to drag me out to the wall at the side of my nan's house and he started belting balls at me basically," he tells The42.
"I didn't enjoy it. I didn't like football. It probably took a year or two of him whacking balls at me before I started enjoying it.
He would've given out to me if I let goals in or for not trying and stuff like that. I thought: 'I'm not getting away from this so I might as well try to enjoy it.'"
After this initial character-building experience, Crowe was ready for organised soccer. Mountview FC's pitch was located directly opposite his house, though they didn't have a team in his age group, so the young footballer joined Clonsilla-based club St Mochta's instead.
At Mochta's, we were in the North Dublin league," he recalls. "We had a very good team. When I left, three (other players) left and went to St Kevin's Boys.
"They would have been good enough (to stay in the game), but for whatever reason (they didn't)."
Crowe's talent for scoring goals quickly became evident and it wasn't long before he joined Stella Maris, one of Dublin's most renowned schoolboy clubs.
Having excelled with Mochta's, the starlet immediately noticed the higher standard at his new side. Notable names such as Stephen Carr (later of Tottenham and Newcastle),  Trevor Molloy and Stuey Byrne were in the year ahead of him, while future League of Ireland players including Simon Webb and Shaun Maher were on his team.
Never once did I ever class myself as a star player. At Mochta's, because I was scoring goals quite regularly, I would have got praise off the manager," he explains. "Stella Maris was different, because it was packed full of good players that were playing schoolboy international football."
Crowe didn't stand out immediately in his new surroundings. Carr, Webb and Alan Mannix all secured moves to Tottenham in the years following his move there, but he had to wait until the age of 17 before a move to Wolves eventually came about, having impressed in three separate trials with the club.
Initially at least, the extra years Crowe spent at home seemed a blessing in disguise. He had a relatively swift impact at Molineux and made his senior debut off the bench towards the end of his first season at the club in their penultimate match of the campaign.
A dream couple of months became even more surreal the following week. In Wolves' final match of the campaign, in May 1996, Crowe made his first start for the club, scoring his side's only goal on his home debut during a 1-1 draw with Charlton.
It all happened so quickly," he remembers. "It's a whirlwind that you don't really have to think about. It's only afterwards that you really appreciate it."
The future looked extremely promising for the teenage striker as that extraordinary first season came to an end, but he would soon be eclipsed by another Dublin-born striker who arrived at the club that summer — a skinny, elusive and endlessly energetic 15-year-old by the name of Robbie Keane.
Source: ScottyWWFC/YouTube
Little did he know it at the time, but Keane's arrival effectively signalled the beginning of the end for Crowe. The man who would go on to become Ireland's all-time leading goalscorer was considered a prodigy even then. As the Tallaght native's manager at the time, Mark McGhee, later recalled:
We were going north on a tour to play some games so I took (Keane) with us and, by the time we came back, it was even more obvious he was our best player.
"So I had phoned ahead to tell the club to prepare a contract — not the usual ones you give to 16-year-olds but one that would take him through until he was 19.
And then, by the end of pre-season, I was asking them to give him another one!
"By the start of the season I had decided he was going to play.
He made his debut at Norwich and we won 2-0. He scored both goals. And at the end of the game, I phoned the club again and said: 'Get another contract ready'.
"So Robbie signed three different contracts in the space of three months. He was brilliant — he still is."
Crowe, as most other players in his position would be, was overshadowed by the phenomenon that was a young Keane. And while the latter went on to play at a higher level and the former ultimately didn't, it still is quite a remarkable coincidence that two great goalscorers of Irish football — even though their circumstances were entirely different — at one point saw their careers intersect. It wouldn't last long, however. After Crowe's memorable first two games, he went on to make another eight appearances for Wolves, but struggled to have the same impact thereafter.
A lot of the lads probably play youth team, go into the reserves and then go home. When I went over, I played first team for Wolves, but Robbie Keane came along and that was the end of my chances," he says.
"There was no holding Robbie back… 15 I think he was at the time and straight from the outset, he was lighting up games, scoring goals. You could see he was going to be a star player. It was just a matter of time as to when he got in the first team.
(Future Ireland international)

Dominic Foley

was there as well and he was in and around the first team, so for someone like Robbie Keane to go in and play so many games at a young age for Wolves showed how good he was. There was no shortage of money at Wolves in those days, so they could easily have gone out and bought players if they needed to."
Finding first-team football increasingly hard to come by, Crowe grabbed a couple of goals and some invaluable experience playing in the unforgiving environment of England's lower leagues amid short loan spells with Exeter (twice) and Cardiff.
Yet with Keane's incredible rise showing no signs of abating, Crowe was deemed surplus to requirements upon his return to Wolves in 1999. He subsequently signed for Plymouth a Third Division side at the time, and featured in the famous game where goalkeeper Jimmy Glass rescued Carlisle from relegation in dramatic, last-gasp fashion (see below).
Source: Patiala Pegh/YouTube
But after just one goal in 11 appearances, Crowe again was allowed to leave and the dejected youngster returned to Ireland just three years after that dream (full) debut at Molineux.
Crowe's troubles were far from unique, of course. Indeed, the fact that he got as far as the first team would make him somewhat of a rarity, particularly nowadays, with only three percent of young Irish players travelling to England being rewarded with a second contract, according to former Ireland striker and ex-Sunderland chairman Niall Quinn.
Even at the time, Crowe was aware of how incredibly difficult it was to make it as a footballer abroad. Webb and Mannix, his former teammates at Stella Maris, ultimately endured similar fates.
They would have come back to League of Ireland clubs but wouldn't have hung around too long," Crowe explains. "Whether they fell out of love with the game I'm not sure. Maybe having such high hopes going over and coming back disillusioned (curtailed their footballing ambitions).
"They were definitely good enough (to make it in England), but I'm sure that happens to a lot of players who go over, especially at a younger age."
Yet having experienced a difficult few years in which little seemed to go right, a fortuitous twist of fate helped Crowe avoid becoming part of the depressing trend of Irish players lost to the game following a perceived failure in England.
What happened to me was my old youth team manager at Wolves, Rob Kelly, was a cousin of Roddy Collins. When I was coming back, he rang Roddy, and said 'listen, there's a lad coming back now, bring him up to training'. That's how I ended up going to Bohs, through my old youth team manager being a relation to Roddy Collins.
"I came over, Roddy sold the club to me… I walked around the club and they were literally going to rip the old stand down in a couple of days, so he brought me down to Total Fitness, we had the use of this gym. They also had the training ground… It's not that he needed to sell it to me, but we had a half-hour meeting and I was more or less happy to sign.
He literally asked me how long I wanted to sign for. I went with a one-year (deal), because at the time I had hopes of going back to England."
Despite having been "toughened up" from his stint in the lower leagues across the water, adapting to the League of Ireland took time.
With Collins at the helm and Crowe gradually getting better, Bohs' rise was meteoric. In the 1998-99 season, they had narrowly avoided going down, as they beat Cobh Ramblers in a promotion-relegation playoff.
Having helped steer the club to safety after taking over from Joe McGrath, Collins then implemented a number of changes. Experienced players such as Brian Mooney and Peter Hanrahan were let go, with Crowe among a number of new players joining the club in their place.
In the Dubliner's first season with his new side, the improvement was instant. Bohs ended up finishing third in the league and were only beaten after a replay in the FAI Cup final against a talented Shelbourne side. The young striker, however, was far from satisfied with his own performance level.
I had a pretty average first year and Roddy still gave me another two-year contract after that. It was the second year then when I really hit the ground running. In the first year, playing week in week out for the first team against grown men was a learning curve."
Former Stella Marris pals, Molloy and Webb joined Crowe the following campaign, and the striker flourished as Bohs won their first league title since 1978, amid a dramatic end-of-season collapse by arch rivals Shels. They trailed the heavy favourites by a point and consequently needed to better their final-day result. Against the odds, Bohs won down in Kilkenny, with their fellow Dublin side losing at home to Cork.
Source: Joe Keane/YouTube
A win in the FAI Cup final against Longford a week later meant Bohs secured their first double in 75 years and the historic achievement seemed to justify the huge investment put into the club.
This success was not enough to save Collins' job, however. A disagreement with the club's hierarchy over a new contract saw Pete Mahon replace him as manager in the wake of the club's greatest triumph for decades.
Source: retroloi/YouTube
While the acrimonious departure left a sour taste and Collins remains a divisive figure at Bohs to this day, Crowe credits the manager as being a huge influence in revitalising his career.
After being let go by a club, you're not going to be brimming with confidence. But Roddy brought me back, he gave me games and confidence. Don't get me wrong, he knocked two shades of shite of me when I needed it at the time. He was a good man manager — he knew when I needed an arm round the shoulder, he knew when I needed a kick up the arse, and he gave me both.
"At one stage, I was scoring goals and he told me my work rate wasn't good enough. He said he was going to drop me if it didn't improve. Then I went through a spell where I wasn't scoring and he was bigging me up, praising me and keeping me going.
He definitely knew how to handle players… That had a big part to play in building my confidence back up and in the success I had after that."
One of Collins' last acts as manager before his sacking was to inform Crowe that he had been called up to the Ireland squad by Mick McCarthy for the 2002 World Cup qualifiers against Portugal and Estonia — something the in-form striker literally didn't believe initially.
I remember him ringing me up and telling me and I said 'yeah, whatever Roddy,' you're winding me up… Eventually, I came to believe him. It was a great honour and achievement as well, training and playing with some top professional players."
All of a sudden, Crowe was reunited with Robbie Keane and other internationals he had played with or against as a youngster, including Stephen Carr and Ian Harte. The friendly atmosphere also extended to members of the squad he had not met before.
Even the likes of Roy Keane… He would have had a limited League of Ireland background. He would have been asking me about how the league's going and about certain teams and players. So superstars asking you about it helps you settle in a lot quicker than if everyone's sort of going: 'Who's this? Don't know him.' Whereas I didn't get any of that at all."
This period, around the early 00s was undoubtedly the high point of a distinguished career. Crowe was racking up accolade after accolade. He was the league's top scorer three seasons on the trot between 2000 and 2003 and was named PFAI Players' Player of the Year twice during this superb run.
But having already consolidated his status as a club legend, Crowe risked provoking the ire of Bohs fans shortly thereafter. With the club in financial difficulty in December 2004, he made the switch to bitter rivals Shels, where he formed a successful partnership with another prolific and legendary League of Ireland striker, Jason Byrne.
Moreover, reflecting on the controversial move now, Crowe insists he has no regrets about the decision.
Shels were allowed to make contact with players, so I went down and met them and that was that," he says. "You can't be going down in the last couple of games with nothing on the table for next season.
"It was unfortunate the way it happened, but it was a football decision, and it's your job. You have to pay the mortgage. So at some stage, you have to look after yourself as well."
After two years at Tolka Park, Crowe returned to Bohs in 2007 for a second spell. Though it was not quite as prolific this time around — 23 goals in 93 appearances compared with 110 in 180 games in his first stint — Crowe still helped the club win two more titles, making it five in total over the course of his career (four at Bohs and one with Shels). So does he have a particular favourite out of the quintet of league trophies?
"It's like picking your favourite child, isn't it? I don't think I could," he says.
They all have big significance for different reasons. The one with Roddy (2000-01) when Shels caved in towards the end of the season. We came, I wouldn't say from nowhere, but unexpectedly to win the league. And obviously, to win the double as well (was great).
"The one with Stephen Kenny (2002-03) would have been the short season, the transition season. We would have dominated that league and deserved it. We would have been top of the league from the outset more or less.
The one at Shels (2006) would have been last day of the season where we had to match Derry City's result. We went and beat Bohs at Tolka Park last day of the season and I scored the winner — that would have been special for that reason."
Meanwhile, Crowe barely hesitates when asked to identify the best footballer he has played with or against.
"100% it would be Kevin Hunt," he declares. "I would have trained more than played with the likes of Robbie Keane.
From someone I played with regularly, it would easily be Kevin Hunt. He was narky when he needed to be, he could play football, he could dictate a game. Apart from scoring goals (regularly), he had everything."
After leaving Bohs for the second and last time, Crowe joined Sporting Fingal in January 2010 and spent a season with the now-defunct club before ending his time in the League of Ireland following their dissolution in 2011.
More recently, the veteran forward had a two-year spell with Malahide United before returning to where it all began — St Mochta's — ahead of the 2013-14 season. His scoring touch had not deserted him even at this point, and Crowe helped his boyhood club win three promotions as well as featuring as they qualified for the FAI Cup two years on the trot. He signed off in fitting fashion, helping Mochta's win promotion to the top flight of the Leinster Senior League in his final season before announcing his retirement in June of 2015.
Now 39, Crowe remains at Mochta's to this day in a coaching capacity.
There are actually quite a few ex-League of Ireland players playing for us," he adds. "There are lads who would have been in and around teams' set-ups whether it'd be 19s or the seniors — First Division teams and all that. So there's a lot of experience, a lot of good players. I haven't seen too many First Division games, but the standard wouldn't be too far behind at all. They'd have fitness and sharpness from training three or four nights a week and that'd be the only difference."
And while he enjoys the work he does, Crowe insists he has no great ambition to become a manager for a club at a higher level some day.
Coaching is where I'd see myself. I wouldn't be interested in going on to manage. I enjoy the coaching, putting the sessions on, doing it on a game-to-game basis. I'm happy for the manager to pick the teams, go through formations and things like that. That's as far as I'd go.
"I think it's probably the personality I have that management doesn't interest me at all and I don't think it ever will. At the minute, coaching is what I'm happy doing. I can still join in (for training sessions) sometimes, but my legs have well and truly gone.
(Away from football) I'm looking after my kids now. I do a little bit of fitness training, but that'd be on the side in the evenings now when my wife's home from work."
The42 is on Instagram! Tap the button below on your phone to follow us!