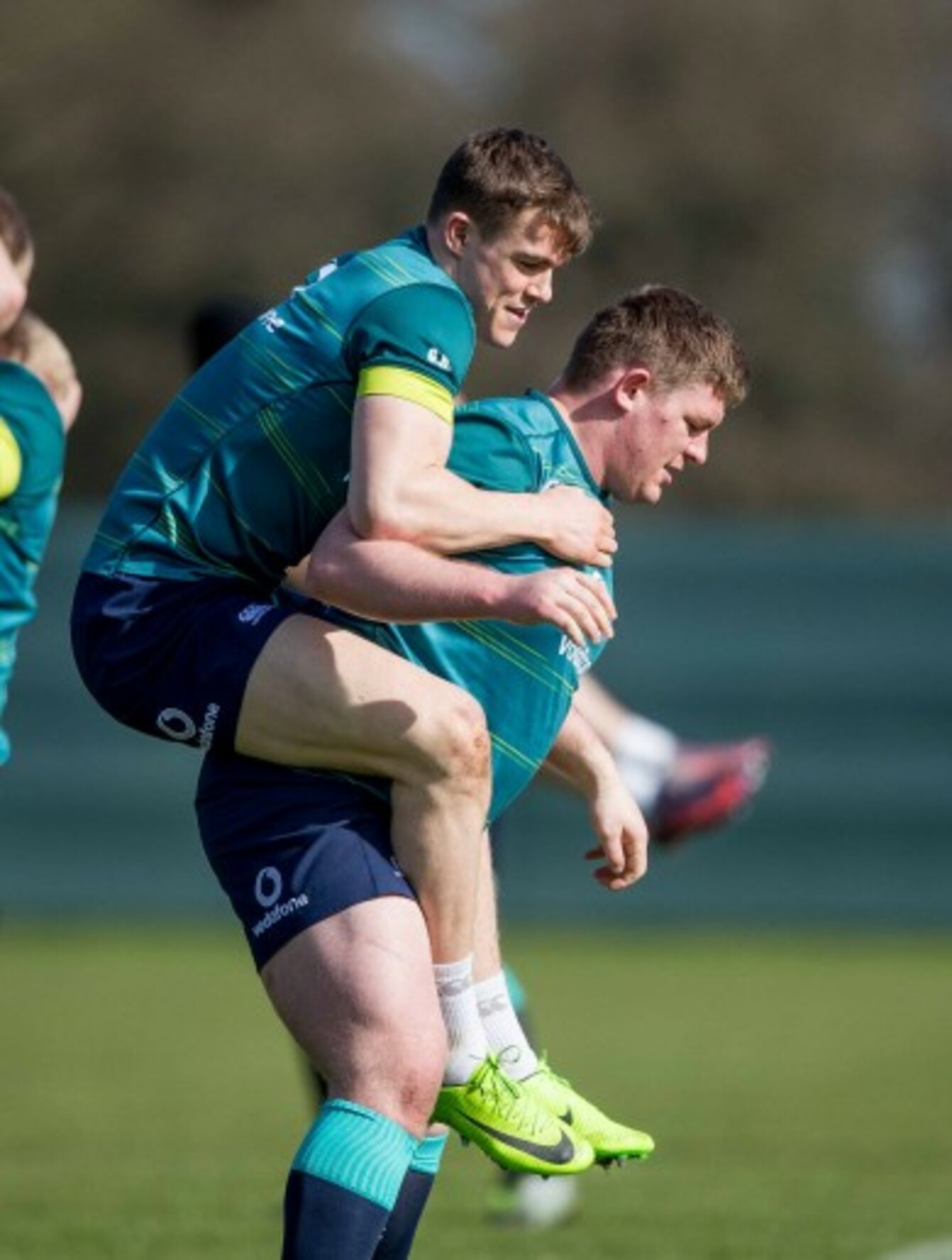 Lighten the load: Garry Ringrose gets a lift on Tadhg Furlong.
Image: Morgan Treacy/INPHO
Lighten the load: Garry Ringrose gets a lift on Tadhg Furlong.
Image: Morgan Treacy/INPHO
WITH EIGHT LONG months to come between home international Tests, it's vital for Ireland to leave at least an upward-facing tail on what has  - at best – been a pretty flat trajectory through this year's Six Nations.
England come to town as reigning Grand Slam winners, back-to-back Six Nations champions and with a palate that has forgotten the bitter taste of defeat having not sampled one since their World Cup in 2015.
There is plenty to draw the attention their way, not least that bid to break the All Black record of 18 straight Test wins. However, the hymn sheet for Ireland players at Carton House today included lingering notes on their own areas of improvement.
"It's not about that for us," said Sean O'Brien when asked about England's double incentive this week.
The most disappointing thing is that we haven't played to our potential. We want to be able to sit in a changing room and look at each other and be proud of each other and what we can do as a group.
"That's what we'll be pushing towards, a performance we know we're capable of, but we need that consistency."
It's tough to argue with that approach when the 2014 and 2015 champions are trying to steer clear of ending a second straight Championship with just two wins to their name. Still, it's a game of fine margins and Ireland remain confident in their ability to shade those areas against any team.
"We've created a lot of opportunities. A pass here or there, a mistake here or there has let us down.
"We can take a lot of confidence from that. We've created a lot of things, it's just about finishing them. It's making sure we play moment by moment and not letting those errors creep in at crucial parts of the game."
Prop Tadhg Furlong reiterated the idea that Ireland are concerned less with spoiling England's party and more with generating a feelgood factor of their own.
"We had a small glance at them yesterday before a bit of a D session, but we're focusing on ourselves and how to become a bit more accurate. Maybe come Thursday then we'll start to really hone in on England."
Saturday will be the 24-year-old's second experience of facing the old enemy. And given that he had play out of position in the pre-World Cup clash in 2015, Ireland's new first-choice tighthead can't hide his excitement at the prospect of a second bite.
"Probably my only time professionally as a loosehead," smiled Furlong.
"I'm looking forward to it, it's going to be a big challenge. They are ranked number two in the world, they're playing really well, it's a good barometer and test to see where you are, especially at scrum-time.
"They are very experienced players there, they're a dynamic pack, big weight, so it will be good to try to test yourself at that level."
The toughest Test, most likely, since the November visit of New Zealand. Though the mindsets of the teams that evening were very different to what lies ahead this Saturday.
The All Blacks were bruised and hell-bent on avenging their Chicago defeat and duly inflicted Ireland's sole defeat in the last six home matches. This time, it's Ireland who have a point to prove and England who are pushing new limits of confidence.
"I don't think anything we've done in November has been undone," says O'Brien.
"We're building the whole time. It's fine margins at Test level and we've let ourselves down on two occasions this year with some inaccuracies in our game and that's what's killed us.
"We haven't been playing poorly, we haven't been not creating chances. So they're all things where, if we get the fine margins right it ends up the other way around."
And, as Furlong points out, there's no better venue to turn the form book upside down.
"We're back at home at the Aviva, and when the players get there it's a sense of occasion about it.
"It brings out a massive amount in the players. We've a pretty strong and proud record there. So we want to try to hold onto that and push on."
Subscribe to The42 Rugby Show podcast here: