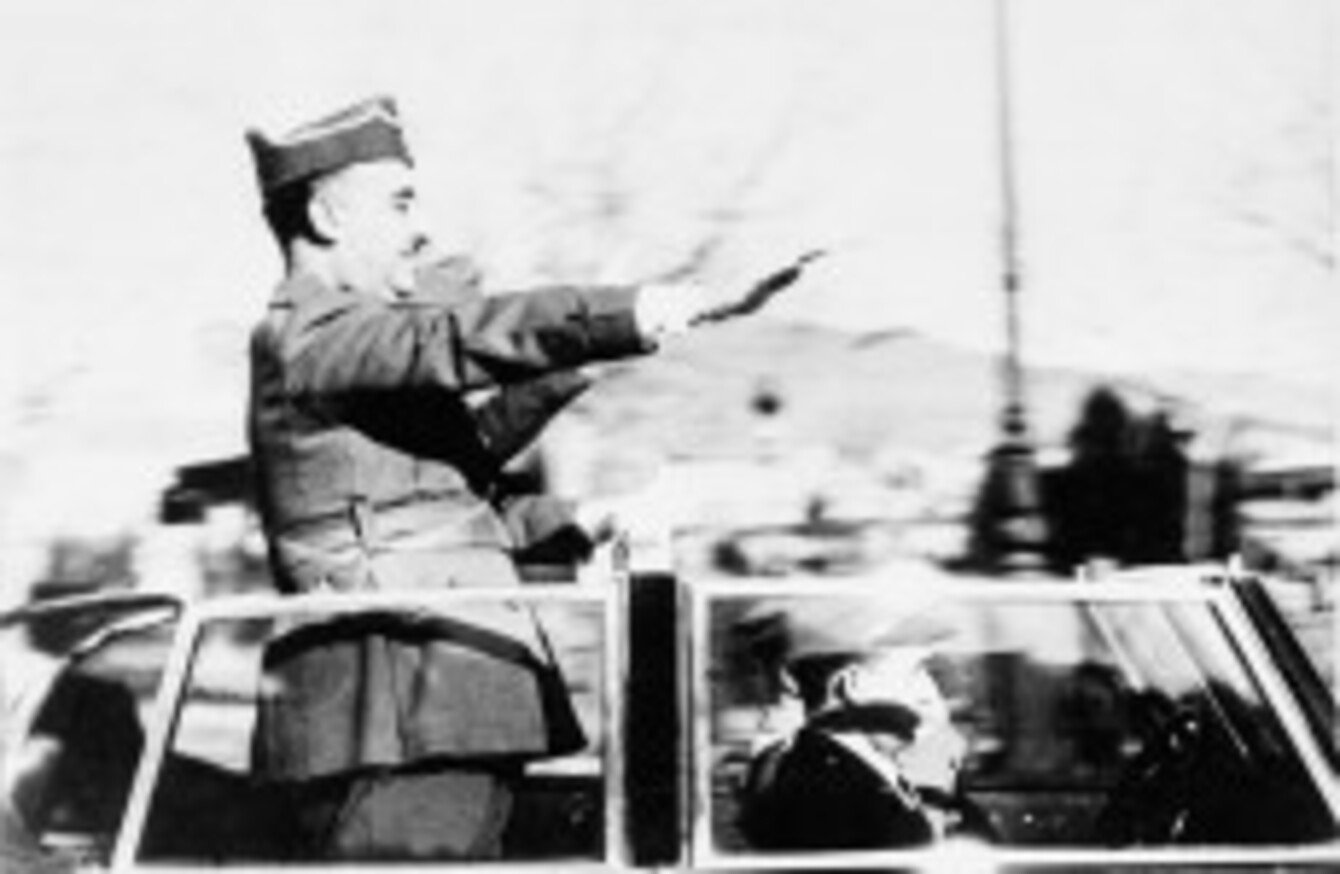 General Francisco Franco, leader of the Nationalist forces, salutes from his specially built armored car as he makes a triumphant entry into Barcelona in March 1939.
General Francisco Franco, leader of the Nationalist forces, salutes from his specially built armored car as he makes a triumphant entry into Barcelona in March 1939.
FC BARCELONA, AS we know it today, may never have existed in its current form were in not for the intervention of a quick-witted Irishman at the height of the Spanish Civil War.
In his new book Fear and Loathing in La Liga, Spanish football writer Sid Lowe looks at, among other issues, the story of Patrick O'Connell — a prominent football player and manager in the first half of the 20th century.
O'Connell had had a sporadically successful playing career, which encompassed six Ireland caps in addition to a stint as captain of Manchester United.
However, it was for his coaching career that the Dubliner was best known. After time spent with Racing de Santander and Real Oviedo, O'Connell took over Real Betis in 1931 and guided them to their first and only La Liga title in 1935.
Yet despite this unprecedented achievement with Betis, it is surely Barcelona fans who owe him the biggest debt of gratitude.
His Betis triumph prompted Barca to persuade O'Connell to become their new manager and while success in terms of silverware during his time as manager there was limited, his impact on the club's history remains crucial.
"[After becoming manager] he went back to Ireland for his summer holidays but was back in Spain by the time the war broke out," Lowe tells TheScore.ie. "He brings Barcelona, along with club secretaries and doctors, on the Mexican tour of 1937, which was a way of escaping the Civil War, of generating enough money to survive.
"Of course it's taking them away from the war and therefore helping their survival in a literal sense as well as an institutional one."
And this important act was not the only telling contribution he made to the club during his time there, as Lowe explains.
"The other significant aspect of his role there is that he persuaded a guy called Angel Mur to become the club's physio. Now Angel Mur says to him that he doesn't know anything about medicine. There's no way he can be Barcelona's physio. And then O'Connell says to him, 'don't worry, we're going to be on a boat, it's going to take a long time to get there, I'll teach you on the way'.
"So he goes out and buys a load of old anatomy text books and starts to learn up about it. And this is basically a guy who's kind of an all-round odd-jobs guy. A kit man, who becomes a physio. And that makes him a spiritual confessor for Barcelona. The guy in the dressing room who links the technical staff — i.e. the coaches and so on — with the players.
"He is in that job for something like 35 years. When he gives up that job, his son, who's also called Angel Mur, takes over. So in other words, the Mur family dynasty was the emotional and human heart of the Barcelona team — despite all the great players — for the best part of 75 years. And that dynasty, that generation, and the enormous almost spiritual importance of them, is all set in place by Patrick O'Connell, because of that tour of Mexico and the United States in 1937."
Unfortunately, after departing Barcelona and subsequently managing Sevilla between 1942 and 1945, O'Connell then left the football world for good and ultimately died penniless in London in 1959. Nevertheless, his legacy among ardent Barcelona followers lives on.
Fear and Loathing in La Liga by Sid Lowe is published by Yellow Jersey. More details here.