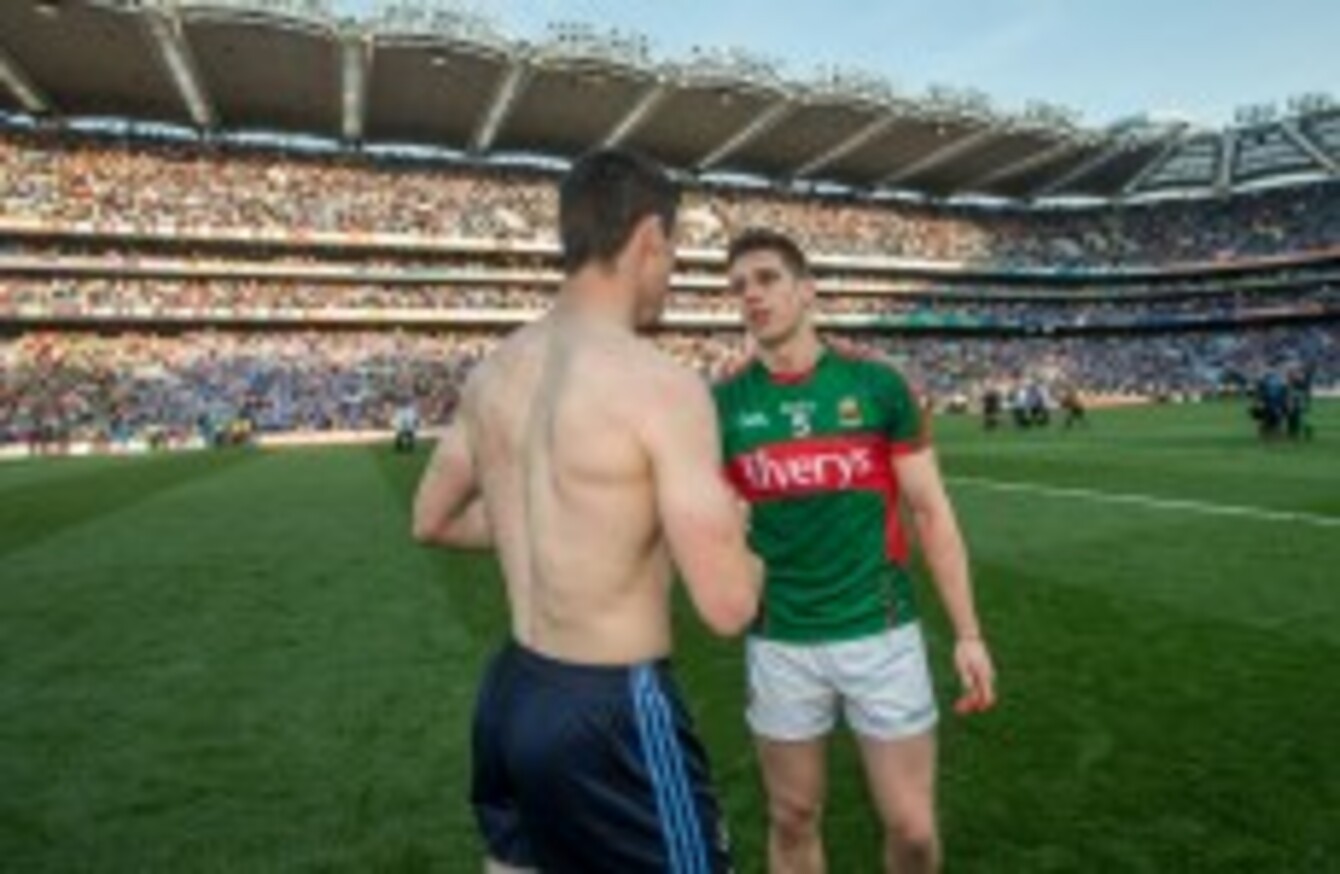 Lee Keegan and Diarmuid Connolly after the semi-final replay.
Image: James Crombie/INPHO
Lee Keegan and Diarmuid Connolly after the semi-final replay.
Image: James Crombie/INPHO
ALLSTAR MAYO DEFENDER Lee Keegan has jokingly admitted he's avoided another punch from old adversary Diarmuid Connolly after teaming up together for Ireland.
Keegan and Connolly infamously came to blows during last August's drawn All-Ireland semi-final tie when Dubliner Connolly was red carded for striking out.
Ultra talented Connolly was subsequently cleared of the sanction but only after an exhaustive appeals process that ran until a matter of hours before the replay.
The St Vincent's man looked jaded in that replay contest and was taken off with Keegan subsequently adding to the ill feeling by admitting in an interview that he provoked Connolly.
But Keegan, Ireland's vice-captain, now maintains that any hostilities between the pair have been parked after being named in Joe Kernan's 23-man squad for Saturday week's International Rules clash with Australia.
Asked if he was initially apprehensive when meeting Connolly, Keegan joked that he was lucky not to be struck again.
"I'm still looking okay so far!" said Keegan.
"No, there are no problems there. We're representing our country. What we do when in our county colours is totally separate to what we do with Ireland. That's my main feeling.
"I'm not apprehensive at all about it. We're both adults at this stage. We both know how to deal with it. I was happy enough with the way the whole thing was dealt with.
"There is always a bit of awkwardness between players, not even from a Mayo/Dublin point of view but just that you can be quite nervous coming into an environment you're not used to.
"Playing for your county is easy because you're all close together. So this is different, the first three or four weeks is quite nerve wracking but once you get over that, you look forward to the weeks ahead."
Ireland boss Kernan similarly ruled out the idea of any Championship grudges being carried over into the camp. Dublin's Philly McMahon, for instance, and Mayo's Aidan O'Shea, also included in Kernan's squad, clashed in that drawn game last August too with O'Shea claiming he was head butted.
"We've all been there, I've been there myself," said Kernan. "I had battles with Tyrone for years as a manager but you know what, the best players I ever took in when I was manager of Ulster were the Tyrone players.
"We hear these myths about, 'oh, I hate him and he's no good'. The reality is that when they cross that white line, they just want to play football. And truth be told we are all the same.
"We went out last week for a few beers and we were only on the bus when the noise got up really good. They were already having the craic on the bus."
Keegan and Mayo eventually exited the Championship after a replay defeat to Dublin. The Mayo players then caused surprise by ousting joint managers Noel Connelly and Pat Holmes.
Keegan accepted there'll be extra pressure to perform in 2016 after the heave. All-Ireland winning Corofin club boss Stephen Rochford is all set to take the reins.
"There will be added pressure on us," acknowledged wing-back Keegan. "But I think we're capable of handling it. We have some big characters there and good leaders."
Keegan's Mayo colleague, prolific forward Cillian O'Connor is expected to miss the Allianz league campaign following knee surgery.
"It's a huge blow for us," admitted Keegan. "But it's something that's been coming for a long time as well. He's been struggling for fitness for the last few months."