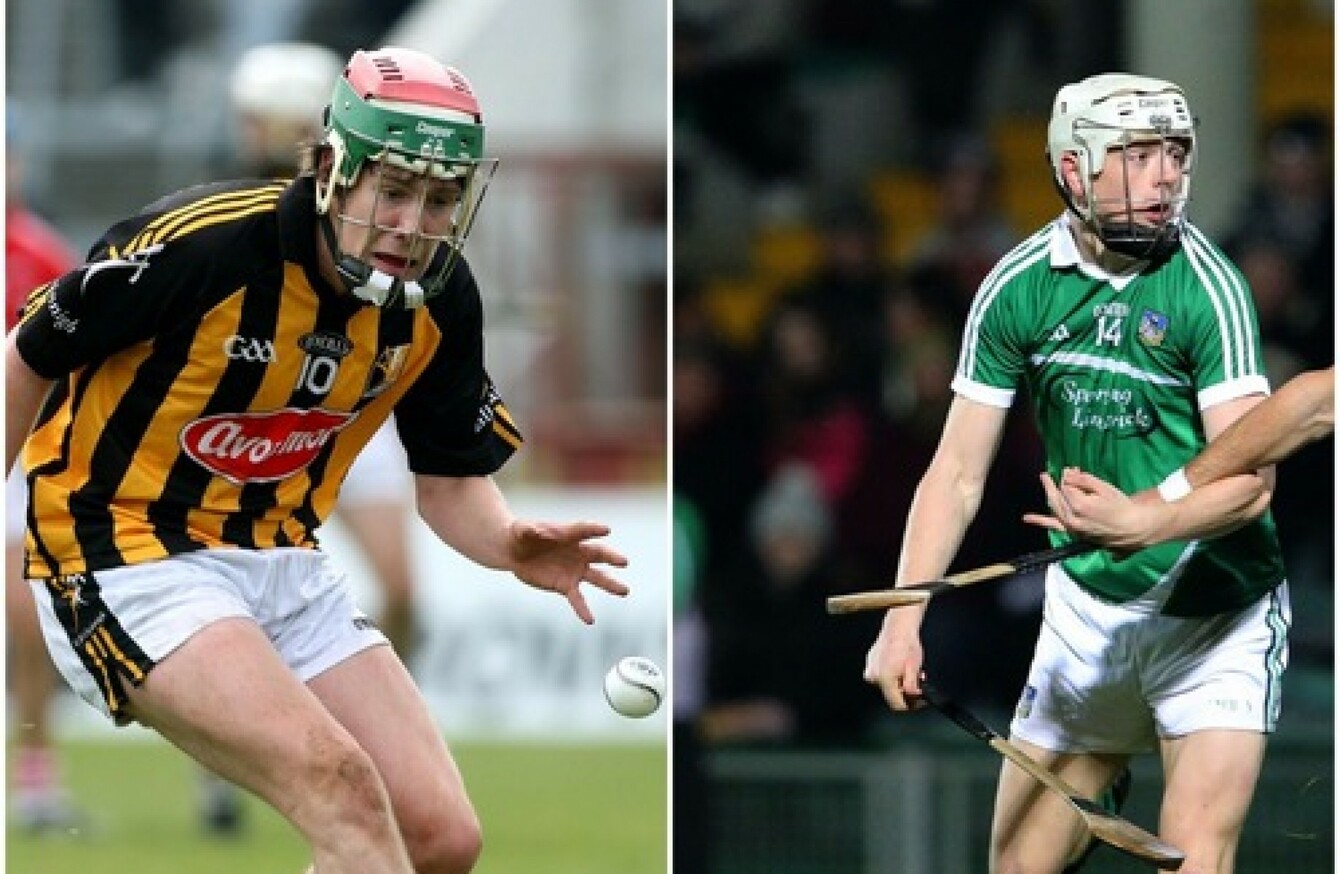 Kilkenny's John Mulhall and Limerick's David Reidy.
Image: INPHO
Kilkenny's John Mulhall and Limerick's David Reidy.
Image: INPHO
KILKENNY, LIMERICK AND Tipperary natives will all be spearheading the efforts of the Kildare hurlers to make waves in the championship this summer.
And the presence of the imports is something supported by one of Kildare's leading players.
Attacker Paul Divilly, who works as a Games Development Administrator in Kildare, has no qualms with hurlers like John Mulhall (Kilkenny), David Reidy (Limerick) and Dinny Stapleton (Tipperary) being part of the Kildare squad that start their Christy Ring cup campaign against Mayo in Ballina on Saturday.
"I probably came in for a bit of flak, I'm a development officer in Kildare and I was actually one that was recommending and promoting the idea of lads coming in.
"If you go down to Tipperary or Kilkenny or any of the traditional counties, if you ask 50 lads in, 51 will come in or there is another 50 lads waiting to come in.
"Joe Quaid asked 57 players into the Kildare panel this year and for the first month or two we were still teetering around the 20 mark or so. You can't really progress at inter-county with that.
"I'm of the belief if we can get up to the next grade and we are still playing within the rules and requirement of the permit players, then we should be using it.
"It is not a case of we are turning Kildare lads away. These lads were given an opportunity (and) for various reasons – work commitments and personal choices – they just choose not to.
"(For) the lads that do want to promote and bring Kildare to the next level, why shouldn't we do it if possible?"
Divilly has lined out for Kildare for over a decade, embarking on his maiden senior outing in 2006.
He's accumulated sufficient experience to judge whether outsiders are invested in the Kildare hurling project.
"I've experienced both ways in the past. I've experienced where permit players come in and you can see that it is a second choice to them.
"When it suits them they are interested or when they are on the field they are brilliant, but they probably don't bring the same level of commitment or team ethic to the panel.
"The first thing probably some of the senior county Kildare players would be saying, once a lad buys in to it and is committed to the cause and they are here for Kildare, they are more than welcome.
"An example of that would be David Kennedy, who won an All Ireland with Tipp in 2001. He played with Kildare for seven or eight years, he would be just looked on as a Kildare player in Kildare. He played all his home hurling in Loughmore in Tipp.
"It is just the way they are applying themselves, whether they are buying into the cause or not. Thank God all the lads that came in this year you'd have no questions or qualms over their commitment or their work ethic. They have been great additions."
A Kildare hurling gig may not appear the most glamorous going on the inter-county circuit but Confey club man Divilly prefers to flip that argument around.
"You do hear the whole time – the commitment, dedication and the sacrifice county players give up.
"I just see all the positives we are getting out of it. We are getting access to top quality coaches, we are getting strength and conditioning coaches to look after us, we are given information on nutrition.
"If you look at the general population a lot of them are paying big money for all of this access. And we get to play with the best lads in the county against the best lads from other counties. It is a win-win for me.
"Fair enough you have nights during the winter when you are travelling down to Hawkfield when you mightn't fancy it, but sure it is the same as any walk of life.
"Sometimes I do think we overplay the whole emphasis on commitment and sacrifice inter-county players give. We do get a lot out of it and it is a very enjoyable pastime for us."
And Divilly sees plenty untapped potential in Kildare hurling that makes him believe they can replicate highlights like the 2014 Christy Ring Cup triumph.
"Kildare has huge potential in football and hurling. Celbridge in the Leinster club, Naas in the underage, Coil Dubh did well the year before.
"Last year's U14 development squad in hurling, we lost the Sonny Walsh Final to Cork beating Tipperary, Clare, and Laois along the way.
"The Kildare minors at the weekend, being frustrated and annoyed we are losing to Offaly is a great sign of how we are progressing as a hurling county. When I was playing minor if we got within five points of Offaly it was a good result"
"We are always teetering there, it is always a case of a small bit of frustration when you see some of the lads that won't commit to the county team.
"You could nearly pick a 15 that would be as good or challenge the county team at the moment. If you could pull those 30 or 40 players in a squad together, all of a sudden you are getting on to the next level.
"It is just a challenge we have. The work is being done."
Source: The42 GAA/SoundCloud
The42 is on Instagram! Tap the button below on your phone to follow us!