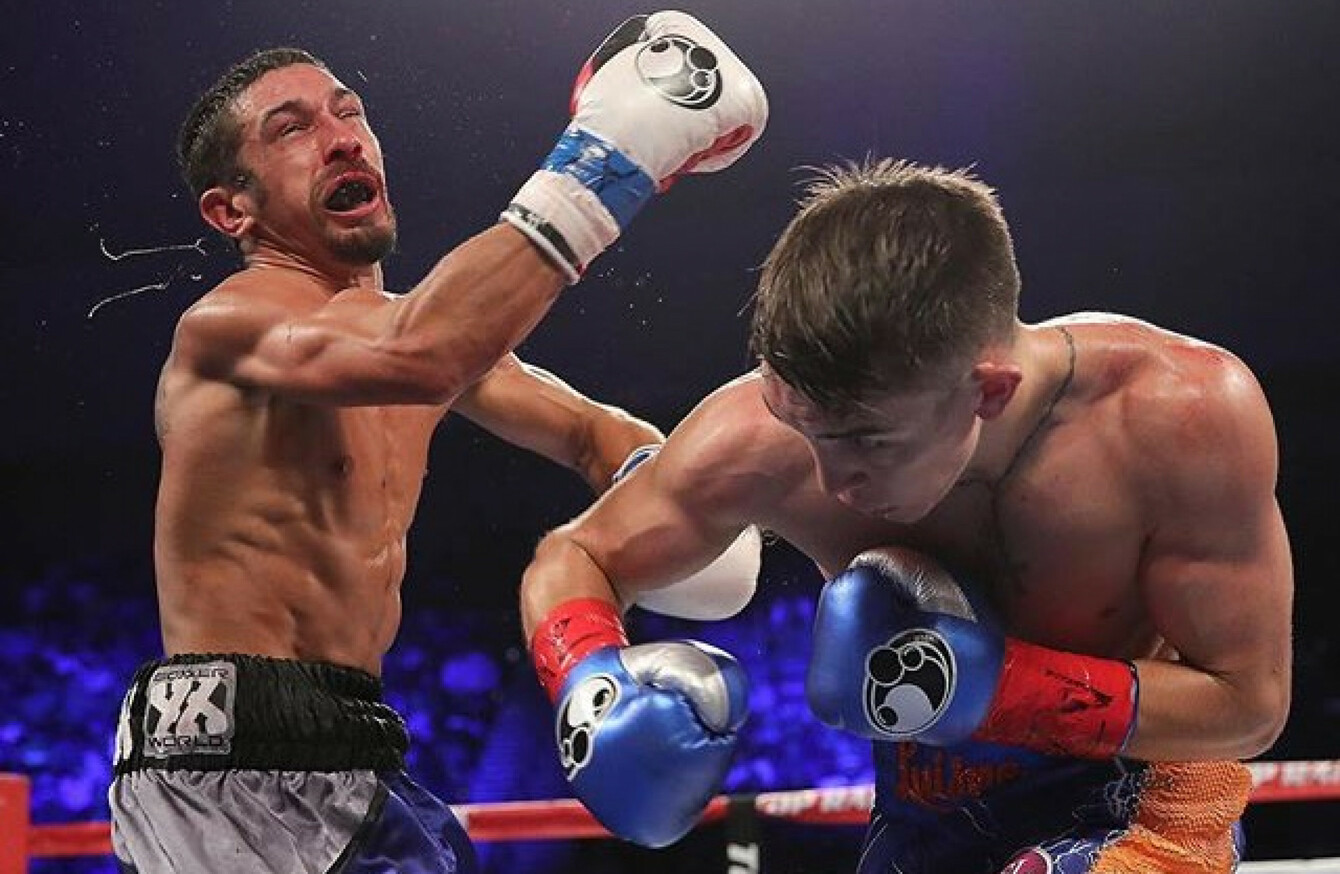 Image: Mikey Williams (@4MikeyWilliams)/Top Rank
Image: Mikey Williams (@4MikeyWilliams)/Top Rank
IRELAND'S MICHAEL CONLAN dealt with his latest opponent, Kenny Guzman, with minimal fuss on Saturday night, leveling the Montana native with a a thunderous right hand to score the finest stoppage of his professional career to date.
He watched ESPN's broadcast of the contest back on Sunday and shrugged off Teddy Atlas' comments which immediately preceded his picturesque, one-punch knockout, but the Belfast featherweight was still a touch relieved to finally add a spectacular stoppage to his CV.
For better or worse, social media is now the chief propeller of combat careers, with bite-sized clips the driving force behind a fighter's exposure to the masses. Media-savvy Conlan is more than cognisant of the fact, and readily admits he'd been chasing his own 'numbers' knockout for the bones of his fledgling pro career.
"It was good to get the one-punch knockout – it was a bit different to the last three fights.
"I've been looking for that the whole time since I turned pro, to be honest, and when I got it I think it made up for some of the mistakes that I had been making, and allowed me to enjoy it that wee bit more. Before the fight, actually, I was saying to myself, no matter what happens with this one, I'm going to enjoy myself after it.
This is the kind of thing you need in sport these days, in terms of getting yourself out there. That's why people love Triple G [Gennady Golovkin] – the kind of highlight-reel knockouts. Now I've gotten my own one, it'll be good to kick on from it. It takes a bit of a weight off my shoulders, I feel, if I'm honest, because that was the type of finish that has been expected of me.
"With that, I don't have to worry about it anymore, and I can just let those types of wins come by regularly as opposed to chasing them."
Outspoken ESPN analyst and boxing trainer Teddy Atlas wasn't particularly critical of Conlan during the first five-and-a-half minutes of his entertaining if one-sided tear-up on Saturday, but no sooner than the 61-year-old New Yorker had finished musing that the former world amateur champion wasn't a huge puncher, the Irishman delivered his fourth stoppage in four fights – this one with a wallop.
It was satisfying in retrospect, Conlan admits, but he had no qualms with Atlas' two cents on the night. He was pleased, too, that the recently-retired former world champion Timothy Bradley, himself a former student of Atlas and now a fellow co-commentator on ESPN, was complimentary in his appraisal of the two-time Olympian's skill set.
"Ah, it was good. You know, Teddy always seems to be saying something controversial. But I watched it back, and I wasn't bothered at all. I thought he spoke well, actually, up until that point.
It was nice that it happened that way, because he's talking shit and then that shot kind of changed Teddy's tune! But in fairness, I thought he spoke well throughout the fight until that exact moment.
"When I watched it back it was great, because Tim [Bradley] would be in the gym the odd time, and I met him in Australia as well. I've been talking to him a lot more recently, he's a lovely guy, and for him to give me compliments like that is great because what Tim's achieved, only a certain amount of people have achieved.
"It's a boost to the confidence, and just makes me want to get better and better."
As revealed on The42 earlier this month, next stop for the 4-0 Conlan will be another prestigious slot on a major Top Rank card, as for the first time in boxing history, two double Olympic champions square off in the ring on 9 December.
A former amateur standout in his own right, Conlan perceives his fifth and final outing of the year – at the same venue in which he made his professional debut back in March, Madison Square Garden's 5,000-capacity 'Theater' – as a privilege. However, he also reckons he's not merely featuring on the event as a means of progressing his own career.
"It's a special fight to be on the undercard, this one. It's an honour to be on the undercard for Vasyl Lomachenko and Guillermo Rigondeaux, two guys I've looked up to for my whole career – amateurs included, obviously.
"I think they [Top Rank] know I'm going to bring a big crowd, because it's New York, close-ish to Ireland, a lot of Irish in the city, and it's me fighting. I think for them, it's a smart move to have me on it.
"I actually think that's why they're so keen to have me on it – because I'm not sure if Lomachenko and Rigondeaux would sell an awful lot of tickets in New York. They know I'm guaranteed to sell in New York."
A trip to Boston has been mooted for the spring, but with his contractually-obliged homecoming bout having fallen by the wayside this year, Conlan says with no shortage of excitement that neither himself nor his Irish fanbase will be waiting too long for a Belfast return.
It's definitely going to happen. There's no doubt that it's going to happen. And I know for a fact that it's going to happen between May and June next year – that's all I can say for now!
"It could have happened this year, but they want to have it on ESPN, and you know the reasons why [Top Rank CEO Bob Arum explained the situation to The42 last month]. I can't really argue with it – they're fair reasons.
"But Belfast boxing is booming, and I'm one of the front-runners which is an honour. Everybody seems to be getting a piece of the pie, which is great. This could be the golden age of Irish professional boxing which we're coming into at the minute, and I'm really happy to be a part of it."
Conlan will first traverse the Atlantic to Edinburgh for Paddy Barnes' fourth professional contest on Friday week before attending the wedding of his brother, Sean.
The 25-year-old's fellow groomsman at Barnes' own wedding in July, former two-weight world champion Carl Frampton, last week signed an advisory deal with Conlan's management team, MTK, before confirming Frank Warren as his new promoter at the weekend.
The Falls Road fighter is pleased for 'The Jackal', whom he now perceives as "one of the lads" once more.
"Under the McGuigans, nobody was even able to talk to Carl Frampton," he says. "Either they weren't allowed to or Carl wasn't allowed to speak to them.
"He was kind of on a leash more than anything. It's good that he can get away from them now and he's his own man."
Subscribe to The42 podcasts here: