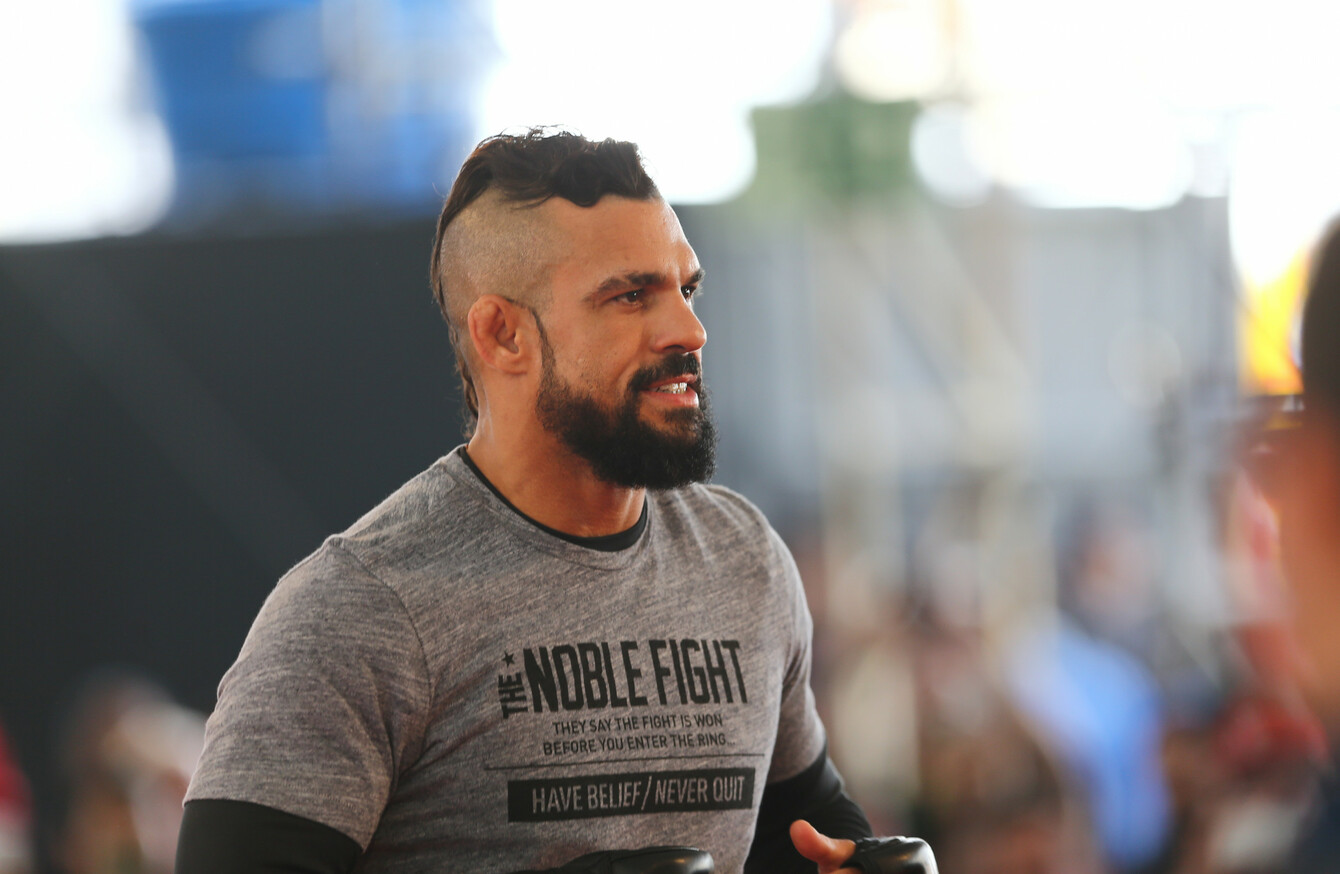 Image: Geraldo Bubniak
Image: Geraldo Bubniak
VITOR BELFORT HAS announced his intention to retire following this Sunday evening's middleweight clash with Uriah Hall in St Louis, Missouri.
The pair are scheduled to meet in the penultimate bout of the night at UFC Fight Night 124, which will be headlined by a featherweight fight between Jeremy Stephens and Doo Ho Choi.
"This is my retirement fight," Belfort told UFC Unfiltered. "After that, I am putting my body to rest. Life is about seasons, and I think you've got to know the seasons. I think back sometimes — I flashback — and say, 'Wow, I'm still doing this. Wow, that's crazy'. I'm very thankful, but I think my body needs to rest."
The 40-year-old Brazilian, who has fought 40 times as a professional, made his mixed martial arts debut in 1996 but first appeared in the UFC's octagon in February '97. At UFC 12 in Alabama, a 19-year-old Belfort stopped Tra Telligman and Scott Ferrozzo on the same night to win the heavyweight tournament.
Belfort would go on to spend most of his career at middleweight and light-heavyweight, however, as he shared the cage with the likes of Wanderlei Silva, Kazushi Sakuraba, Randy Couture, Chuck Liddell, Tito Ortiz, Dan Henderson, Anderson Silva and Jon Jones.
At UFC 46 in January 2004, Belfort had his only taste of success from the five UFC title bouts in which he competed. However, the win came in unusual circumstances as he aimed to avenge his UFC 15 defeat to Couture, who was making his first defence as undisputed light-heavyweight champion.
The much-anticipated meeting of the pair in Las Vegas was paused by referee John McCarthy after just 49 seconds. Couture was unable to see from his left eye after it appeared to be severely damaged by the seam from Belfort's glove as he threw a punch. The doctor stopped the fight and Belfort was crowned champion, but not for long.
A rematch was booked for later that year, again it was stopped by the doctor, but this time in Couture's favour due to a problematic cut above Belfort's right eye from which blood gushed. Couture felt an elbow caused it, Belfort said it was a headbutt, but the belt returned to Couture nevertheless.
Source: UFC - Ultimate Fighting Championship/YouTube
Eight years later, at the age of 35, Belfort got his next shot at the 205-pound title. He was submitted in the fourth round by Jon Jones. Attempts to clinch the middleweight belt from Anderson Silva (February 2011) and Chris Weidman (May 2015) also came to nothing.
When he hangs up his gloves after Sunday's clash with Hall, Belfort — who also competed for the defunct Pride and Strikeforce promotions during his 22-year career — will still hold the record for the most knockouts in UFC history. His tally of 12 has him one ahead of both Anderson Silva and Anthony 'Rumble' Johnson.
However, while Belfort will go down as one of the UFC's most successful fighters, his history of performance-enhancing drug use will also form a significant part of his legacy. He failed tests in 2006 and 2014, and had also been granted a therapeutic use exemption (TUE) for TRT (testosterone replacement therapy) until it was banned by the UFC in 2014.
Belfort has told reporters that only a $10 million fight purse could convince him to reverse his decision to retire. But with just one win in his last four outings and another slot on a non-pay-per-view card ahead of him, his days as one of the UFC's biggest stars have long since passed.
The prelims for Sunday night's card kick off at 11pm Irish time on UFC Fight Pass, with a 3am start for the four-fight main card on BT Sport 2.