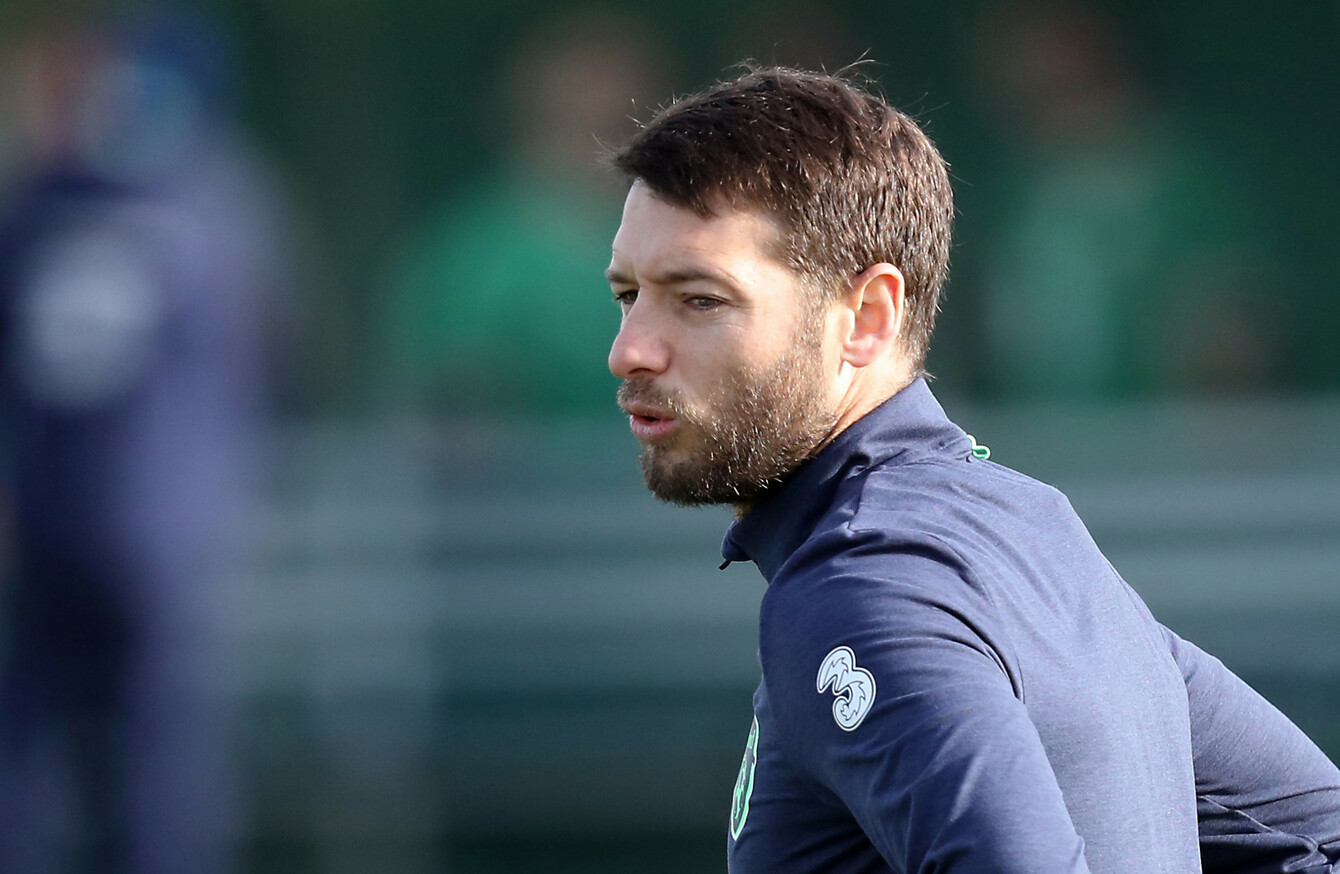 Wes Hoolahan did not feature in the first leg of Ireland's World Cup play-off against Denmark.
Image: Oisin Keniry/INPHO
Wes Hoolahan did not feature in the first leg of Ireland's World Cup play-off against Denmark.
Image: Oisin Keniry/INPHO
COME THE FINAL whistle on Tuesday night, Wes Hoolahan may have donned the green jersey for the last time.
The calls for the Norwich playmaker to start international games has grown quieter and quieter with each passing game. Not because his potential impact has lessoned in any significant way, but because manager Martin O'Neill's reluctance to give him a place in his starting XI of late has given a definitive answer to those calls.
O'Neill has shown time and time again that he will not be bullied by the media, commentators or pundits alike in how to shape his team, and with his side now one result away from qualifying for a first World Cup in 16 years, even his harshest critics surely have to give him credit for sticking to his guns.
Following Ireland's demoralising 1-0 defeat to Serbia in Dublin way back in September, it looked as though all hope had been lost. But with perseverance, some permutations-related luck, a stunning 1-0 away win in Cardiff and a play-off draw that handed Ireland a clash with the lowest-ranked team available, O'Neill has clawed his side back from the brink of elimination.
Saturday's 0-0 stalemate with Denmark means his side will almost certainly have to take the game to their opponents on Tuesday night, knowing that any win will see them through. But they'll also be wary that a score draw will see their opponents progress on away goals.
With the need to attack at its most potent, O'Neill will need to rejig a side which performed well in defence in Copenhagen but failed to carve out any real chances to test Kasper Schmeichel.
The name on almost every Irish fan's lips is Hoolahan. But, as has been the case for almost his entire international career, a question mark hangs over the 35-year-old's head. Is he the right man for the job? Does he still have the legs for such a high-stakes game? Are there better options available?
The pessimist would look to O'Neill's previous record of starting Hoolahan in big games and conclude that there is a slim chance he earns a starting position for the second leg. Hoolahan started when Ireland beat Austria 1-0 in Vienna and also at home when Ireland lost 1-0 to Serbia.
But he did not start at home when Ireland drew with Wales, when they were held 1-1 by Austria, when they drew 2-2 in Serbia last year or when they defeated Wales in Cardiff last month.
That leaves O'Neill's record looking at four absences against just two starts for the midfielder in Group D's six high-stakes matches this campaign.
Much of the discussion in the buildup to Saturday's first-leg was of O'Neill's undefinable method as a manager, with a number of ex-players saying that while he does not go into meticulous tactical detail, O'Neill does motivate players perfectly and revels in devising and executing a game-plan, as was seen in Cardiff.
His trail of thought will now turn immediately to what exact game-plan is required for the return leg against Denmark. Ireland cannot necessarily afford to sit back as they did away to Wales and rely on set-pieces and the occasional break on the counter to yield a spontaneous goal.
Were O'Neill's side to perform as such but still concede on Tuesday, they'd need goals. Therefore the game has to be taken to Denmark, even if commanding a game at Lansdowne Road has not been one of Ireland's strong points in this campaign.
Just two of Ireland's five wins came at the Aviva Stadium en route to the play-offs, with O'Neill's side unable to beat any of Serbia, Austria or Wales in Dublin. Seven consecutive games unbeaten on the road, on the other hand, points to a much stronger and confident team away from home.
Maybe this is why Saturday's scoreless draw in Copenhagen felt deflating. Not only the failure to secure an away goal, but the knowledge that when taking the game to a stronger opponent at home is required, Ireland have been unable to stand the test.
If Ireland are to turn that record on its head, just like they did against Germany in 2015, and push against the Danes knowing they must score and win, does Wes Hoolahan fit the bill?
Watching RTE's coverage of Saturday's first leg, you would certainly think so. At times it seemed like Eamon Dunphy received a commission every time he dropped the syllable 'Wes' into a conversation.
Though Dunphy has long seemed like a broken record on the subject of Hoolahan's inclusion, this time he might be right.
The difference with Dunphy is that he calls for Hoolahan's inclusion at every given chance, and not when the occasion is required. O'Neill is a manager who has shown an ability to call the right players in at the right time, such as Kevin Long against Austria and Daryl Murphy against Moldova.
It would be a stunning crescendo to a pretty short-lived international career if Hoolahan proves instrumental on Tuesday night.
O'Neill may very well have been playing the long-game all along by not including him against Denmark in Saturday's first leg. With a fully-fit and rested Hoolahan at his disposal, the Ireland boss has the 35-year-old in the best possible condition to perform on Tuesday night.
He will know – more than anybody else – that Ireland need to take the front-foot against Denmark, and likely have to be the one to break the deadlock. Chasing the game and requiring two goals seems a mammoth task for this Irish side.
The thought of Hoolahan's Irish career potentially coming to an end is a sad one, particularly for evangelicals like Dunphy who hail him as some final archetype of a street footballer lost to a bygone generation.
But the opportunity for the player to be a leading figure in taking Ireland to a first World Cup since 2002 means there could very well be a joyous ending to a, for the most part, difficult international career which has been unfulfilled due to the stubbornness of previous managers.
Those evangelicals like Dunphy call for Hoolahan's inclusion at every given opportunity, but O'Neill is a manager proven to be at his most effective when executing a well thought-out and meticulously prepared game-plan which relies on each and every player performing their role, both individually and as a collective unit.
If called upon, Hoolahan's role on Tuesday will be to carve open an as of yet untested Danish defence. Playing behind either Daryl Murphy or Shane Long, flanked by James McClean and Robbie Brady and boasted by the defensive cover of a returning David Meyler behind him, Hoolahan could have a framework in which to perform his creative role.
Rested and hungry, he could very well be the missing piece of the puzzle that gets O'Neill and Ireland over the line.
Subscribe to The42 podcasts here: