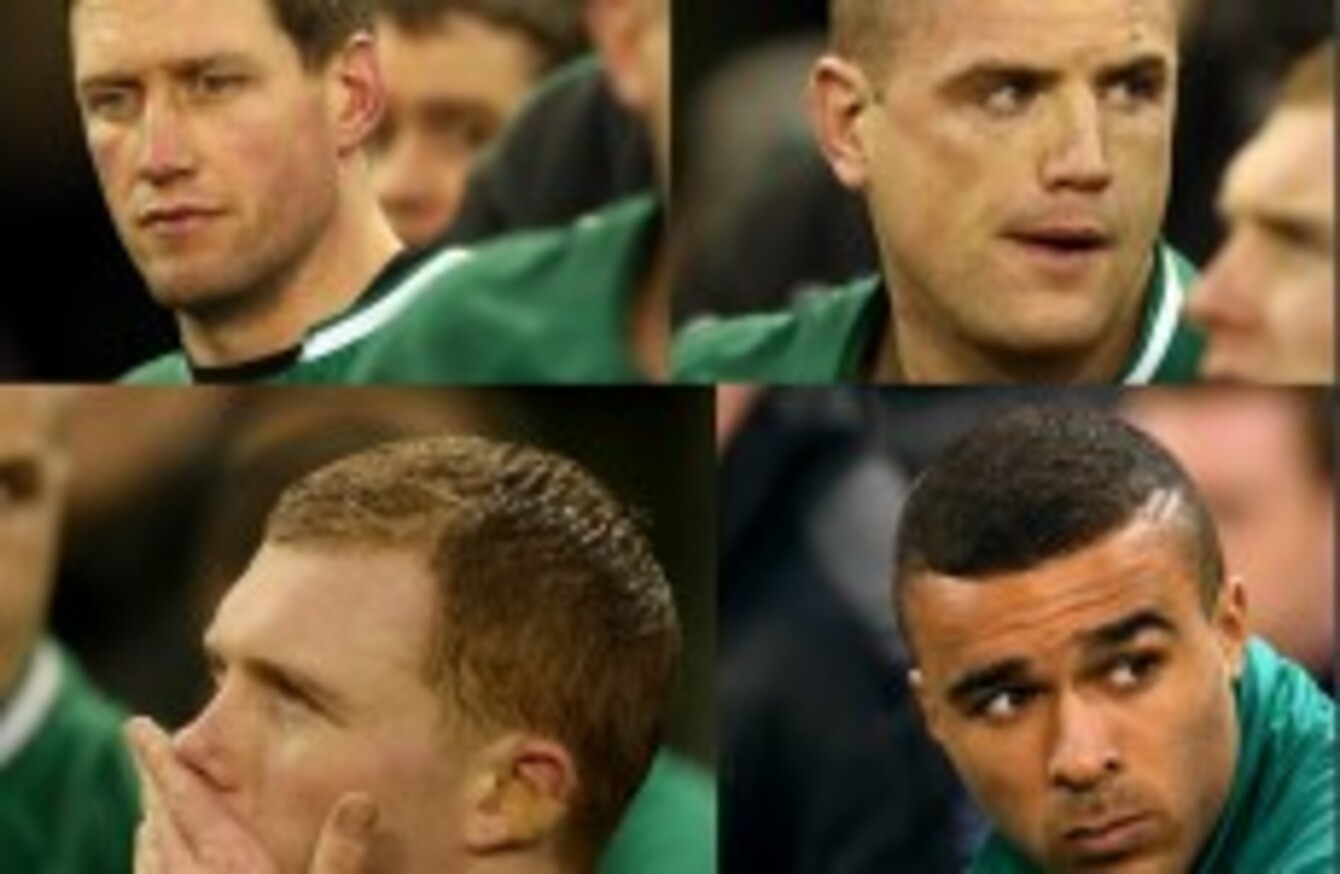 Post-match reflections: O'Gara, Heaslip, Earls and Zebo.
Image: ©INPHO/Dan Sheridan
Post-match reflections: O'Gara, Heaslip, Earls and Zebo.
Image: ©INPHO/Dan Sheridan
ON THE DAY of Ireland's team announcement for the upcoming game against England, Declan Kidney and Jamie Heaslip spoke of the improvements the team would need if they were to be victorious.
A statement then came from the third row of the Carton House drawing room that went roughly along these lines, 'Wales were so bad that Irish fans shouldn't get carried away'.
Kidney blinked once, twice and a third time. Heaslip responded.
"We definitely aren't getting carried away," he said. "Whoever watched the video was brought back to earth with a crash if they had lofty ideas."
Heaslip added, "Wales showed their class by crawling back into the game… I don't think they're a bad side. They're a very good side."
Grand Slam champions of 2012 and World Cup semi-finalists – you can't get much better than that.
Shifting sands
This is Kidney's fifth Six Nations as Ireland's head coach and he will have experienced this before – a team being talked up one week only for them to be dismissed, much like the game against 'tired' Argentina, once Ireland get the win.
The only problem is, the wins are becoming increasingly hard to locate. Ireland have triumphed in eight of their last 21 games [38% winning record].
There was genuine worry in November that the team would be ranked in the third tier of rugby playing nations by the World Cup 2015 seeding cut-off point.
Craig Gilroy and Jonathan Sexton combined to lacerate the Argentineans, Wales were slumping under Rob Howley and Ireland jumped to sixth in the world. The Cardiff win over Wales on 2 February consolidated that position.
One look at the latest IRB rankings sees Ireland still in sixth but cut off from the top four by a considerable distance.
Flash Sale
50% OFF
Use promo code: FLASH50 at checkout to access exclusive analysis, insight and debate for only €21.
Become a Member
England, ranked four, arrived at Lansdowne Road  on Sunday and, having a keen knowledge of playing in the rain, used the 'conditions' to their advantage better than the hosts. If using the conditions translates into holding onto a wet ball then Chris Robhaw and his teammates bossed it.
England applaud off their vanquished foes. (©INPHO/Billy Stickland)
The simple fact of the matter is – after three games, three defeats and zero tries – England are a better unit than Kidney's current troop. The only moments that enlivened the crowd on Sunday were two Keith Earls line breaks, a Craig Gilroy tackle and a yellow card for England's James Haskell.
Winning a Grand Slam in a six-week window remains extremely difficult so hope remains for teams such as Ireland and Wales.
The word 'momentum' has been bandied about since the beginning of the current championship but it will be tough for Ireland to get up to speed again when so many players are hobbling on crutches.
What do you think – should we settle for a supporting role or demand more?