1. Press-ups, intensive exercise etc
Rosser knows best…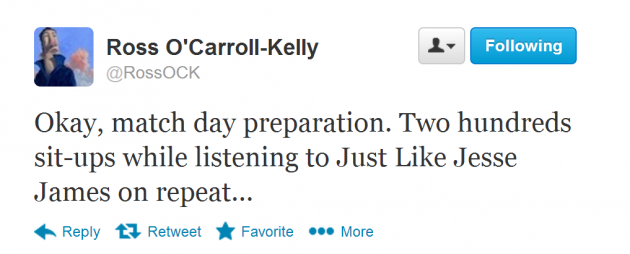 2. This Al Pacino speech
Unfortunately, a video of Jonny Sexton's 2011 Heineken Cup final speech is unavailable, so this will have to do.
YouTube credit: 7940962f
3. That Paul O'Connell speech
Or if the above effort is a bit too Hollywood for your tastes, this famous Paul O'Connell 'fear of God' speech should do the trick.
YouTube credit: mcsportireland
4. Replaying clips of Ryle Nugent saying 'Tommy Bowe' over and over
If you will it, it will happen.
YouTube credit: rte
5. The Rocky theme tune
Given their recent record with Wales and the fact that they're playing away from home, Ireland are undoubtedly slight underdogs for today's game. So what more apt tune to play than this one?
YouTube credit: moonraker79
6. Chest bumping
There's no better way to express solidarity with a colleague than the classic chest bump. Just be careful you don't end up like the people in the videos below.
YouTube credit: tomdusold
YouTube credit: ussoccerdotcom
7. Watching videotapes of the opposition
Just like the players, prior to the game, the fans must do their homework and get to know the opposition's strengths and weaknesses.
YouTube credit: ddogdude1
8. Irish music
Nothing like a bit of a Luke Kelly/'Shipping into Boston' segueway.
YouTube credit: Mark Higgins
VIDEO: Tom McGurk and RTE get ready for 6 Nations opener>