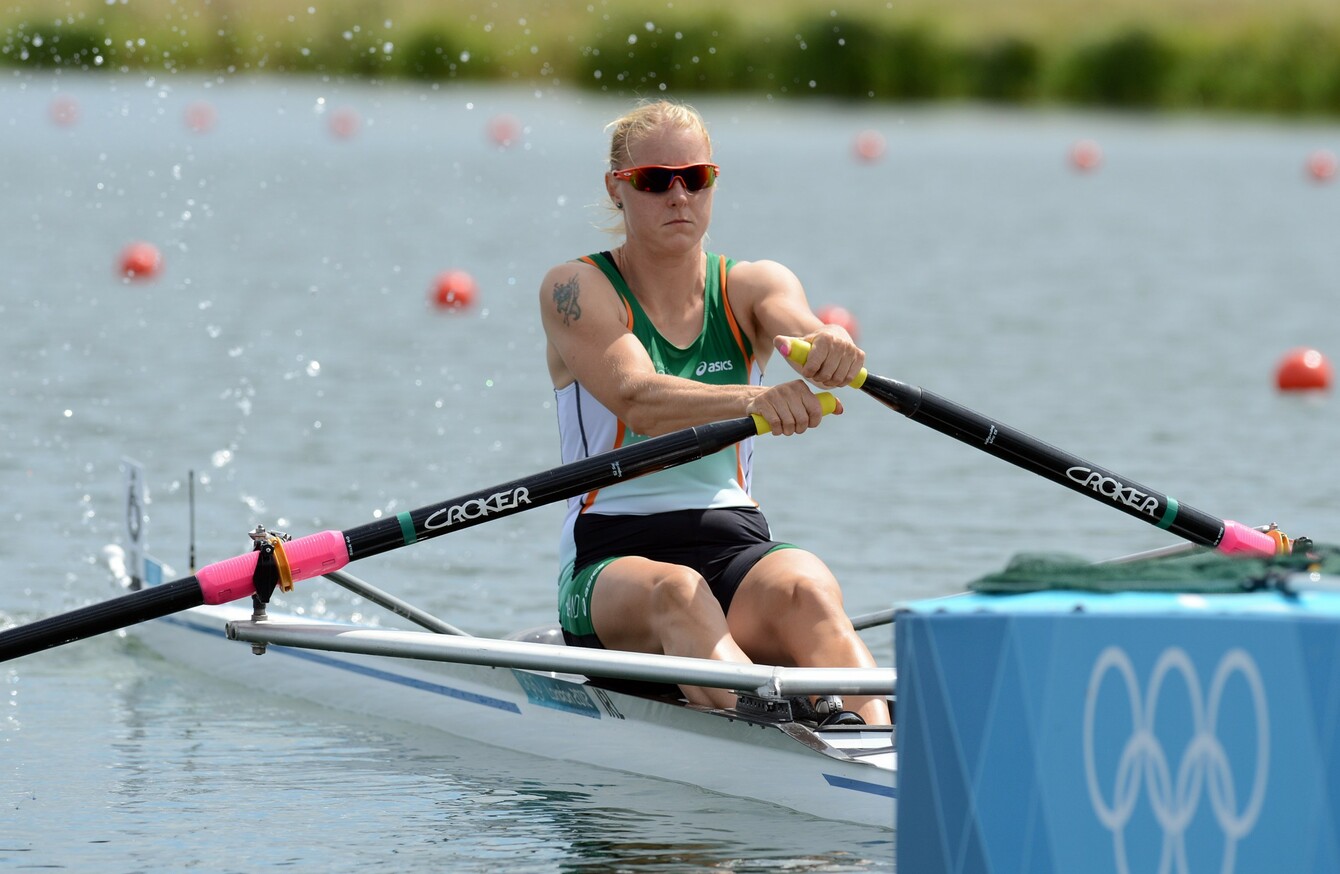 Puspure in action at the 2012 Olympics.
Puspure in action at the 2012 Olympics.
SANITA PUSPURE WAS Ireland's sole rower at the 2012 London Olympics and the Latvian-born mother of two is hoping to make it to second Games this year in Rio.
It'll all come down to the qualifiers in Switzerland at the end of May but if Puspure has proven one thing in her career, it's that she can pull out a performance.
Based in Cork, she studies part-time at Setanta College – where she's on a scholarship, rows full-time, makes dinner most nights and gets her fill of TV too, with Making a Murderer being her favourite at the moment.
Here is how she passes an average day in her life:
6.30am: Out of bed. This is the time when most days start for me, apart from the break we get in the Autumn where we catch up on the sleep we miss out on!
6.40am: I'll have my first breakfast – maybe tea or coffee or Weetabix and toast or sometimes just toast with some cheeky Nutella.
I get ready, give everyone who's still asleep a kiss goodbye.
7am: Leave for training at the National Rowing Centre (NRC) in Farran Woods in Cork.
7.30am: Arrive at the NRC and start our warm-up where the focus is on just loosening out.
If there's any tightness we'd get rid of it, just to make sure we're in good form for when we get out on the water. We'd all do some activation and stabilisation work or whatever we need. It depends on the individual.
8am: Boats are on the water, though that time might be a bit later in Winter. All the athletes are here and our head coach Don McLachlan is also present.
In the morning we have sessions where we do around 16-22 kilometres. If it's a heavy few weeks it'll be 22 kilometres while on tapering weeks it'll be 16 kilometres, but usually over 20 kilometres anyway.
I always eat something like a Muesli bar or a banana or a Go gel in the boat, something quick to eat that can give me a carb boost.
10am: Off the water, shower and have breakfast number two after training.
This is usually a good bowl of porridge with some peanut butter and maybe some yoghurt on top to spice things up. Then I might have some cake with more peanut butter before the second session.
11.30am-12noon: The second session starts. Some days it could be weights and other days up to 18 kilometres on the rowing machine.
After this I'd usually have something quick like a banana or scrambled eggs on toast and then get home in 15 minutes to have a proper meal. It's just to keep me going until I get home.
2:45pm: I leave the rowing centre at 2.30pm at the the latest because I have family commitments. I pick up the kids from school, go home and have food with them.
Patrick is nine and Daniella is eight. We usually try to be good and organised with food so we try to make something the night before so the food is ready and we can just heat it up.
Sometimes I nap if Daddy is home, it depends.
The kids are big enough now and they understand I need to rest so if I'm tired I'll tell them do their homework and I'll have a nap, but it doesn't often work that way.
5pm: In the evening, as much as I can, we try to get shopping done and decide on dinner and maybe drop the kids to some activity. It could be gymnastics or whatever. Then we make dinner and relax.
I'm studying fitness and strength and conditioning for sport with Setanta College at the moment. They provided me with a scholarship so that keeps me busy with assignments and projects.
What are they
really like?
Rare insights on sport's biggest names from the writers who know them best. Listen to Behind the Lines podcast.
Become a Member
That's an 18-month course and I should be finished before May around qualifier time.
9pm: Time to get ready for bed, though I do like some TV or reading a book. The big thing at the moment is Making a Murderer. It's mental!
9.30pm: I'll be in bed by this time and maybe do a Sudoku which puts me to sleep – especially if I'm doing a hard level!
10pm: I usually try to be asleep by 10.30pm the latest…
It probably sounds boring but I so enjoy it; I get to do what I really like. There's some discipline required to lead that life but I do enjoy it.
I find sleep is most important; if I have a late night I'll be struggling two days later. I think after having kids I appreciate sleep a lot more!
Having kids is great but it takes work to balance it all. We have adjusted to it but it makes it a little bit harder when the training camps start and we need someone to cover for that, but we're managing.
We don't have direct family here, it's just the four of us. Sometimes it would be good to have a grandmother around the corner to drop the kids off but we have to plan in advance, though apart from that I'm really enjoying being full-time.
There are times when I don't but most of the time I love it!