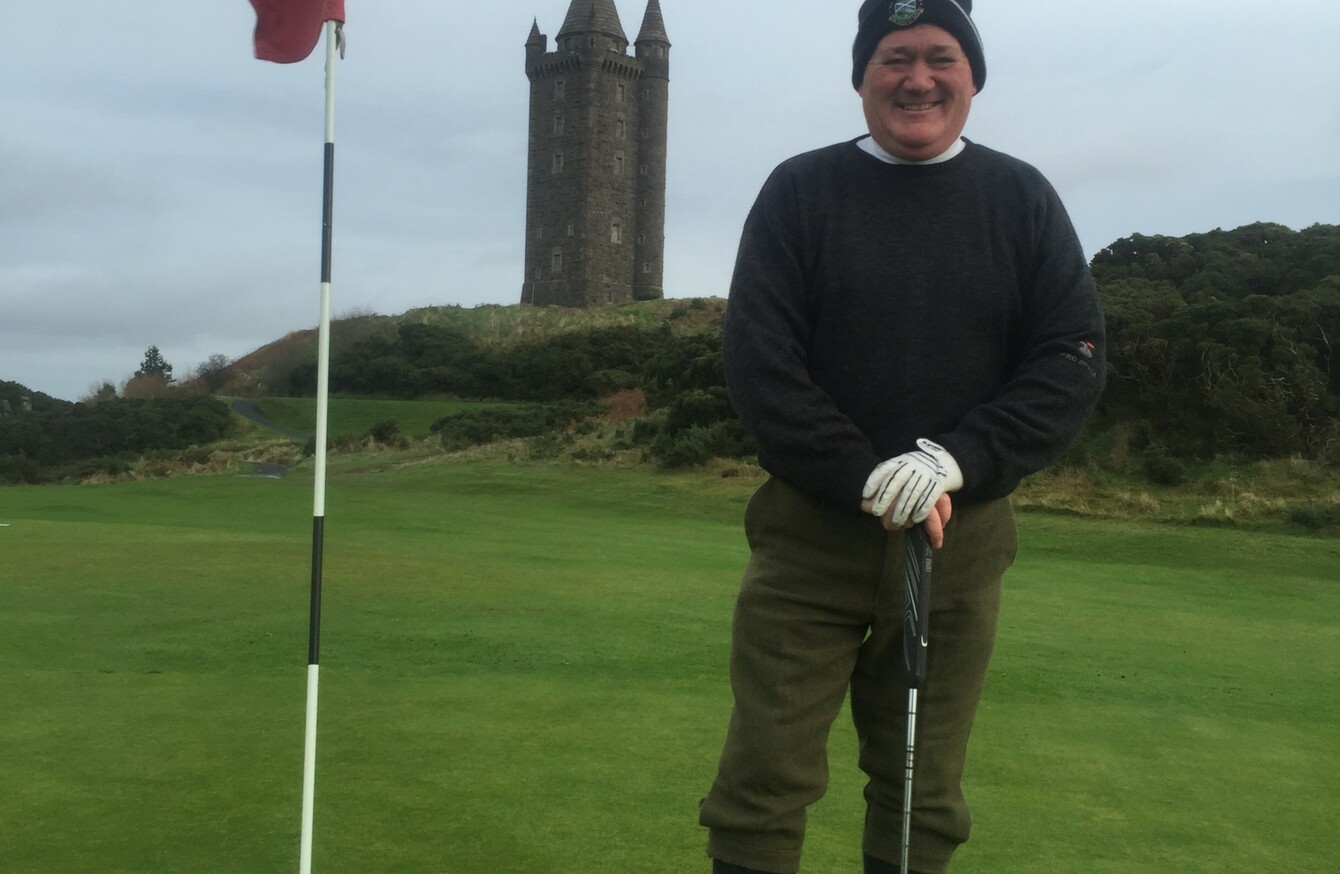 Pat Smyth playing Scrabo Golf Course in Newtownards, County Down earlier this month.
Pat Smyth playing Scrabo Golf Course in Newtownards, County Down earlier this month.
WHEN MOST PEOPLE retire they generally plan overseas holidays, plenty of quiet time or a bit of part-time work.
Not 62-year-old Meath man Pat Smyth, who has spent his time travelling across Ireland to play every golf course in the country.
Smyth has been clocking up the miles since retiring five years ago and has played 338 courses to date – that leaves 20 courses to go, which he hopes to have accomplished by the end of April.
He worked in the health service for 38 years and was chief executive of Leopardstown Park Hospital — a former facility for injured or disabled British Army soldiers — before his retirement.
It was then that he began to focus on "his labour of love" – travelling the length and breadth of the island to tackle every golf course on offer.
"I knew when I was retired that's what I was going to do," he said.
"I didn't plan on doing any part-time work. Out of the love of golf and sort of a labour of love I decided to travel and play different courses around the country."
In a day when TripAdvisor is king for visitor numbers, Smyth's aim is to highlight some of Ireland's lesser known golf courses that don't receive the number of visitors that he feels they deserve.
Playing off a handicap of 13, he believes he can give an informative insight from the perspective of an average handicapper. And that will be his point of difference when he puts his notes together to create a book on the nation's golf courses.
"A few people have done this sort of thing before – my purpose was to highlight the fantastic golf courses around the country and some of the gems that you wouldn't hear much about.
"Places like The K Club and some of the links courses around the country like The Old Head (in Kinsale) are renowned, popular and sought after by American, and other, visitors.
"But there are fantastic golf courses around the country that you never hear anything about. So when I'm writing I highlight what I consider to be the hidden gems around the country.
"It keeps me occupied and out of the house and out of the wife's way," he quips.
He has developed a particular liking for the courses in the north-west of the country – a place where his love of links golf has plenty of outlets.
While he struggles to narrow down his favourites, he names Greencastle Golf Club on the Inishowen peninsula, Narin & Portnoo Golf Club, Ballyliffin Golf Club's two courses – Glashedy Links and Old Links – (all Donegal) and Strandhill Golf Club (Sligo) as some of the most memorable.
His love for golf travel was awakened in 1990 on a weekend away in Galway with his wife, who doesn't play the game. He headed out early doors and played on three Connacht courses he hadn't visited before – and that was where it all began.
"I enjoyed the experience of travelling and playing courses I didn't know," he said.
These days, on his ventures around the country, he is sometimes on his own but often with brother Kevin or friends. And his son, who is living in Australia, is home for Easter and he is hoping to play the final couple of courses of this adventure with him.
All going well, he should be finishing in Royal County Down in mid-April. Beyond that he will put a book together, and he already has ideas for a sequel.
Either way, this won't be the end of this man's golf journey – it's part of who he is.