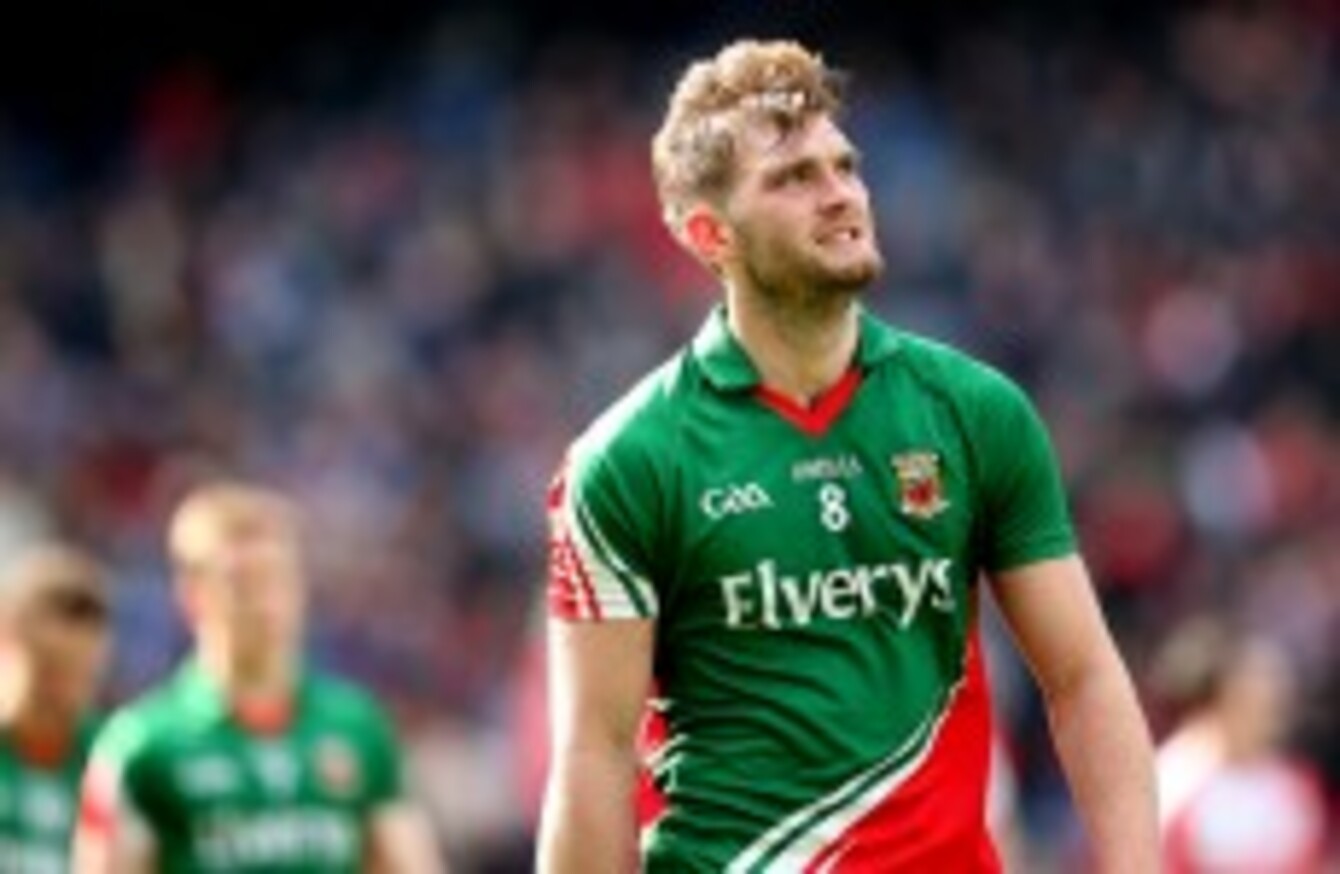 Mayo's Aidan O'Shea.
Image: James Crombie/INPHO
Mayo's Aidan O'Shea.
Image: James Crombie/INPHO
MAYO'S AIDAN O'SHEA believes the GAA is on course for professionalism and mergers between smaller counties is an inevitable prospect.
The 2013 Allstar midfielder concedes that pay-for-play may not happen during his playing days but it is a scenario that will eventually come to pass.
"It's not going to happen in my lifetime but it will go there eventually. We all know that. The players are (currently) probably the only ones on All-Ireland final day that don't get paid. We get what, 500 euros for getting Olympics style drug testing and that might do you for a weekend away in Dublin.
"I've been in GPA meetings and I've heard of players from other counties not getting their expenses, not getting what they're supposed to get from a gear point of view. People say, 'oh, Gaelic players should just be happy to wear the jersey'.
"But at the end of the day if they're putting in that much effort and they're still only getting 50 cent a mile for travelling to training. That's ridiculous. The balance is probably wrong in a way towards the players."
Combining Forces
O'Shea has pointed to population trends in Ireland which has seen a sizeable shift towards the eastern sideboard as evidence that the GAA will not be able to support as many inter-county Gaelic football teams in the future. Smaller counties combining together into one entity is inevitable.
"We're not going to have 32 counties playing Gaelic football, the way our country is set up, the way the population is. It's just not viable.  Like, how is it fair that you have some teams that can't compete?
"You can join up a couple of teams and then you have a much more competitive environment. You're going to have to probably split the championship into a different structure.
"It's not a fair ground. At the moment they're pissing against the wind any time they go out on the pitch. I don't like to be saying that about other teams but that's the reality in sport. Eventually, they're going to get disinterested, they're not going to be able to get the sponsorship that others like Dublin can get. Mayo at the moment, we're not too bad."
Mount Leinster
O'Shea cites the example of All-Ireland club hurling finalists Mount Leinster Rangers – the Carlow club founded in 1987 by the merger of Borris, Rathanna and Ballymurphy – as proof that amalgamations can be rewarding.
"It might struggle to start but look at Mount Leinster Rangers in the hurling. If you said to someone 30 years ago between the clubs that all joined up together, that you'd go and have a day in Croke Park like (Paddy's Day), they'd laugh at you and say what are you on about? You have to be realistic about the future of the game as well."