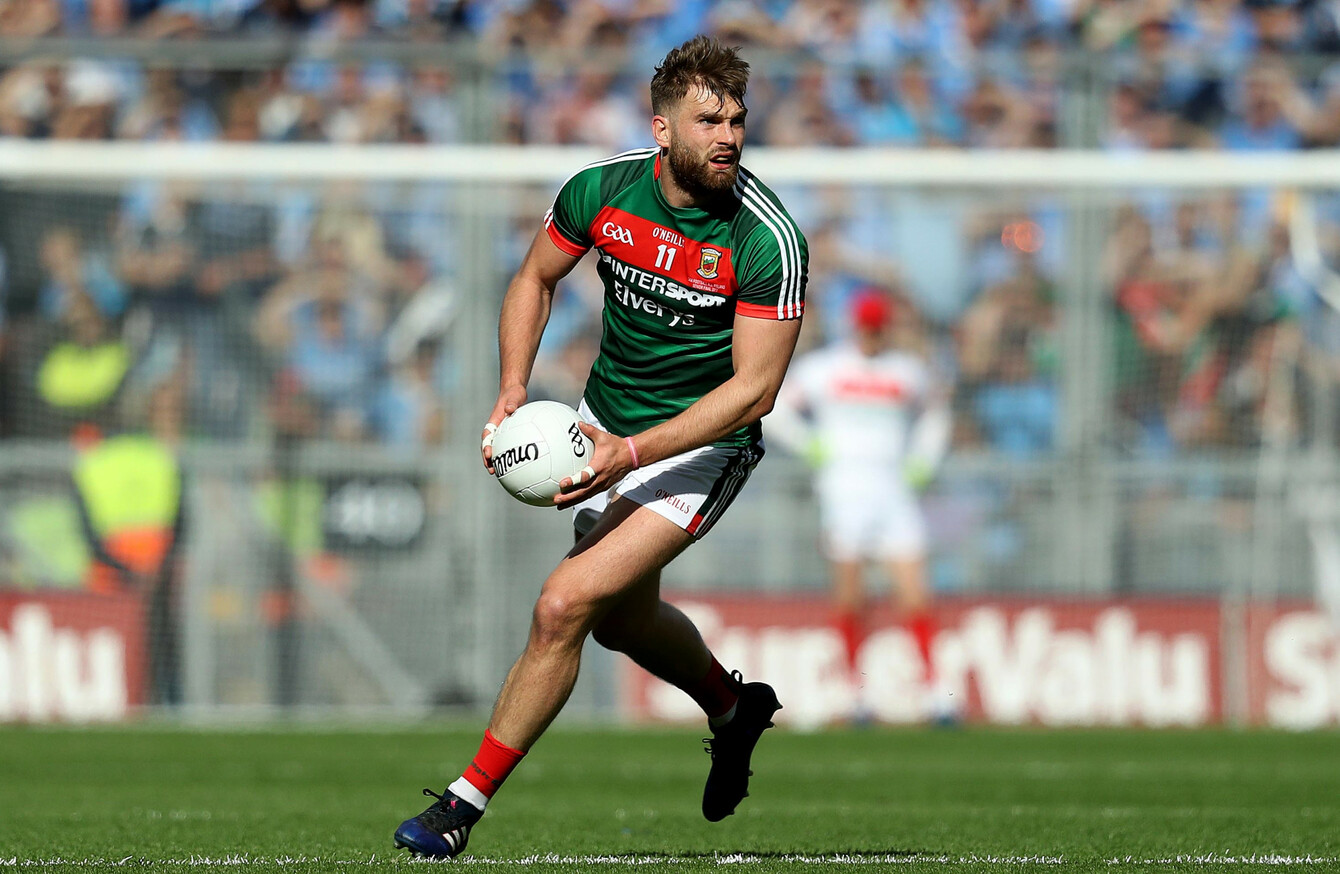 Aidan O'Shea.
Image: Tommy Dickson/INPHO
Aidan O'Shea.
Image: Tommy Dickson/INPHO
MAYO STAR AIDAN O'Shea says he is uncertain about some of the new rule changes the GAA are proposing to experiment with in Gaelic football, but he is interested to see how they pan out. 
Last week, the GAA's standing committee issued five proposed rule changes to be considered. These include a restriction in handpasses, a plan to have all sidelines kicked forward, the introduction of an attacking mark, the implementation of a sin bin and a new kick-out rule involving zoning.
"I had a quick look at them. Yeah, there's some funny ones there," 28-year-old O'Shea told The42 at the launch of the Heinz Sports Club yesterday.
"It'll be interesting to see but not sure they'll make it through to the championship."
Monaghan midfielder Darren Hughes slammed some of the proposed changes at the weekend, labelling them as 'embarassing' and saying that there is 'no logic to it at all'.
And while O'Shea is uncertain about some of them himself, the Breaffy attacker wouldn't come down on them that hard.
"No, I wouldn't," he continued.
"I respect the fact that people have obviously put time and effort into coming up with these rule changes. I don't want to condemn the rule changes but I just sometimes think we're changing for the sake of changing.
"I don't think these ones will have the desired effect — maybe people are thinking that it's going to make the game really, really pretty and lovely to watch.
"I think the game is fine the way it is, we just have a team that's really, really good at the moment. The fact that they're beating everybody, we seem to want to make rule changes. I think we just need to be careful what we do."
Three-time All-Star O'Shea then delved somewhat deeper into which proposed changes he's unsure about and which ones may have potential going forward.
Well-versed to share his opinion on the attacking mark, he's an advocate for that one to an extent while he has mixed views on the others.
That said, he's interested to see them in full flow as the committee now engages in a consultation process during the month of October with players, coaches, referees and officials.
"The one from the 45 into the 20 — yeah, you could see that potentially working," he said.
"It's hard to see all that now, it'll be interesting to see how it trials. Just not really sure about the sideline kick or the kick-out one. The sin bin, I think it gives it a chance for people to foul more often (with two yellow cards).
"Then only three handpasses. I think it's probably a little bit tight, three handpasses. If they said five, maybe it might be a little bit more feasible. But three is a little bit tight."
Subscribe to our new podcast, Heineken Rugby Weekly on The42, here: