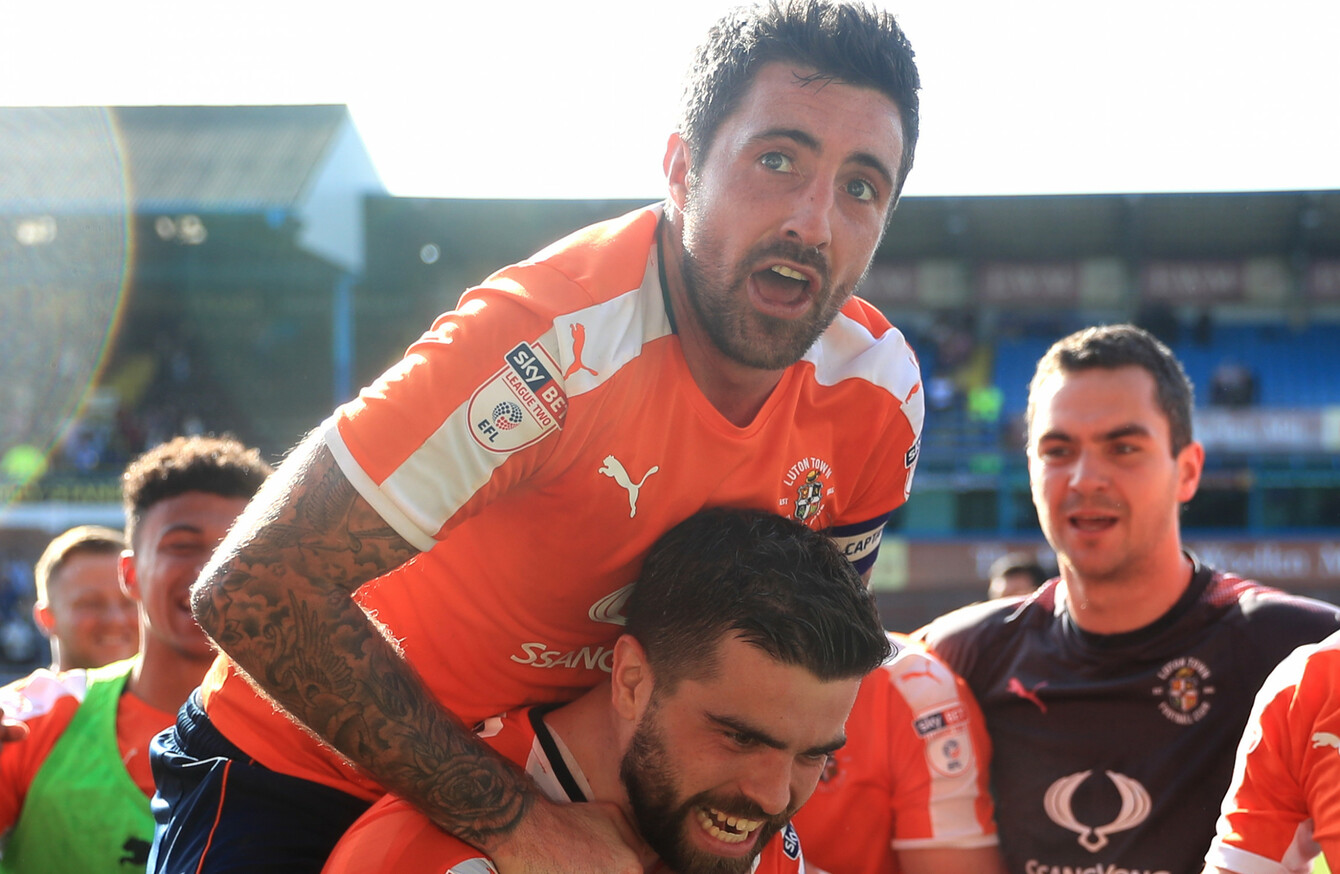 Alan Sheehan (top) celebrates Luton Town's league promotion.
Image: EMPICS Sport
Alan Sheehan (top) celebrates Luton Town's league promotion.
Image: EMPICS Sport
WHEN THE BREAKTHROUGH finally came for Alan Sheehan, it was in Carlisle after a five-hour bus journey to the north of England and on one of those end of season afternoons when confusions reigns as permutations are deciphered.
Last Saturday week the 31-year-old Athlone native was at the heart of the Luton Town defence as they came from behind to chisel out a 1-1 draw with Carlisle United.
That upshot of that result and Exeter's 2-2 draw with Crawley Town was that Luton had claimed the promotion spot from League Two that they so desperately coveted. In the stands the fans were able to process the scorelines but on the pitch the players had to try to focus on the match they were involved in.
"We didn't have a clue what was going on and right near the end you just heard the fans going mental, singing "we're going up" and cheering," recalled Sheehan.
"So you get a feeling that something proper has happened here. You see the manager putting on a defender and a holding midfielder so you're thinking a draw must be enough for us here, Exeter must have slipped up.
"We didn't know actually until afterwards when all the subs ran on that we were (promoted). It's a solid five hours, so the bus up was hard.
"But the bus back was a lot more fun. Everybody was buzzing."
For Luton a ten-year spell outside the top three tiers in English football had come to a close. They were relegated to the basement division in April 2008, began the following season with a 30-point deduction after severe problems off the pitch as they were in administration and slipped into the wilderness of non-league football in 2009.
Promotion was something to savour after troubled times and Sheehan's own journey through English football meant it was a day of deliverance for him as well.
At the age of 12 he had his first cross-channel trial with Aston Villa before putting pen to paper with Leicester City at 17. Life with the Midlands club began a nomadic existence over the last 14 years which has encompassed spells with ten different clubs.
He's been based permanently with Leicester, Leeds United, Swindon Town, Notts County, Bradford City and his current home in Luton. There have been loan spells with Mansfield Town, Crewe Alexandra, Oldham Athletic and Peterborough United.
Away from the bright lights and sharp focus of English football, Sheehan has toiled and persevered in search of a day of celebration. He was on loan with Leeds in 2008 when they lost the League One play-off final. A similar tale of woe occurred with Swindon at Wembley in 2010. He was part of the Notts County (2012) and Bradford (2015) setups that were edged out of the play-off places.
Last May came another evening of heartbreak. Sheehan and his Luton team-mates were on the cusp of a play-off final spot, leading 3-1 and cruising in the second leg in front of their home fans at Kenilworth Road. Blackpool pulled a goal back in the 76th minute, grabbed an equaliser courtesy of an own goal deep in injury-time and prevailed 6-5 on aggregate.
"That was horrible," recalled Sheehan.
"We played some serious football last year. Then after 75 minutes, we're 3-1 up, the crowd cheering every pass at home, we're going to Wembley. Then two moments of madness cost us and then you're out. The last kick of the game, you're absolutely gutted.
"With two games for Leeds and Swindon, it was two kicks of a ball that decided you're not going to be in the Championship, with 1-0, 1-0 (defeats).
"You've had a good season, played good football and it comes down to losing by very small margins.
"Did I give up? No to be honest with you, I didn't. I honestly felt when we came back this year and I saw the way we'd recruited and everything, I did feel that this was the year."
The prize of promotion is vindication for his battling qualities, a reward for years of unstinting effort. Soccer consumed him from the start at home in Coosan in Athlone. He began kicking ball as a youngster with St Francis, a club that was also the springboard for Dundalk's Robbie Benson.
Other products went onto other sports like Leinster and Ireland's Robbie Henshaw in rugby and St Kilda's Ray Connellan in Aussie Rules.
When Sheehan was starting out with Leicester and making trips back home to Westmeath, he used to be coaxed into kickabouts in the back garden by his neighbours Henshaw and Connellan, a pair of youngsters dreaming of lives in professional sport.
At the age of 13, Sheehan's father Michael figured it would benefit his son if he was exposed to a higher level and playing in the best schoolboys league in the country.
Thus began the years of ferrying Alan to Dublin to play for Belvedere FC. The thoughts of that commitment and those journeys cropped up last Saturday at Luton's last home of the season when Alan was on the pitch for a 3-1 win over Forest Green and his father, his brother Stephen and his cousin Darragh were in the stands watching on.
"We joke about him driving me up to Belvedere U13 to U16 and who would have ever thought I'd play 400 games in England?
"I'd speak to my Dad every day, he's delighted, he kicks every ball. I'd have to owe it all to him really. He's been behind me the whole way.
"My whole family, my brother and two sisters, they live for it as well. They come over as much as they can. I wouldn't be anywhere without my family."
He reached the milestone of 400 appearances in England this season and went over the century mark with Luton Town. In recent weeks the plaudits and accolades have rained in, a reflection of the quality of the defensive showings that the former Ireland U21 international has produced.
Sheehan was selected on the EFL Team of the Year chosen by the managers, he made the PFA team voted on by the players and the EA Sports side, which included performers across the three leagues. He got the nod as well as the leading exponent by the Luton supporters.
"I can't really put it down to anything. Would I say I've changed much of my game? No not really. I'm playing centre-back the last few years. I like to get on the ball. I'm more experienced now and I'm enjoying my football. I've stayed injury free this year.
"I think the main thing is the team. No individual is anything without the team at Luton, everybody is in it together and everybody needs each other. It's been a total team performance."
He committed to Luton in 2016, sold on the vision held by manager Nathan Jones who he had come across when their playing careers intersected in various divisions.
This promotion will be appreciated by Sheehan but he's aiming for it be a launchpad to bigger and better things rather than the culmination of a long and winding road.
He's heading to Meadow Lane on Saturday for the final game of the season, the home of Notts County who he lined out for 142 appearances. The post-season time frame will be enjoyed and then he'll be ready to put in the hard yards again.
"The reason I came to Luton was because the manager, he had a plan. I believed in the plan and everything he's told us is gradually coming true.
"When I was signing here, I was thinking I'm going down one to come back up two. I don't know how long that'll take but that's my aim.
"The fans have been through it all here. They've had I suppose agony and ecstasy over the last good few years. They live for it daily. We take 2,000 plus to (away games), last game of the season we've sold 4,500 tickets. The travelling fans are brilliant.
"It's been an amazing year. It's sunk in a little bit but it's hard to take it all in because I'm still on a high. When it's sunk in I'll let you know."
After seasons of struggle and disappointment, at last there's a breakthrough to be celebrated.
The42 is on Instagram! Tap the button below on your phone to follow us!