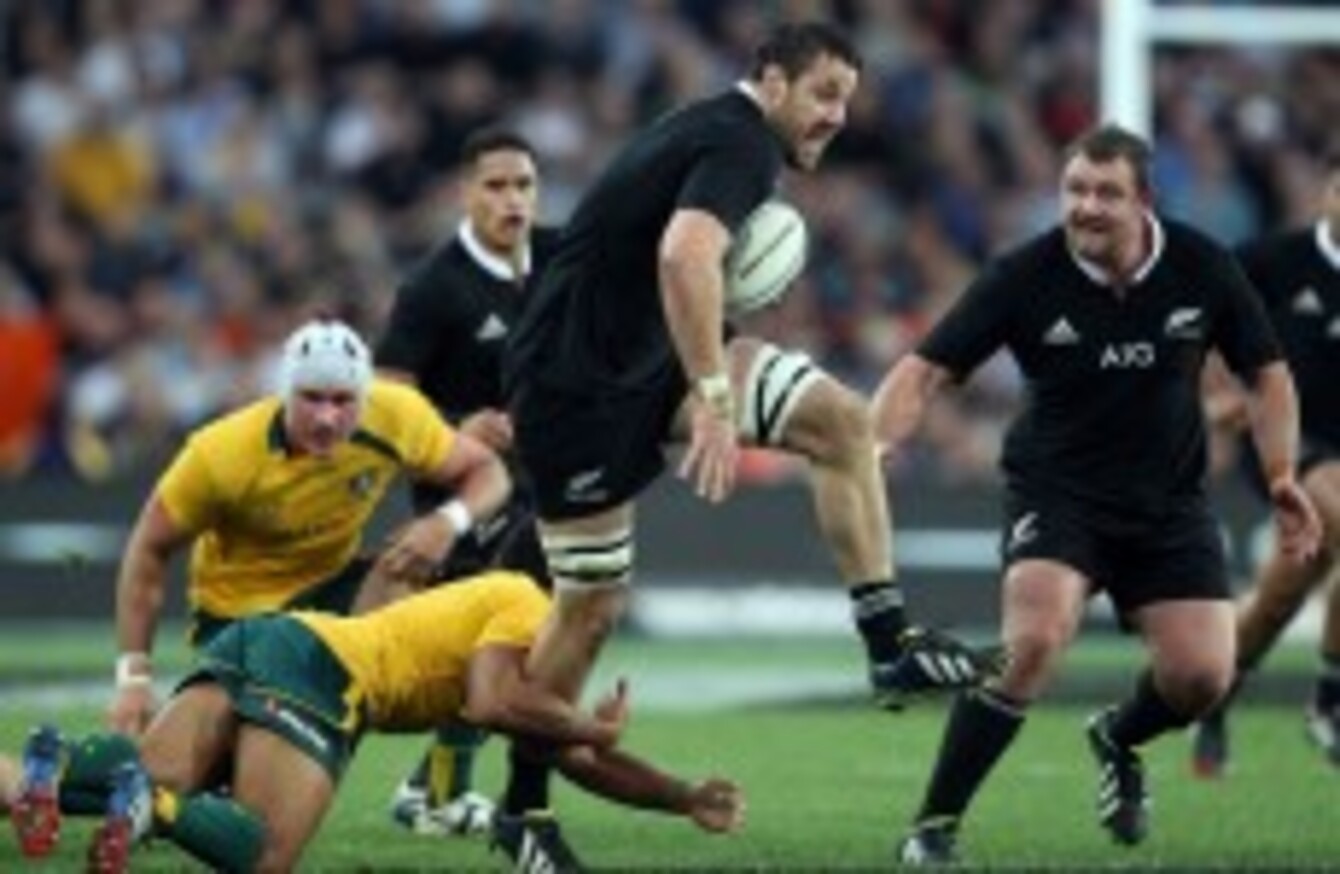 Image: ©INPHO/Photosport/Rob Jefferies
Image: ©INPHO/Photosport/Rob Jefferies
IT'S AN EXCLUSIVE membership, the New Zealand international rugby side.
Yet for every Richie McCaw, Sean Fitzpatrick or Jonah Lomu there are at least 10 unsung heroes who backed  up the star names or simply pushed them on.
Between All Black number one James Allen and All Black 1130 Jeffery Toomaga-Allen, there are a list of men who are simply proud to have earned a silver fern on their chest without much acclaim. For now, Jeremy Thrush (All Black 1120) is part of that group.
Thrush is one of 11 new caps ushered in by head coach Steve Hansen this year as he begins to form an idea of the personnel he wants in his World Cup squad. At 28, Thrush is hardly a prospect for the long term, but for 2015, the imposing 6″ 6′ lock could do just fine.
Special moment
The Wellington Hurricanes second row is hoping to win his sixth cap at Lansdowne Road on Sunday. Needless to say, he has won every international he has been involved in since making his debut against France in June.
"When you get welcomed in," Thrush says with a volume level that does not befit a man of his mass, "it's a pretty special moment. Everyone just wants to help you be the best you can be and help you as much as possible which is the great thing about being in this team."
Author James Kerr spent some time embedded with Graham Henry's squad in 2010 and last week published this fascinating insight into New Zealand's 'better people make better players' mantra' – in short, 'no dickheads'. The culture includes the habit of cleaning up every changing room after themselves, even if that means Dan Carter being handed a broom before he heads for the bus.
For life
"Yeah, everyone makes sure that we work hard. We all pull our weight and that's what makes this team so special."
Thrush adds: "We don't have a code. It's just making sure we keep the high standards as much as we can during the weeks when we're not with the All Blacks.
"You know, you play for the All Blacks once and you're an All Black for life. So it's making sure you keep those high standards when you go away from the team as well."
The 11 new members of the club have slotted in almost seamlessly the to World Champions' squad. In his time McCaw has seen 116 players come and go from the Test arena, but speaking after training in Clonsilla midweek the legendary openside praised the present crop of hopefuls his coach had ushered in.
"You've got to admire Steve for picking out these players and giving them a crack. It's a symptom of the culture we have in the team. The guys that come in are helped out and, in some ways, it's easier to get to All Black level. Because you've got 14 guys around you who are pretty good at what they do, you don't have to worry about anyone else."
"It's not about tough love or anything like that," says current jewel in the crown Kieran Read. "

"They're really adding to this team. You come in you do your job or whatever role it entails. the senior guys will set out how we run this team and guys just need to come in and do what they need to do."
Settle in, do your job, get better: aside from from a shaky 40 minutes against Australia in his first ever international start, that's exactly what Thrush has been allowed to do.
"There's a high demand when you become an All Black," says the Hurricane, "I guess when you first walk into a changing room like that you feel a little bit nervous or intimidated, but the best thing about this team is that everyone makes you feel like an All Black straight away."