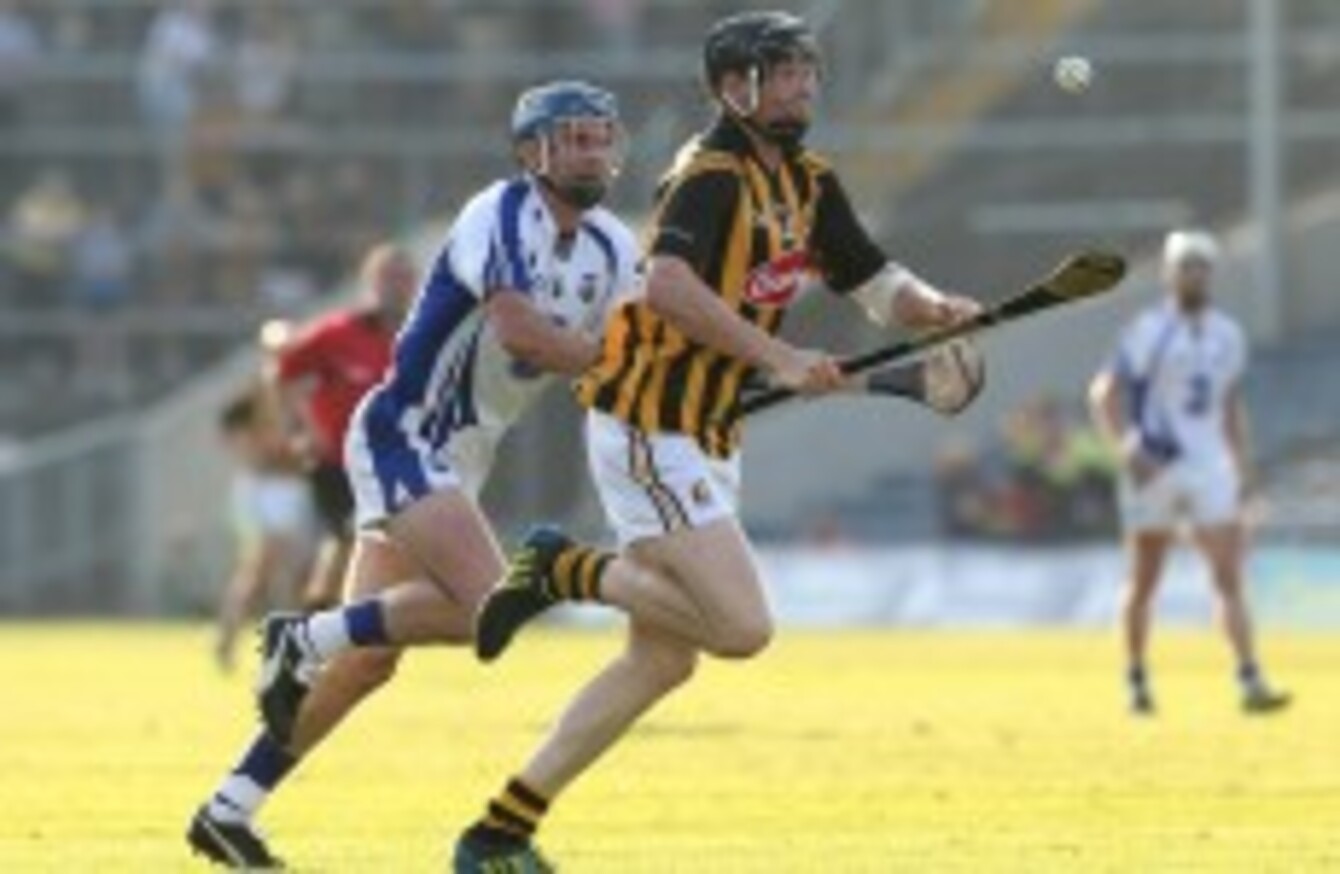 Waterford's Michael Walsh and Kilkenny's Walter Walsh.
Image: Lorraine O'Sullivan/INPHO
Waterford's Michael Walsh and Kilkenny's Walter Walsh.
Image: Lorraine O'Sullivan/INPHO
Who's getting set for quarter-final action?
The new system in the Allianz hurling league sees quarter-finals come into play this year. We already know five of the teams who will be in the last eight matches on Sunday week, March 30th.
Clare have booked their place from Division 1A while Cork, Limerick, Wexford and Laois  are the teams that have qualified from Division 1B.
That leaves Galway, Kilkenny, Dublin, Waterford and Tipperary from Division 1A battling it out for the three remaining quarter-final places. The quarter-finals will see Top 1A v 4th 1B; 2nd 1A v 3rd 1B; 3rd1A v 2nd 1B; 4th1A v Top 1B.
The venues will be decided as follows – a county which had two home games in the group section will have home advantage. If both teams had two or three home games in 1A/1B, a draw will be made to decide on home advantage.
Galway, Dublin, Waterford, Limerick and Wexford have all had only two home games to date in the league.
So, then who's going to emerge from Division 1A to contest the quarter-finals?
There's a cluster of teams on four points with scoring difference likely to come in to play. Galway (+7), Kilkenny (+3), Dublin (-7) and Waterford (-7) are all on four points. Bottom of the table is Tipperary on two points with a current scoring difference of (-13).
Tipperary have to beat Dublin to have any chance of escaping from the relegation play-off (bottom two meet to decide who drops to 1B) but even if they win, they could still find themselves in the shoot-out, depending on scoring difference and other results.
However, Tipperary could still make the quarter-finals if they win and other results go their way. A Dublin win would almost certainly secure a quarter-final place for Anthony Daly's men but if they lose they too could be in relegation trouble.
Clare will definitely top the group if they draw or win against Galway and, depending on other results, could still finish top through scoring difference even if they lose to Anthony Cunningham's men. A draw would be enough to make sure that Galway reach the quarter-finals but they could still make it, even if they lose.
A quarter-final place will also be on the agenda when Kilkenny host Waterford in Nowlan Park. Kilkenny have a 12 points superior scoring difference, which could prove significant. The losers could be in relegation trouble.
Who's set for the drop from Division 1B?
It's already determined that Offaly and Antrim will be in the Division 1B relegation playoff. Offaly have only one point to their name so far, which they claimed after that late comeback last week against Limerick secured a draw. Antrim are rooted to the bottom having lost their four games to date.
The losers of that game between the Faithful and the Saffron will have one last chance then to save themselves. They will take on the winners of Division 2A to determine who will be playing in Division 1B next year.
Kerry and Carlow have already qualified for the Division 2A final, even before tomorrow's final round of games. Kerry have a 100% record so far. They defeated Carlow by 3-14 to 0-17 in Tralee in their last round.