IN THE WAKE of Ireland's win over Argentina two weekends ago, Rory Best was asked if he had been happy with his performance.
With the lineout going poorly for Ireland, Best making just three carries for one metre and missing two of his six tackle attempts, it was a fair question.
"I hold myself to account in the lineout, regardless," said the Ireland captain. "We looked through it and there were a few that couldn't have been thrown any better and we still lost. You still feel those.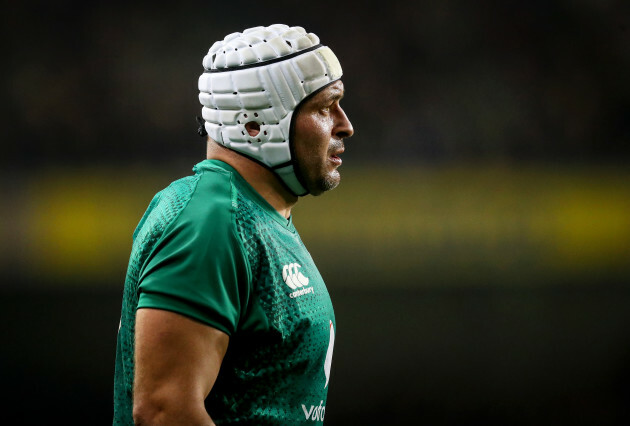 Oisin Keniry / INPHO Best is a set-piece and ruck player for Ireland. Oisin Keniry / INPHO / INPHO
"That sort of shatters your thought and your game a little bit but it would be ridiculous for me to go, 'I didn't get any clean line breaks, it must have been a bad game.'
"My game is about the breakdown. It is about making sure that we get quick ball. It is about making sure that the likes of [Agustín] Creevy, [Pablo] Matera, their dangerous back rowers don't get turnovers.
"There's always areas to get better but I think that you're dealing with one of, if not the best coach in the world and if he has faith in you, you've got to take a bit of confidence from that as well."
It is worth remembering that Best played an integral role in Ireland's pack demolishing the Pumas at scrum time, although props tend to get most credit when that aspect of the game goes well.
But Best is correct – his game away from the set-piece is about hitting rucks. At the age of 36 and never having been the most dynamic player on the ball, it would simply be foolish for Ireland to use him as a ball carrier.
Ideally, everyone in the pack would be destructive on the ball but Best is rarely intended to be a carrier for Ireland. Someone has to do the dirty work.
Looking back at the Argentina game, Best had a team-leading total of 39 involvements around the ruck in his 57 minutes on the pitch for Ireland, both in defence and attack.
Watch Best on the pitch as Ireland attack and he will essentially go from tackle point to tackle point, ready to clear bodies away when required.
It's important to note that 22 of Best's actions in that figure of 39 against Argentina involved him acting as a guard, not actually clearing a defender out, but providing security against a possible counter-ruck as Ireland maintained possession.
Gary Carr / INPHO Best celebrates Ireland's win over the All Blacks with CJ Stander. Gary Carr / INPHO / INPHO
We know how much emphasis Joe Schmidt puts on this part of the game, so having players in these positions is important even if they are not required to blast someone away from the ball.
On top of that, Best had nine effective clearouts to provide quick recycles, while his value at defensive breakdowns was evident as he slowed the Argentina ball three times and had bites at the ball as a present defender three times too.
It certainly wasn't Best's finest performance in an Ireland jersey but there was value in it.
Against the All Blacks last weekend, the Ireland captain stepped things up a gear. With Devin Toner back calling the lineouts, Best had some superb throws across his 64 minutes, with Ireland winning nine of their 10 lineouts with Best throwing.
He was important in another excellent outing for Ireland's scrum too, as Greg Feek's charges got on top in that area.
Best made all 10 of his tackles, delivering impact in several of them, while he also had six carries for four metres – underlining again that this is not his role.
The ruck was, typically, where he was busiest as he had a total of 43 contributions in that department.
There were 19 guard actions in that figure, but also 12 effective hits on Ireland's attacking ball. Best had one turnover assist as Peter O'Mahony made a steal, while he also slowed the All Blacks' ball twice.
There were three ineffective arrivals from Best on Ireland's attacking possession, while he gave away a breakdown penalty in the first half, with Beauden Barrett dropping a goal on the subsequent advantage.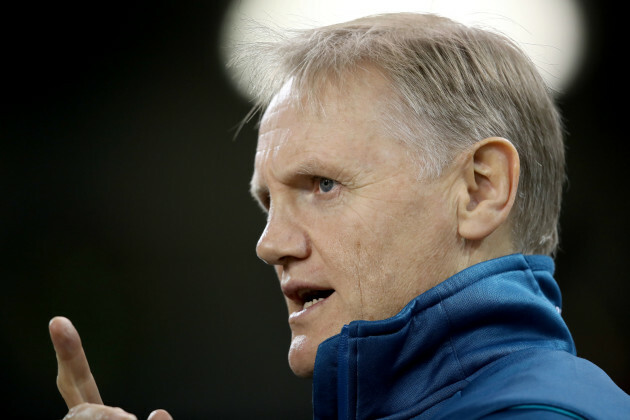 Dan Sheridan / INPHO Schmidt has kept faith in Best. Dan Sheridan / INPHO / INPHO
Best also lost possession just outside New Zealand's 22 in the 16th minute, Sam Whitelock getting a hand to the ball as the Ireland hooker was tackled, with the Kiwis scoring their opening three points of the game from the penalty that followed a kick deep into Ireland's half on the turnover.
Best had a misplaced in the 31st minute too as Ireland applied pressure inside the Kiwis' 22, the error killing momentum for Schmidt's team.
Clearly, the performance wasn't perfect from Best but his efforts around the pitch at ruck time and his set-piece strength were important in Ireland's victory.
One element of Best's role that is difficult to accurately quantify is his captaincy. His team-mates speak highly of what the Ulsterman brings in this regard – quiet words during the week and strong tone-setting messages. 
As Ireland captain, he has beaten the All Blacks twice, won a Grand Slam and been part of the first-ever Irish win over the Springboks on South African soil.
However, Ireland's series success in Australia in June, when Johnny Sexton and Peter O'Mahony co-captained in Best's absence, showed that Schmidt's team can cope without the 36-year-old.
One of the most positive elements of this Ireland squad at the moment is that the vast majority of players are not comfortable in their status as first-choice.
The competition is clear in all departments and hooker is no different, with Sean Cronin and Niall Scannell applying particular heat to Best.
Even as captain, Best cannot rest easy but if he can deliver performances as busy as the one he provided against the Kiwis, he is likely to remain the leader of this Ireland team.
Toner's value underlined
With the likes of James Ryan, Iain Henderson and Tadhg Beirne around, Devin Toner is always going to seem rather unglamorous.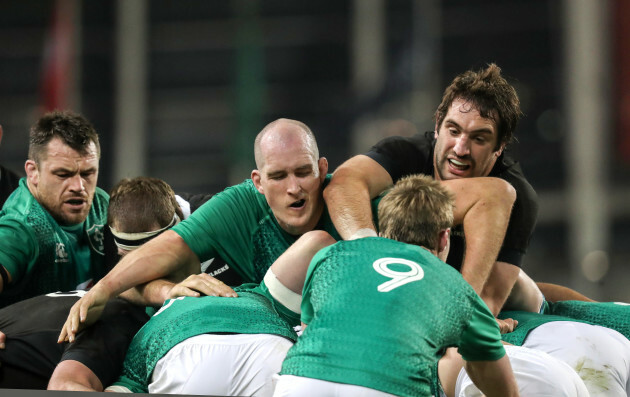 Billy Stickland / INPHO Toner at work in an Ireland maul. Billy Stickland / INPHO / INPHO
But Schmidt doesn't pick players for their flashiness. He picks effective rugby players who can best deliver on the things he views as vital to Ireland winning. Toner fits that mould and his performance against the All Blacks underlined it once again.
The second row led the ruck contributions for Ireland with 50 and while a whopping 30 of those were as a guard, there were also a team-leading 15 effective clearouts.
Toner did have three ineffective efforts on Ireland's ball, but his work-rate from ruck to ruck was superb.
Like Best, Toner is not a primary ball carrier for Ireland – he had just three carries for four metres against the Kiwis. While Toner's ball-carrying has improved in recent seasons, other Ireland forwards like Tadhg Furlong, Ryan and CJ Stander are simply more effective.
It makes sense for those players to get on the ball more often, with Toner cleaning up the mess they leave in their paths.
On top of that, Toner is Ireland's most reliable and experienced lineout caller, which was highlighted again in how effective Simon Easterby's forwards were out of touch with Toner on the pitch, and how they lost two of their four throws after the 32-year-old had departed.
Toner commandingly claimed Barrett's kick-off, illustrating his quality in another area where Ireland struggled against the Pumas, although it's worth noting that Schmidt's team did slightly tweak their set-up to make things a little more comfortable.
Toner claimed the scraps of a 22-metre restart that Jacob Stockdale pressured in the second half. He also made major impact in several of his 11 tackles, which he completed at 100% like Best.
Schmidt is in an enviable position having such strong second row options available to him – Quinn Roux was excellent against Italy in Chicago too – and Toner is another player who is well aware of the need to continue to deliver.
If he can do so, his calm influence will remain important to this Ireland squad.
Work rate
Looking across the rest of the ample ruck contributions for Ireland against the All Blacks – the ball-in-play time in this game was a very high 45:05 – the sheer work-rate from Schmidt's side is clear.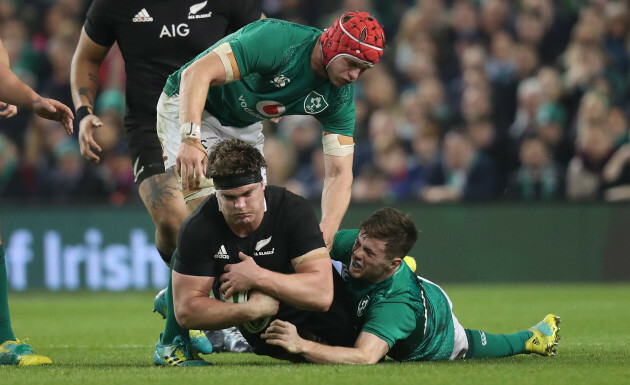 Billy Stickland / INPHO Josh van der Flier was superb at the ruck and breakdown. Billy Stickland / INPHO / INPHO
James Ryan, who carried the ball 17 times and made 20 tackles, still found time to be involved in 25 rucks, including one dominant hit and 11 effective clearouts. The 22-year-old is already a key player in this Ireland team.
CJ Stander, who was Ireland's top ball-carrier with 22 and thundered into contact repeatedly, was even busier around the post-tackle area.
He had 35 ruck contributions, with much of his value coming in defence as he won one turnover, delivered one turnover assist, managed to slow the All Blacks' possession twice, and also be present at five other defensive rucks.
In what was an impressive performance at openside, Josh van der Flier contributed 40 times at the ruck for Ireland, as well as carrying the ball superbly eight times for a forwards-leading average of 3.6 metres per carry.
Van der Flier was a prominent and powerful tackler as he completed 16 in that department. At ruck time, his highlights included two dominant shots, 10 effective clearouts, one turnover and a further two slowing efforts, as well as five present markings.

Tadhg Furlong and Peter O'Mahony also had one dominant clearout each, as well as eight and six effective markings each, while Cian Healy had 21 contributions while also carrying excellently seven times and making 12 tackles.
Unsurprisingly, Bundee Aki has picked up where he left off in the Six Nations with busy performances at ruck time this November and he was the busiest back in this area against the All Blacks with 24 contributions, including six effective hits and one slowing effort.
In Schmidt's world, every single player must contribute to the ruck.
Total ruck contributions v All Blacks:
50 Devin Toner (19 first, 18 second, 11 third, 1 fourth, 1 defensive)
43 Rory Best (11 first, 17 second, 7 third, 6 defensive)
40 Josh van der Flier (14 first, 10 second, 7 third, 1 fourth, 8 defensive)
35 CJ Stander (6 first, 13 second, 8 third, 8 defensive)
25 James Ryan (12 first, 7 second, 5 third, 1 defensive)
24 Tadhg Furlong (10 first, 10 second, 1 third, 3 defensive)
24 Bundee Aki (7 first, 10 second, 3 third, 1 fourth, 3 defensive)
22 Peter O'Mahony (7 first, 5 second, 6 third, 4 defensive)
21 Cian Healy (9 first, 6 second, 5 third, 1 fourth)
17 Garry Ringrose (8 first, 4 second, 4 third, 1 defensive)
13 Jack McGrath (3 first, 6 second, 2 third, 1 fourth, 1 defensive)
12 Rob Kearney (6 first, 3 second, 1 third, 2 fourth)
11 Jacob Stockdale (8 first, 1 second, 2 third)
9 Johnny Sexton (8 first, 1 second)
6 Sean Cronin (2 first, 1 third, 1 fourth, 2 defensive)
5 Andrew Porter (2 first, 1 second, 2 defensive)
5 Keith Earls (1 first, 3 second, 1 third)
3 Iain Henderson (1 first, 1 second, 1 defensive)
3 Kieran Marmion (1 first, 2 defensive)
1 Jordi Murphy (1 first)
1 Luke McGrath (1 defensive) 
Total ruck contributions v Argentina: 
39 Rory Best (13 first, 14 second, 5 third, 2 fourth, 6 defensive)
37 Tadhg Furlong (15 first, 18 second, 3 third, 1 fourth)
35 Iain Henderson (13 first, 5 second, 10 third, 2 defensive)
31 Peter O'Mahony (9 first, 13 second, 7 third, 2 defensive)
27 James Ryan (12 first, 9 second, 6 third, 1 defensive)
25 CJ Stander (10 first, 8 second, 4 third, 4 defensive)
21 Bundee Aki (6 first, 9 second, 5 third, 1 defensive)
20 Dan Leavy (9 first, 5 second, 1 third, 5 defensive)
19 Jack McGrath (9 first, 7 second, 2 third, 1 fourth)
18 Jordan Larmour (10 first, 4 second, 3 third, 1 fourth)
16 Cian Healy  (5 first, 3 second, 2 third, 2 fourth, 4 defensive) 
16 Keith Earls (9 first, 4 second, 1 third, 2 defensive)
14 Sean O'Brien (3 first, 4 second, 3 third, 3 fourth, 1 defensive)
13 Devin Toner (5 first, 7 second, 1 third)
12 Sean Cronin (6 first, 4 second, 2 third)
10 Andrew Porter (3 first, 3 third, 3 third, 1 defensive)
9 Jacob Stockdale (2 first, 7 second)
8 Will Addison (6 first, 1 second, 1 third)
6 Johnny Sexton (6 first)
2 Kieran Marmion (2 defensive)
1 Andrew Conway (1 defensive) 
* Check out our ruck analysis from Ireland's opening game of the 2018 Six Nations against France for more information on the system The42 uses to analyse rucking performances.
Subscribe to our new podcast, Heineken Rugby Weekly on The42, here: