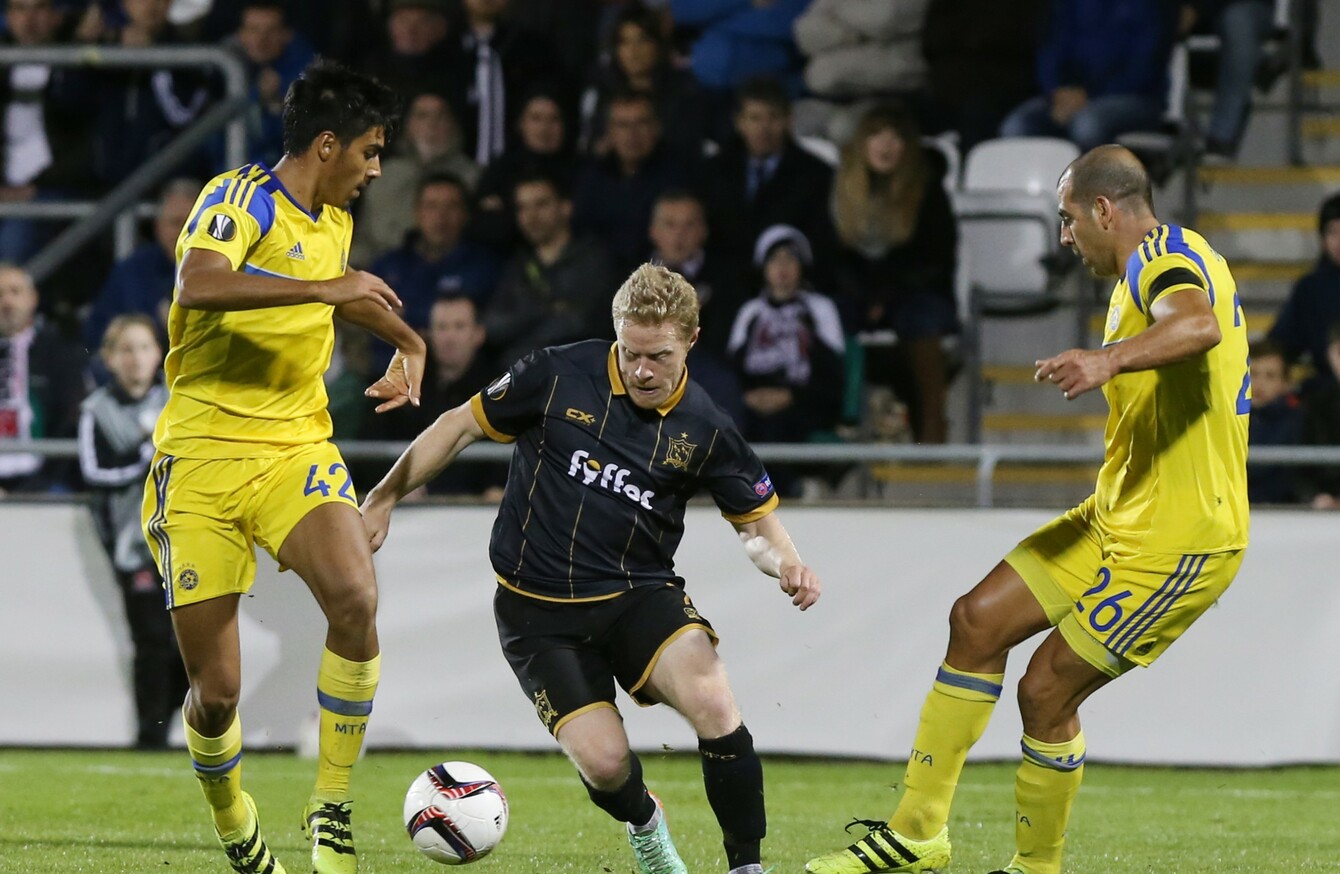 PFAI Player of the Year Daryl Horgan has been a revelation for Dundalk this season.
PFAI Player of the Year Daryl Horgan has been a revelation for Dundalk this season.
Overview
IT'S A MEASURE of how well Daryl Horgan, Andy Boyle and Dundalk in general have done this season that news the duo had been called up to the Ireland squad wasn't that surprising ultimately.
If anything, the call-ups felt overdue and Martin O'Neill said he would have picked at least one of them sooner had Ireland's last two World Cup qualifiers not coincided with Dundalk's intense end-of-season schedule.
It truly has been a phenomenal season for the Lilywhites — they won the league in convincing fashion and were unlucky to lose out in the FAI Cup final after extra time.
Yet most astounding of all has been the incredible progress they made in Europe. They beat their conquerors from last season, BATE Borisov, and came desperately close to qualifying for the Champions League group stages.
Their run in the Europa League has followed a similarly impressive path and with two games remaining, they are second in their group with qualification still very much in their own hands.
Along the way, the Lilywhites have faced Zenit St Petersberg, who have 18 internationals in their squad, including Belgium stars Axel Witsel and Nicolas Lombaerts and who have reached the Champions League round of 16 in three of the last five seasons as well as winning the Uefa Cup as recently as 2008.
Dundalk have drawn with Dutch side AZ Alkmaar, who have made three quarter-final appearances and one semi-final appearance in the competition since 2005 and who won the Eredivisie as recently as 2009 with Louis van Gaal as manager.
Stephen Kenny's men have also beaten Israeli team Maccabi Tel Aviv, who just last season did battle with the likes of Chelsea in the Champions League group stages.
And of course, Dundalk could have been in the Champions League group stages themselves this year had they not narrowly lost out to Legia Warsaw, the same side who were minutes away from a famous Champions League victory over Real Madrid recently, and ended up with a creditable 3-3 draw.
Horgan and Boyle have clearly been a vital part of Dundalk's journey. Both Martin O'Neill and Roy Keane have emphasised in recent days that they are in the squad "on merit" and few would disagree.
Both have had excellent seasons at domestic level. Boyle was part of a defence that conceded just 28 goals in 33 games — the second best of all the teams in the League of Ireland. Horgan, meanwhile, chipped in with 10 league goals in addition to numerous assists.
And the pair, along with the rest of the Dundalk team, have maintained these high standards in Europe.
The recent brave loss away to Zenit St Petersburg provided a good example of why the duo have been garnering so much acclaim of late.
Consequently, we've taken an in-depth look at their respective displays in this match.
Teams
The pair lined up in their usual positions. Boyle was at centre-back while Horgan was on the left as part of Dundalk's 4-3-2-1 formation.
Zenit, meanwhile, went with their preferred 4-3-3 formation.
Boyle stands out
Andy Boyle, in particular, managed to impress in Russia. For the most part, he looked well able to cope with a three-man attack of Aleksandr Kokorin, Aleksandr Kerzhakov and Oleg Shatov. All three players are Russian internationals and have 161 caps between them.
Source: Football Universe_11_of_11/YouTube
The 25-year-old centre-back could do little about either goal, with defensive partner Brian Gartland unfortunately partially culpable on both occasions, as he dwelled on the ball and conceded possession for the first and gave a poor pass prior to the second.
Source: Football Universe_11_of_11/YouTube
But what stood out especially about Boyle in Russia the other week was his footballing intelligence and ability to read the game.
Notice in the clip below how he manages to make important interceptions on two occasions in quick succession. This type of good defending is no fluke — it comes from experience and having an ability to sense danger and get in the right position to alleviate it.
Time and again, Boyle was in the right place at the right time against Zenit, getting his body in the way of shots and generally showing impeccable positional sense.
Coaches will often tell defenders to 'stay on their feet' yet regularly, this advice is ignored. Too often, a centre-back is overly eager to dive into a challenge and leaves himself badly exposed as a result.
Notice the composure of Boyle below. He knows his opponent is quicker than him but doesn't panic. Instead, he does the right thing by simply jockeying him and causing the player to overrun the ball. This action looks simple, but a number of defenders in that position would lose the head and take their opponent down.
Does he have any weaknesses?
Boyle only seemed to make one mistake during the 90 minutes in Russia. Watch below as he seems to lose concentration momentarily. He does not get tight enough to the dangerous Giuliano de Paula (who ended up scoring a brace for his side), and were it not for a decent stop by Gary Rogers, Dundalk would have conceded.
This momentary loss of concentration is something the ex-UCD and Shelbourne defender needs to be wary of. It's something he would likely get away with against weaker sides in the League of Ireland, but players at the top level invariably have a habit of punishing those kind of split-second slip-ups.
How did Horgan do?
It wasn't a classic Daryl Horgan display by any means, but the 24-year-old winger certainly did enough to eradicate any doubts O'Neill might have had about selecting him in the final squad to play Austria.
What will have impressed O'Neill probably as much as his excellently taken goal would be the defensive side of Horgan's game.
As the League of Ireland's dominant team and relative novices in Europe, Dundalk aren't used to a) having less of the ball than their opponents and b) playing on wide, expansive pitches in front of very big crowds and in hostile environments such as St Petersburg.
Therefore, as good as Horgan has been in an attacking sense in the last season or two, the defensive side of his game will not have been severely tested too often. Yet in Europe this season, and particularly against Zenit the other week, Horgan has had to get used to spending large parts of the game without the ball.
Understandably, given their vastly superior resources and the fact that they are 210 places above Dundalk in the Uefa rankings, Zenit were the more threatening team last week.
The hosts had 64% of possession overall and registered 21 shots, eight of which were on target. By contrast, Dundalk had just six shots and only two were on target.
So Horgan and his attacking colleagues were largely feeding off scraps, though the Galway native managed to impress regardless.
Horgan's goal was an obvious highlight. The way he burst away from the defenders from inside his own half before intelligently cutting across Lombaerts was extremely impressive, and the kind of goal very few other players in the Irish squad would be capable of scoring.
Source: Football Universe_11_of_11/YouTube
Yet there was more to the former Cork City player's performance than one moment of magic.
Martin O'Neill likes his teams to be strong defensively first and foremost and the Irish manager will no doubt have been impressed at the discipline shown throughout by Horgan in the Zenit game.
One stray pass in his team's final third put them under pressure in the first half, but that slight blip aside, Horgan barely put a foot wrong all game from a defensive viewpoint.
Dundalk have been well organised and hard to break down no matter who they've played against in Europe this year, and Horgan has contributed to their success in this regard.
Whenever they didn't have the ball, he was almost always in the correct position, filling the space on the left of a five-man midfield.
Watch below how he carefully tracks full-back Aleksandr Anyukov, who tries but fails to make an overlapping run in behind him.
Horgan put in this type of 'unseen' work on numerous occasions over the course of the 90 minutes, and for a defensive purist like Martin O'Neill, this type of hard graft will probably be just as pleasing as the more spectacular elements of the former Ireland U21 international's game.
Another impressive aspect of Horgan's game is his energy. The Galwegian rarely looks tired. After a punishing schedule that encompassed 10 games in 27 days on top of a five-hour trip to Russia and an FAI Cup final taking place three days later, Horgan would probably be forgiven for showing signs of mental and physical fatigue towards the end of the Zenit match.
On the contrary, however, he look adept physically throughout. Notice the clip below, which is in the final 15 minutes of the game with the score at 1-1. Horgan still looks as fresh as ever showing great appetite to chase a lost cause and put defenders under pressure.
Although not everything came off on the night, Horgan's willingness to take risks epitomises Dundalk's bold, adventurous approach in Europe this year. Not many Irish footballers are confident enough to dribble with the ball and attempt to beat their man, but Horgan has this quality in abundance.
Speaking in relation to James McClean during the week, Roy Keane discussed importance of wingers getting in the box and becoming a goal threat when the ball is on the opposite side of the pitch. It is something Horgan is already very skilled at doing on the basis of the Zenit clash. The 24-year-old often tucked into a more central position when his side were on the attack, and could easily had more than one goal with a bit of luck, as he was certainly taking up excellent positions throughout the match.
Keane, in the aforementioned interview, also spoke of the need for attacking players to be able to 'affect' the game, which Horgan is clearly skilled at doing. He scored the first goal and was desperately unlucky not to create the second, as his intelligent, incisive through pass enabled Patrick McEleney to sprint down the right wing and hit the bar with an audacious effort.
Conclusion
The Irish management team have backed Horgan and Boyle to succeed at international level and in recent months, it's been easy to see why they have chosen to do so.
The pair have been consistently excellent in the league, but it was probably the back-to-back matches against Zenit that sealed the deal in relation to their place in the final squad.
Both Boyle and Horgan excelled in their own way when they were in Russia the other week. Against a side with an array of top-quality internationals, these two players in particular looked at home on the European stage.
The42 is on Snapchat! Tap the button below on your phone to add!