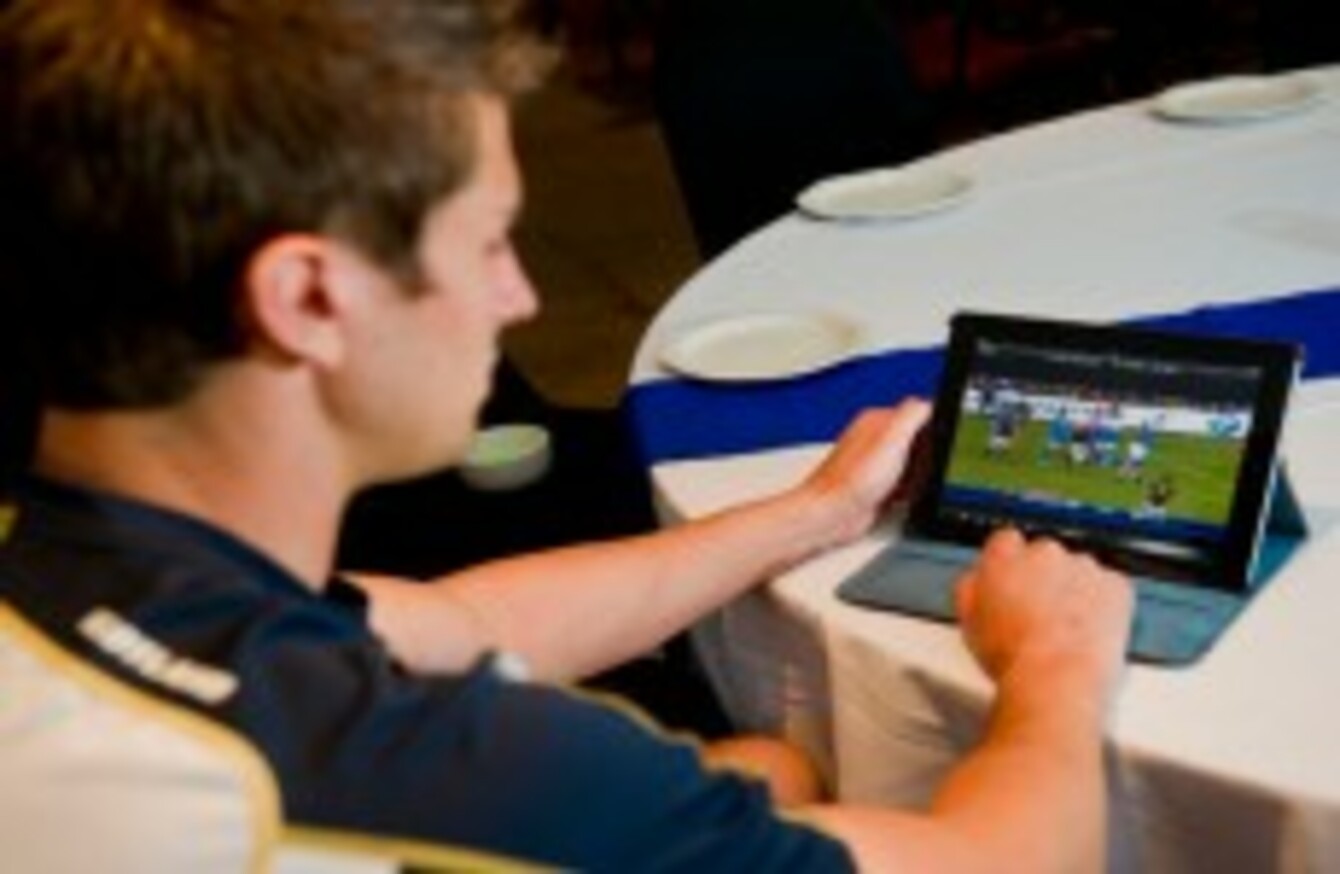 The AP Viewer app makes it easy for players to access video analysis at any time.
The AP Viewer app makes it easy for players to access video analysis at any time.
WHEN WE THINK of rugby teams going through their video analysis, we tend to picture the players seated around a big screen, with the head coach pointing out the various flaws and strengths for all to see.
While those kind of group sessions are a vital part of most clubs' weekly schedules, the majority of players are aware that there are many areas which cannot be touched upon in that limited time.
It means there is an onus on the players to get analysis done outside of the group sessions, reviewing their own performances and preparing for the opposition in aspects of the game that are specific to their positions or duties.
Paul O'Connell is famously voracious is his analysis work, picking apart both his own teams' line-outs and those of the opposition. Similarly, Brian O'Driscoll is a heavy user of video, studying how the opposition defend and attack, as well as his own side's patterns.
Portable analysis
With those video analysis demands on the players, and their appetites for making as many marginal gains as possible, a portable solution is necessary. Bus trips, plane journeys, afternoon downtime; these are all opportunities for the players to get analysis completed.
In that regard, software like AnalysisPro Ltd's AP Viewer app for iPads is vital. The app was initially tested by the Welsh Rugby Union's Head of Performance Analysis, Rhys Long, during Wales' successful 2013 Six Nations campaign.
From there, Long brought the app on tour in his role as the 2013 British and Irish Lions' lead analyst, with every one of the players and coaches using AP Viewer for their video analysis processes in Australia.
AnalysisPro released the app publicly following that winning Lions tour, and now also count the likes of Munster, the Mardyke Arena in Cork, the Scottish Rugby Union and various universities and schools among their clients.
How does the app work?
Essentially, AP Viewer acts as a review station, allowing performance analysts such as George Murray at Munster to transfer analysed match and training footage onto players' personal iPads for review and feedback.
A simple post-match transfer through iTunes allows the player access to the various packages and clips their performance analysts have chopped up, without ever having to be connected to the internet.
Josh Bryan, Support Manager for AnalysisPro, explains that the players can then access the clips in a standard 'timeline' view, or in a more in-depth and specific 'matrix' view, on their iPads.
"A timeline will give you different rows of different actions happening within a game, so you could have rows of line-outs, scrums, etc., depending on what your team wants to highlight. That's just one level of data; you have two different levels of data.
"We call them categories and descriptors. So the category might be line-out, then you'd have your own descriptors, such as 'seven-man', 'won' or 'lost', did the throw go to the back?
"When you look at these two bits of data, you load up a matrix, so it lists all your categories down the left-hand side, for example, 'line-outs', 'scrums', 'possession'. Then along the top you have the descriptors.
"I can say, 'I know we had 15 line-outs, but how many of them were seven-man?' I click on the relevant button and I can watch those clips. Or 'How many did we throw to the back?' It's a way of viewing the footage in a more organised, specific way."
Each clip can be seen from up to four different camera angles [as shown above], depending on the footage the team's performance analysts have access to, with the AP Viewer app allowing the players to slow down, rewind and fast-forward the action as minutely and accurately as they wish.
A drawing tool [shown below] is useful when the app is used for individual review sessions with coaches and analysts, allowing them to highlight specific actions to the players. Equally, that ability to draw on top of clips means the AP Viewer app can be used on the training pitch as a swift means of stressing a point to players.
Fueling performance analysis
AnalysisPro, the company behind the AP Viewer app, is the brainchild of Jon Moore, former general manager of Sportstec and a greatly respected figure within the world of performance analysis.
Bryan, a graduate of the Master's degree in Performance Analysis at Cardiff Metropolitan University, came on board in 2011 and is now in charge of marketing, social media, supporting clients and much more.
The AP Viewer is far from the only product AnalysisPro Ltd offer, with their Nacsport software providing a far more affordable timeline-based video analysis product than many of their competitors.
Nacsport allows performance analysts to chop up video footage of training and matches, providing the actual content that the players will engage with on their AP Viewer app or in squad analysis sessions.
AP Capture gives teams the opportunity to record their training sessions and games in high quality from permanently fixed cameras or a mobile tripod that is controlled with a joystick, again providing content that will eventually be used to help the team to get better be analysing their performances.
Source: AnalysisPro Ltd/YouTube
Not just for the elite
It's all hugely impressive stuff, but Bryan is keen to stress that these services are not only for professional sports teams. Performance analysis is a constantly growing part of sport and AnalysisPro are focused on catering for amateurs, as well as the elite.
"None of our equipment and software is hugely expensive, because we want to cater to the grassroots, at the same time as the elite levels still using our products.
Jon has been involved in video analysis basically since its inception. That's why we've got all these trusting people and bodies at the elite level. Jon then wanted to branch out and provide the support and processes in a different away," continues Bryan.
"It's grassroots; thinking about the process and the people behind performance analysis first, and then the product second."
Analysis Pro are heavily focused on supporting clients after they have purchased software or filming solutions, with Bryan on hand to help teams and sporting bodies to understand how, when and why they can benefit from performance analysis.
"If you can teach people the processes, then the products will reveal themselves. I think awareness of performance analysis is still not where it could be, but definitely the UK and Ireland is leading it."