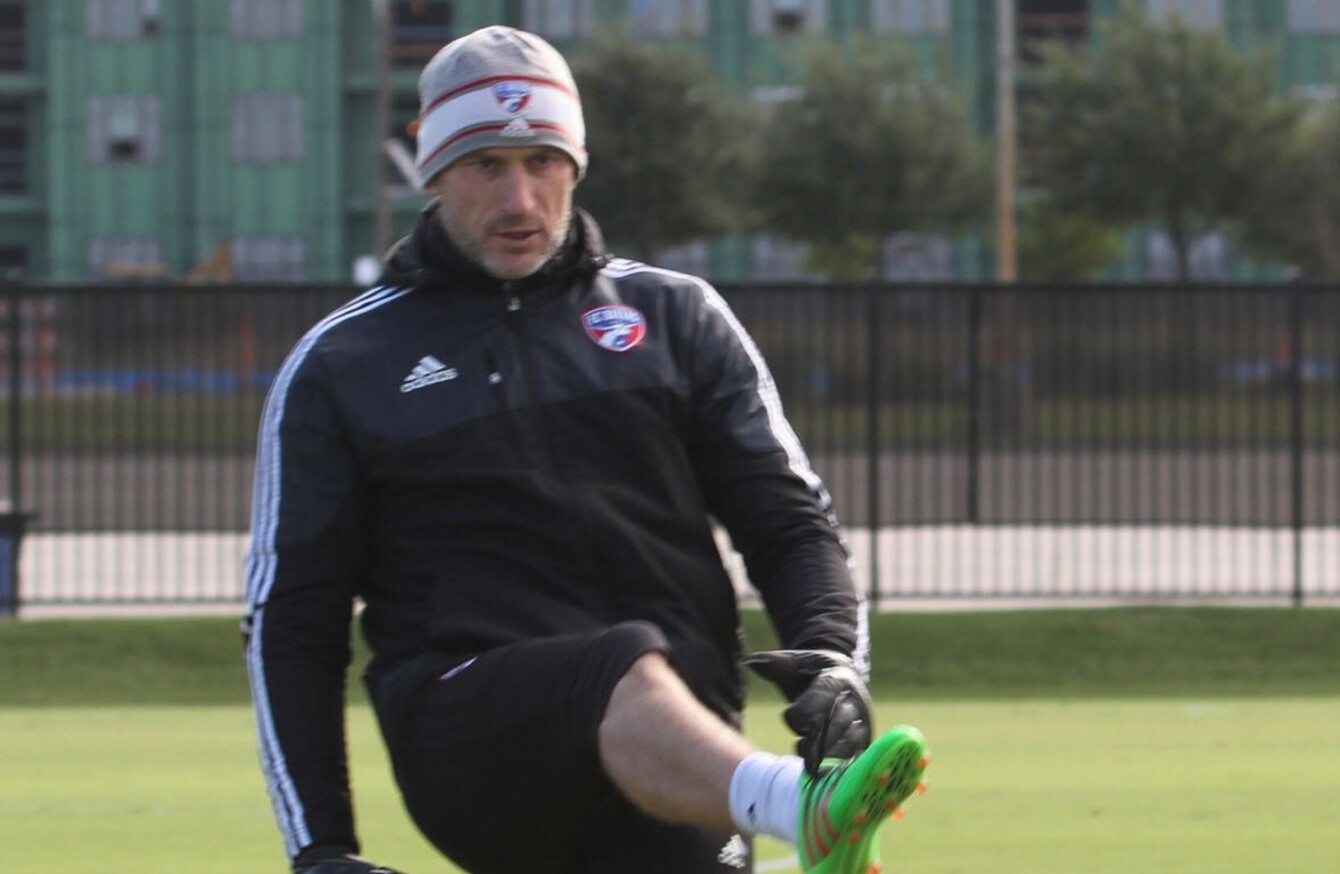 Image: FC Dallas
Image: FC Dallas
THE JOURNEY WAS certainly unconventional but Drew Keeshan got there in the end.
Next February, he'll celebrate ten years as goalkeeping coach of Major League Soccer side FC Dallas, an inexplicable achievement considering football's volatile nature and how different managers tend to work with their own, tried-and-tested staff.
The United States has afforded him a consistency he never had in Ireland. But, like any emigrant, he still experiences the pangs. Even now, over two decades since he first sampled the American life.
Keeshan grew up in north Tipperary and while everyone around him wanted to be Nicky English, his life goals were a little different.
"I'm from Dunkerrin, which is in Offaly but our farm is in Tipp," he says.
"Our land is the border between the two counties which always meant some huge rivalry with your friends. Growing up in Tipp, no-one ever played soccer if you could play hurling. If it was a hurling game or soccer game, everyone would be hurling. And I went the opposite way. My Dad had the farm and I was the oldest son so it was always, 'You're going to get the farm' but it was never really appealing to me. I wanted to go out and see the world and I think my parents knew that. It was just how I was, growing up. I went against the flow and was a little different in that regard.
When I started really watching football, I was a big Manchester United fan and it was the late-1970s and early-1980s so I loved watching Gary Bailey play. I had Peter Shilton's training videos too and I liked watching him because he was my size – 6 foot – and an unbelievable goalkeeper. Pat Jennings and Packie as well, just because they were Irish and it was something to look up because that was the dream, right?"
Keeshan played locally and went through the ranks. But during his stint in college, he was spotted by the reserve team boss at Waterford United and signed up to a year-long contract with the club. A 'big step up', he didn't play much and when a new boss came in at the end of the season, Keeshan's services were no longer required. As he regrouped during a summer holiday in the US, he remembered a conversation with a friend about the possibility of a soccer scholarship to an American university. It would enable him to keep his family happy by pursuing his studies but also keep playing too. But, once again, he was sticking his head above the parapet.
"When I got my scholarship, no-one from our area had ever really done anything like that," Keeshan says.
"No-one in my family had an understanding of what it entails so even explaining it to them was difficult. It was just something I wanted to do, just my personality – taking a gamble, particularly with my football. Not everybody sees the path you want to go but you've got to stick with what you feel is right.
I grew up in a hardcore hurling home. My brother played for the county and was really good and that makes it even more difficult when you have to break it to your Mum and Dad that you want to go to the US on a soccer scholarship!"
Initially, Keeshan attended Lindsey Wilson College in Columbia, Kentucky and stayed for two years. It proved a real baptism of fire.
"I didn't know what I was getting myself in for," he admits.
"That was me being naive. I didn't come in fit enough and it was training twice a day in dead heat. With college soccer, the season is so short so you have to hit the ground running. But it was a learning experience. It took me a while to adjust because it was my first real time away from home."
In 1998, Keeshan decided to take a year out and came back to Ireland. For the most part, Kentucky had been a tough, isolating experience and he longed for some familiarity again. So, he made some calls, desperate for another shot at the League of Ireland. Don O'Riordan, then the boss at Galway United, liked what he saw and brought Keeshan on board.
"We had a great year, finished second to Drogheda and ended up getting promoted," he remembers.
"But four games from the end of the campaign, our first-choice keeper was doing his warm-up and tore his knee. We were third in the table at the time, I think. And everything came pretty quickly then. I kept four clean-sheets in the four games. And that was probably the highlight of my League of Ireland career!"
Keeshan returned to America to finish his degree in Dietics, this time heading to Atlanta and studying at Life University, a big player in the field of chiropractic and holistic medicine. On the pitch he played a lot more. Confidence was high so when he graduated in 2001 he began to think about Ireland again. Despite some niggling fitness issues, he felt he'd developed substantially as a goalkeeper. And for the second time in three years, he found himself back home.
Initially, Keeshan got a chance with Kilkenny City but he tore his ankle during pre-season. Another roadblock. Another setback. Another missed opportunity. Disheartened, he took a break from the game and concentrated on a new job he picked up in Limerick. To keep on top of his fitness, he trained with Noel O'Connor's First Division side and impressed so much that they offered him a deal for the rest of the campaign. Simultaneously, he was offered a dietician's job at Tullamore Hospital. Finally, at the age of 28, everything seemed to be aligning.
"I had got cleared to take the job in Tullamore," he says.
But I got a letter from the government and they'd rechecked my application and said I needed to go back and do a longer internship than what I'd already done. So I had to go back to Atlanta and do a 9-month stint. So that was frustrating. I felt everything was coming together on and off the field. I had football set up for a season, I had a really good job, I was at a good age and that put the brakes on everything. It was a case of having to go back to school."
But Atlanta was good to Keeshan. It was far less overwhelming than Kentucky had been and, oddly, the city a strong Irish diaspora that made the entire transition much easier. He had a social circle and that was a nice connection to home.
"On Sundays we'd play a bit of GAA and we went to the Labour Day tournament in Boston for hurling and Gaelic football," he says.
"We'd train twice a week in a local park. We'd drink in the same pubs if we were socialising or just going for one. And it made missing home that little bit less. You had people talking about the same things: a match coming up or a local game and then the rivalries would seep through and the banter was there. And that eased missing home a little bit. I was on my own with no family and trying to make my own way. But it definitely helped. It would've been tougher going somewhere where there wasn't an Irish community."
During the internship, Keeshan did some coaching to pay the bills. The whole experience was new to him but working with young players proved a fruitful experience. Every week, he could see them blossom. Watching the raw and inexperienced improve and apply certain things in game situations was exciting for Keeshan – much to his surprise.
"I'd never really thought about coaching because I was still so gung-ho about playing," he says.
But I found I had a knack for it and a love for it. It's different than the love you have for playing but to be involved in the game and getting to work with young goalkeepers and watch them develop, you take a lot of pride in that. I love working with them and making them develop and get better. It was the biggest reason for staying: the joy I got from watching the keepers I worked with push on and find the same love of goalkeeping I had."
So, Keeshan was faced with a difficult decision. His internship had finished. He was now free to go back to Ireland again and seek out another dietician job without the same red tape as before. But this time, something felt different.
"Everything was going so well on the coaching side and I had to make a call," he says.
"Would I go back and try the League of Ireland again or hang my boots up? Anytime I felt like I was getting somewhere, there was an injury and it was back to square one again. I loved playing and wanted to go back and play but to go through all of that again…? Once I got into coaching, I felt it was the direction I wanted to take.
Career-wise as a player, I felt I got to where I wanted to go. But when you're making a decision to give up a dream, it's tough. For one reason or another, I felt it was probably time. You've got to give up certain things. But it wasn't a decision I made quickly. I had nine months to think about it. Looking back, I made the right decision. If I had gone back to Ireland again, I don't think I would've returned to the US. The age I was at, I'd have tried to play as long as I could've and got a job in Ireland. I felt it was the right decision at the time but it was hard. As a young lad, the only thing I wanted to do was play football. To make the decision to give up on that and go down a different road…it wasn't easy."
Keeshan quickly began to make a name for himself, working as the head goalkeeping coach of Georgia's Olympic Development Program for a number of years and also immersing himself in the collegiate system, first at the local Emory University in Atlanta before being hired by Clemson University in South Carolina.
Under his guidance, some youngsters excelled. Keeshan worked with Sean Johnson, who would go on to establish himself as one of the best goalkeepers in MLS and play for the US senior side. Keeshan worked with Joe Bednik, now the first-choice keeper with MLS franchise Orlando City and a former US underage international. And, Keeshan coached Jimmy Maurer, long-time goalkeeper with the New York Cosmos and two-time NASL champion, who – ironically – has just been signed by FC Dallas.
Working in a professional football setup was Keeshan's long-term objective. And he achieved it incredibly quickly. He had spent just one season as part of the Clemson staff before being made aware of a potential opening with Dallas. He made contact with the club and initially went down for a week of pre-season. Their coach at the time was Steve Morrow, the former Arsenal and Northern Ireland defender, and in February 2008, he brought Keeshan in on a full-time contract.
But, within a few months, there was a reality check. And Keeshan – then just 33 – was exposed to the ruthlessness and uncertainty of the professional football industry.
Shortly after hiring Keeshan, Morrow was sacked.
"I'd signed for one year so suddenly there was panic from my Mum back home," Keeshan says.
"'What's going to happen to you?' And I'm like, 'Asking me these questions isn't helping me calm down!' But Schellas Hyndman came in that summer as the new manager. I didn't know him and he didn't know me. But he decided to keep everything the same and reevaluate at the end of the season. So I kept the head down and did the best I could. And we were playing an away game in Houston and we got off the bus. And he said, 'Come to my room when you've put your bags away'. He told me he liked what I was doing and offered me a new contract. So that was a relief that I was going to get to stay. Because I loved everything about it."
Hyndman had been a hugely successful college coach in the US but Dallas was his first MLS job. Still, he excelled and in 2010, the club were crowned Western Conference champions after a victory over an LA Galaxy team that featured David Beckham and Landon Donovan. But, in the championship final, Dallas lost in extra-time to the Colorado Rapids. It remains the closest they've ever got.
Despite 2017 being a difficult campaign, they've made the play-offs three times in the last four years. And Keeshan has also benefitted from an incredible consistency regarding the management. Ignoring Morrow's final months in charge back in 2008, he's worked with just two head coaches in almost a decade. When Hyndman resigned at the end of the 2013 season, Dallas brought in Oscar Pareja – a former Hyndman assistant – who's been there ever since.
It's a pressurised environment, uncompromising and unrelenting but Keeshan lives for it.
"Everyday it's a challenge," he says.
Be part
of the team
Access exclusive podcasts, interviews and analysis with a monthly or annual membership.
Become a Member
"Everyday you have to be prepared. Everyday you're working towards getting a win on the weekend. The pressure that brings? I love it. I really enjoy that part of the game.
"The thing you miss the most? Being in that team environment as a player, especially when you're with a team that's doing well and winning games. Even back with Galway, we'd go for a drink together after a Friday night game. That was the hard thing to give up when I decided to stay in the States. It's different when you're a coach because you have the separation between the players. After a game, whether you win or lose, you're already thinking about the next game. You don't ever really get that downtime that the players do. As a coach, you don't try and get too excited about the wins or too down about the losses.
Whether it's a good day or a bad day, there's nothing else I'd rather be doing. If we're training in the mornings, I'll be here for 6.30 or 7. We'll meet the coaches at 7.30 to go through the plan for the day, we'll usually train at 9 or sometimes earlier. There could be a coaches meeting afterwards and then we break down video from the last game and do the same for the upcoming opponent. Then, I'll do a goalkeeping game-plan. It's specific to the opponent and that's presented to our keepers. It's a scouting report on the opposition. Tendencies of their attackers, tendencies of their set-plays, how we are going to plan as a team against them and what the role of our goalkeepers is going to be in that regard. And that's very time-consuming, especially if you have two games per week. Some days are 12 hours. Some days you can take the computer home and work from there, if the manager is okay with that."
It's a long way from playing second-tier football in the League of Ireland in the mid-90s and Keeshan admits the manual for training goalkeepers has been completely rewritten, largely owing to the technology that's so crucial now.
"They get their boots and gloves – I had to buy my own!" he says, with a laugh.
"I never had a goalkeeping coach sit down with me and go through videos of the last game or of the upcoming opponent. I never had those tools. The coaches didn't have them. And there's so much technology now for instant feedback. We use cameras in training sessions. Like, these guys wouldn't understand how it was 20 years ago. Our academy coaches video their sessions and go through video with the academy kids. For us it was so different. I'm envious of the different stuff goalkeepers get now. And you think back and wish you'd had it because of how you could've benefited from it."
Keeshan tries to keep up to date with the Irish domestic game as much as possible and as impressed as he's been with the level of success attained by the likes of Dundalk in recent seasons, he still sees something that resembles what he left behind.
"I went back a few years ago to watch a player we were interested in," he says.
"The atmosphere was great, the field was good. It looked a lot different to when I played in Waterford! There was a vocal support which was fantastic too. I try and watch some of the highlights on the RTE Player. The League of Ireland highlights show? You never know what players want to make the jump across the water so you want to make sure that when the manager asks you that you're familiar with them. Some teams have done really well and we all saw how incredible Dundalk's run in Europe was. So, the top three or four clubs are probably fine. But, when it trickles down, it's still probably like what it was back when I played. It depends on the money the clubs have for facilities and various resources."
After some initial skepticism, Keeshan's family are now huge FC Dallas supporters, having seen the thrill of the game up close.
"I don't think any of my family really understood until they came and saw a game," he says.
They came to New York on a trip and we had a game there so I got them tickets and that's when it sunk in…'This is what he wants to do'. They saw the fans and the stadium and the colour and the excitement. And they just needed to see it to understand it, really. But they're unbelievable now. My brother in-law is a huge fan. He'll text – 'Have you guys just signed this guy?' He'll know the news before I do. They'll all stay up until 4am and watch games live on Sky Sports now."
Like anyone who has moved and settled in a new country, there are things Keeshan misses. The impact and influence local GAA has on his community is one of those things.
"As much as soccer was my life, hurling taught me a lot," he says.
"Those are the things you miss from home, really. Even going to watch the local team. I follow the results online just to see how they're doing. But you miss being there with your family and going to support them. You don't have that anymore."
Keeshan is back in Ireland for the festive period and educating his own kids on the important things: farm etiquette and Tipperary hurling folklore.
He's back at work in the first week of January and everything will start all over again. He'll go the gym, open the door, gaze out at the stadium and take a moment.
I grew up in farming country in Tipperary and now I'm here – getting to coach against the David Beckhams and Thierry Henrys of this world. You could never dream it, to be honest. Along the way you look back at the decisions you made at the time and maybe they didn't make much sense to other people but they kind-of made sense to you. And that was the big lesson I learned: to trust yourself. Even when people don't understand why you're doing something. You have to have a lot of self-belief and determination, especially to leave home and travel halfway across the world not knowing anybody and trying to build a life for yourself.
So many Irish people have had to do it but I chose to do it and I'm so grateful it worked out. There is a degree of luck to it – meeting the right people at the right time, the right opportunity opening up at the right time and you're in the right place at the right time. But I've been here 10 years now and I love it. I couldn't wish for anything more, except winning MLS Cup would be nice. We're definitely going to keep trying."
The42 has just published its first book, Behind The Lines, a collection of some of the year's best sports stories. Pick up your copy in Eason's, or order it here today (€10):