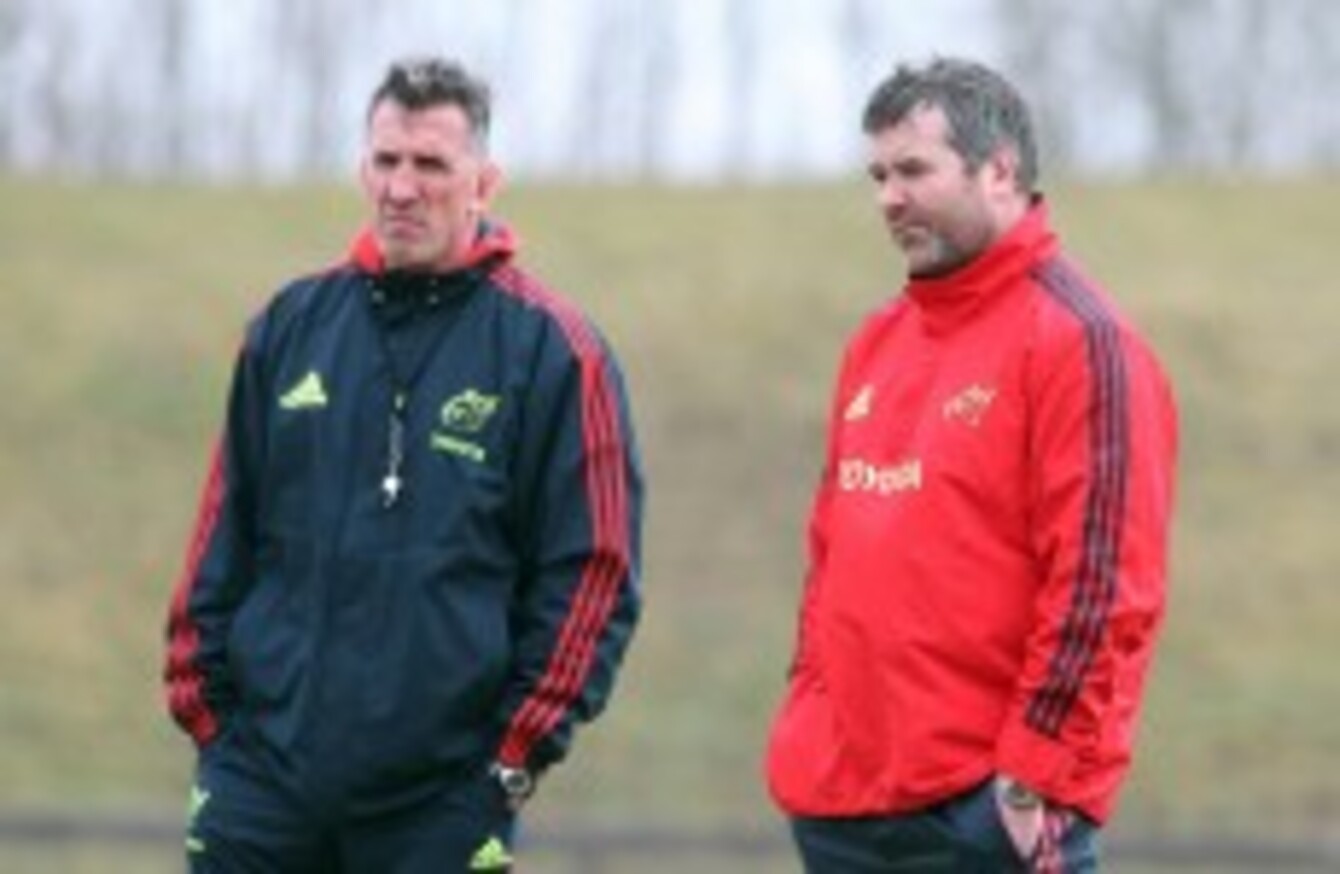 Rob Penney has left Anthony Foley with a good crop of young players but a frustrated backline.
Image: Lorraine O'Sullivan/INPHO
Rob Penney has left Anthony Foley with a good crop of young players but a frustrated backline.
Image: Lorraine O'Sullivan/INPHO
MUNSTER UNVEILED THEIR new coaching set-up down at University of Limerick, on Wednesday, and there were lots of familiar faces.
I played for many years with Mick O'Driscoll, Jerry Flannery and Brian Walsh, who along with Ian Costello, make up the new team under head coach Anthony Foley. They would have had their first full coaching meeting on Wednesday and I am sure the talk will be about getting back to the Munster way, and style of play.
The advantage of the Munster-centric appointments is that it cuts down any settling in period. Rob Penney and Simon Mannix will have had to learn about players and systems when they first arrived, in 2012, but Foley can hit the ground running. His guys have vast knowledge of the area, the clubs and players. They will have their feelers out and Foley will not have to play catch-up.
Foley will be fairly hands on with the forwards, I imagine. He is very much a players' coach and that is no harm. Penney himself took a lot of those responsibilities on, up front. When it comes to the Munster backline, I would agree with the comments [by Shane Horgan and Keith Wood among others] that the tactics were often stifling.
There were no targets for the backs to hit or running lines to execute. It was all about width; going back and forth. Munster's game-plan in so many matches was less about go forward ball and more about that east to west play. That puts a lot of pressure on a backline because top class defences will press up and cut down the space to run into.
Foley will look to revert to that north-south style; using the forwards to get you on the front foot. Getting a yard or two ahead of the gainline makes a massive difference and boosts the backline's confidence.
Looking back on Penney's two years, I would first have to commend the players for the attitude in the bigger games. It was very much player driven, that return to the Munster values, in those matches. It was in the not so big games, where Munster tried to implement a width-focused style, where you would get disheartened.
In those lesser games, it was very frustrating to watch Munster and see, over two seasons, no signs of progress. When you're up for a match, you'll make those yards regardless but you could see certain players struggled with the style in league and [Heineken Cup] pool games.
You could not fault the attitude of the players in the European matches against Harlequins, Clermont, Toulon and Toulouse. That was very often when there was a stronger deck to chose from and leaders like Paul O'Connell and James Coughlan, and Conor Murray of late, took it upon themselves to ensure Munster were driving forward.
Brian Walsh, or Squeaky, is a laid-back guy with a vast amount of coaching experience with Cork Con. He had it so easy back there, during his playing days at fullback, you could almost picture him leaning against the post, smoking a fag. He is as easy-going a character as Foley so should fit in seamlessly with the set-up.
Jerry Flannery is coming back as scrum coach and will relish the challenge. He is the type of guy who, if he sets his mind to something, will come back with a PhD in it. He will be eager to get in there and work closely with lads like BJ Botha and Damien Varley. Being over at Arsenal really opened his eyes to the training techniques on offer. He did find, however, that rugby players often push themselves more in training than the soccer lads.
In fairness to Penney, he brought on a number of young players and gave them the chance to experience some big matches. That will stand to the club. There will be changes to the playing staff next season, too, with Tyler Bleyendaal, Andrew Smith and Robin Copeland coming in. Bleyendaal often plays out-half so I'm sure that might ruffle the feathers of JJ Hanrahan and Ian Keatley. That is no bad thing. From week one, Foley and his coaching staff will need to drive home that this is a fresh start; every jersey, every position is up for grabs.
My end of season review
Best game: I would be tempted to go for the quarter final win over Toulouse but they were almost out of it, in attitude and approach, after Munster's great start. In terms of performance, I would go for the away win over Perpignan when JJ got over for that last-minute try.
Worst game: It is hard for me to say here as I didn't see the game live, but the defeat to Ulster at Thomond Park was damaging, heading into the Pro12 semi final with Glasgow. Munster started the Heineken Cup badly, losing away to Edinburgh, but their performance was not too worrying and the Scots capitalised on a couple of unfortunate mistakes.
Best player: Conor Murray. I remember when he first arrived in the squad; it was like he had been there 15 years already. He hit the ground running and has never looked back. He has been fantastic this season, does more than his share of tackling and it is his attitude that I respect most. Peter O'Mahony had a fine season for Munster and Ireland and James Coughlan, as always, was consistency and commitment personified.
Room to improve: As covered above, there will be a noticeable change in tactics next season. What I would like to see is a marked increase in skill levels. Leinster have such high skill levels across the board. Munster's attitude has always been that their drive, and the old values, will see them through in big games but marrying that to an improvement in skills could make all the difference next season.
@wa22y played 197 times for Munster, won 72 Test caps with Ireland and appeared in three Tests with The British and Irish Lions. He runs @MrSimmsCrescent Olde Sweet Shoppe at the Crescent Shopping Centre.