Liveblog
After United and Everton's 1-1 draw in Manchester and Spurs' late 2-1 win in Wolverhampton, the focus now switches to City and Arsenal in London on Super Sunday.
The Gunners, on home soil, are looking to end Pep Guardiola's reign of terror over them after losing the last four Premier League meetings between the sides.
Under the watchful eye of interim manager Freddie Ljungberg, the hosts will be looking to build on his first win in charge last week.
But reigning champions Manchester City are, of course, still the favourites, despite their recent dip in form.
Kick-off at the Emirates Stadium is 4.30pm.
We'll start with team news.
No Alexandre Lacazette again for Arsenal, as they make two changes from their last outing. Sead Kolašinac and Matteo Guendouzi come in for Kieran Tierney and Granit Xhaka.
The main news from the other camp is that 19-year-old Phil Foden starts in City's midfield, in one of five changes to their midweek outfit.
Arsenal XI: Leno; Maitland-Niles, Chambers, Sokratis, Kolasinac; Guendouzi, Torreira; Pepe, Ozil, Martinelli; Aubameyang.
Man City XI: Ederson; Walker, Fernandinho, Otamendi, Mendy; Rodri, Gundogan, Foden; De Bruyne, Jesus, Sterling.
This should be an interesting one. Third-place City — 17 points adrift of Liverpool, and seven points off Leicester — desperately need a win, while Arsenal are on the hunt for some success in front of their home fans.
How do you see it going?

Speaking to Sky Sports, City teenager Phil Foden says his first Premier League start of the campaign today "means everything," and is "confident in my ability" despite a few pre-match nerves.
Elsewhere, Guardiola seemed excited by the prospect, while he said he wasn't sure what to make of Ljungberg's Arsenal just yet.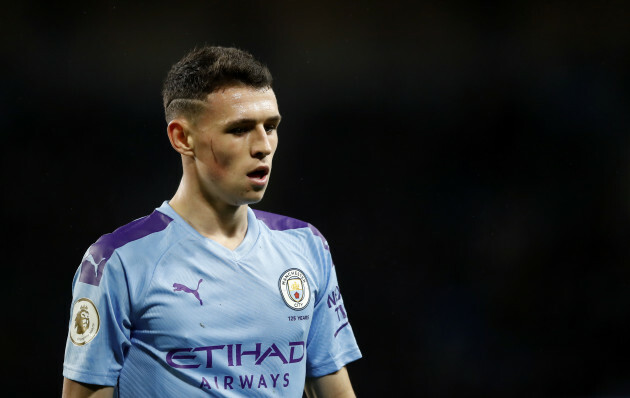 A big day for Phil Foden. Source: PA Wire/PA Images
Should Arsenal win today, they get within four points of Chelsea. They're currently in ninth. City, on the other hand, desperately need to stay in touch at the top of the table ahead of a busy festive period. They'll be mad to get back to winning ways after the derby last week.
The teams are coming out of the tunnel, kick-off is four minutes or so away now.
KICK-OFF – City, in their away strip playing from right to left, get us underway. Paul Tierney is the man in the middle.
A brilliant start from Arsenal, they threaten with less than a minute on the clock. Martinelli is kept out, however.
GOAL! Arsenal 0-1 Manchester City (De Bruyne, 2)
1 minute, 40 seconds on the clock; and that man Kevin De Bruyne steps up with an absolute cracker to put City in the driving seat. What a finish.
Well, that early City goal fairly put a dampener on Arsenal's bright (?) start. The reigning Premier League champions and their electrifying Belgian midfielder have set the tone here at the Emirates, brilliantly cancelling out the Gunners' early chance.
Arsenal won't back down anyway, that's for sure, but the attack they mustered up ultimately results in nothing. Similar fate for City at the other end, though they look more dangerous.
Martinelli is a bright spark for the home side, he dances down the left but City keeper Ederson cuts out his cross. The ball lands to Pepe on the rebound, but his effort is a poor one. He wins a corner with their next attack, though.
Arsenal have done well from corners of late, but nothing comes off that one. They're blown up for offside, and City work the ball out at their ease.
De Bruyne stands over a free-kick from 30 yards or so. He looks like he could shoot, but instead opts to chip it in. No trouble for Leno between the Arsenal posts.
Ozil sent in a free at the opposite end then, but likewise, it amounts to nothing. Apart from the two free-kicks and the odd flash of brilliance from Martinelli as Arsenal attack, it's been quite a quiet period.
GOAL! Arsenal 0-2 Manchester City (Sterling, 15)
A tap-in from Raheem Sterling at the back post. In the right place at the right time, he finishes off a lovely City team move after some brilliant work — and an assist — from De Bruyne.
Fernandinho sees yellow for a cynical foul on Aubameyang around the middle. Just before that second City goal, the possession stats flashed up on the screen: 52% Arsenal, 48% City. It all came from Arsenal trying to press high up the field, and City breaking right through them.
Another Ozil free; nothing. Another bright looking charge from Martinelli down the left; nothing. De Bruyne gets on the ball going forward at the other end, but he's swallowed up by the Arsenal defence.
There's absolutely zero atmosphere in the Emirates. Understandable, with the home side 2-0 down after 20 minutes. City will be happy with their start, and will just box clever now.
Not much to report, Martinelli looked to be nursing an injury while there — albeit a hand one — which would have been a blow to already-struggling Arsenal, but he's fine again. City are well in control, but Arsenal still look like they could make something happen on the attack from time to time,
A promising period for the hosts there. Ozil sends in a cross, it's headed out and into the path of Guendouzi but his shot is blocked in the box. Moments later, he falls dramatically just inside the area and there are calls for a penalty. No chance. Tierney waves play on.
Just past the half-hour mark, and all is relatively going to plan for City after early goals from Kevin De Bruyne and Reheem Sterling.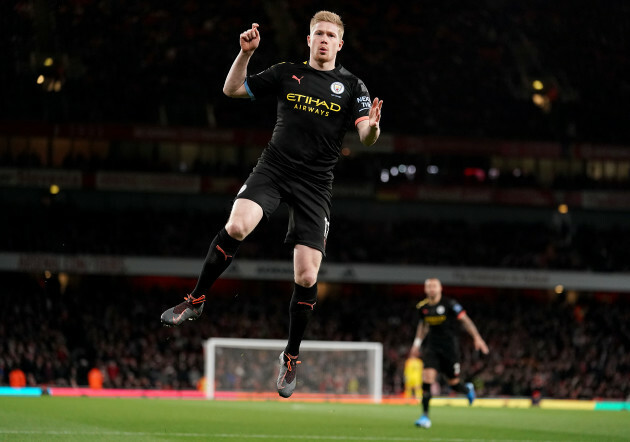 Source: PA Wire/PA Images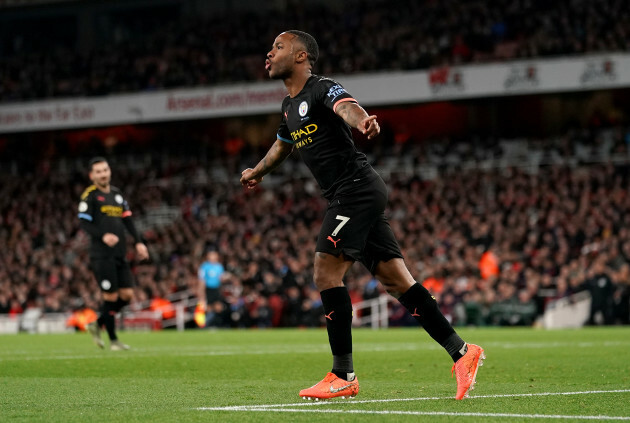 Source: PA Wire/PA Images
Walker needlessly fouls Torreira, gifting Arsenal a free from a dangerous area on the left. But much like the first third of the match, nothing goes their way as Ozil's ball in is easily dealt with.
Rodri is shown a yellow card for a dangerous lunge on Kolasinac, who's now down receiving treatment.
Kolasinac is back on his feet to cheers from the home crowd, and looks okay to play on. Ozil sends in the resultant free-kick, which is just in from the left, but Mendy heads it out of trouble. Arsenal could really do with a goal before half-time.
Arsenal substitute - Kolasinac had come back on the field, but turns out he's not fit to play on after that challenge from Rodri. The defender limps off very slowly, with an ankle injury.
GOAL! Arsenal 0-3 Manchester City (De Bruyne, 40)
Outrageous. A simply brilliant finish from the Belgian once again, he places the ball into the bottom corner and that's two goals and one assist from the City star before half time. A masterclass.
That all happened when Arsenal had 10 on the pitch. They've made their replacement since, with Bukayo Saka coming in for Kolasinac.
Oooooof! De Bruyne nearly had his hat-trick there and then. An absolutely stunning curled effort from 35 yards, but Leno does superbly to get his fingertips to it. The Arsenal keeper, and the woodwork, keep it out of the top corner.
Foden's contribution in the build-up must be noted, along with his assist in the third goal. The youngster is really coming into this one.
Three minutes added on at the Emirates, and the break can't come quick enough for the hosts.
HALF-TIME – Arsenal 0-3 Manchester City
An almost silent Emirates bursts into boos as the whistle sounds. And Sky Sports put it best: what a half from delightful, delicious De Bruyne.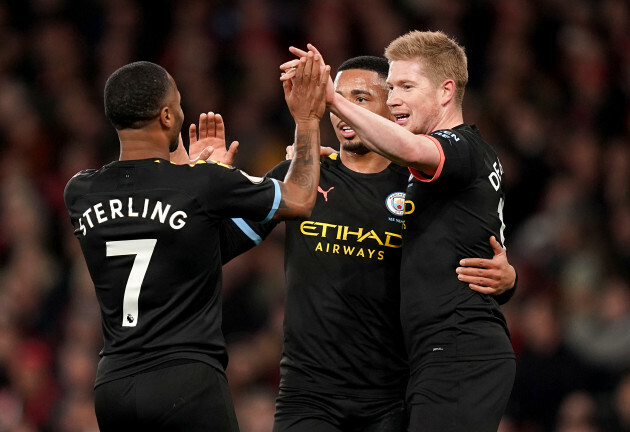 Source: PA Wire/PA Images
A first Premier League brace for Kevin De Bruyne, with back-to-back champions City showing their brilliance. A treat for the neutral and Sky Blue fans, but an absolute horror show for the Arsenal contingent.
Any half-time thoughts?
SECOND HALF – We go again, Arsenal setting the wheels in motion this time. No changes to report from half time, but the hosts need something quick.
Ljungberg's men are just playing the ball around, settling in once again. Tough situation for the interim boss to be in, difficult enough for an experienced manager to be 3-0 down at half time.
Again, the hosts produce the first promising attack. A good delivery from the right from Maitland-Niles finds Aubameyang — under pressure — but his header goes wide. Better.
Martinelli gets on the end of a loose ball and shoots down the left. The cross he whips in is quite good but Mendy clears his lines. Arsenal attack again, with Torreira getting the last say after some good work from Ozil. He lets fly but the effort, in turn, flies well wide.
Jesus, at the other end, lets rip. De Bruyne plays a beautiful pass — through legs — to the centre of the field, and the ball eventually makes its way to Jesus out left. Waheeeey is the general consensus from Arsenal fans as his wayward effort is a very poor one.
That sums it up. Ozil and Pepe link up down the left, and a simple pass from the latter to the former goes over the line. De Bruyne is almost in for his third at the other end but Arsenal manage to keep him out again.
City substitution – Phil Foden makes way for Bernardo Silva.
Arsenal substitution – An unhappy-looking Ozil makes his way off very slowly, drawing a kick to the air after her crossed the line. English youngster Emile Smith Rowe comes in for his first Premier League appearance.
Ilkay Gundogan sees yellow for City. This game has turned very scrappy.
Just like that, City should have went 4-0 up. Chambers is punished for a bad error just outside the box, with Jesus pouncing, but Leno keeps him out. There's another Arsenal shot then, and it's blocked — by Chambers. Good recovery.
Mendy is booked for a foul on Pepe at the other end, and Ederson leaps to catch the resultant free-kick.
There's not much news to bring you, with this one turning into a fairly drab affair. Martinelli goes down in the area, calling for a penalty. But Arsenal are clutching at straws here, he fell backwards himself. City are happy to sit on the 3-0 lead at the minute, patiently playing the ball around until another opportunity arises.
The visitors win a corner, after Maitland-Niles knocks the ball out of play. He's feeling sorry for himself after the ball hits his groin, but he recovers to clear his lines — but give away another one. Leno catches the second corner.
City substitution – Riyad Mahrez comes in for Gundogan.
While we took time to share those videos, we missed very little. An error-laden spell from both sides, it seems. City kicked one out over the sideline, Arsenal keeper Leno did the same with a bizarre mis-kick, and Sokratis is booked for a foul on Jesus.
Arsenal won't give up… Torreira sends a long ball in to Aubameyang, and his effort from the left edge of the area bobbles well wide. City have a chance at the other end then through Sterling, as they play with time and look to see this one out. That shot is blocked by Chambers.
De Bruyne fancies his chances to add to his brace, he doesn't really connect with the ball however and there's not much power in the effort. Leno collects at his ease.
10 minutes to go, and Arsenal look for something through Pepe down the right. They end up coming well back though, much to their fan's displeasure. The second half really has been a non-event, let's be real.
Arsenal substitution – Joe Wilcock comes in for Torreira in Ljungberg's final change.
Meanwhile, the home fans filter out of the ground. They've seen more than enough.
A ping from Walker finds Mendy, and City look to inflict further pain. They're happy to just throw the ball around, though, with olé's coming from the happy travelling fans for every successful pass.
City substitution – job done for Mendy as Oleksandr Zinchenko comes in. A boost for Guardiola to have him back fit after a nasty injury.
Leno to the rescue once again as he denies Mahrez. It really could be 4,5,6-0…
De Bruyne pops the ball over the bar. Unsure whether that one was an effort on goal or a misplaced cross, but the Belgium international is disappointed with whatever it was…
All it would be is a consolation goal, but Arsenal still can't get it. Saka's cross from the left-hand side goes right across the face of goal and out wide. Again, City nearly get their fourth at the other end. Sterling attacks at pace from the left but his shot drags just wide of the far post.
Three minutes added on.
Arsenal are playing the ball around. City fans are singing. They'll be happy with the three points and a brilliant first-half performance from the champions. The Gunners looked to be away there with a promising attack, but Martinelli — who has actually had a decent day, all things considered — falls, to round of a disappointing day.
To be fair to the Arsenal fans who stayed, most of them showed their support in the dying minutes, applauding their side's efforts.
Arsenal 0-3 Manchester City
There's the final whistle, as Driving Home For Christmas rings out around the Emirates.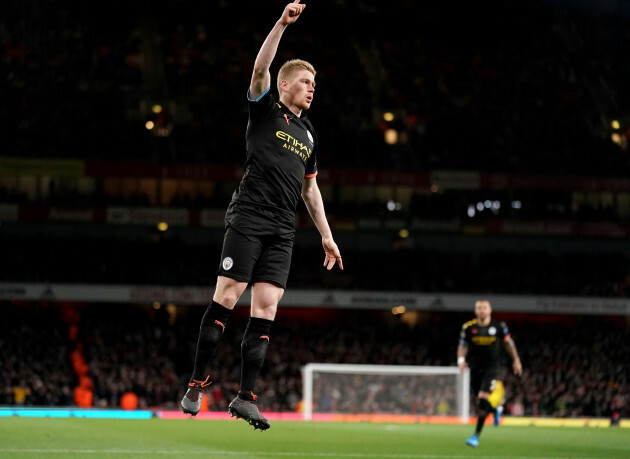 Source: PA Wire/PA Images
So, that's that. City still in third, four points behind Leicester and 14 behind runaway leaders Liverpool. Guardiola will be more than pleased with their first-half performance anyway, and with that man, Kevin De Bruyne.
For Arsenal meanwhile, it's more and more pressure on the Gunners. It's all put into perspective by the fact that their only shot on target in the game was Martinelli's very first effort with mere seconds on the clock — before it all went pear-shaped.
We'll wrap up the liveblog now, with a full report to come on The42 shortly. And as always, stay with us for reaction and analysis. Thanks for reading, and enjoy your Sunday evening (maybe you won't just as much if you're an Arsenal fan!)
Contribute to this story: