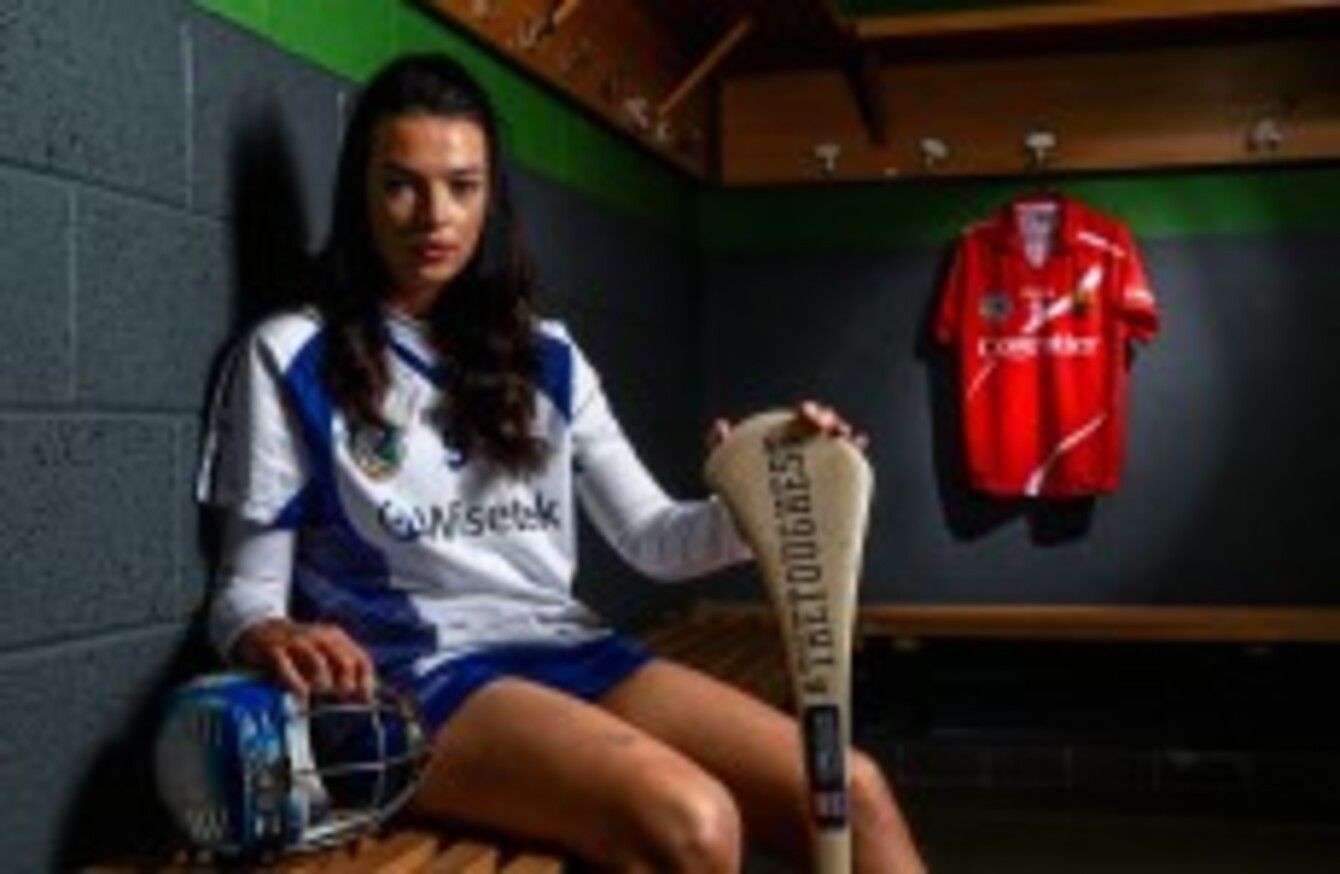 Milford and Cork's Ashling Thompson was speaking at the launch of the AIB GAA Club Championships.
Image: Ramsey Cardy/SPORTSFILE
Milford and Cork's Ashling Thompson was speaking at the launch of the AIB GAA Club Championships.
Image: Ramsey Cardy/SPORTSFILE
ASHLING THOMPSON HAS given so much of herself that it's no longer a surprise when she volunteers bits of information where others would naturally shy away.
Cork's All-Ireland winning camogie captain had just lifted the O'Duffy Cup and was muddling her way through her speech when she paused.
"Sorry, I'm a small bit concussed," she explained.
Thompson, the all-action Allstar in the heart of midfield, was still feeling the after-effects of the belt she took late on against Galway but nothing was going to hold her back from the proudest moment of her career.
The words came, even if they were a little bit hesitant and not always in the right order. The team's fitness coach Kevin Mulcahy was accidentally rechristened as Kevin Murray; her club, Milford, were forgotten in the haze.
"I watched back on it," Thompson says. "I remember walking up the steps but I can't remember saying what I said.
Looking back on it now, my god, I would give that speech a solid two (out of 10). It was terrible.
"I'm glad that I mentioned that I was slightly concussed because it was that bad."
It was a couple of hours before Thompson felt fully right again. It was nowhere near as severe as some of the knocks she has taken in the past — a hit in her first league game against Kilkenny left her suffering for the best part of 48 hours – but she knows that even the mildest head injury still needs to be assessed.
The proper protocols became a bit of an after-thought as the celebrations broke out. At least, she thinks they did.
"I actually can't remember (if I told anyone)," she adds. "I think I only said it in the speech.
A few of the girls asked me was I ok but I always say, 'Yeah I'm grand', so no, I don't think I said anything.
"I could have said it but I suppose everyone just wanted to get out and go straight to the pub.
"I was standing up and I was fine and my eyes were open so to them it was probably, 'Ah she's grand.'"
When you know the journey that Thompson has taken to this point, you can understand how desperate she was to savour this moment and not let anything diminish it.
She has been searingly honest in detailing her demons and her personal battles, laying them bare in the hope that her experience might resonate with someone else and, maybe, just might help them through a dark day.
Depression. Suicide. Death. They all have their place in her story which is, ultimately, a inspirational message of strength, courage and camogie.
"Nobody knew me two years ago and they're probably sick of listening to me now and looking at me and hearing about me. It's totally changed."
She adds: "At the start I was very secretive about the whole story and I didn't open up as I have now. That's obviously practice.
When you first do an interview, you're not going to give everything away because you're scared.
"It's hard to do those things because you don't know what people are going to write or what people are going to say. As the years go on, I felt way more comfortable and there was more to the story.
"People want to know more because it's helping others too, and people look up to it a lot so I'm really eager to give more of myself now and bring more awareness to the sport and mental health."
Over the last two years she has become of the most recognisable female faces in the GAA, a product of her leadership on the pitch as much as her presence off it.
"I'm a lot more confident in myself," she explains when asked how that public elevation has changed things.
"You worry. You just worry at the start about what people are going to think and because I've got such a great reaction and such great feedback off it, it has made me a lot more confident in myself.
"I would have had a lot of anxiety there two years ago, and I still have anxiety now and again — who doesn't? — but it has helped me a lot with that as well. Mentally, too.
"My performance on the pitch has picked up so much with captaincy and in the last year. Sometimes it can scare you but I've really grown into myself.
It's not over-confidence or that I'm full of myself or anything. It's not. I'm just so happy that people are so accepting and that I'm getting all the right feedback.
There is definitely a link between confidence and performance, Thompson says, and her Cork team-mates feed off it as well.
"You know when someone's not listening to you and they keep looking around, thinking will you ever shut up, but they even said it themselves — they really do focus on what I'm saying and they listen to what I say.
"They're really proud of me and it gives them something to strive for. Maybe it might give them the strength to express themselves on the field because they know what I've been through. They could be going through the same thing and I don't know.
It just might give them that confidence and really open their eyes to see what sport can do for you.
On Sunday, Milford have designs on another title when they take on surprise package St Catherine's in the county final.
For Thompson there is another prize at stake too — a win would leave the door open for her to be reappointed as Cork captain in 2016. If offered the honour again, she would seize it with both hands.
She loves the responsibility. She loves her new star status. She loves how her life has been transformed by camogie.
"I'd never change it, and it's not for the limelight. It's not for that. It's just how I feel myself now compared to what I used to feel.
I just feel like a lot more like I used to be. Like, when I was really young I was always energetic and really social, or sociable and stuff like that, but when I went through those rocky times, I wasn't, and it really affected me on a personal level.
"Even talking to people, and going into the whole Cork setup I was very taken aback and just really anxious and nervous, whereas now all that has really helped me, my own personal skills, in just communicating, leadership, teamwork, all that kind of stuff.
"No, I'd never take it back. No."