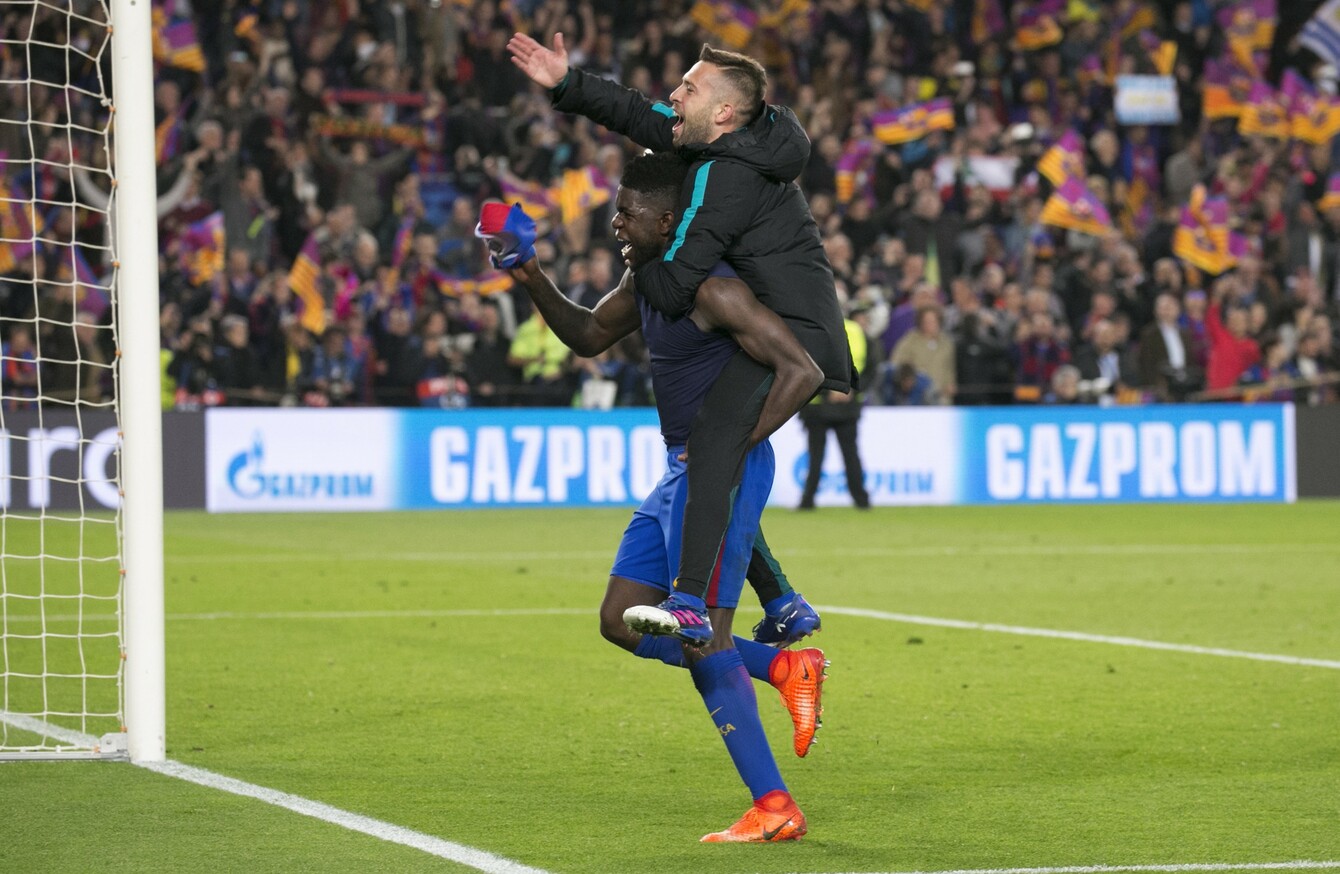 Barcelona's Samuel Umtiti and Jordi Alba celebrate after last night's match.
Barcelona's Samuel Umtiti and Jordi Alba celebrate after last night's match.
BARCELONA'S 6-1 WIN over PSG was undoubtedly spectacular — just how spectacular and how it compares to other memorable sporting occasions remains open for debate.
It is certainly unprecedented in one sense — no team in Champions League or European Cup history has ever recovered from a four-goal first-leg deficit.
Three goals in seven minutes also makes it truly special.
But in the history of footballing comebacks, where it ranks is open to question.
Do the poor refereeing decisions and occasionally blatant cheating from the Barca players detract from the feat in any significant way?
Does the context have a considerable impact in determining how highly a comeback ranks?
Liverpool's recovery from a 3-0 half-time deficit against Milan in the 2005 Champions League final was easier to pull off, as they had 45 minutes rather than seven to score three goals, but it was achieved amid a bigger occasion.
Similarly, was Man United's comeback against Bayern Munich more impressive because the stage was grander and the opposition were more formidable?
Moreover, does context even matter that much?
As recounted by ESPN here, Charlton once defeated Bill Shankly's Huddersfield 7-6 at The Valley, despite being 5-1 down and reduced to 10 men with 30 minutes to play in an obscure Second Division match just before Christmas in 1957.
In more recent times, a David-Pleat-managed Tottenham side were 3-0 up at home against 10-man Man City in the 2003-04 FA Cup, before a second-half revival saw the visitors prevail 4-3.
So with all that in mind, do you think Barca's triumph last night was the greatest-ever footballing comeback?

The42 is on Instagram! Tap the button below on your phone to follow us!