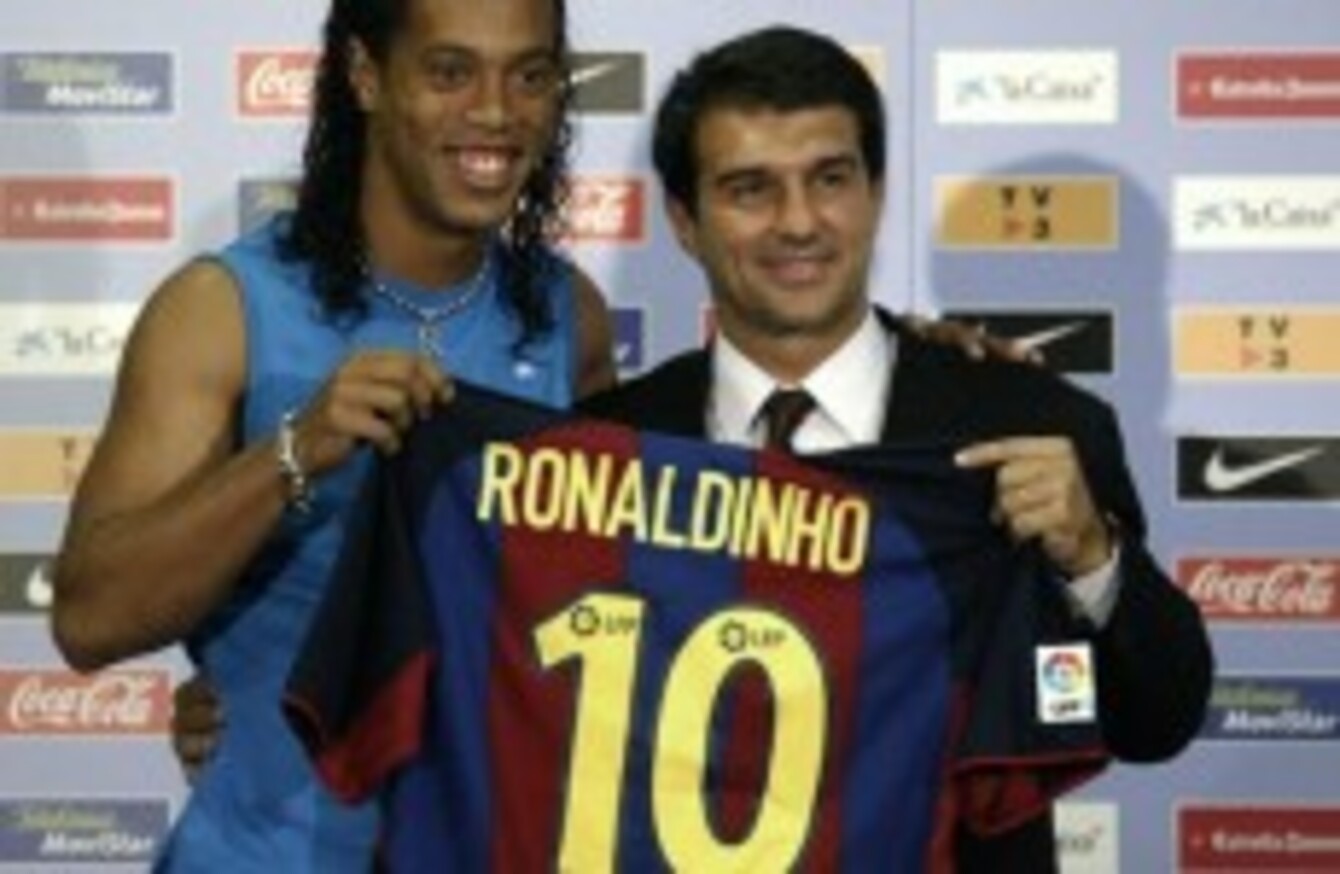 Heyday: Ronaldinho and Juan Laporta.
Heyday: Ronaldinho and Juan Laporta.
A BITTER BATTLE is already under way. Barcelona's problems at boardroom level in recent months have raised serious question marks over the future of current president Josep Maria Bartomeu and, almost two years away from proposed elections, the race is already on to lead the Catalan club from 2016 onwards.
Bartomeu began as vice-president to Sandro Rosell in 2010 but took over when the latter resigned in January and the 51-year-old has vowed to carry on the work of his former colleague by standing for re-election in 2016.
However, his mandate has been questioned because he was never elected by socios (club members) in the first place. Indeed many socios called for new elections after Rosell's resignation earlier this year, when the former president stepped down due to the controversy surrounding the financing of the deal to sign Neymar.
Two key opponents are already emerging to challenge Bartomeu and here, Goal takes a closer look at those candidates plus all you need to know about the presidential race at Barcelona.
Unless there is a censure motion to challenge the current board, the elections will take place in the summer of 2016, which is when the current board completes its six-year mandate.
Unhappy socios can trigger a censure motion (essentially a vote of no confidence) by gaining 15,000 signatures from fellow socios who are against the board.
Previous president Joan Laporta faced a censure motion himself back in 2008 and survived, while a similar initiative against Rosell was scrapped late last year after the two socios leading the campaign for the Go Barca group complained that it was impossible for them to collect 15,000 signatures.
Another attempt looks unlikely now and if there is no censure motion, elections will go ahead as planned straight after next season – probably in early July 2016.
At the moment there are three potential candidates: current chief Josep Maria Bartomeu, former president Joan Laporta and Agusti Benedito, who lost out to Sandro Rosell in the 2010 elections.
Bartomeu has already said he will run once the current mandate is up, while Benedito has also confirmed he will be in the race and Laporta has hinted on more than one occasion that he is prepared to run again for the position he occupied between 2003 and 2010.
However, more candidates could yet join the race.
Agusti Benedito is a 50-year-old Catalan businessman who has long been linked to FC Barcelona.
A co-founder of the Elefant Blau censure motion movement against former president Josep Lluis Nunez in 1997, Benedito worked under Joan Laporta at Barca from 2003 but handed in his resignation in 2009 due to differences with the former club chief and his board.
Benedito then ran for the presidency himself in 2010, finishing second in a four-man race which Sandro Rosell won by a landslide with over 60 per cent of the total vote.
That's unlikely, even though the two men are still on good terms, and Benedito dismissed the idea this week. "We're not thinking about pacts. We should try to do things differently and get Barca out of this dangerous spiral the club is in at the moment," he said.
However, Laporta's former vice-president Alfons Godall believes the two men should unite in a joint project to defeat the current Barca board. "Together, Joan Laporta and Agusti Benedito could do some really great work at Barca," he tweeted earlier this week.
In an online poll carried out by Catalan daily Sport earlier this week, 69% of more than 1,500 people voted in favour of a joint campaign by the two.
Laporta. An independent poll carried out by Benedito's team and revealed in a press conference this week had Laporta with 33.8 per cent, Benedito with 23.9% and Bartomeu with just 17.9%.
Although a controversial and outspoken figure at times, Laporta is rememberd for his successful spell as president between 2003 and 2010, when he brought both Frank Rijkaard and Pep Guardiola to the Catalan club, winning two Champions League crowns, four Liga titles and a number of other trophies.
Prior to his mandate, Barca had failed to win a trophy since 1999.
Voting is open to all of Barcelona's 150,000-plus socios, yet they must turn up in person on election day, with no current plans for an electronic ballot which would allow the club's numerous overseas members to take part.
In 2010, over 50,000 socios voted in the club's presidential elections.
Laporta famously said he would sign David Beckham if elected in 2003, but bought Ronaldinho instead after sweeping to power. The former president has made no such promises yet this time and has not even confirmed whether he will run in 2016.
Tabloid reports that he has lined up Jose Mourinho as coach are wide of the mark. The Portuguese had a number of bust-ups with Barcelona-related figures during his spells as coach of Inter and, of course, Real Madrid. A return to the club he worked at as an assistant in the late 1990 seems unlikely.
Bartomeu, meanwhile, has pledged to continue the work of the current board in a second mandate. That includes plans for a new Camp Nou to be built and would see current sporting director Andoni Zubizarreta remain in charge of strengthening the squad.
For his part, Benedito has been in talks with Sevilla sporting director Monchi about occupying Zubizarreta's current role if he is elected in 2016.
Bartomeu: "I'm determined to complete my current mandate until 30 June 2016 and to stand again in the next election. There has been criticism. We have listened and taken note. I also want to emphasise that we have felt the trust of thousands of our members."
Benedito: "What people don't know is that [Barca vice-president Javier] Faus has an investment fund with money from Qatar and that Qatar is a threat for Barca. They are the ones financing the Islamic State. Barca should be far away from Qatar."
Laporta: "I'm not ruling out running and being a candidate in the next elections. I think they are doing things that they shouldn't be. A whole world opens up from there. What am I supposed to expect from a board which has tried to show that we mismanaged the club? I don't expect anything. Rosell and [Josep Maria] Bartomeu are two sides of the same coin. One president ran off without explaining himself and now there's another who no-one voted for. Rosell's absence changes nothing."
If elected in 2016, Laporta would likely scrap the club's controversial shirt sponsorship deal with Qatar Airways, while he would also be in favour of improving Camp Nou instead of building a new stadium. In addition, Johan Cruyff would have a part to play as his adviser, as he did between 2003 and 2010. The Dutchman could even be reinstated as honorary president, a title he lost as soon as Rosell was elected.
Laporta could also attempt to woo Pep Guardiola back to Camp Nou, but he will have a tough task after the Catalan coach revealed this week that he won't manage Barca for a second spell.
Txiki Begiristain, now at Manchester City, could be offered a return as sporting director, a role he carried out successfully in Laporta's previous mandate.
Ben Hayward, Goal.com