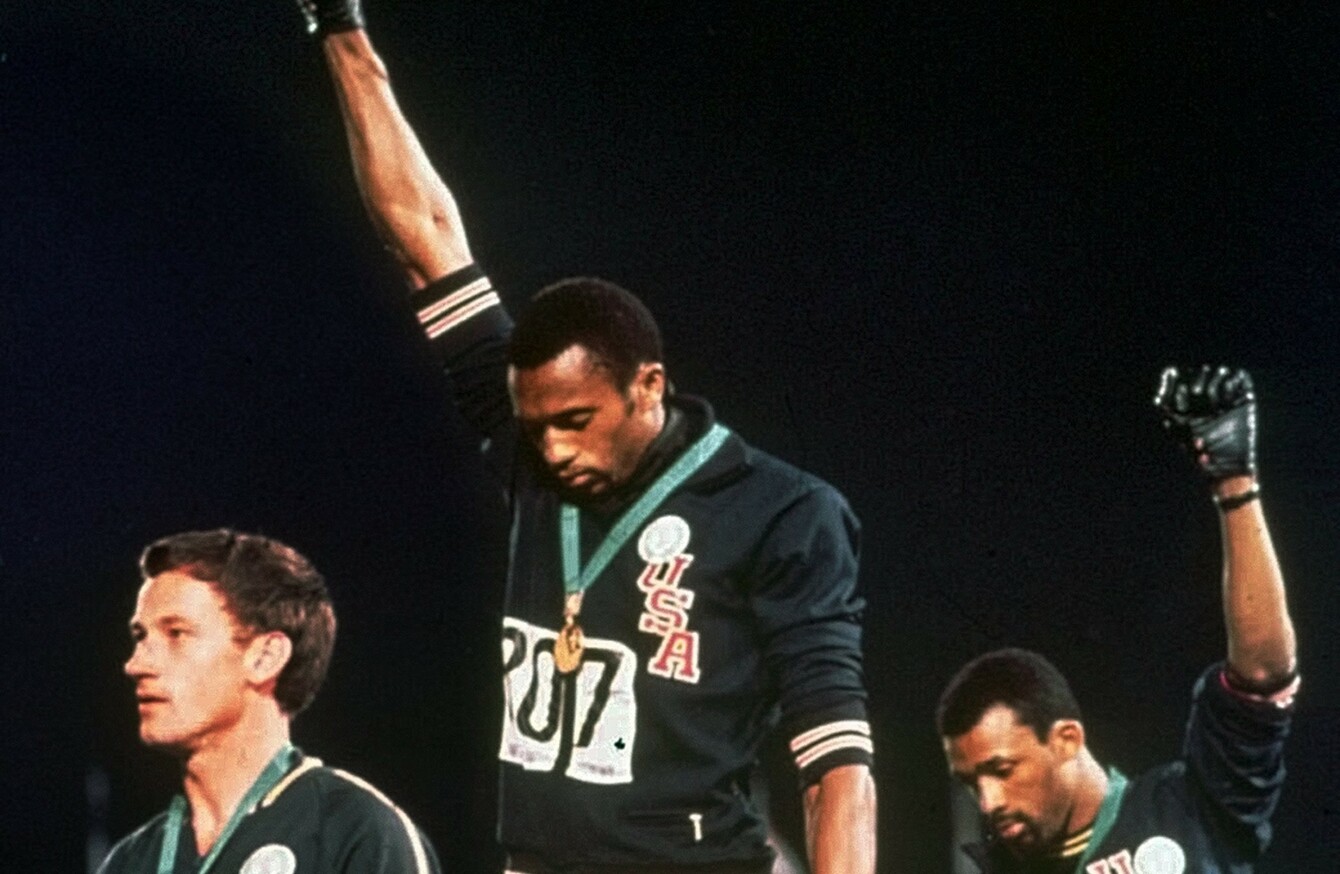 Australian silver medalist Peter Norman is at left in the famous photo.
Image:
AP
/Press Association Images
Australian silver medalist Peter Norman is at left in the famous photo.
Image:
AP
/Press Association Images
For months, reporters have called Clint Trickett wanting to talk about football and, more specifically, about football safety. Some called soon after he announced his retirement as a player last December, when he revealed that he had sustained five concussions in 14 months in the previous two seasons as West Virginia's starting quarterback — the last one a year ago Friday. Others have called more recently, prompted by the coming release of the film "Concussion," in which Will Smith plays the doctor who helped identify a degenerative brain disease linked to repeated head trauma.
He's always been a bit off the wall, but the last few months have taken a definite swerve. He tells anyone who will listen that the judge is corrupt, and fantasises aloud about knocking him out. He starts babbling about sinister government conspiracies, a cabal of Satan-worship stretching across the planet. He rants incoherently about paedophilia and homosexuality and abortion. He becomes convinced that the end of the world is just a few years away.
For almost five days in the fall of 2014, the most decorated Olympian in history lay curled in a fetal position in his Baltimore home, crestfallen and fearful, embarrassed at his behavior and uncertain of his future. Over three Olympics, from 2004 through '12, Michael Phelps had won 18 gold medals and 22 medals overall, each total more than anyone ever. His swimming had been transformed by NBC into a nightly television miniseries, and millions watched as Phelps splashed to victories for America over the rest of the world. His family watched at poolside, supporting players in an emotional drama that was the paradigm of Olympic success and Olympic packaging. His story had the perfect arc: In 2000 he was a prodigy; in '04 he was brilliant but imperfect; in '08 he was unbeatable; in '12 he was a legend on his farewell tour, diminished but still great. Three times he emerged a celebrity­—each time a little more famous, a little more wealthy and a little more entrenched in the mythology of his quadrennial feats.
Thanks to an old article by Gianni Mura, today I discovered the truth: that white man in the photo is, perhaps, the biggest hero of that night in 1968. His name was Peter Norman, he was an Australian who arrived in the 200 meters finals after having ran an amazing 20.22 in the semi finals. Only the two Americans, Tommie "The Jet" Smith and John Carlos had done better: 20.14 and 20.12, respectively.
I begin with an apology: despite a fruitless 10 minutes spent searching the Guardian archive, I do nonetheless feel that I have written this column so many times that to produce a version of it again is the equivalent of that episode of Bagpuss where the mice on the mice organ claim to have a factory which mills chocolate digestives out of butterbeans and breadcrumbs. What they actually have is a single chocolate biscuit, which is produced triumphantly out of the front of their facility, then wheeled round the back only for a "new" biscuit to be produced moments later.
I first wrote about the Mannings when Peyton was still playing quarterback at Tennessee. I liked all of them a great deal, especially Archie, who remains the nicest man I ever have met in sports. This is what they're like: Later that year, I was helping my wife organize a silent auction for the benefit of our local Alzheimer's Association. (That happens to be the particularly nasty dog my family has in the genetic fight.) I called Archie and asked if Peyton would sign a football. He said he'd broker the transaction and then, almost as an afterthought, he asked, "Would you mind if I signed, too?" The ball went for $500, to Dennis Eckersley, if I recall correctly. Of course, if we'd have been holding the auction south of the Mason-Dixon Line, the price would have allowed the Alzheimer's Association to buy a fleet of private jets. Which is why I wish that drive never happened, because I wish Peyton Manning would retire, today, this minute, before things really go bad for him. Because, dear god, they can go so very bad.
Take the 3-0 win at Tottenham Hotspur on the third weekend of last season when it appeared that Liverpool might be able to mount another title challenge. Balotelli played well in tandem with Daniel Sturridge and was understandably the subject of much discussion. Rodgers was happy to play along with it, happy to play the role of the horse whisperer who had tamed the Italian. He told a story about how he had made him mark at a corner in training. No manager, apparently, had ever made him do that before. None had the courage to look Balotelli in the eye and tell him to do the basic stuff others would do as a matter of course. He was encouraging but firm, giving the kid a chance but marking out the boundaries. He was Robin Williams in Good Will Hunting.
Sports Illustrated and Rolling Stone have regular wrestling beats now. Deadspin's wrestling writing these days is often republished from Jezebel and Kotaku — Gawker Media's partner sites on women's issues and gaming, respectively. The environment for wrestling writing is wide open and thriving.
Wrestling fans used to joke (or complain) that sports outlets cover wrestling only when somebody dies. For years, that was true. But now ESPN covers WWE events with the same interest it once reserved for wrestling tragedies, even if the network doesn't report wins and losses as fact. Brock Lesnar showed up in Bristol to hype WrestleMania and SummerSlam this year, and SportsCenter broadcast live from the site of SummerSlam on the day of the event.
"I feel like I am breaking apart in terms of . . . in the early part of my career . . . if you said to me, "Describe yourself", I would have said, "I'm a rugby player, I love training hard, tackling, I want to be this, I want to be that, I play for England", and all that stuff.
"In the middle of my life, I would have said, "I'm a rugby player", but also I would have spoken a bit more about family and life. But now, "Who are you?" is turning into . . . I wouldn't say, "I'm an ex-rugby player or I'm this". I'm basically . . . I don't know. That's the confusion."
Almost always, fighters who test positive express disbelief and maintain that the prohibited substance was ingested without their knowledge. In most instances, punishment has been minimal or there has been no punishment at all.
"Seb Coe has said he will feel 'queasy' should Justin Gatlin, or any other convicted drugs cheat, win gold at the World Athletics Championships in Beijing.
"And as the new president of the International Association of Athletics Federations, at a time when the credibility of athletics is already being threatened by the greatest doping scandal in its history, that is understandable.
"But what was troubling on Wednesday was Lord Coe's apparent reluctance to recognise the obvious conflict in remaining an international ambassador for Nike now that he has become the most powerful man in the sport. Indeed, he bristled at the suggestion that it was even a problem."
"The closing scenes of the first quarter-final Sunday of the 2015 football championship were a sight to behold. Supporters of a team eliminated by an eight point defeat celebrated as though they were on a triumphant march to the final while the twenty-seven point margin of the opening game faded to memory. This is an odd spectacle to observe at the elite level of any national sporting competition."
"In the ESPN solar system, the network's Bristol, Connecticut, headquarters is the sun, which makes its Los Angeles office something like Pluto — many miles away, and its status as a planet recently up for debate. In early May, ESPN parted ways not-quite-amicably with Bill Simmons, who founded Grantland, the pop culture and sports site based out of L.A. That office is also home to the Undefeated, a not-yet-launched site meant to explore race, culture, and sports. In 2013, John Skipper, ESPN's president, hired Jason Whitlock, a prominent and controversial sports columnist, to launch the site. Whitlock agreed, and, in a moment he would come to regret, went on Simmons's podcast and declared that the site would be, for lack of a better descriptor, a 'Black Grantland.'"
It's like any verbal dispute where fact and opinion are used interchangeably by troglodytic axe grinders who seem to get an erectile boost from the frustrated outrage of others. Every damn Women's World Cup, every NCAA women's finals, every Olympics, women's sports again go on a media trial that would make the old judges of Salem blush. This last e-mail was merely the latest. I have done too many radio shows in the past week where the question was not about the chances of the US Women's national team or which teams could potentially topple them. They were about why "no one cares," or whether women's sports are as good as men's sports. It's tired.
As the win at all costs creed has taken hold, the county game has become as depressing as the child in the beauty pageant. The problem is that the game has become commodified. Based on the professional model, winning is the only thing that matters.
Managers come in, spend two or three years wringing the last drop out of our young men, leaving them burned out and disenchanted. Group weight training. Psychological work. Incessant testing. Pilates. Training camps. Recovery sessions.
MLS was not the only league to kick off a new season last weekend. Minus the hype, 60,000 sellout crowds and media coverage that is expanding across the globe, in the Republic of Ireland there was a more subdued introduction to the new League of Ireland campaign. Optimism is short in supply and those close to the action know trouble is never too far away.
Being the general manager of a baseball team is an extraordinarily difficult job. A GM must have a near-preternatural understanding of baseball, the patience to deal with the Bond-villain egos of owners, and the administrative capacity to manage a diverse and often combative set of employees. A GM must earn the trust of his (or, someday — we hope — soon, her) coaches, staff, and players in order to get them to operate like a unit, while maintaining the emotional distance to view them as chess pieces, assets to be discarded when a better replacement can be had. It's a job that's equal parts art and science, and it requires talent and expertise beyond the imagination of the overwhelming majority of people who care about baseball.
Our notions of what constitute a historical site can be limited, and limiting. As Shane Faherty has previously shown here on The Dustbin, landscape and memory intersect in remarkable fashions. Following on from this, I am going to consider the interaction of landscape and memory of a football ground in the heart of Cork. Since I moved to my current residence in Cork, I have been closer than ever to two of the city's most active sports grounds – Musgrave Park, Munster's second home and Turner's Cross, home ground of League of Ireland football club, Cork City. Being so close to both, I take advantage regularly and watch games at both grounds. Turner's Cross is a particularly interesting football ground so here's a look at how the ground has changed, both physically and in usage, over the years.
My dad died last year. Cancer. He was diagnosed in May, he was dead by August. Those three months were punctuated by tear-stained trips back home and awkward phone calls early each morning. "Just wanted to let you know I am still alive," he would say. You could almost hear him trying to put a smile on a brave face. But what do you say in that situation? How are you? How do you feel today? Has the doctor been in? Does he think the chemo is working? Do you think the chemo is working? It's hard and many fall silent. Luckily we always had football – and we always had Liam Coyle.
This is not the sort of piece I would usually be inclined to write. The charge of self-indulgence is not one I would want to lumber myself with. But if it helps anyone to believe that setting targets, or finding things to look forward to on the other side of illness, is a good idea, then it is worth casting a little light on a private experience.
These traumatic days will surprise those who followed McNamara on Twitter, and saw positive updates and pictures posted from his hospital bed.
Everything wasn't as rosy as I made out,' he admits now. 'I was writing on Twitter at the start and I was feeling good, but people probably noticed there was nothing from me for a month," he says, with a two-word explanation of just where he was holed up for that time – 'rock bottom'."
There is a familiar comfort in the landscape: the sprawl of the Dallas Metroplex, like oozing oil; the metallic spires of the refineries in Beaumont and Houston; the Hill Country, dressed in lace and wildflowers; the flatlands of West Texas, where you step off into eternity and wonder if you will ever make it back. A thousand miles through Texas with a thousand memories.
I want to resurrect those memories, since I am now 60, when you forget far more than you remember. I hate going back in my life, and I am not a believer in nostalgia. But on the eve of the 25th anniversary of the publication of Friday Night Lights, I feel compelled to return. It was a linchpin moment of my life. The moment, to be honest.
My mother was part of a resourceful generation of working-class women who grew up with so little that they were magnificent at making something out of nothing. The older I get, the older my kids get, the more I marvel at how she kept the show on the road.
Despite rearing four children on a bank porter's wage, she always found money for new soccer boots when they were needed.
Now, McClean's politics might not be to everyone's taste, and nor might his methods of expressing them. But in an age when footballers are becoming increasingly anodyne, there is something refreshing about one who believes in something; anything. Not that you know it from the furious reaction.
One of the great things about social media is that it allows you to find out what idiots are thinking without actually having to talk to them, and sure enough McClean's gesture provoked the sort of anger that the internet has turned into a performance art.
"Speak with those who work or have worked under John Delaney and they laugh at the idea that he's a man of the people. "He's not popular amongst staff because he's arrogant to the point of hilarity," says one. "In our office or canteen, you won't see him, he doesn't mix. Instead, almost by the hour, someone will be summoned to go to him to be addressed." It shows a respect similar to a children's television presenter talking to a glove puppet. But far more telling is that the person above and many more contacted all asked for anonymity and therein lies a strong sign of an uncomfortable culture in a behind-closed-doors organisation."
What were your favourite sports articles of the year? Let us know in the comments section below.