Zaire former player Ndaye Mulamba with OC CEO Danny Jordaan pictured at an event prior to the 2010 World Cup.
Image: Getty Images
Zaire former player Ndaye Mulamba with OC CEO Danny Jordaan pictured at an event prior to the 2010 World Cup.
Image: Getty Images
1. "As Britain staggers like a belligerent drunk towards Brexit, let's try to see things from a future historian's perspective.
"Why, she or he will wonder, did one of world's richest, most successful countries opt for political chaos? What turned a previously stable, mature, pragmatic and tolerant-seeming democracy towards xenophobia, unreason and economic self-harm?
"Most of the scholar's attention will no doubt focus on Britain's reckless and dishonest politicians. Research into right wing media tycoons and their hate-promoting newspapers is sure to pay dividends, too.
"But I hope the role of football isn't overlooked."
The alienation and post-imperial yearning behind Brexit have their parallels within football, argues David Winner in The Blizzard.
2. "The title race was in effect over about four months before the final snows of winter. Even if Manchester City do not wrap up the championship against Manchester United on 7 April, they will surely do so at Tottenham a week later or, if the wheels really fall off, at home to Swansea the week after that. They could almost certainly lose every game from now until the end of the season and still win the title."
Manchester City's title stroll should not distract from the strength of competition, writes Jonathan Wilson.
3. "With three games to win for his 10th undefeated regular season, Geno Auriemma turns an empty $700 bottle of French wine upside down on a sterling silver coaster. He's explaining to me and his video guy how a steel mill works, specifically the one where he worked in college. He points at the neck, which represents the ground floor where he spent his days. The molten metal once set his shoes on fire. Tonight feels about as far away from burning shoes as a man can travel. He's relaxed. The Connecticut team charter landed in New Orleans two hours ago. Auriemma and Ben Kantor, the video coordinator, dropped their bags and walked to the French Quarter. It's past 10 p.m. now in Brennan's on Royal Street. Old boards creak under foot. Mack the Knife plays on the stereo. Waiters cook Steak Diane and Bananas Foster tableside. Ben and I are laughing, and Geno is laughing, because using $700 wine to break down the physics of a factory is ridiculous and hilarious and yet somehow makes sense."
Wright Thompson has written a typically excellent piece for ESPN on Geno Auriemma, head coach of the University of Connecticut Huskies women's basketball team.

4. "Walter Tull died 100 years ago on Sunday. Don't worry, I hadn't heard of him either until this week. His football career in the early part of the 20th century – first at Tottenham and then at Northampton – was largely undistinguished. In total, he spent just five years in the professional game. And if that were all there was to the Walter Tull story, its place in the footnotes of footballing history would be largely unchallenged."
Walter Tull spent his whole life breaking down walls – it's time he was properly acknowledged and we learn from his tale, says The Independent's Jonathan Liew.
5. "Poor and wheelchair-bound, Ndaye Mulamba has just been told he faces eviction from his rented home in Kinshasa, 44 years after he was ejected from the World Cup for kicking a referee up the backside.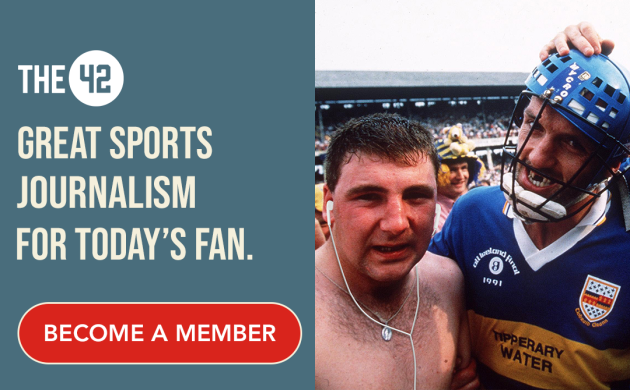 "Mulamba is nearly 70 and that may be a surprise if the last time you heard mention of him was when a minute's silence was held in his honour before a match at the 1998 Africa Cup of Nations, when the players of the Democratic Republic of Congo and Burkina Faso marked his "death" in an accident at an Angolan diamond mine. That turned out to be a case of mistaken identity. Mulamba has never even been to Angola."
The Guardian's Paul Doyle explains why Ndaye Mulamba is living like a pauper 44 years after the Zaire red-card farce.
The42 is on Instagram! Tap the button below on your phone to follow us!