THERE WAS A fleeting moment during Ireland's run to a second Rugby Europe Grand Prix victory of the summer this month, when the tournament hung in the balance.
Anthony Eddy's Sevens squad trailed 5 – 0 going in to the second half of a breathlessly tight quarter-final against France in Clermont.
The Stade Gabriel Montpied was far from full, but the cries of Allez les Bleus were impossible to ignore… until they were replaced by Irish roars from the sideline, urging the powerful Harry McNulty up the right flank after his break near halfway.
Try scored, five points apiece, but with chances at a premium the drop-goal conversion – often seen as a bonus, or reward for scoring close to the posts – became all important. Step forward captain Billy Dardis with a sweet strike from the right side of the field. 5 – 7 to the visitors, a lead they would cling grimly to before defeating Spain and Russia with flair to take the title.
Drop-goals are a skill everyone tries when they pick up a rugby ball. Some take to it more smoothly than others. As a schools 10 with Newbridge College, Dardis was naturally handed place-kicking duties, but he goes back further to thank his cousin, Jack Kirwan, and a wistful summer in Brittas Bay for the earliest formations of the technique.
"The first time I remember trying it was when I was nine or 10 with my cousin, who was actually a second row, we went down to Brittas Bay for a summer and the whole time we were drop-kicking goals as far as we could.
"I wouldn't have practiced a huge amount during the year, but coming into Sevens I was like: 'I have to get good at it'."
Initially, that meant taking time with Leinster kicking coach Emmett Farrell. But that provincial support structure would not be there for long.
After he bounds up the stairs of the IRFU's Sevens HQ, there's never a second when the 22-year-old looks like a player who has been cast aside by his native province. Not an ounce of bitterness, regret or a harrumph.
Who has time?
Dardis is just back from the swimming pool and just a few minutes away from pulling on his boots for a second intense field session of the day.
In April, Dardis looked quite content to slink into the blue shadow of the bigger names being honoured at Leinster's end of season awards. Mike Ross, Mike McCarthy and Hayden Triggs were hanging up their boots. Dominic Ryan had landed on his feet with an offer from Leicester, Zane Kirchner was bound for the Dragons. But for the precociously talented back three star of schools and U20s, the path was less clear.
"It was tough going, obviously. I spent the last four years training hard, trying to push up into the senior ranks. You get a few opportunities in pre-season games and one or two of them I felt went alright, one or two didn't go so well," says Dardis, smiling while making an effort to pin-point where his academy pathway crumbled. A dislocated shoulder in last season's first pre-season outing against Ulster can't be underestimated.
"I had gone into pre-season feeling good, made a break up the left wing, got tackled into touch and dislocated it. When I came back into training around January, I hadn't trained much under Stuart Lancaster. I played two A games, thought it went alright, but things didn't go my way."
Fortunately, Sevens director Anthony Eddy had already put the Kildare man to work and would soon make him captain of the squad embarking into their first Grand Prix campaign. A new challenge, a different road to the international jersey.
"It was disappointing, but this is something different. A week or two afterwards I went on my first Sevens trip of the year. It was nice to get away to Spain for a training camp, away from it all doing something different and I enjoyed it.
I met Anthony a few weeks later and he said: 'this is our plan for you.' It's different, it was tough, but you can't dwell on it too much. It's like I spent four years training towards that and didn't get it. You're banging your head off a wall for four years waiting for it and it never comes. This is a whole new set of challenges and opportunities."
The fourth and final leg of the Rugby Europe Grand Prix kicks off in Exeter today to present one such opportunity. Having won two legs so far, Dardis and Ireland lead the way in the standings, in pole position for one of the two spots up for grabs for next summer's Sevens World Cup in San Francisco.
As goals go though, a weekend in California is a short-termist one, just one more step in Ireland's impressive rate of Sevens progress. The most important target of this summer has already been hit square and true: the successfully secured berth in the Hong Kong Repechage next year will offer the chance of qualification for the top tier of the game, the World Series.
"We've done that with one tournament to spare. It's been positive so far and we already have the season plan for next season (as of Wednesday morning)," said the boundlessly enthusiastic Dardis.
For Eddy, there is a sense of pride in the achievement. Two and a half years after taking charge of a Sevens setup in a country where the sport was an unnecessary sideshow, he has a women's team in the World Series, in the World Cup and with landmark victories over England and Fiji recorded to underline their growing threat.
Eddy's men have taken longer to get a sniff of the big time, but that was due to the inherent hierarchical design of game's structure. Until this summer, the opposition was less than glamorous and progress was swift as Ireland chomped their way through Rugby Europe's Division C, B and then A before coming to test themselves against World Series standard players in the Grand Prix as Russia and Spain went at the tournament with all guns blazing.
And all the while, Eddy's Sevens programme is endeavouring to strike a balance between acting as a developmental resource for the country's academies and building a lasting player base for themselves.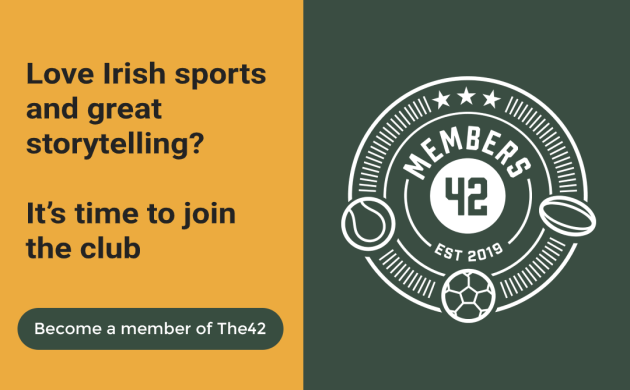 The Australian points to New Zealand's handling of Rieko Ioane – from teenage Olympian to 20-year-old star of the opening Lions Test as a prime example of how exposure to the rigours of a Sevens season can fast-track players for 15s.
"The academies have been really supportive, they see where it fits in the pathway for the player. Every season we've run some trials and looked at players from clubs and academies and then said 'these are the players we think are most suited to the game of Sevens'. When it comes to the player's pathway, some are prioritised to play Sevens for the year.
"The other way of looking at that is that this way they're going to get international experience, some real professionalism around their rugby because of the travel and everything that goes along with being a part of a programme.
"That will only get better as we progress and the academies and everyone else can see the benefits even further if we're to be successful in being part of a World Series."
Taking players from the long form of the game and getting them to compete at international level in Sevens is rarely an easy feat. There are plenty of skills that will cross over, but some physical requirements, build-up and the necessary come-downs between matches are different beasts altogether.
"The Sevens atmosphere is so different than 15s. You play three games a day on the Saturday-Sunday, so it's a lot more relaxed," says Dardis with a laid back posture that camouflages a notorious stickler for time-keeping.
When we're on, we're on. But in between the games there's two hours where you have to sleep. There are literally beds in the dressing room where we lie down and just chill out, have a bit of a laugh. It's a bit different to, say the U20 World Cup where you have training, meetings, massive build-up and a huge amount of pressure.
"My first tournament was over in Bury St Edmonds and we played five games in one day, it was horrific. The body is in bits and in between you have to get a lot of food and sleep. The three and three is a bit easier. In between games you can chill out, listen to music in the dressing rooms."
It's a necessary contrast to the relentless cut and thrust nature of Sevens, where space is abundant and every second, every tackle, every point on the board counts.
While Leinster benefited from the Sevens experience given to Adam Byrne and Rory O'Loughlin before both broke through as first-team regulars last season, Dardis now looks an ideal fit to fill the other side of the Sevens' ledger: a core regular.
Amateur status leaves little guarantees of course, but with a year still ahead in his degree in UCD, his surrounds will not drastically shift in the short-term. He will continue to play in the Ulster Bank League with the College club and is hoping to stick around on the international Sevens scene and lead Ireland go in the search for a World Series spot in Hong Kong.
Secure that, and who knows what career opportunities might suddenly materialise.
"The two Sevens teams have been working largely under the radar, and I have to give credit to Anthony Eddy and David Nucifora for what they're doing," IRFU Chief Executive Philip Browne said yesterday.
"Yes,  if we were in a position where we qualified for the men's Sevens series, we would have to look at how we deal with (contracting players). At the moment we have a mix of academy players and players in the club system, it's working really well. We'd have to look at how we manage that in a World Series which runs over the course of six to eight months.
"We would have to deal with that when it arises, but you can be sure that David Nucifora is already thinking about these things."
And the more Ireland keep winning, keep forcing their way up in the estimation of the established powers, the harder the union will have to think about attracting and retaining the best, brightest and most explosive players on the island.
"What would be really nice," says Eddy, mentally looking at the goals with the Hong Kong place safe in his back pocket.
"We want to win the Grand Prix series.
"Do that, and at the current time, we'll be the best Sevens team in Europe which is quite an accolade to have."
Ireland Men's squad for Exeter 7s (to be broadcast on Sky Sports)
Fionn Carr (Naas)
Jordan Conroy (Buccaneers/Connacht)
Billy Dardis (UCD) Captain
Ian Fitzpatrick (Lansdowne/Leinster)
Hugo Keenan (UCD/Leinster)
Adam Leavy (Galwegians/Connacht)
Harry McNulty (UCD)
Jimmy O'Brien (UCD/Leinster)
John O'Donnell (Lansdowne)
Greg O'Shea (Shannon)
Mark Roche (Lansdowne)
Nick Timoney (Queen's University Belfast/Ulster)
Today's Ireland fixtures at Exeter 7s (Pool A)
Ireland v Portugal – 11.30am
Ireland v Belgium – 2.15pm
Ireland v France – 5.00pm
The42 is on Instagram! Tap the button below on your phone to follow us!