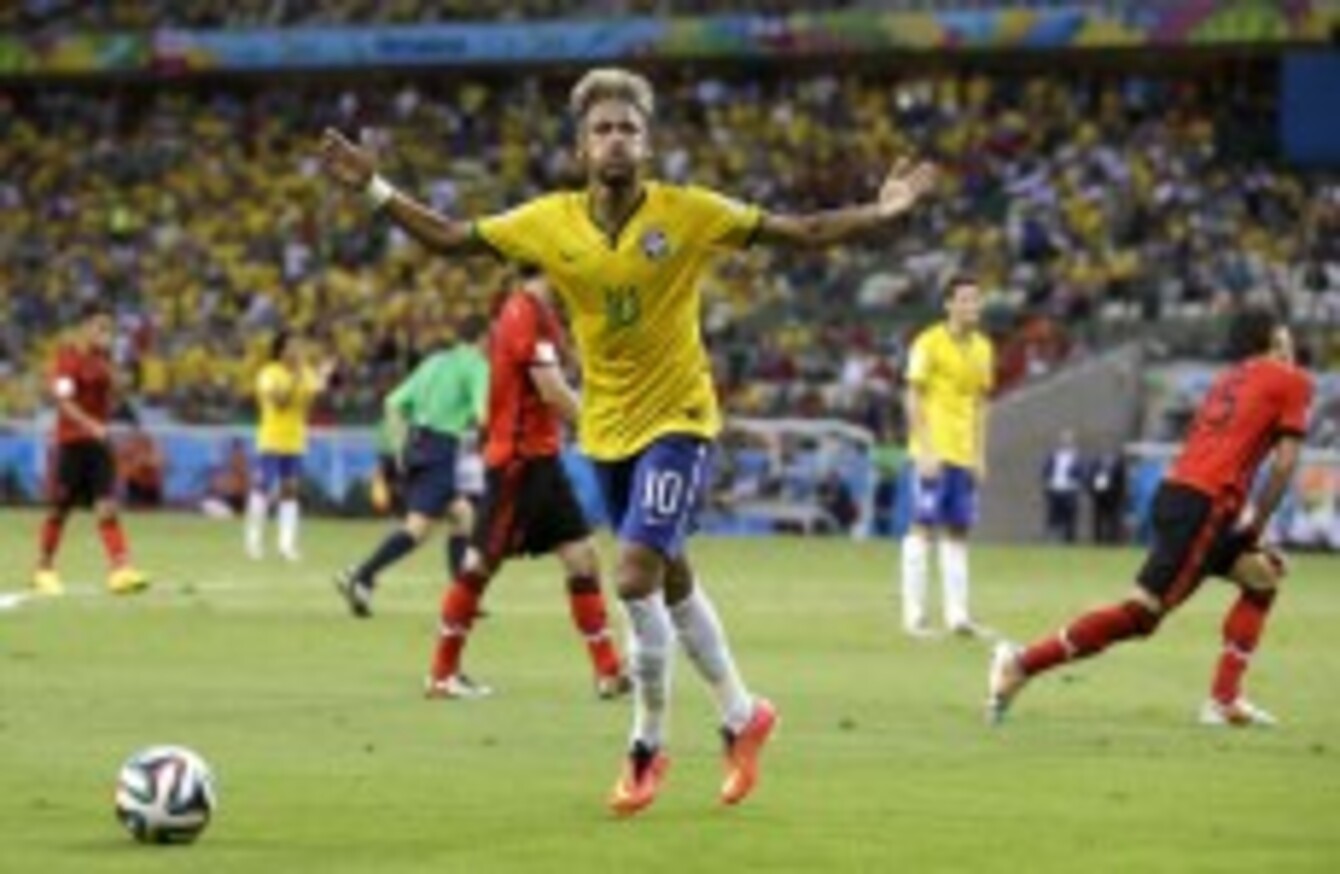 Brazil's Neymar tries to lift the crowd during the 0-0 draw with Mexico.
Image: Martin Mejia
Brazil's Neymar tries to lift the crowd during the 0-0 draw with Mexico.
Image: Martin Mejia
Mikey Stafford reports for TheScore.ie from Recife
ON SUNDAY EVENING we left Fortaleza on a night bus that 13 hours later disgorged us in Recife, where Mexico face Croatia this afternoon with a place in the second round at stake.
Our stay in the coastal capital of Ceara state, while brief, was still far lengthier than the famed visit to Fortaleza of Garrincha. On January 28 1968 the "Little Bird" played 60 minutes for Fortaleza Esporte Clube against Fluminense, for which he was paid, by modern standards, approximately R$19,000 (more than €6,000).
Although only 34, the two-time World Cup winner was by this stage a bloated and unhealthy alcoholic, but when he was withdrawn 15 minutes after half-time he was afforded a standing ovation by the capacity crowd at the Presidente Vargas Stadium. He had touched the ball seven times in an hour.
Kicking off simultaneously to Mexico and Croatia, Brazil take on Cameroon at the Mane Garrincha knowing a draw will secure their passage to the round of 16, but only a win and a goal difference superior to Mexico will earn the hosts top spot.
With a glut of goals desired how Brazil would love to have Garrincha's incomparable skills on the pitch, rather than his name above the stadium door.
A right winger by trade, Garrincha scored 245 goals in 614 games for Botafoga. Playing in the same Brazil team as Pele, Zagallo, Zito and Vava he scored 16 times in 60 appearances — including a brace in the 1962 World Cup semi-final win over Chile.
Tormentor of full-backs
But more than his goals, Garrincha is remembered for the manner in which he played the game. He was a showman, a tormentor of full-backs who thought nothing of nutmegging his marker, leaving him on his backside and then coming back around to help his grounded opponent off the ground before again taking off down the wing — as he is famously reported to have done in a 1958 World Cup game against the Soviet Union.
Manuel Francisco Dos Santos was a remarkable player, all the more remarkable for the fact he was born bow-legged. As Ruy Castro describes in the opening sentence of his wonderful 2004 biography, "When Manuel was born, the midwife was the first person to notice that his legs were crooked. The left leg bent out and the right leg bent in, as if a gust of wind had blown them out of position."
This physical impediment did not stop Garrincha becoming one of the most captivating and effective footballers in a golden age for football — the kind of player, even when clearly past his prime, people were happy to pay good money to see touch the ball seven times.
Born in the British company town of Pau Grande in 1933, though slight and small (like a little bird, hence the nickname bestowed on him by his sister) Garrincha excelled at football but showed little interest in pursuing the game as a career, or even following the fortunes of the Selecao for that matter.
When he returned from a fishing trip to find his entire town in tears after listening to Brazil lose the 1950 World Cup final to Uruguay — the last time the country hosted the tournament — he could not understand what everyone was so upset about.
He liked his life in Pau Grande, drinking Cachaca and playing football with his friends when he was not working in the factory which the town sprung from. By the time he eventually signed professional terms with Botafoga at the age of 18 he was already married with a child.
He had eight children with Nair Marques, his first wife, before eventually separating from her in 1965 to marry the love of his life, samba dancing television celebrity Elza Soares.
Their fiery affair and subsequent marriage captivated the nation and the press, especially as it disintegrated. Soares' mother died in an accident when an allegedly drunk Garrincha crashed the car in which she was a passenger. Soares forgave her heartbroken husband but eventually left him after he struck her during an alcohol-fuelled argument.
His many high-profile affairs and alcoholism have drawn comparisons to George Best, but it is in their impish play that the pair are best remembered. Both Garrincha and the Belfast legend were happiest with the ball at their feet, both considered dribbling and the ability to beat your man as the ultimate.
His final international match for Brazil was a 3-1 defeat to Hungary at the 1966 World Cup, his third. It was the first time in 60 matches he had ended up on the losing side for Brazil.
His career and his life after that became a slow descent into self-inflicted hardship as his contracts and his relationships grew shorter and shorter.
Almost 13 years to the day after his seven touches in Fortaleza, in January 1983, Garrincha died of cirrhosis of the liver. He was 49 years old.