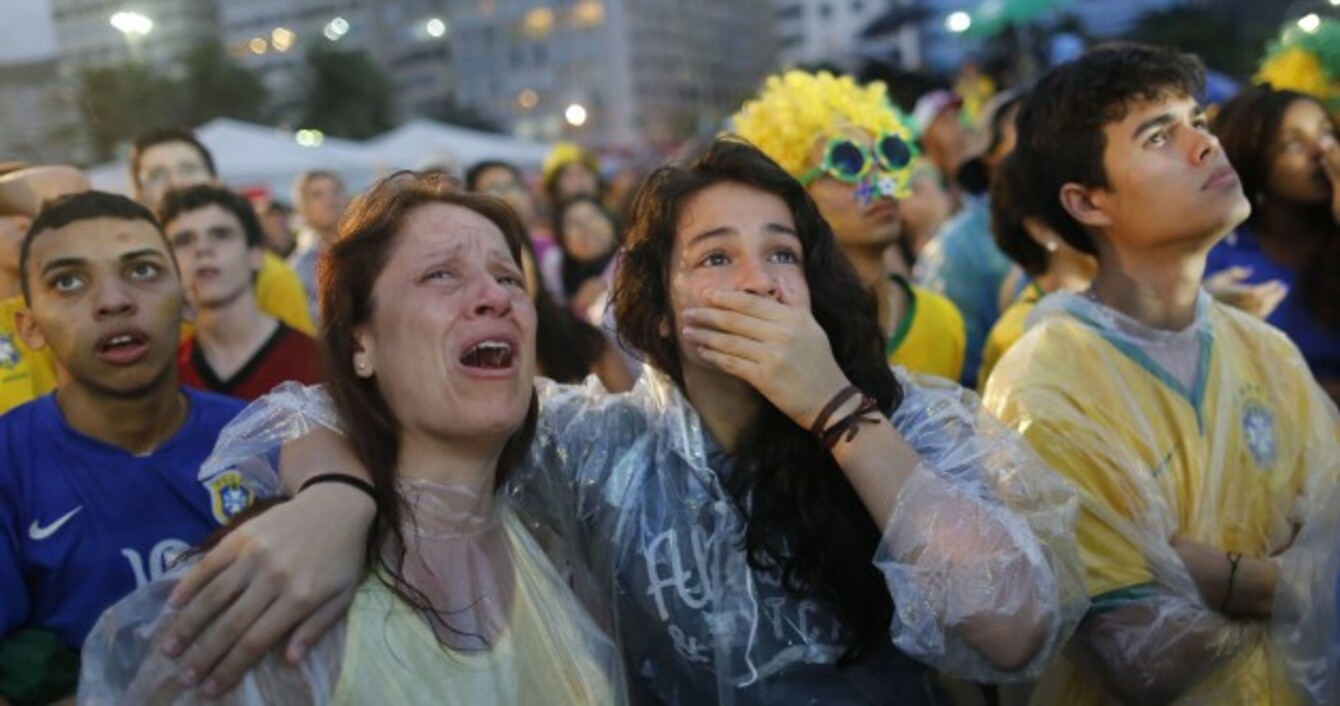 Image: AP/Press Association Images
Image: AP/Press Association Images
Mikey Stafford reports for TheScore.ie from Rio de Janeiro
IN THE SHADOW of Estadio Vasco da Gama a small boy peeled off his Brazil shirt to reveal the Flamengo jersey underneath.
That its famous red and black hoops so closely resembled the Germany colours forever seared on to the memory of this shell-shocked country was just another misfortune on a calamitous night.
"Alemanha! Alemanha!" His friends and those nearby shouted, but he did not care. Shedding the canary yellow of the Seleção for the colours of Brazil's most-supported club seemed like a reasonable reaction to Germany's seventh and final goal.
It will be some time before this team can once more claim the devotion it has enjoyed this past month from a football-mad nation, but those fearing an immediate social cataclysm with the host's elimination were not proved right either.
The residents of the Vasco Da Gama favela in north Rio had mostly come to terms with Brazil's humiliating exit after 30 minutes, to the point that many had to have André Schürrle's second-half goals pointed out to them.
Their reaction was muted to the point of non-existent. A night that had begun with excess emotion and the parading of Neymar's jersey during the national anthem in Belo Horizonte was threatening to fade away into indifference.
We had gathered outside Bar do Arnaldo in this community of 15,000, hoping to witness a night of glory or glorious failure for Brazil. In the end we got neither, only a humiliating lesson in how brutal elite sport can be.
A poor but tight-knit community, Vasco was ready for a party. Barbeques were being prepared as hundreds of children dodged between mopeds and relaxed-looking policemen on patrol.
The atmosphere was festive, not febrile, but the ubiquitous fireworks that had up until then sounded almost merry took on a somehow more angry tone by the time Toni Kroos made it 3-0 in the 24th minute.
When the Bayern playmaker put the game to bed less than two minutes later with his second, you could almost feel the air being sucked out of the small square. As the rain began to fall we looked at each other nervously and even our companion Conor, who works in the favela, remarked on a strange atmosphere he had never sensed before.
Be part
of the team
Access exclusive podcasts, interviews and analysis with a monthly or annual membership.
Become a Member
Oddly it took the fifth German goal, just three minutes later, to release the tension. An angry man at the table next to us laughed sarcastically as Sami Khedira neatly netted. With hope goes caring, often, and this was now a team beyond hope.
The children crammed into the concrete pitch and rapidly got a game going, with teams seemingly divided between those wearing Brazil jerseys and those without. It didn't appear to be going well for the Seleção's doppelgängers either, but on a night when even Christ the Redeemer looked somehow bashful in his green and gold robes that should be no surprise.
The barbeque, like the show, must go on and as the churrascaria was served up at half-time there were no shortage of opinions and most were more blunt than those offered up by Ronaldo and company on the television. The former Brazil striker, who had seen his finals goalscoring record taken outright by Miroslav Klose in the first half, grew up not far from Vasco. However he is not widely loved in the favelas as many feel he has forgotten his roots.
His former strike partner Romario, now a member of congress, is far more popular in these parts.
"I have been watching Brazil since 1952," said one man in a wheelchair. "This is the worst Seleção ever.
"I saw Jairzinho, Garrincha, Pele…" he added, trailing off, his point about the current crop made more eloquently than he thinks.
Some were in no mood to talk. One young man sat on his own, unwilling to look at the television and unable to look away. Another walked slowly in circles, forlornly dragging on a cigarette as he stared at his feet.
The television, like the fireworks, were muted by the time Luiz Felipe Scolari appeared on the screen to try and explain what had just happened.
In the shadow of Estadio Vasco da Gama a small boy in a Flamengo jersey and his friends played football while their parents ate barbeque. No one seemed particularly interested in Scolari's excuses.