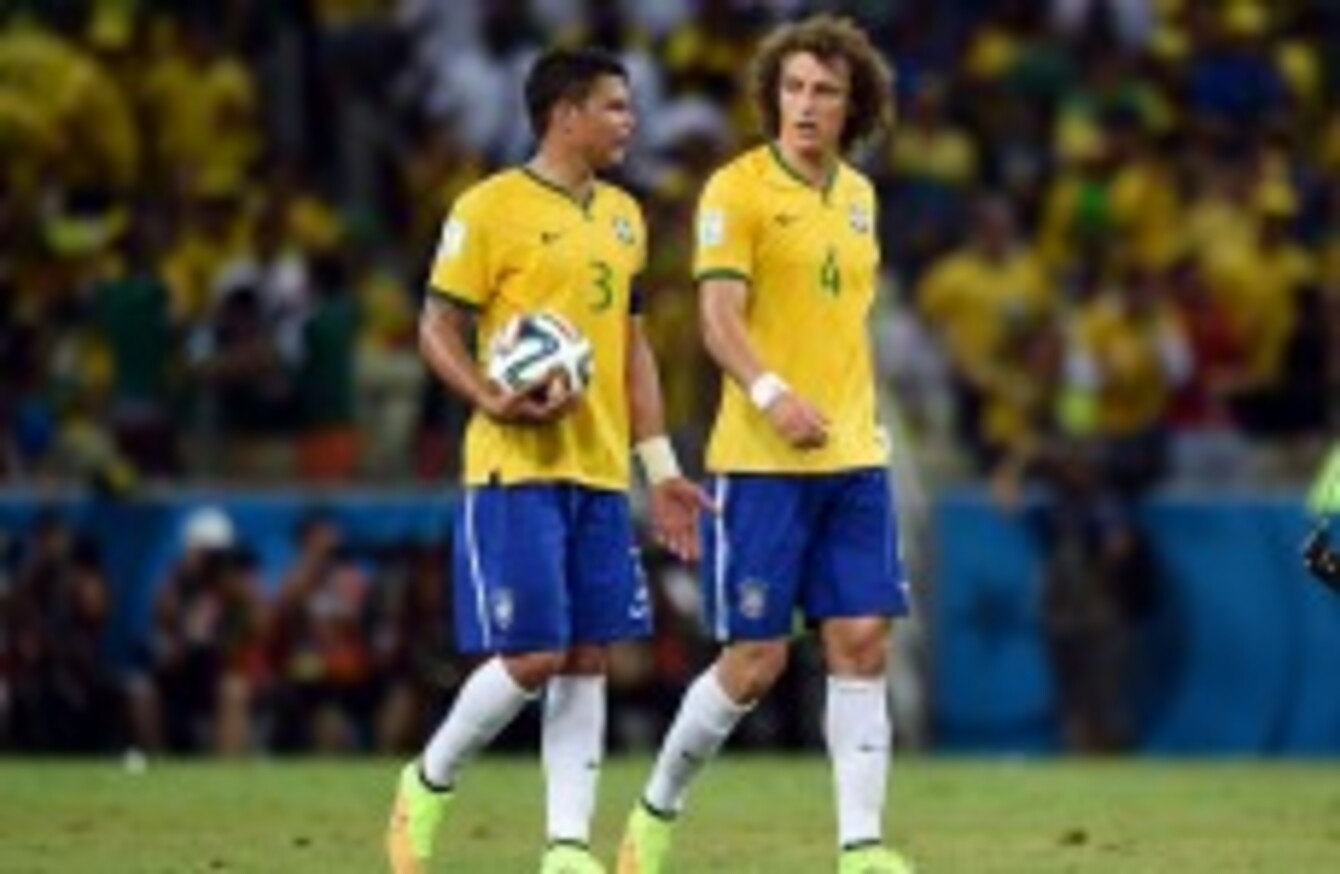 Brazil captain Thiago Silva and David Luiz at the end of the game.
Brazil captain Thiago Silva and David Luiz at the end of the game.
Brazil 0
Mexico 0
MIKEY STAFFORD reports from Estadio Castelao
THE BLOOD PRESSURE of the world's fifth largest country just increased exponentially and there will be no relief until Cameroon are beaten, and beaten well, in Brasilia next Monday.
Brazil had to expect there would be speed bumps en route to what they hope will be a sixth World Cup title and today that speed bump's name was Guillermo Ochoa.
The Mexican goalkeeper thwarted Brazil time and time again but don't let the goalkeeper's tour de force fool you into thinking this was one-way traffic, it was anything but and Luiz Felipe Scolari will be downright relieved to leave Fortaleza with a point.
The Brazil boss must now record a high goal-scoring win over Cameroon in the capital to secure top spot and avoid a likely encounter with a rampant Netherlands.
For large periods of this highly entertaining stalemate Miguel Herrera's side were the dominant force, and substitute Raul Jimenez and the excellent Andres Guardado both missed superb opportunities to steal the match at the death for Brazil
The last of Ochoa's saves was from Brazil captain Thiago Silva, who met Neymar's free-kick perfectly but, from six yards out, needed to put it either side of the keeper who plays in France with AC Ajaccio.
Marcelo had a penalty shout dismissed during a frenetic finish, with Turkish referee Cuneyt Cakir correctly adjudging the hand on the shoulder of the Real Madrid man to be too slight.
Perhaps this will put paid to suggestions of a FIFA conspiracy.
Besides, the world governing body can't plan for performances like Ochoa's — the last of his saves coming from Brazil captain Thiago Silva, who met Neymar's free-kick perfectly but, from six yards out, needed to put it either side of the keeper who plays in France with AC Ajaccio.
It was in this ground, against this opposition, last year that the a capella singing of the second verse of Hino Nacional Brasileiro became a sensation and once more the Fortaleza crowd delivered a spine-tingling rendition of the anthem after the FIFA-approved backing track went silent.
Neymar looked genuinely moved at the end, dropping to his knee and taking a moment. Any fears that the occasion might overwhelm the team's talisman were soon put to rest as after sluggish beginning for the hosts the number 10 slowly brought Brazil into the game.
Bolstered by a convincing opening round win over Cameroon coach Miguel Herrera spoke on Monday about the importance of trying to cow the massive home support with a frenetic start, as Croatia did in São Paulo on the opening day of the tournament.
It worked for a time but Brazil could have been in front when Oscar's 11th minute cross was inexplicably missed from five yards by Fred — the linesman's flag saving his blushes.
But then Neymar took control, his 22 year old's through ball was perfectly weighted for Fred, whose left foot shot was blocked by Hector Moreno before Marcelo's cross deflects off Paulinho for a goal-kick.
Mexico, roared on by their colourful fans, were came back into the game after a quiet spell and a minute later Hector Herrera drew a magnificent, reaching save from Cesar, which was so good neither the linesman or referee saw it and a goal-kick was erroneously awarded.
Dani Alves created the best chance of the game, his cross was met brilliantly by Neymar, who outjumped Rafael Marquez only for Ochoa to dive brilliantly to his right to claw out.
Fred's lack of a killer finish and habit of straying offside notwithstanding, going forward Brazil looked slick but at the back they looked less than convincing and on the sidelines Scolari looked to be getting increasingly hot under the collar of his white polo neck.
Jose Vasquez had Cesar scampering across goal when he was allowed to shoot from distance but it was Ochoa who was once more called into action before half-time.
The Mexican keeper made a superb point black save after a Brazil free-kick pinballed its way to the feet of Ramires, who was replaced at half-time by Bernard.
The Shakhtar Donetsk man had a near immediate impact after the break, forcing Francisco Rodriguez to head his raking cross clear for a corner.
Mexico were not to be subdued however and, with their fans in much better voice than the more plentiful hosts, Herrera's men advanced and once more Vasquez threatened the goal with a shot from distance and Giovani Dos Santos scuffed a shot at Cesar.
Scolari, now wearing a blue raincoat, was once more drawn to the edge of his technical area when, second later, Herrera smacked a shot just over the bar.
The hosts and tournament favourites were on the ropes.
It was Neymar again who lifted the siege, drawing a foul from Gustavo and taking the resulting 30-yard free kick himself. A little to the left of goal, his curling effort was just wide of Ochoa's despairing grasp, and the post.
But Brazil were second all over the pitch, particularly in the middle, where Herrera, Vasquez and Guardado were combining industry with guile. Brazil's attack appeared to have one, peroxide blond outlet.
Fred was particularly poor and it was no surprise to see him replaced by Jo on 68 minutes. Call it coincidence but seconds later Brazil had their best chance of the second half as Ochoa once more saved brilliantly from Neymar at the far post.
Manchester United's Javier Hernandez was given 17 minutes to find winner for Mexico and quickly forced David Luiz into a smart piece of defending. Minutes later Luiz's defensive partner for club and country Thiago Silva was booked for an ugly hack on the striker.
Brazil's attacking substitutions almost combined for the winner with 15 minutes to, Bernard sliding a perfectly weighted pass through for former Everton and Manchester City striker Jo, who dragged his left foot across goal.
It was one of those nights for the hosts, who must have suspected there would be speed bumps this month. Now they know it by the name Ochoa.
BRAZIL (4-2-3-1): Cesar; Dani Alves, Thiago Silva (c), David Luiz, Marcelo; Gustavo, Paulinho; Ramires (Bernard ht), Oscar (Willian 84′), Neymar; Fred (Jo 68′). Booked: Ramires 45′, Silva 80′
MEXICO (5-3-2): Guillermo Ochoa; Paul Aguilar, Francisco Rodriguez, Rafael Marquez (c), Hector Moreno, Miguel Layun; Hector Herrera (Fabian 75′), Jose Juan Vasquez, Andres Guardado; Giovani Dos Santos (Jimenez 84′), Oribe Peralta (Hernandez 74′). Booked: Aguilar 59′
Man of Match: Guillermo Ochoa