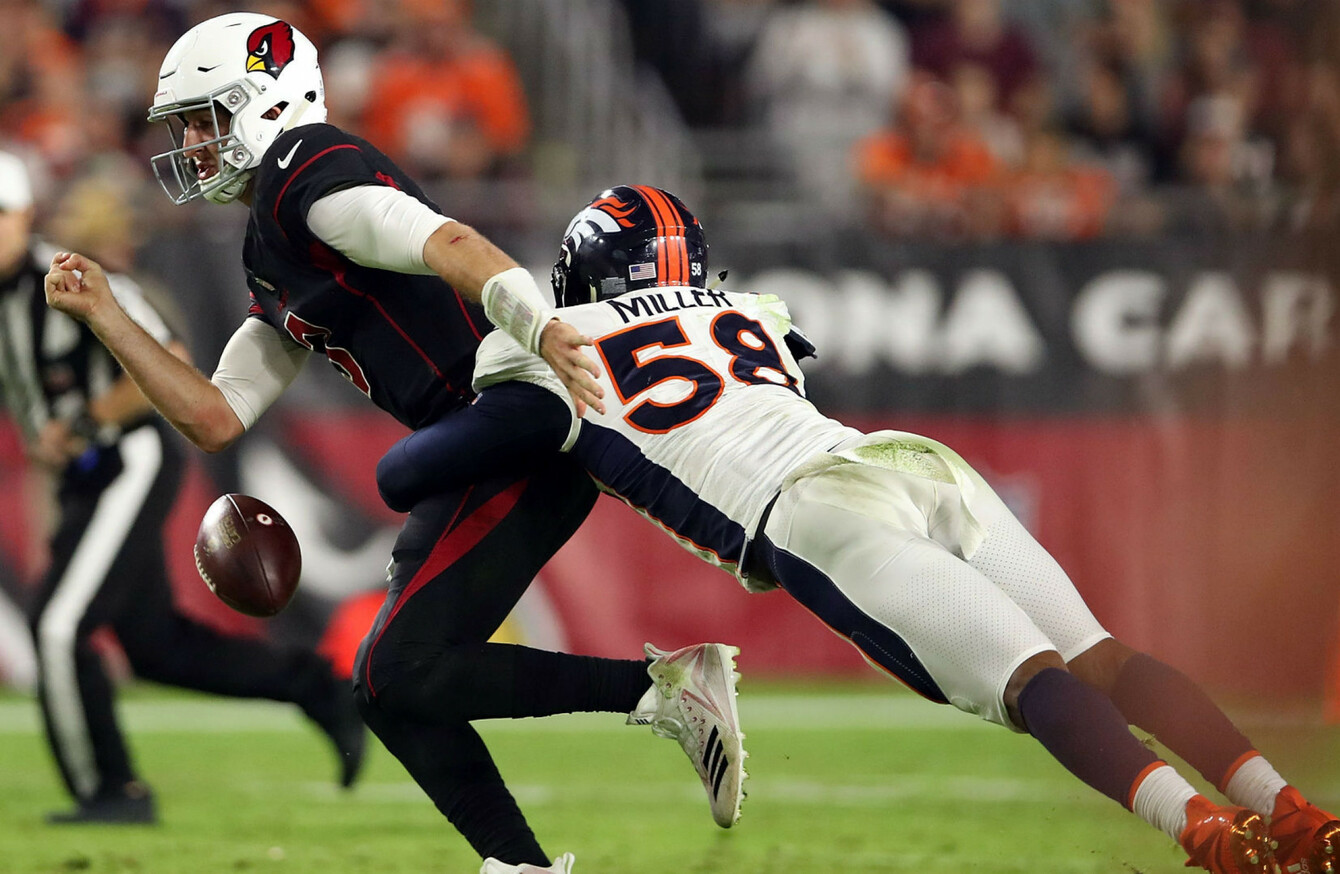 Rookie Josh Rosen has a tough job to turn the Cardinals' fortunes around.
Rookie Josh Rosen has a tough job to turn the Cardinals' fortunes around.
THE DENVER BRONCOS thrashed the Arizona Cardinals 45-10 to end a four-game losing streak in the NFL on Thursday.
Before the match-up that brought the Broncos south of the Grand Canyon, Von Miller promised a win. He used more colourful language, but in short said Denver would travel back to the Mile High City with a win.
He was certainly right about that, as the Broncos thumped the Cardinals at State Farm Stadium.
There was a lot at stake when these two teams met in the desert, and it was more than inching towards a winning record.
There was plenty of talk regarding both teams' coaching staffs. Denver's Vance Joseph, who was on the verge of losing his job last year, has been anything but impressive at the start of his second season. Arizona's Steven Wilks is manning a one-win team that have yet to turn their season around, and he has not shied away from saying the entire staff's jobs were in question.
Joseph will breathe a little bit easier this week while Wilks will be looking for something, anything, to help the Cardinals, who are led by rookie quarterback Josh Rosen.
One defense showed up, the other never took the field
It was a match-up of the worsts. The NFL's two worst run defenses faced each other in Arizona, and if you did not know any better you could have thought the defensive pairing was a mismatch.
Source: NFL/YouTube
One defense, Denver's, showed up. The Broncos had two pick-sixes in the first quarter alone. Meanwhile, Arizona's unit looked as if it did not even take the field. While the Broncos defense put up points to bolster their lead, the offense took the field and ran the score up against the struggling Cardinals.
While quarterback Case Keenum continued to tear apart the defense, all eyes were on the run game.
Denver utilised their backs and ran around, through and over Arizona. The Broncos, however, were able to stop the run and held the Cardinals to just 69 yards. Arizona needed to use fourth-year running back David Johnson, but the duo of Todd Davis and Justin Simmons combined to top the Broncos' defensive list with 17 total tackles as they limited Johnson to just 39 yards rushing.