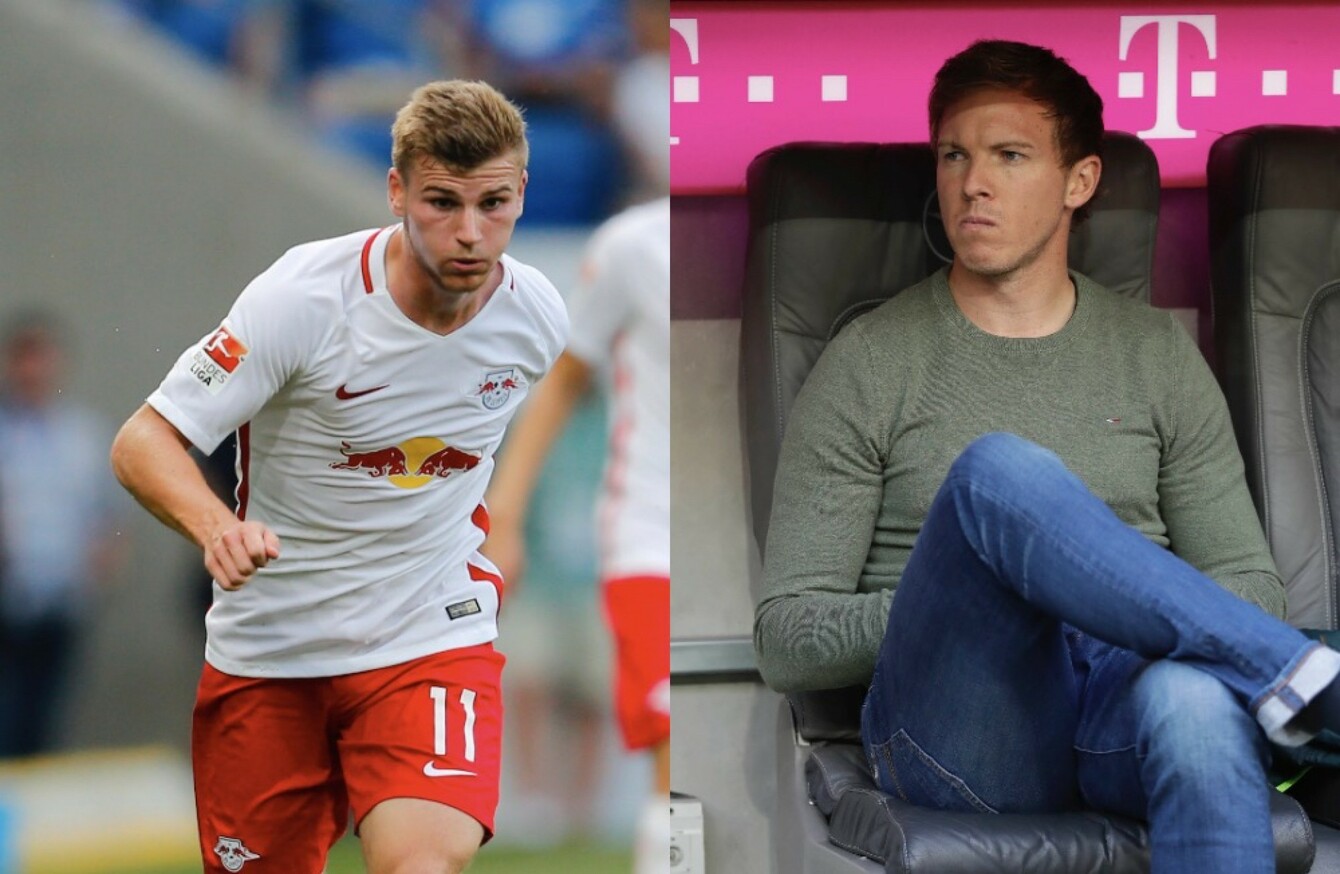 A QUICK GLANCE at the current Bundesliga table and you'll know something is a little different.
Yes, the top five features Bayern Munich and Borussia Dortmund but neither are in pole position.
Instead, it's RB Leipzig out in front – three points clear of Carlo Ancelotti's side – while Hoffenheim are in fifth, missing out on a top-three place after a 2-2 draw with Hamburg earlier today.
Leipzig and Hoffenheim have turned the league on its head for contrasting reasons. The former have courted lots of controversy owing to the fact they're owned by Red Bull and have only existed since 2009. This is their first time in the top-flight and their frenetic ascent to the upper echelons of German football has not gone down well. The club is viewed by many as as nothing more than an arm of a major commercial entity and lacks an identity and history.
Hoffenheim can relate, a little at least, to what Leipzig are experiencing. They were a local amateur side until a former player-turned-billionaire Dietmar Hopp began to invest in them in 2000 and oversaw a remarkable journey from the fifth division to the Bundesliga in eight years.
But they've made headlines this term because of their manager: 29-year-old Julian Nagelsmann. After his playing career was cut short by injury while still a teenager, he began to get involved in coaching, working under Dortmund boss Thomas Tuchel at Augsburg.
He's been at Hoffenheim since 2010 and took charge of the club's Under-17 and Under-19 sides. Despite the club wanting him to take over the senior side from the start of this campaign, he was fast-tracked in February when health reasons led to Huub Stevens stepping down.
So, how is the Bundesliga reacting to the two clubs' magnificent starts to the season? We got the thoughts of football commentator Rob Daly who has covered the German top-flight for the last number of seasons.
What's been your experience of RB Leipzig games? Does it feel like a different club with a different kid of atmosphere?
RD: Their home games have been strange affairs. Some away fans have boycotted fixtures at the Red Bull Arena, including Borussia Dortmund this season, meaning there hasn't been the type of ferocious atmosphere you get at regular Bundesliga home games. Some say it can be a little flat in general; perhaps understandable for a club that has only existed for seven years.
Be part
of the team
Access exclusive podcasts, interviews and analysis with a monthly or annual membership.
Become a Member
They're top of the table. Do you the criticism fuelling a tougher mentality within the team? Just what kind of side are they?
RD: I'm sure, to an extent, the criticism has galvanised them. But I'd put their strong mentality down to the influence of inspiring head coach Ralph Hasenhüttl. A likeable, energetic, intelligent guy who creates an incredibly solid defensive base from which to build on. Jurgen Klopp-like in interviews and with his players so expect more of those comparisons if Leipzig continue to enjoy success.
Dortmund coach Thomas Tuchel has said they're title contenders? Mind games from him or do Leipzig have a genuine chance?
RD: The team is very young, tied to their policy of only signing young players. But they have shown great resilience so far under unique circumstances in the Bundesliga. I personally don't think they will quite go the distance. An injury to someone like Emil Forsburg (their top scorer) would be a big loss. Sure, a lack of European football helps potentially, as it has done for fellow high-flyers Köln and Hoffenheim, but the squad is probably a bit light for a full-season title challenge.
In terms of Hoffenheim, has the 29-year-old Julian Nagelsmann managed to forge a coaching identity?
RD: He is attacking minded and likes to play with pace. He is an open admirer of Arsene Wenger and Pep Guardiola, but he also worked as an opposition scout for Tuchel in his (even) younger days. That may give you an idea of the style of play he aims for. Formation-wise, he's comfortable playing a back three or back four.
Sometimes a good story can get in the way of the bigger picture so are Hoffenheim a good side?
RD: I remember local press felt his appointment was something of a publicity stunt at first, but Nagelsmann was admired by Bayern greatly and it's easy to see why. His team is young – very few are past 30 – he's only 29. They listen to him, respect him and players have been open about enjoying being able to relate to a coach their age. The football is good to watch – like Leipzig, it must be said.
How has the presence of a 29-year-old in the opposing dugout gone down with Nagelsmann's contemporaries?
RD: He hasn't been the most popular character on the touchline, possibly because of his animated style. To be honest, he looks more like a university student than a manager. Some speculate this is older coaches feeling threatened by someone so young doing so well. Bayer's Roger Schmidt called him a nutcase and swore at him on the touchline earning himself a suspension, while Köln sporting director Jorg Schmadtke threw chewing gum at him during a touchline row last season. Schmadtke was punished, and turned up with a pack of chewing gum to apologise when the two sides met this term.
You can follow Rob on Twitter while he's also the co-host of the Football in Europe podcast which is well worth a listen.