SIX LONG YEARS.
Before last Saturday, that's the length of time it had been since Cavan fielded a senior level inter-county hurling team.
This year's Cavan senior hurling team.
The long-awaited comeback was made in Kingspan Breffni Park last weekend. They fell at the hand of this year's league finalists Warwickshire in the first round of the Lory Meagher Cup but still put on a spirited performance.
The visitors banged in two goals before half-time, and former Antrim star Liam Watson rained further on Cavan's parade with his second, and Warwickchire's third, minutes after the break.
The comeback kids were rewarded for their emphatic efforts with a goal in the dying minutes courtesy of substitute Lonan McKenna. It made no difference at that stage of course, but it epitomises the return. The fight is there.
Cavan were again without joy yesterday, as they suffered another defeat to neigbouring Leitrim. This weekend, the deficit was significantly less though.
For now, it's about much more than the result.
Turn back time to 27 March 2011.
Cavan had been annihilated yet again in the league campaign, but this was the final straw.
5-32 to 1-3 was the scoreline as South Down battered the Breffni on their home territory. It was the last of five heavy defeats in that year's National Hurling League, and the last we would see of Cavan for some time.
They finished rock bottom of Division 4. Cavan hurling, and everything about it, was really at rock bottom in general.
The decision was made to pull the side from the 2011 Lory Meagher Cup, and all that followed for the foreseeable future. The plug was pulled completely, and the team disbanded that April.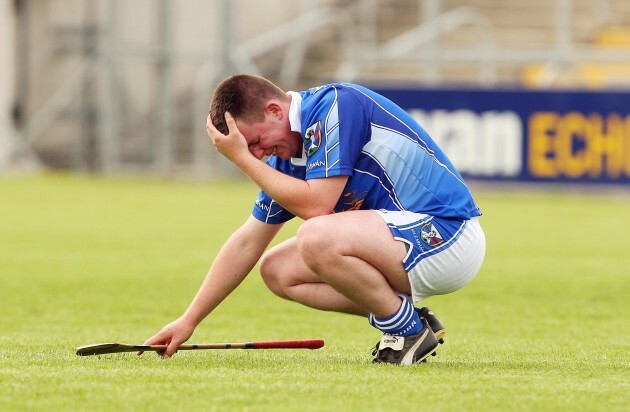 Cathal Noonan / INPHO A dejected Anthony Sheridan after a loss to Monaghan in the 2008 Ulster senior championship. Cathal Noonan / INPHO / INPHO
Cavan hurling, or more so the lack of it, was the talk of the country. They were the only county without a senior hurling side.
"At the time the decision was made to discontinue the senior hurling team, there would have been very low turnouts at training, and very poor results on the field," Cavan PRO Mark O'Rourke recalls.
"That would have been happening for a number of years, it wasn't just one season or it wasn't just a couple of games. It was consistent over a number of years.
"I'm not sure what the tipping point was. I suppose there was funding being put into it, and then players not turning up to training and some of them not taking it seriously enough. The players didn't seem to be there.
"You can understand it. With them continuing to get hidings, they mightn't have wanted to come out. Things just weren't going well.
"The decision certainly wasn't taken lightly. It was decided to discontinue with the team for a couple of years initially, and then see how things were going. The plan was to develop the underage set-up and get the numbers coming through, and regroup that way."
Players fell away, even from the club scene, and the hurleys were thrown to one side. Pretty much anyone who played dual at the time focused on football, and that was that.
A core group — a hurling fraternity almost — stuck together though and never gave up hope. Among them was Seamus Hughes, who's currently involved in the management setup.
The driving force was there, and they stood in hope that the senior inter-county team would return sooner rather than later.
"The last couple of years, a number of people in the hurling section were looking for the team to be reinstated," O'Rourke continues. "Last year, or possibly even the year before. The county board were a little bit apprehensive about it though.
"We wanted to see that players were committed to it and that they were actually going to training and showing us 'you have a panel of players to train for a period of time.'
"There would have been a number of people probably a bit annoyed that there was no hurling team. Obviously, there were some players available, but there just wasn't enough."
In the meantime, trojan work was being put in at underage level and slowly but surely it began to reap its benefits.
Eoin Morrisey, who is now the games development manager in Wexford, was employed as a hurling development coach. He set up underage teams, who went on to compete well in Ulster and won two provincial titles.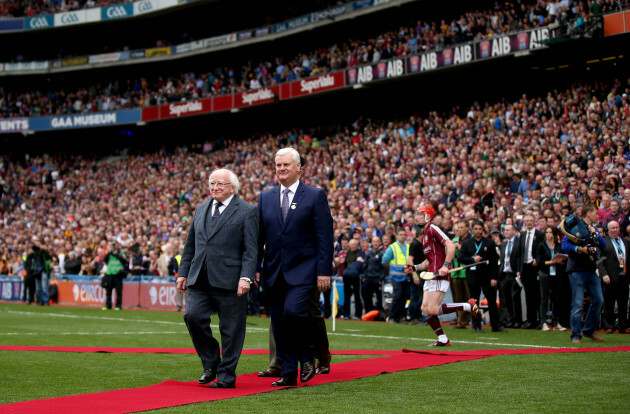 James Crombie / INPHO Aogán Ó Fearghail and Michael D Higgins. James Crombie / INPHO / INPHO
February 2014 then brought the opportunity for a new dawn.
Cavan native Aogán O Fearghail was elected as the President of the GAA. The Drumgoon clubman became the first Cavan man to be elected to the role, and took up office in 2015.
The fact that Cavan were the only county in the country without a senior hurling team, and a Cavan man was at the top of the GAA, spoke for itself.
This brought even more hope to the hurling fraternity, that some day in the near future the senior level inter-county side would return to the stage.
"Certainly, I know Aogán was keen that Cavan would field a senior hurling team and I'm sure that every president would be keen that every county would field a senior hurling team.
"It was disappointing from everybody's point of view that there wasn't one."
From there, the wheels were set in motion.
Over the past year or so, and until the decision was fully agreed upon between all involved, things were quite up in the air. The hurling committee started up officially again, and players began showing interest to return.
"It was kind of a catch 22 for about 12 months there. We said that lads won't train until they know there's going to be games.
"The decision was then made [to return]. The committee said 'look, we'll play in the Lory Meagher for 2017 and start training in October or November. Once we see that there is a panel there willing to commit and put in the effort, certainly they'll get all of the backing and support from the county board.'
"And that's what happened."
The side started training again last October, and have been going from strength to strength since.
"The lads are delighted to be back at it," O'Rourke continues. "A lot of the underage players are coming through the ranks, and some of the other guys are back as well, which is great.
"I've just seen a difference. Lads are definitely taking it seriously and they're working very hard.
"Last weekend's game was a momentous occasion and an important fixture for everyone involved. For the county board as well. It's a milestone to be back.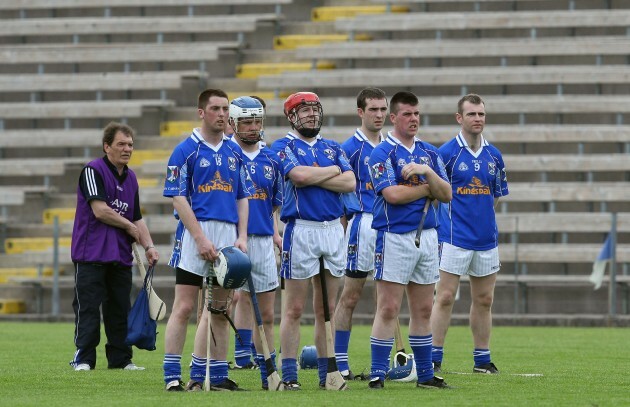 Cathal Noonan / INPHO The Cavan hurlers back in 2008. Cathal Noonan / INPHO / INPHO
"The result was one-sided, and you'd hope that the lads will compete better going forward. Warwickshire would have been one of the favourites in the Lory Meagher, and they did show it last week. We can take heart from our second half performance, they kept plugging away.
"Hopefully they'll only improve as they go."
Tipperary native and All-Ireland winning coach Dinny Cahill is the focal point of the new-look Cavan management team.
He's previously managed Antrim and Laois, and helped guide Portumna to All-Ireland club glory, so his appointment came as a major boost ahead of the comeback.
"The lads are very happy with him, training is excellent and he has great commitment to our lads and to Cavan hurling. He's there at every training, and will be there at every game as well.
"It's great to have him involved. You want somebody of his calibre — a former inter-county player and manager — it's great to have his experience there and he'll bring that on to the lads."
The Breffni's return to inter-county level is of course a huge achievement. But things need to be reassessed at grassroots level in order to fully go forward.
There are just two senior club hurling teams in the county — Coothill and Mullahoran. Others field in the league competition, but the two senior sides are the only that are properly established as of now.
Many will say that the interest isn't there, but a strong underage set-up is reaping its benefits and the code's popularity is snowballing across the county among kids in particular.
As it does in many counties throughout country though, football dominates.
"There's really only the two teams. The problem is there's a small number of teams, and not enough players. Players just don't put in the effort. When they're not getting games, they're not going to put a big effort into training, and that's an issue.
"I'd say nearly every hurler in Cavan plays football. There's very few exclusive hurlers, most of them play football as well. When the team disbanded, they would have went playing football for the most part.
James Crombie / INPHO Dinny Cahill has previously managed Antrim. James Crombie / INPHO / INPHO
Football is the main code in the county, and it'll always be that way. There's no reason why it can't work, why there can't be dual players and players can't play both codes. There's absolutely no reason why it can't.
Even at minor level O'Rourke's son, Gary, is the only dual player.
For now, it's baby steps for Cavan hurling though.
They're back, but there's nothing too drastic expected as of yet.
"This year is all about lads establishing themselves, getting structures established again and a bedding down process," coach Seamus Hughes told the WeAreCavan podcast last week.
"This is what the senior team is really about. Hopefully we can be competitive in these games, and look forward to going into the league and Ulster championship then next year.
And O'Rourke is the first to agree, almost echoing his words.
"This year is just about being competitive, getting the structures in place for going forward and that we keep our hurling team on the field and moving forward as well.
"Who knows, we even might see them in Croke Park later in the year."
The42 is on Instagram! Tap the button below on your phone to follow us!