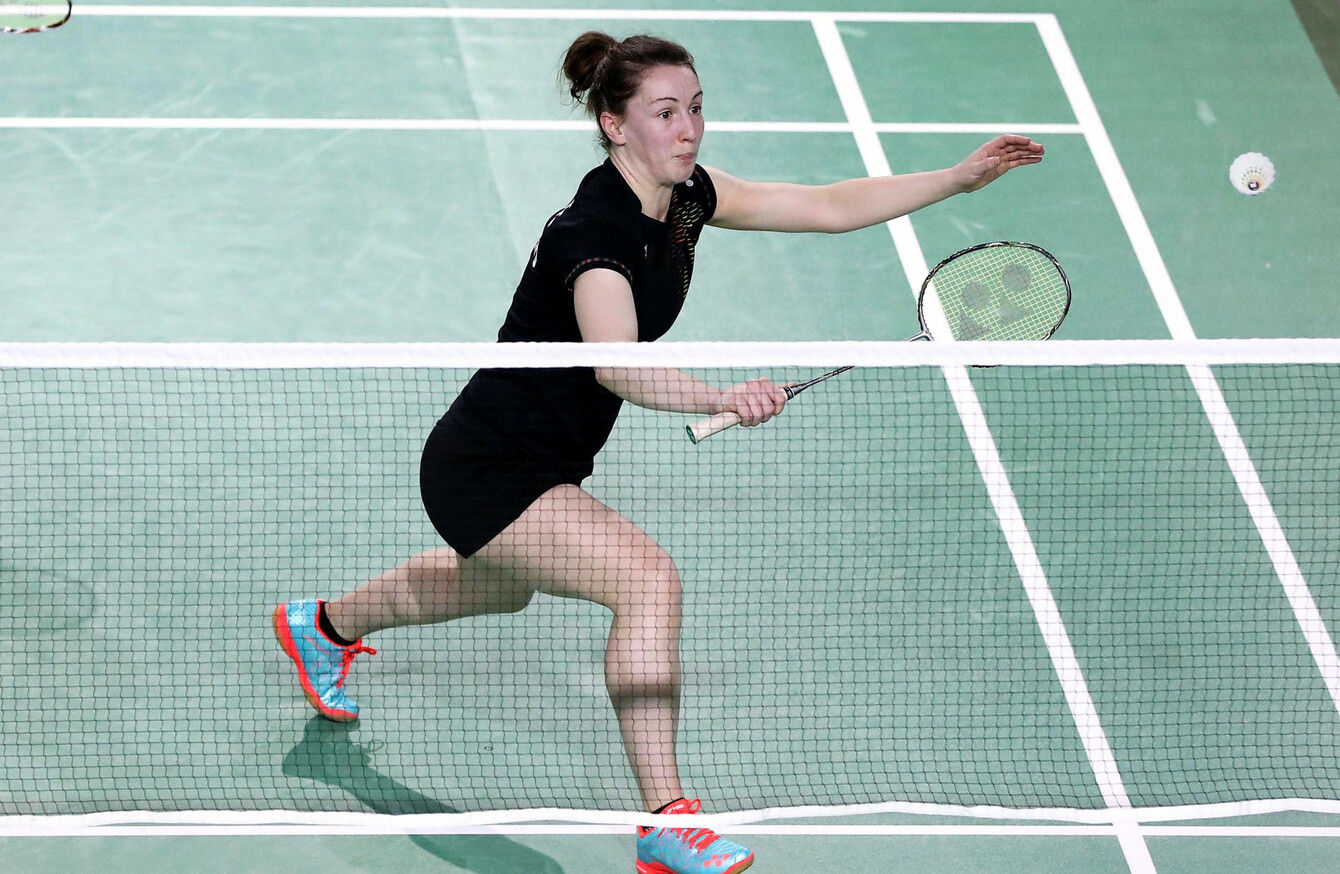 Chloe Magee competing at the Irish Open in 2017.
Image: Tommy Dickson/INPHO
Chloe Magee competing at the Irish Open in 2017.
Image: Tommy Dickson/INPHO
CHLOE MAGEE KNOWS better than most that letting go of a dream can be difficult.
After the 2016 Olympics, she abandoned aspirations of challenging for a senior European medal as a singles badminton player, a pursuit she'd dedicated almost 10 years of her life to.
"After Rio, my singles game wasn't where I needed it to be," she lamented at the time.
"I was picking up small injuries and my body wasn't letting me go to the next level. I was always 30th or 40th in the world.
"That's not where I want to be. I want to be competing with the best in the world."
While she was toiling away on the singles circuit, she continued competing in mixed doubles with her brother, Sam.
As a result of the workload, her body wasn't able to keep up and the shift in favour of mixed doubles became inevitable.
'I've enjoyed the new chapter'
It wasn't long before her decision to leave behind her singles career bore fruit.
At last year's European Championships, the pair overcame Robert Mateusiak and Nadiezda Zieba of Poland in the quarter-final and secured a bronze medal for Ireland – the country's first ever at the championships.
Her lifelong dream had finally been achieved.
Despite the difficult decision to focus only on her mixed doubles game, Magee insists she has no regrets leaving behind her career as a singles athlete.
"I've enjoyed the new chapter with Sam," she tells The42.
"It's a different style of training. Even when you're at tournaments it's different because you're only focusing on the one event and not having to worry about both singles and doubles.
"Mixed doubles is a lot more about strength-based work, it's more short and sharp. The singles is a lot more physical. I've enjoyed the change.
"I don't regret it. Of course I would have liked to have gone further in my singles career, but I think it was definitely the right choice."
Career-defining decisions like this take courage, something Magee has shown in spades over the past decade. Since leaving the country to train in Sweden after her Leaving Cert, she has shown determination to scale the heights of the sport. 
While the highlight of her sporting career will remain her European Championships medal, the Donegal native is also a three-time Olympian.
A mainstay on the Irish badminton landscape, the 29-year-old is now targeting her first Olympic Games as a mixed doubles athlete.
To go to the Games one more time would make her one of Ireland's most decorated athletes on the international stage.
Proudly on display at home, her European medal remains a symbol of hard work, dedication and a reminder that letting go isn't always the same as giving up.
What she would do to place a medal from the Tokyo Games in 2020 beside it .
"It's one of those things that everyone wants to achieve in their career. It's the pinnacle of sport.
"I have to remind myself it's one step at a time. A European medal is something that I really wanted to achieve and I got there so who knows what's next."
Focusing on Doubles
Working with family can be a truly unique experience in elite-level sport, but that's something that can be hard to get away from if you're a Magee.
As well as mixed doubles partner Sam, Joshua Magee is one of the leading figures on the senior Irish badminton scene. Her other sibling, Daniel, is performance and training director at Badminton Ireland and a former national champion.
To get the best out of one another, she and Sam enlisted the expertise of a sports psychologist last year in the hopes of unlocking their true potential – something which has no doubt paid dividends.
That, coupled with the decreased workload, has led to their partnership reaching new heights.
"I've picked up a lot less injuries, but I think that's because my body has been so strong from playing singles for that amount of years."
Fresh off the back of last week's Saarlorlux International in Germany, the pair now look ahead to this month's AIG, FZ Forza Irish Open.
Having finished runner-up at the event last year, Magee says their preparation will stand to them as they hunt for a maiden national title together.
"Our performance in Germany was good. The quarter-final we lost was to the number one seeds in three sets, so it was quite a positive result.
"We would have liked more, obviously, but it was a good build-up to the Irish Open.
"It gave us a nice indication of where we're at at the moment. We've had a tough schedule this year. We've been in Asia three times already so it's nice to get a couple [of tournaments] close to home."
Legacy
To win a senior national title has become the most immediate target for the pair, but the lure of silverware isn't the only factor that's driving the Raphoe woman.
The idea that Irish badminton can continue to evolve is something she truly believes in and which stems from her own personal experience in the sport.
While she acknowledges it's still too soon to be focused on anything other than her own career at the moment, Magee is keen to give back to the sport.
"It's something I wish we had in Ireland when I was younger – that I could have had access to a high-performance centre like this.
I would have been able to see what it was and how I should be training properly before I left Ireland at 17 to go to Sweden.
"If that was in Ireland when I was growing up, that would have been such a help.
For me now, it's to make sure these kids have something here in Ireland. That they don't have to take a flight to Sweden or Denmark to get that experience.
"It's important that I can help provide that. They'll be able to get through so much faster, we won't have to wait as long for success. I was 28 when I got my European medal.
"These guys can progress a lot quicker."
Helping the next generation of Irish stars flourish can only come with the implementation of the correct structures and appropriate guidance.
Compared to years gone, before Badminton Ireland established their high performance system in 2012, young talent can now access facilities to hone their skills and learn from those at the elite levels of the game on these shores.
"The younger squads are in with us every so often. They get to see how we're training, get to train with us and they get to see the speed that's required if you want to be at this level.
"There's like a talent squad criteria and if you reach that, Badminton Ireland will let you come into our training every so often and see what it's like – to see what is required of you to be a high performance player."
Athletes like Nhat Nguyen, Ireland's 18-year-old badminton prodigy, have proven that the country can now facilitate the sport's most promising talents.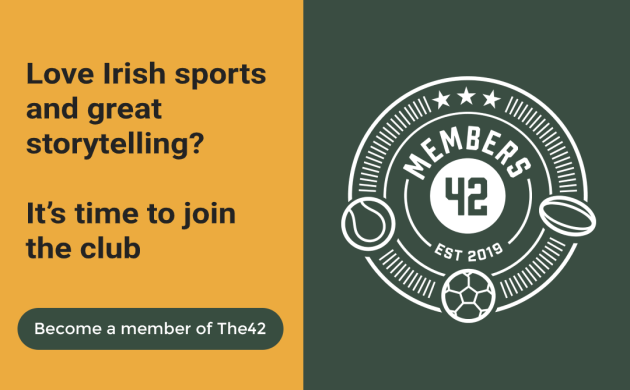 Already with national and European titles to his name, Nguyen claimed bronze at the European Junior Championships in Tallinn in September.
"The sport has gone from strength to strength.
"A lot of good juniors are coming through – in particular Nhat who's doing really big things on the junior scene.
"Scott [Evans] is now retired, he was a big character in the sport. He always brought a lot of fun to wherever you were with him. You'd miss him at the tournaments.
But we've got those young players coming through and we can progress them through before Sam and I retire, so we don't end up with a gap before the next generation arrive.
"Last week in Germany, Paul [Reynolds] and Rachel [Darragh] were putting in such good performances.
"Paul and Josh are putting in big, big performances.
These guys are progressing and it's important that they use us as much as they can before we stop.
"Even looking at the very young talents in the Badminton Ireland academy, there's so much strength in depth.
"If we nurture the talent then badminton in this country is in a good position for the future."
Her concern for the future of the sport in Ireland would indicate a desire to remain part of talent development long after she hangs up her racket.
But where exactly does she see herself after the final rallies of her career are behind her?
"I would like to be involved in some way. I don't know if it will be a big part but I would like to be involved.
"I want to be able to use my experience and help younger players.
Irish badminton has come so far since I've started. Badminton in 10 years time can be even better than it is now.
"But right now I'm not really sure. It's hard to think about at the minute but I wouldn't like to just walk away from Irish badminton.
"I can't see myself taking a coaching role right now, but maybe coming in one day a week and helping out the high performance or something like that. It's hard to know.
There's so much I've given up to play badminton for this long. There's so many other things I want to do as well."
For now, the focus will rightly return to matters on the court.
The upcoming Irish Open, is followed by the Scottish Open and the year will be finished off with team events.
Some respite will be afforded to the pair before the new year and planning for Olympic qualification has no doubt already begun.
But on the evidence presented to us over the last 12 months, there can be no doubt that Magee's ambitions are grounded firmly in reality.
She knows all too well about the setbacks and pitfalls that afflict elite-level athletes in her sport. Calling time on one dream to focus on another is no easy decision to make.
But, like her attitude toward the future of Irish badminton, Magee has entered her prime focused on the big picture.
Success comes in many forms and her willingness to give back to the system bodes well for the future of the sport in Ireland.
Source: Heineken Rugby Weekly on The42/SoundCloud