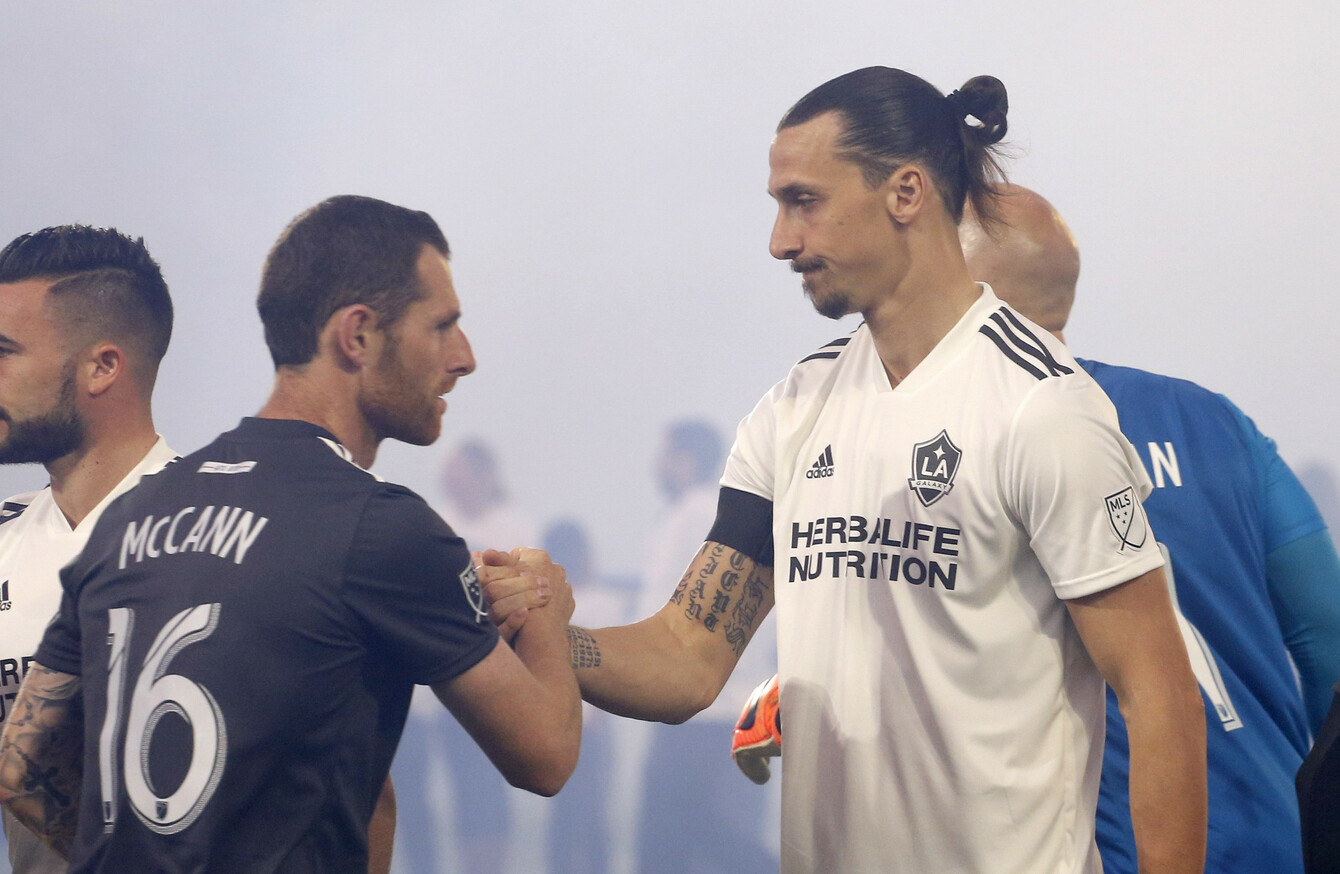 Image: Ringo Chiu
Image: Ringo Chiu
FOUR DAYS AFTER Zlatan Ibrahimovic appeared on Jimmy Kimmel's late-night talk show, he started against Atlanta United.
Spoiling the hysteria and hoopla surrounding the Swede's arrival in Major League Soccer, his Los Angeles Galaxy side lost 2-0 and the veteran striker was anonymous.
It was a neat microcosm.
So many remain seduced by the lowest common denominator: the high-profile lead. But in MLS, the real success story has been happening a long way from Hollywood.
This is only Atlanta's second season in the league. It took the city the bulk of a decade to get there, the soccer team being a long-held objective for Arthur Blank, owner of local NFL franchise the Falcons.
The MLS plan aligned nicely with the proposed opening of the Mercedes Benz Stadium, pencilled in for August 2017. The soccer side debuted earlier that spring and impressed, despite initially being in the temporary surrounds of the Bobby Dodd Stadium for home fixtures. When they finally moved into their new digs, the bar was substantially raised. In September, they smashed the MLS single-game attendance record when over 70,000 turned up for a clash with Orlando City SC. That weekend, it was the fourth-biggest soccer crowd in the world after Signal Iduna Park (Dortmund), Old Trafford (Manchester) and the Allianz Arena (Munich).
Later that season, they broke their own record when Toronto FC visited. And the good news continued when Atlanta reached the play-offs at the first time of asking.
Things have been even better in 2018.
In March, their home opener against DC United attracted over 72,000 fans, a new league-high. But it's not just about the supporters.
The team is young, talented and comes at a discount price. There's no faded star being paid a king's ransom. Instead, the highest earner is 24-year-old Paraguayan midfielder Miguel Almiron who took home $2.3m last year. Next on the list is Argentine teenager Ezequiel Barco who tallied $1.4m. And then there's the jewel in the crown: Venezuelan attacker Josef Martinez, who's paid a steal of $1.3m.
Added to the intrigue is the boss: Tata Martino, formerly of Barcelona and Argentina.
And somewhere in the mix is Dubliner Chris McCann.
The ex-Burnley and Wigan midfielder is enjoying his second campaign. The side are flying high and top both the Eastern Conference and overall standings. But he's the first to admit that it took him time to settle.
"Being in England for my whole career, you're used to a set way of doing things," he says.
When I arrived, you're transitioning from one style of football to another – it was fast and frenetic over here. All the players are athletes. Couple that with a new team all trying to gel together and trying to get the partnerships working. So, it took a while to get to grips with it. The coaching staff were trying to get their points across and there's me not being able to speak a word of Spanish. Everyone was trying to figure each other out. I probably did find it a bit difficult to adapt at the start and get adjusted. It's not easy coming over here and playing in the heat as well, compared to back home. From playing six months in England (McCann was on loan at Coventry for half a season beforehand) to coming here and trying to get yourself going again. It was a bit of a struggle at times."
We talk on a Friday when McCann is in a hotel in Philadelphia. On the Wednesday night, the team faced Dallas in the intense furnace of Frisco, Texas. On Thursday, there was a three-hour flight to Philly and another time zone ahead of a game on Saturday.
It's not just about what happens on the pitch. Settling into MLS goes way beyond that. Something as simple as an away game can be energy-sapping.
"You can get up and down England in a couple of hours," McCann says.
"You go on a Friday and you're back on a Saturday night and you have the rest of the weekend off. But coming here, it's something you have to get used to very quickly. Our closest game is Orlando, which is only an hour-and-a-half flight, but everything is a flight here. There's no way of driving. Just getting your head around the travelling distances and the time zones…there's a lot to factor in playing over here and I don't think people realise that sometimes.
"Last year was a lot more difficult because the new stadium wasn't open yet so we were on the road for quite a lot of games. There were, maybe, two away games at a time. So you're away for a whole week, sitting in a hotel room with just another lad. It can start to get on your nerves by the end of it. You've got to get to know people quickly here but luckily you do form some good friendships. It's nice to get home after a long trip away and see my wife and my little boy. I had to get used to it and it was something I found difficult initially. But, everything is rosy when you're doing well and hopefully that can continue."
The Atlanta squad has a strong South American influence with a steady dose of North American too. Their captain is Michael Parkhurst and their first-choice goalkeeper is Brad Guzan. But, higher up the pitch, the game-breakers are Almiron, Barco, Martinez and another Argentine, Hector Villalba. The odd men out are German midfielder Julian Gressel and McCann.
Despite admitting his Spanish still needs some work, McCann says there's no communication difficulties – as evidenced by results on the field.
Something he's keen to stress says a lot about the club's recruitment strategy too.
"When you play football – and I know it's a cliche – but it's a universal language, really.
"It's not too difficult to know what you should be doing. And to gel so fast is a testament to the boys upstairs who brought in the right type of characters."
Like Martino.
Many questioned whether he'd settle in MLS and if he could properly and successfully introduce his preferred style.
It didn't take him long to provide a definitive answer.
"It probably took us a while to get to grips with what he wanted," McCann admits.
"He's quite a thorough manager and he leaves no stone unturned in terms of tactics. He'll have his homework done like you wouldn't believe. You'll be set on a formation to play against one team but, the following week, it might be completely changed and a different style of play brought in to counter their threats. We'll do tactics for two or three days heading into a game, which is probably something I was never used to before. If I did tactics, it would probably be on a Friday. Like, the day before a game and trying to get used to a different shape! But here you'd work on it for a few days. Not only that, but you'd tailor the entire week towards the game. On a Monday or Tuesday, there'd be little sessions focusing on the shape you'll play at the weekend.
If you look at this season, we haven't lost that many games. We've been really solid. That tells you how much work he puts in on a daily basis. He watches so many games, so much footage of other teams that we'll be playing against. We head into games incredibly prepared and knowing what the opposition are going to throw at us. That kind of preparation stands to us and it means we go out and we're confident. That thoroughness isn't something I was quite used to before and it's paying dividends now."
Signed as a midfielder, McCann has been used in various positions under Martino, a reflection of what he looks for in his players.
"I played at the back for Wigan sometimes and he obviously knows I can play there and he's so football-orientated," he says.
He wants as many footballers on the pitch as possible. I think the more he can see you adapt your game, the more well-rounded you become and the more valuable you become. We've played 3-5-2 a lot this year which means we can get all the people on the field and keep the ball a lot better. I've played midfield, I've played centre-back, I've played on the left. So there is a variety I can bring. We've all played in a variety of positions this season. And that stands to a team. If you're playing 3-5-2 and you're having a problem in a game, you can flip and move to a four at the back but the players still know how to play in that shape. It's a seamless transition to get yourself a foothold in the game or get back in the game or cause them more problems. You pick up little things like that from working under him. You see your game developing in a different way, which is fantastic."
It's optimistic to think Martino will leave anytime soon, though Jorge Sampaoli's likely departure will free up the Argentina job again. Still, given his reasons for quitting that role in 2016, it's difficult to see why he'd return.
"We were actually training that day (when they were eliminated from the World Cup by France) so I think everyone stayed clear of all the Argentinean boys," McCann says.
"It would probably be hard to turn it down if his country came calling again. But I think he's quite happy where he is right now. What we're doing at the moment is fantastic to be a part of and we have a great opportunity to go and make a good run at things."
It's also a feel-good story. There's a positivity to Atlanta that goes beyond big-name players being signed. It's a case-study of how to run an MLS club: great location, excellent recruitment and a remarkable, hungry fanbase.
"Back in England, you're never going to play in front of crowds like ours unless you're at Man United or playing at Wembley," McCann says.
"And it's difficult to explain to people how it's caught on. It's the whole match-day experience. You walk out there, there's a band playing, everything's going on. For a team to start up in the US and for it to take on the hype it has…Like, we have a game coming up against Seattle and that should be another record-breaking attendance. That's going to be another 70,000+ crowd so I've got the family coming over for that and it'll be a good experience for them. It's not everyday you walk out in front of 70,000 but we're doing it on a regular basis."
Still, the naysayers remain. When Ibrahimovic or Wayne Rooney (or Andrea Pirlo or Steven Gerrard) join a franchise, it's easy to point a finger and criticise and to refer to MLS as a retirement league. But those players represent a tiny percentage. In Atlanta particularly, there's a conveyor belt of quality young talent with their careers still firmly ahead of them.
"When you mention MLS, the first thing that comes into some people's heads is that it's a retirement league and that the players are going there for a last pay day," McCann says.
And I think it's going to take a long, long time for people to think it's more that that. It's going to be difficult for them to shift that out of their mind, particularly when you see Rooney or Ibrahimovic coming here. But when I came here, I was probably of the same idea. That it was going to be easier, more lax, that the football wasn't as good. But when you experience it yourself, it's totally the opposite."
"You've got so many South American players here who are so talented. You'd probably never hear of these kids back home, unless you came here to play. When you're actually playing with them, you realise how talented and how skilful they are. Before long, they will end up with a top team in Europe. So, being here opens your eyes. This is a lot more difficult league than people give it credit for. It's difficult to explain unless you're witnessing it first-hand. For a lot of people, if they opened their eyes and watched more MLS football then they'd recognise there's a lot of talent here and that the league is going from strength to strength."
After reaching the postseason last year and given their current form, many are talking about Atlanta as potential champions.
There's an awareness within the squad but they know better than to get ahead of themselves.
"With the hype comes the expectation," McCann says.
"For us, we're a confident bunch. We know how good we are. But on the flip side, we know how annoying we probably are to other teams. You have to accept that we're the team everyone wants to beat and try and keep quiet these days. But we're quietly confident that we're good enough to go on a run and show we're a really good side. Step by step, game by game. We won't get too far ahead of ourselves but there's no reason why we can't give it a good shot."
The42 is on Instagram! Tap the button below on your phone to follow us!