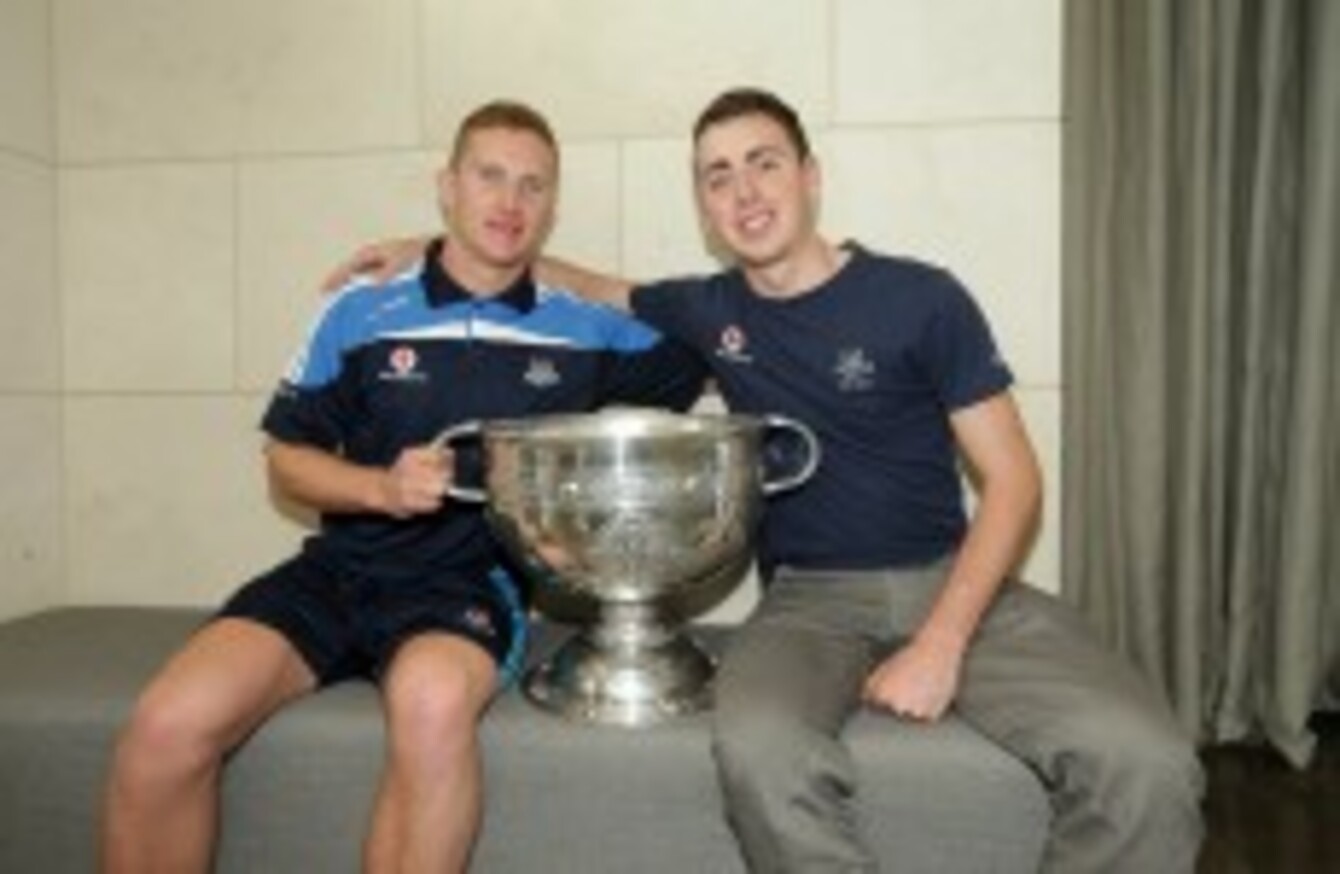 Dublin's Ciaran Kilkenny and Cormac Costello celebrate with the Sam Maguire yesterday.
Image: INPHO/Morgan Treacy
Dublin's Ciaran Kilkenny and Cormac Costello celebrate with the Sam Maguire yesterday.
Image: INPHO/Morgan Treacy
IF CIARAN KILKENNY had stuck on the road less travelled, he might well be taking part in an AFL Grand Final this weekend.
Instead, of course, this week he's celebrating a first All-Ireland SFC title with Dublin in his first year back since his Aussie Rules adventure.
Kilkenny's former footie club Hawthorn take on Fremantle in the showpiece game down under on Saturday but the Castleknock clubman is happy he decided to return to his Gaelic football roots.
"Even just coming home for the banter and the craic you would have at training   they are probably the best moments with the team," the 20-year-old said at the team's hotel yesterday. "Yeah it's been an unbelievable feeling winning the  All-Ireland in my first year back
"The team I was with are in a Grand Final next week but I'd firmly rather be here now winning an All-Ireland with the Dublin lads."
Kilkenny didn't last long with the Hawks but would he have made the grade if he stuck it out?
"I don't know," he says. "I knew I wasn't going to be playing  I wanted to come home and play Gaelic and that's what I had my mind on  to come back and play football and do it to the best of my ability and try to win an All-Ireland with these lads."
Kilkenny was substituted in the second half of the win over the Connacht champions. Was he happy with his performance in his first senior decider?
"I thought I worked hard and I just didn't have the end product at the end of the day  I didn't take  my scores and could have fisted one ball over the bar but  that's  not what's important we won the game whether I played brutal or we won by one point or 20 we take the  win at the end of the day and that's been our motto throughout the year  if we won by 50 or 1 we just want to win and are delighted we did and am delighted to get my first All-Ireland," he says.
While Kilkenny pocketed a Celtic Cross in his first season with the Dubs' senior outfit, he was led there by Jim Gavin in his debut year as boss.
"He is an unbelievable manager," says Kilkenny. "He just let's express ourselves as footballers and he just puts that kind of elite professionalism there for us to express ourselves as footballers.  He is a great manager, great understanding for the players as regards study and things like that.
"Yeah, he is a good manager. Repetition, repetition, repetition, yeah, just repeating things and nailing them into the mind."
And next year?  "I had a fry there this morning and it's the first time I had fry there in a year now.  I'd say I'll get a good solid week of junk food. Ah no, I'll be firmly back playing with the club in a few weeks time in early December we'll be back training for 2014 and hopefully we can contest for another All-Ireland that year."