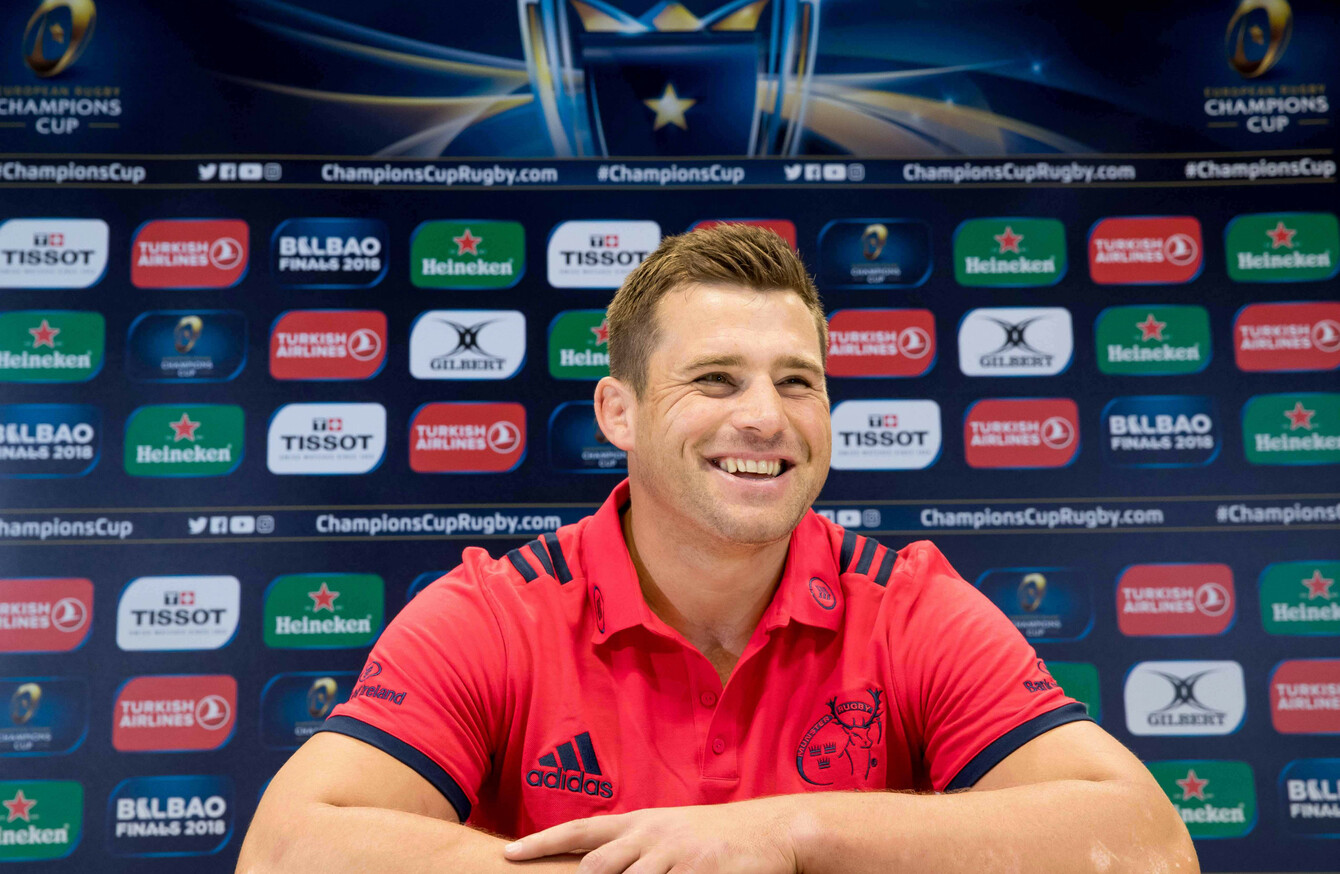 Stander speaking to the media in UL on Tuesday.
Image: Morgan Treacy/INPHO
Stander speaking to the media in UL on Tuesday.
Image: Morgan Treacy/INPHO
LEINSTER ENSURED CJ Stander's landmark 100th appearance for Munster wasn't as memorable as he would have hoped, but says it is now his responsibility to find a way of influencing games even when the opposition target him.
Stander wasn't the force he usually is at the back of the Munster scrum at the Aviva Stadium last weekend with Leinster working hard to get in his face and nullify the threat the Ireland international brings.
He finished the game — just his second of the season — with nine carries but his impact overall was minimal as Leinster's back-row unit came out on top, with Josh van der Flier particularly effective.
It's something Stander has had to realise since his emergence as one of best number eights in the game and looking ahead to another stiff test in Castres on Sunday, says he is the only person that can fix that.
"Any team is going to target anyone," he said. "If you go through our team there are probably six or seven guys they need to stop and take away their game. I think we just need to recognise that, and know that's going to happen this week.
"That's why we played the ball a lot wider and I think it works for us. For me then if someone targets me I probably want to prove them wrong and try to carry a bit harder.
"If someone that questions my ability in the papers in the last few days, not the papers., but anyway, it's nothing I can do about it. If I don't make gain line then that's on to me. I'm the only guy that can fix that and if they want to be in my face I need to fix that and make sure that I get out of their face."
Stander added that assessing his performance by the statistics — carries and metres gained — doesn't give a fair reflection of his overall contribution as he continues to evolve and sharpen his game in different ways.
He explains: "I felt I didn't make 20 carries as I used to because I just feel that that's something I've worked on with my game and changed a bit and passed a bit more. I still made my metres.
"Look, if you make eight carries and there is two or three that you get dominated on then it's going to happen in a game, you just make sure that next time you do it that you dominate them.
"If they think Munster is just about stopping me then it's going to be tough. Going into the next few games, there is 15 guys in the team, we've got a full team for me that's international players and they know what to do on the pitch.
"Stopping me is not going to stop Munster at all, I promise you that. Felix [Jones] will have a plan."
Stander and Munster head into the European campaign with four wins from six in the Guinness Pro14 and despite last week's inter-pro defeat, there have certainly been hugely encouraging signs with the province adapting a more expansive and fluent approach to the simple ram-raiding of last year.
Rassie Erasmus experimented last week in his team selection by deploying three play-making out-halves in his backline and while it didn't pay off, that is something he and the players have spoken about at length this season after eye-opening defeats to Saracens and Scarlets last term.
"I think we want to grow, I think we try different things," Stander continued. "The biggest thing I've learned from last year, sometimes you score a try or the opposition score a try, and you go to yourself, 'man that's an unbelievable try' and you almost want to go and congratulate them.
"We want to try things. They [the coaches] want to give the players freedom to try something. Look, if it doesn't work and then we feel it takes away from our game and we can pull back. But at the moment we just want to see if we can grow as a team.
"We want to compete and we want to go to a place where we can win finals and semi-finals. If that's to change a bit what we do then that's what's we're going to try to do."
On Sunday's opposition, Stander added that Munster are expecting a physically bruising encounter with the Top 14 heavyweights.
"Physicality, a lot of mauls, big boys, powerful guys," he says of Castres. "I think we are going to have to work 70 minutes to (break them down). They are a big side you know and if you get in to a head battle with them you are going to struggle. They are big men and powerful and they are like a maul and a good scrum.
"We like to maul and we like to scrum, but we'll probably just need to grind down and make sure we are ready for a big physical 80 minutes."
Subscribe to The42 podcasts here: