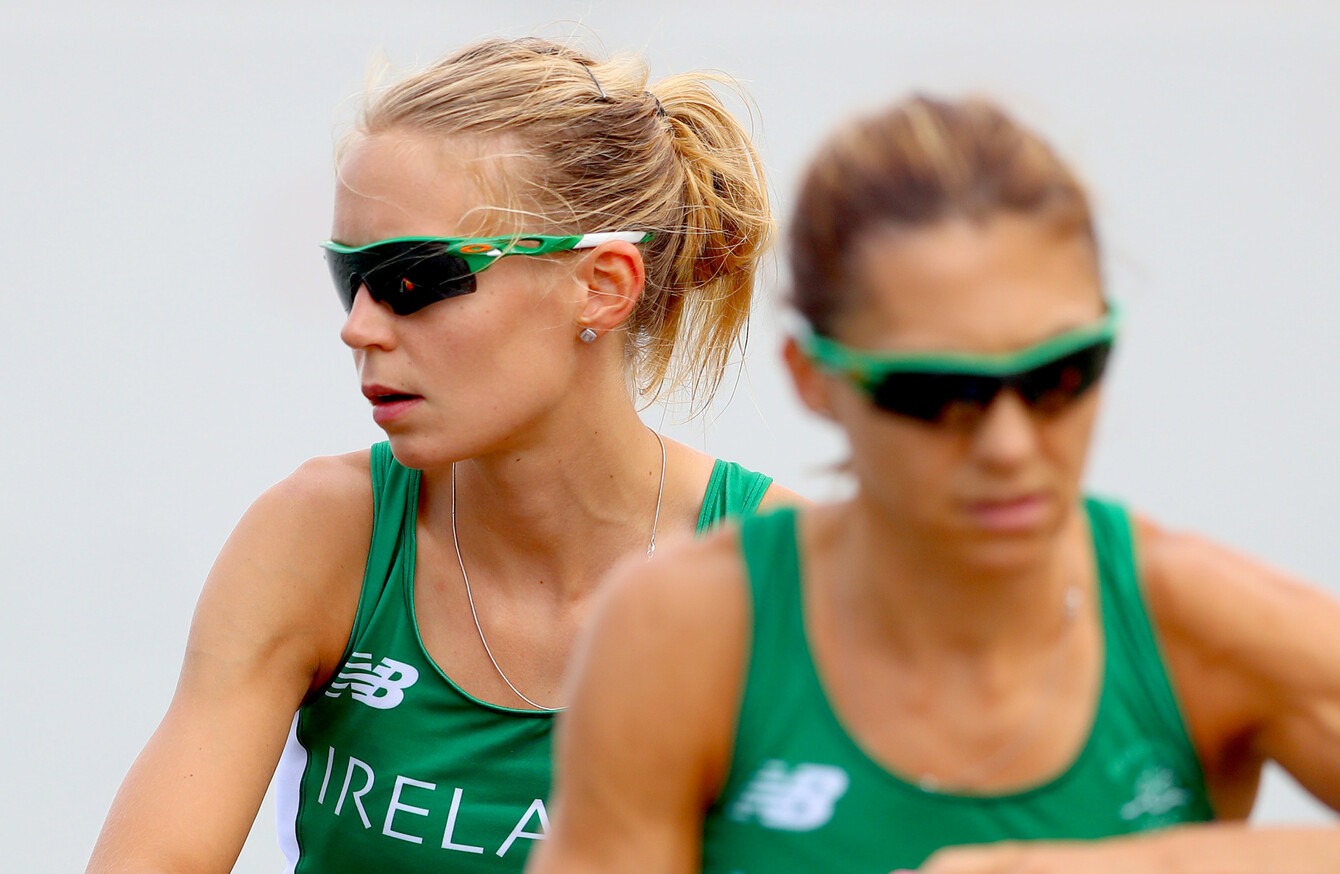 Claire Lambe (left) pictured at the Rio Olympics with her rowing partner Sinéad Lynch.
Claire Lambe (left) pictured at the Rio Olympics with her rowing partner Sinéad Lynch.
IRELAND IS COVERED in snow, but unlike many people in the country, Claire Lambe has made it into the office.
Based in Cork, she lives so close by to her work that she "won't have an excuse" not to be there.
"I'd say tomorrow most people won't come in and will work from home," she adds, in conversation with The42 earlier this week. "But our apartment is absolutely freezing, so I'd probably rather be in the office unfortunately."
It is not as if Lambe is unused to persevering in difficult conditions, however. In fact, 'persevering in difficult conditions' was basically her job description during the many years she spent in top-level rowing. When preparing for the 2016 Olympics, for instance, she trained in Banyoles in the north of Spain, where the temperature was often between 34-36 degrees.
Nevertheless, she has a new life now. The 27-year-old recently completed a Master's at Cambridge in Engineering for Sustainable Development, having previously earned a bachelor's degree in mechanical engineering at University College Dublin.
After returning to Ireland back in September, she got a job in Arup, who are described on their official website as "an independent firm of designers, planners, engineers, consultants and technical specialists, working across every aspect of today's built environment".
Lambe adds: "I'm really interested in the renewable energies and how we make the transition to a low-carbon economy and that sort of thing. So some of the work I'm doing is really just training in the mechanical engineering that just goes into a building and it can be mundane. I know the aspect I need to upskill in and I'm still getting exposure to the bits that I'm really interested in, so I'm pretty happy with the role.
"I think there's a lot of exciting things happening in that sphere and the fact that I kind of can use what I did on my course in the job as well I'm really happy about. That was kind of the fear coming out of a course that you'd get into a role where you feel like you're not making any contribution. But I think in Arup, they're a very progressive firm and are very much about 'shaping a better world,' which is their mission statement, so I hope I feel like I have an opportunity to do that in my work."
Initially, Lambe tried to combine her day job with rowing, but it didn't work out ultimately, prompting the Dubliner to confirm her retirement from the sport last month.
"I would never say that you can't do both," Lambe says, on the subject of incorporating work commitments with participation in sport at a high level. "I had a part-time job while I trained in the past. I had courses where I did volunteer work, I always had something else on, that's so important.
"The [current] job could have accommodated me maybe going part-time. They were always very supportive of the rowing, so I did kind of give it a go when I came back in September, but my heart was not in it the same way it was from about 2010 on. I didn't go through a day without thinking about the Olympics and now that isn't my number one priority, it's not the first thing I think about and if you haven't got that inside of you, it's just harder to get up for it.
"It never really felt like a chore [before]. There was never a few days consecutively that I really didn't want to train. Now I feel like there's so much more, other things I want to prioritise. I just felt like rowing wasn't number one anymore."
Despite all these feelings, the decision to retire was not an easy one. On the contrary, she thought long and hard before making the call.
I think I wanted it to work in some ways, because the fear of giving up as an athlete is pretty strong and it's very hard to let go in many aspects, just knowing that you're in your best shape and that you're getting the most out of yourself.
"That's hard to part with, but there's obviously a lot more as well out there other than rowing."
It was a remarkable journey in many ways for Lambe. She has spoken eloquently in the past about the heartache of failing to reach the 2012 Olympics, as her boat was pulled owing to weight-management issues shortly prior to her final qualification attempt.
The pain and frustration of not going to London subsequently spurred her on though, as she attempted to compensate for this missed opportunity by reaching Rio. The decision to link up with Sinéad Lynch was pivotal.
Lynch herself was no stranger to Olympic near misses, having failed to qualify three times previously and even switched events to try track cycling for a period. The Donegal native, whose husband Sam represented Ireland in the 1996 and 2004 Olympics, fell short in her bid to qualify for the Athens Games with rowing partner Heather Boyle by an agonising  .1 of a second. Despite phenomenal success elsewhere in the sport, winning bronze in the single sculls in the 2000 World Championships and gold a year later, the Olympics had been the one feat conspicuous by its absence on her glittering CV.
But together, the pair hit heights they had never reached before, and their influence on one another was key.
"If I'm struggling mentally, I just voice that straight to her and she'll be able to help me out and hopefully vice versa," Lambe said in the run up to the Rio Olympics. "We're kind of our own sports psychologists in that sense."
"Claire is extremely dedicated in her recovery, her nutrition — everything she does, she does it so well," Lynch added. "It's very easy to trust her. Even when we're out rowing and we decide on a race plan. If we decide to go out hard, I know she's behind me the whole way. That's something very special that I don't think too many doubles have."
The London disappointment, Lambe explains, only served to increase her determination to get to Rio.
"The athlete and the person going to Rio was completely different from the girl I was, trying to get to London," she recalls.
Having not made it before, it just puts that fire in you and that was in Sinéad as well. It was just that disappointment was absolute fuel, no one was going to take it away as much as you [tried] with every will you had."
In the end, the duo reached the final of the Women's Lightweight Double Sculls and finished sixth overall in Brazil. It was a fantastic achievement — Ireland had never even qualified a lightweight women's boat for the Olympic Games before then.
"To go another step again and get a medal would have been amazing and maybe it could have been done, but I'm pretty satisfied with what I achieved," she says.
"It was bittersweet in that we were disappointed about where we finished in the final. I just remember being so upset that it was over. I guess I had in the back of my mind that once I made the Olympics, once I didn't disappoint myself there, I was going to move on to do something different.
"Life and training in the rowing centre is a very small world. You're a very small team and you're with the same people all the time and your mindset gets very enclosed in some cases. You're not as exposed to the wider world and your individual problems as an athlete seem like the biggest problem, as if nothing else matters. It's nice to step outside that as well.
"I know I went on to Cambridge afterwards, but [the Olympics] was reaching the finishing point or the pinnacle, even knowing Sinéad wasn't going to be around for the next few years as well. We were both crying, because we were finished and that was it."
The time-consuming move to England afterwards helped, but Lambe was by no means immune to the post-Olympics lull that so many athletes struggle to deal with, when suddenly there is no event to prepare for, no media attention, no intense pressure and the exhilarating feeling which all that creates suddenly is no longer palpable.
She continued to row while in Cambridge, and worked extremely hard as part of the team that eventually triumphed in the 72nd edition of the Women's Boat Race.
Nothing, however, could quite compare to Lambe's Rio experience.
"That was definitely a buffer, having a plan after the Olympics, but it was still quite hard. I probably wasn't as motivated for training as I had been in the past, even in Cambridge. I found it really hard to get up for the same level of training again.
"I do think it's so important to have your plan B, but I think as well, stepping away from high-level sport is really hard and I probably still struggle with it. I went down to the track one of the days in UCC [University College Cork] and seeing all the athletes and all the guys out running, there's this pang of 'oh my god, it's so hard to not be the athlete anymore,' and I probably will always have that feeling, but it's not enough to completely sacrifice so much to do it again."
That said, she refuses to entirely rule out the idea of a comeback for either herself or Lynch.
"She still hasn't announced anything, so you never know. It's even the same with myself, I said 'I'm not going to go to Tokyo,' but you just don't know how you'll feel in a few years' time and if I felt I could get back into shape again, I wouldn't say it could never happen. At the moment, I don't feel like I'll have that desire, but [in the long-term] who knows?"
Be part
of the team
Access exclusive podcasts, interviews and analysis with a monthly or annual membership.
Become a Member
Lambe consequently prefers to regard this time in her life as a new beginning rather than a difficult ending.
I know I can be an Olympic finalist. I've done it and have competed at that. But can I be a successful engineer? Can I have a positive impact in my career or in my life outside of sport? That's a new challenge that I'm probably less confident about. I'm not shying away from anything, I'm actually going to try a different challenge for myself and step up to that."
The special camaraderie that participating in the sport creates will be what she misses most — colleagues such as Lynch, Denise Walsh, Sanita Puspure and her former coach Don McLachlan also became good friends, having shared this extraordinary and unique experience with them.
"It's harder to make those kind of connections through work or that kind of thing," she adds.
There were downsides to the sport too. Lambe was critical of Rowing Ireland on Twitter after they neglected to renew the contract of McLachlan in the aftermath of the Olympics, saying she felt "let down" by the decision, though the Irish Olympian is at pains to emphasise her appreciation for the many people in the organisation who helped her significantly along the way.
"Rowing Ireland can be stressful at times," she says. "There's always a bit of turmoil on camp, as in [with the] organisation and coaches. That's nothing on Don or anything like that."
She is not the only one who has at times been frustrated by "the politics" of the sport.
Last December, Sanita Puspure also publicly expressed annoyance at Rowing Ireland's decision to part with her heavyweight coach Seán Casey, while according to an Irish Times article around this period, a group of athletes, including Olympic medallists Paul and Gary O'Donovan, sent a letter the Board of Rowing Ireland criticising the methods of Ireland's high performance director, Antonio Maurogiovanni.
While acknowledging that such issues can be "frustrating," particularly in such a high-pressure environment, Lambe remains optimistic that any differences of opinion within the set-up can be overcome.
"These things always work themselves out," she says. "Sometimes you forget that when you're in this situation. You just need to keep your head down and keep plugging away, and Sanita's doing that now, and she did it well over Christmas when everything was going down. I don't know how many kilometres she did when she was away in Latvia, even though she was without a coach and without a sure plan going into the New Year.
"But things are looking up. She's got a new coach in and I think she's working better now with the high performance director and that sort of thing.
"These things should be completely ironed out that first year after the Olympics, as every other federation does. Of course, it's difficult. You've a window to get in the best coaches and stuff. But this wasn't really the time to have this big changeover in training plan and coaches.
I do think the experience there now, Antonio has good experience, all the athletes have good experience, that means a lot, and Dominic [Casey] as well, he knows how to get results. They really need to just all work together to get the best out of the athletes that are there.
"The organisation and the athletes in the sport are very robust. They can be quite independent as well and know how to get what they want or need. So I've every faith that they can take a lot of shit thrown at them really."
The same could be said of Lambe, who since taking up the sport aged 15, has shown remarkable perseverance through all the highs and lows she has experienced. Rowing's loss, it seems, is the engineering world's gain.
The42 is on Instagram! Tap the button below on your phone to follow us!