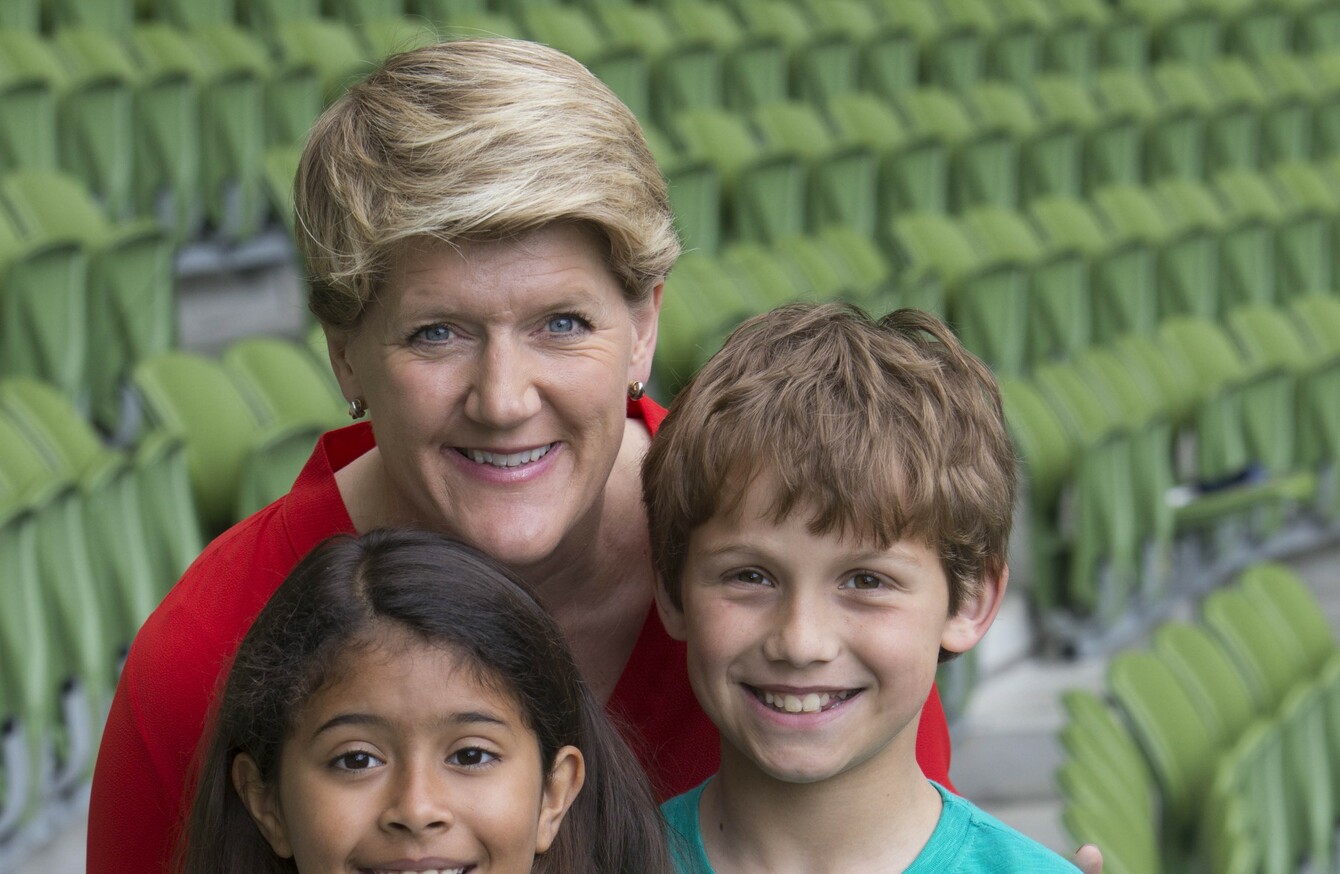 Sports broadcaser Clare Balding pictured at BT Ireland's 'The Difference is You' event which took place at the Aviva Stadium.
Image: Colm Mahady/Fennells
Sports broadcaser Clare Balding pictured at BT Ireland's 'The Difference is You' event which took place at the Aviva Stadium.
Image: Colm Mahady/Fennells
SPORTS BROADCASTER CLARE Balding peers out the window of a room in the Aviva Stadium, and marvels at what she sees out on the pitch.
On the same day that she's delivering a speech about diversity in the workplace, young children are taking part in a host of soccer games at the same venue.
Girls are playing in large numbers, which forms a nice juxtaposition with what the occasion is all about.
And Balding is enriched by the sight.
"I was just so happy to see so many girls teams. If you watch, the skill level is really good but I think also, the confidence levels are very high.
You don't want anyone to feel embarrassed or feel that they are being judged somehow or told that they shouldn't be doing that."
Balding grew up in a family where sport was the "background music" of the household.
Her father was a talented rugby player and cricketer, while her brother was also a sports fanatic.
The message was simple:
"You either join in and ask questions or you feel excluded," she recalls to The42 with a laugh.
The hymn sheets were there for her if she fancied it, and so, she decided to join in.
She would later go on to become a sports broadcaster, although her first ambition was to write books.
She did manage to composing a few of those over time, but her first one didn't arrive until she was 41.
In the meantime, she made the most of the diversion in her life path, and from the outset, Balding was welcomed throughout the predominantly male dominated industry of sports journalism.
The warm reception in the office however, doesn't always transfer into the audience, and Balding has her critics.
More often than not however, the volley of abuse tends to focus on her competency rather than her gender.
"The abuse I get tends not to be because I'm a woman. Somebody's idea of a clever put-down would be, "stick to the horses love," like horses are an easy option."
"If you wanted to give someone the hardest job of all, you'd say, "present racing." I'm not doing it anymore but I did it for many years."
She adds:
"You've got 40 runners in the Grand National, they're all ridden by somebody different.
"They're all owned by somebody different. Some of them might be trained by the same person and you've got to have done four races before it with 10-12 runners in them all.
"The following year, the whole thing changes and you haven't got 45 minutes of action to sit and watch before you say something at half-time, you're saying something every 10 minutes for long periods of time."
Resisting the urge to bite back at those cutting jibes is an art that has taken Balding time to perfect.
And the direct contact afforded through social media, makes it all the more difficult to exercise self-restraint, when a satisfying response is just a handful of characters away.
When I was first on Twitter, I would be in fury about things. You're being judged by strangers and particularly if it's something that sort of close to the bone and you know it might be true, I get so upset. I learnt fairly quickly to vent (but) not send.
"So, I (would) write it and save it to drafts. I'd show it to Alice (her wife) and she'd say don't send that. It's quite a fun exercise and it's very good for your writing. So, compose it and maybe write it in a notebook. Everything is copy and I'm a big believer in that. Have it somewhere."
Balding is a strong advocate for women's rights, in sport and beyond.
That's why she was in Dublin this week, to speak about gender diversity in the workplace and LGBT equality, at an event for BT Sport.
During her time in the Irish capital, she also slammed former tennis champion Margaret Court for her offensive comments about homosexuality, and her bizarre boycott of Qantas Airlines for its support of same-sex marriage.
Balding is openly gay, and married to her long-term partner Alice Arnold.
But the freedom to be true to herself wasn't always at the forefront of her life, as she described on Newstalk's Off The Ball earlier this week.
"I spent seven years at work being gender neutral in my pronouns of who I'd been on holiday with.
Source: Off The Ball/SoundCloud
"I know what it's like to hide. I'm without (a) doubt that I became a better presenter and a better writer when I wasn't hiding anymore."
Balding is a fan of gender quotas, which are expected to be imposed on Irish sporting bodies later this year.
A proposal by Minister of State for Tourism and Sport Patrick O'Donovan, requires that sports organisations which receive Government funding have 30% female representation on its board to avoid financial sanctions.
The reaction to O'Donovan's plan in Ireland has been divisive, but Balding believes in the power of quotas.
"I'm a big fan of quotas. Quotas only come in when every other avenue has been examined and found lacking.
"Essentially, quotas make everybody say, "right, what do we need to do to change this?" I'm a big fan because I just don't think you can change the balance in anyway until you start looking at it differently."
The common counter-argument to quotas suggest that they undermine the notion of merit.
This writer pontificated at length about the perils of quotas on this website in the past, but Balding argues that this school of thought fails to address the broader issue.
"You then are making the assumption that the best person for the last 60 years is white, male and middle-aged. Really? That's the best person?
"Is that not the person who had the most traditional preparation and just ticked your boxes because those are the questions you were asking and those are the boxes they want ticked? It's just rubbish."
Source: johnmorningspecial/YouTube
Her broadcasting at the London 2012 Olympics and Paralympic Games was arguably the crowning achievement of Balding's career, and her work was later rewarded with a BAFTA.
TV personality Chris Evans was the first to inform her of her newfound fame during the Games, although she didn't want to hear about it.
After all, her mantra going into the event was that "it's all about the event and the competitors."
But the good vibes, and impressed remarks continued to flow her way.
Coming into the final weekend of the Games, Balding discovered that she had a fan in her mother as well, a person who would normally keep all feelings of pride towards her daughter to herself.
Balding called up to ask her to save some information about the Pentathlon event that was coming up and she was startled by the response:
"She said, "yes" and said, "I've saved the other stuff too.""
That is so unlike my Mum," she added, "she would never give me the impression that she was that bothered by any press coverage.But she does stalk my Twitter and my Instagram as it happens."
There are times during our conversation when the sound of applause out on the pitch sends Balding's gaze shooting out towards the girls' matches, and a smile creases across her face.
It's moments like this that make her role in sports broadcasting all the more significant.
Sports broadcaser Clare Balding pictured at BT Ireland's 'The Difference is You' event which took place at the Aviva Stadium . Balding joined a host of inspirational guests to discuss diversity in the workplace at a special lunch to celebrate BT Diversity Week.
The42 is on Instagram! Tap the button below on your phone to follow us!