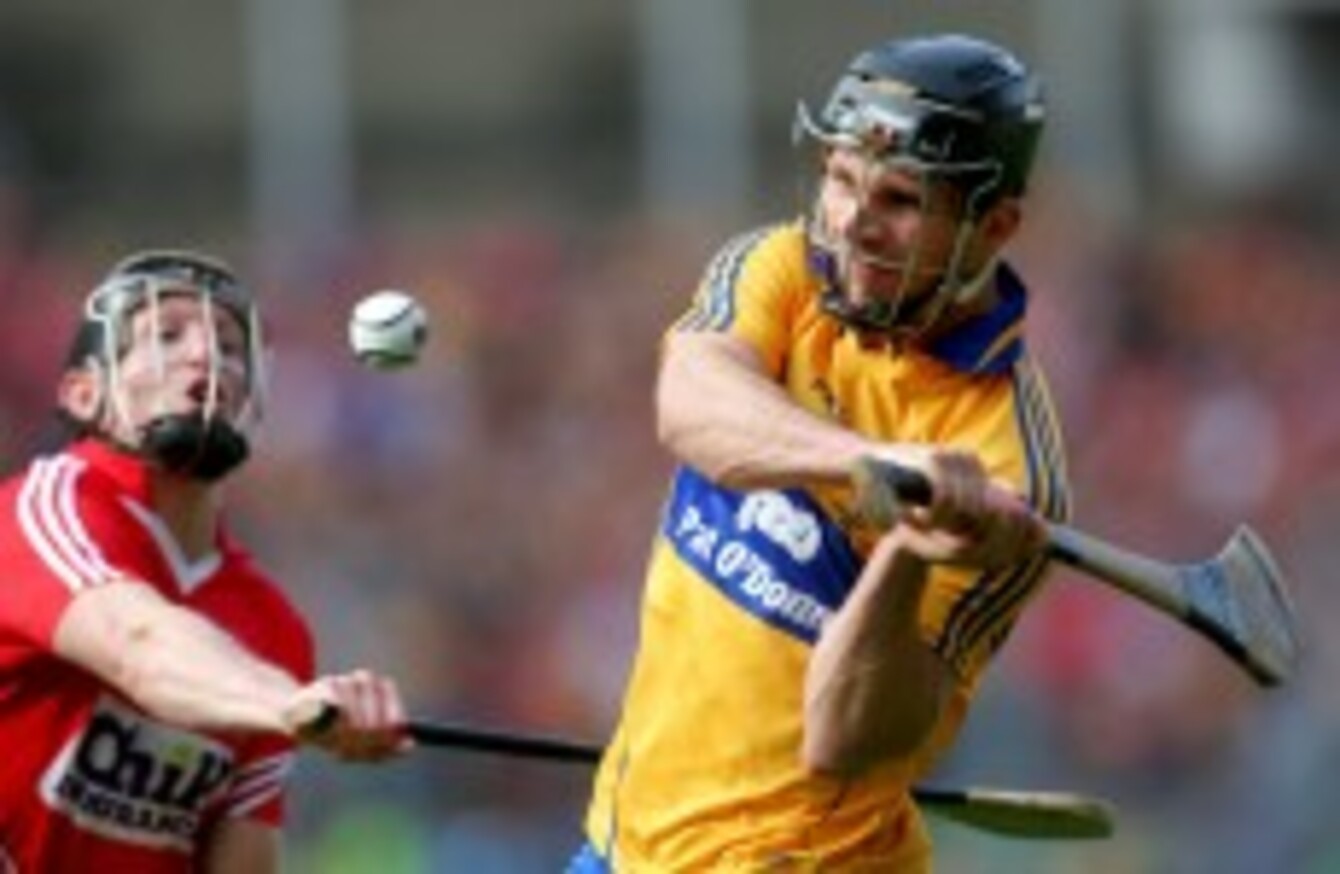 Clare's Domhnall O'Donovan hits the equalizing point.
Image: INPHO/Ryan Byrne
Clare's Domhnall O'Donovan hits the equalizing point.
Image: INPHO/Ryan Byrne
HE IS THE 25 year-old corner-back on the Clare senior hurling team and the most unlikely of scoring heroes in an All-Ireland final.
But it was Domhnall O'Donovan who commanded the headlines after yesterday's dramatic clash in Croke Park.
As Clare faced the prospect of a devastating defeat when they trailed Cork by 3-16 to 0-24, it was O'Donovan who strode forward in the 72nd minute to loft over the leveling point near the Cusack Stand.
His score was critical and ensures the teams will be back in Croke Park on September 28th to battle it out again for All-Ireland honours.
O'Donovan is not renowned for his scoring endeavors. Earlier this summer he joked on Twitter about how he was the only one of Clare's 14 outfield players not to score against Laois in their qualifier tie in Ennis.
Brendan Bugler celebrates with O'Donovan after his point.
Pic: INPHO/Cathal Noonan
Yesterday he ended that scoring drought in style. Notching important points for is a family trait. In 2009, when Domhnall was part of the Clare team that claimed a historic All Ireland U21 hurling title, it was his twin brother Cormac who shot the winning point against Kilkenny.
And that was a superb effort from underneath the Hogan Stand in the 60th minute of that game into the same Davin End.
"He would be a much prolific shooter than I would be traditionally," Domhnall laughed afterwards.
"First ever championship point. I got a bit of slagging after the Laois game, even from the sponsor Pat O'Donnell."
So how did the right corner-back end up at the end of Clare's last move in desperation?
"When Pat Kelly had the ball from the puck out, I said, 'I'm not looking for the ball but I'll make myself available because my job as a defender is over'.
"I mean, if Cork score again it doesn't make a difference. Somehow it went to Pat O'Connor and Nicky O'Connell, and then Nicky popped it out to me.
"It was a bit of hit and hope. I hit it falling over. I had a bit of a look so I wouldn't be closing my eyes and shooting.
"Growing up my left side was always my best side even though I'm a right handed hurler. I weighed up the options and thought I'd give it a go anyway even though I wouldn't be the best shooter."
Reaction
And the feeling when the ball sailed between the posts?
"The lads said it went so high in the sky that they didn't know where it was going. I didn't see the ball too much as it went over. I just heard the crowd so thankfully I kind of new then that it was saved.
"It was just crazy. I didn't focus on it too much, I just sprinted back, the what if scenario, maybe there might be a few seconds left for Cork to score so I had to get back."