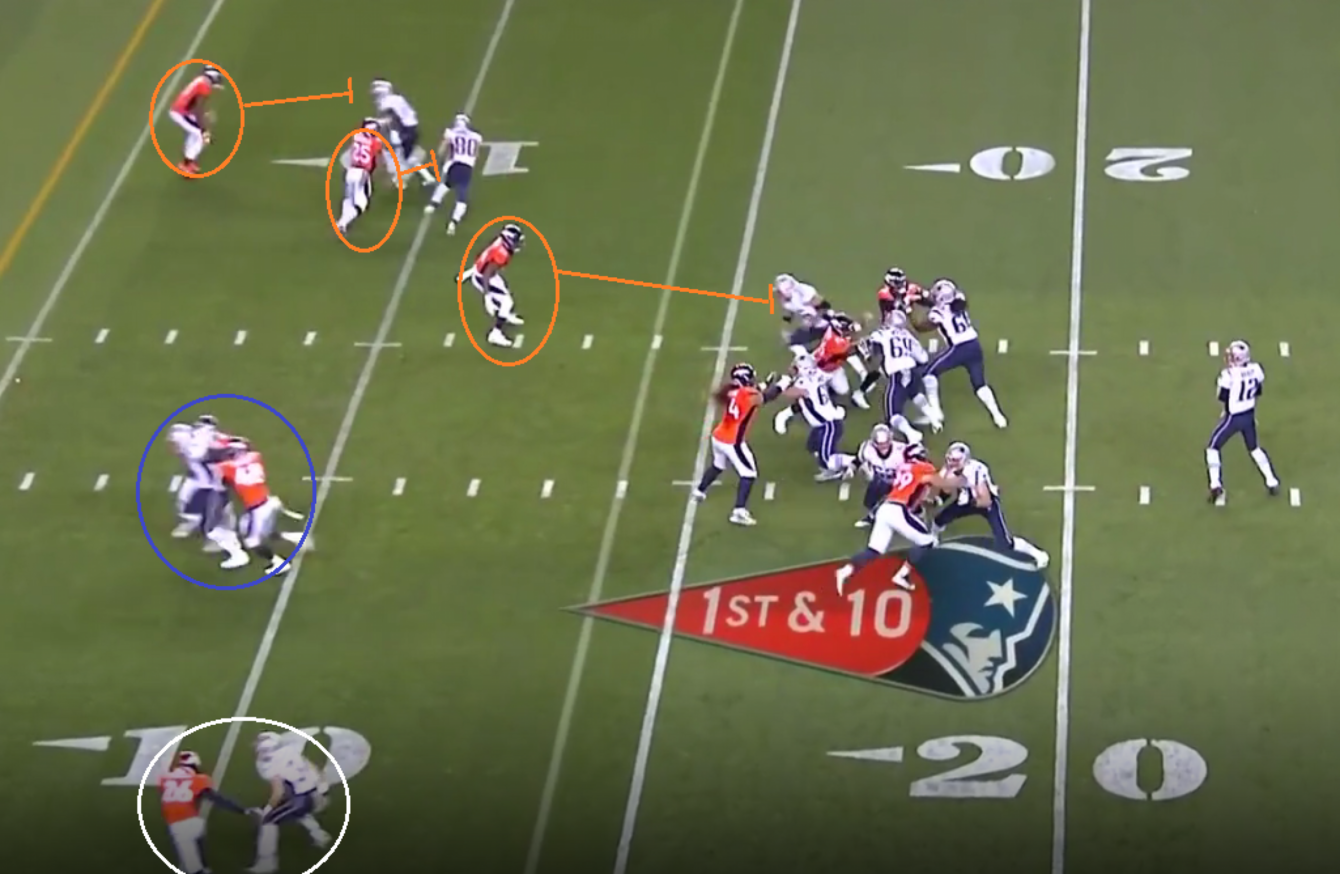 Denver's predictably in man coverage helped the Patriots score their first touchdown on Sunday.
Denver's predictably in man coverage helped the Patriots score their first touchdown on Sunday.
EVERY WEEK FOR the remainder of the season, we'll break down a big play from the weekend's NFL action. If there's anything you'd like to see included, email steve@the42.ie.
After giving up 92 points in two weeks, it's fair to say the Denver defence is not what it used to be. Indeed, it's not even close.
That tends to happen when you replace a defensive coordinator with 41 years NFL coaching experience, Wade Phillips, with a 46-year-old, Joe Woods, taking his first coordinator job.
However, credit on the first touchdown from the Patriots on Sunday Night Football must go to New England offensive coordinator, Josh McDaniels, who not only used his bye week to study the Denver defence, but also their tendencies in certain situations.
Here's what Rex Burkhead's score looked like on TV before we break it down:
TOUCHDOWN #PATRIOTS! Brady throws it to Rex Burkhead for 6! #NEvsDEN pic.twitter.com/KjscCq7mxI

— Casey Baker (@CaseyBake16) November 13, 2017
1. Reading the coverage
Because the NFL appear not to want this kind of film study, the all-22 camera angle has still not been made available for this game but, even from the sideline camera, you can tell that the Broncos are in man coverage — or, technically Cover 1, with just a single high safety, Justin Simmons (31) circled in blue.
As you can see, Rob Gronkowski is being covered by two Denver players, which is exactly what McDaniels wants.
2. Letting the play develop
Two seconds after the ball has snapped and the Denver defence is doing exactly what the Patriots are expecting.  Gronkowski is in double coverage with both defenders, Shaq Barrett (48) and Todd Davis (51), in blue following him up the field on the seam route.
With the other Patriots receivers, Brandin Cooks (14) and Danny Amendola (80) staying outside the numbers on right hand side, it clears the middle of the field of defenders for Burkhead (34) in the white circle to break in and away from his defender Darian Stewart (26).
3. A clean pocket
Three seconds after the snap, and Tom Brady still has a spotlessly clean pocket, so much so he hasn't had to take his eyes off Gronk on the play.
This gives Burkhead time to separate from his defender and, at the very least, the Patriots will get a first down out of this play given the space in the middle of the field.
4. Denver's defensive tendencies
Where tendencies come into play is that McDaniels know that, when the Broncos are in man coverage, they are perfectly happy to double team Gronkowski, but they don't want to triple team him.
Once the tight end gets as far as the Denver safety, Davis peels off to find another player. However, by that stage — as you can see — it's too late and Burkhead has acres of space to build up steam and plough over for the touchdown.
5. Not leaning your lesson
Later in the first quarter, the Patriots ran a very similar play, which saw Burkhead take the double team, and freeing up Martellus Bennett for a 33-yard gain:
Qué mejor forma que introducir de nuevo a Bennett corriendo el Y-Throwback. Ya lo corría mucho el año pasado. No lo habrán entrenado ni 5 minutos. pic.twitter.com/ry4JJESZKf

— NE Patriots España (@catanovski) November 13, 2017
Subscribe to The42 podcasts here: