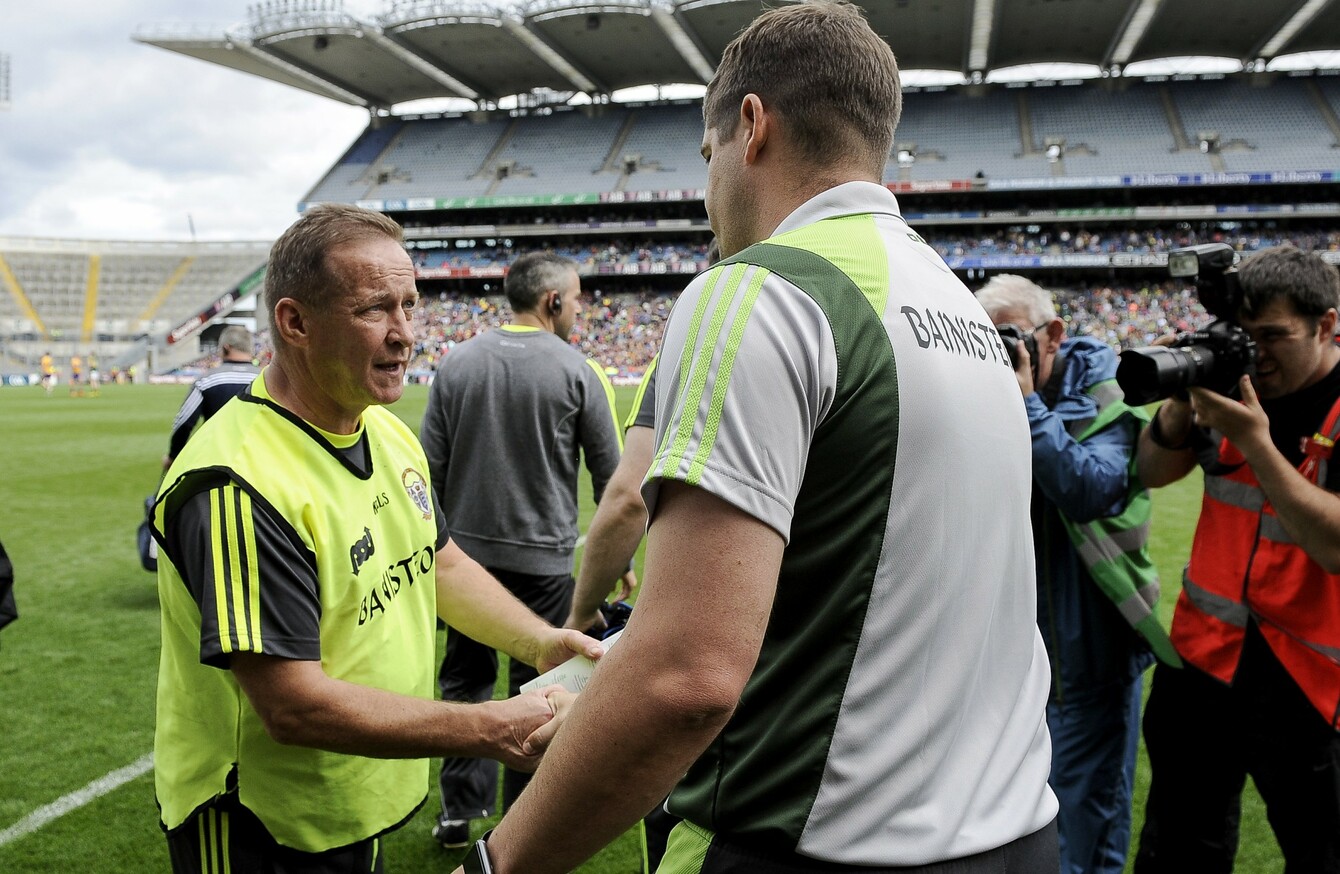 Clare boss Colm Collins and Kerry manager Eamonn Fitzmaurice shake hands after the game.
Image: Tommy Grealy/INPHO
Clare boss Colm Collins and Kerry manager Eamonn Fitzmaurice shake hands after the game.
Image: Tommy Grealy/INPHO
CLARE BOSS COLM Collins has reiterated his view that it is time to abolish the GAA provincial championships.
The Cratloe club man had no qualms in admitting they were defeated by a better side in yesterday's All-Ireland quarter-final against Kerry but still wants an entire overhaul of the football championship structure.
"My own views on the system, I think the provincials are dinosaurs and they need to be abolished.
"I think that there's a bigger issue here, attendances are down, people are not going to matches and the whole product needs to be upgraded and create a big of excitement.
"I was talking to somebody during the week and I said the night of the draws for the All-Ireland it was like a complete anti-climax. It was like watching paint dry – the same old scenarios.
GPA Version
"I would favour the GPA (version) or a different version of the GPA one where you have eight groups of four.
"Everybody plays three matches, the top two play for an 'A' All-Ireland and the bottom two play for a 'B' All-Ireland.
"Everybody stands on their own two feet on the basis of their results in that particular year, and you are not banged in there because you are in Division 4. Everyone says it is finance but I think the pot can be divided equally.
"The provincial councils are a very effective way of managing our money in the GAA, so that all you have to do is divide the pots between the counties and continue on. But it's my own view.
"I think it's a quite apparent that people aren't going to matches and we have to ask ourselves why because I think we've a brilliant product in both codes and we've got to address why these grounds aren't full.
"Was it the second hurling league final against Waterford, there were only 15,000 there and why weren't there more there given the contest that was there the first day?"
After a terrific few weeks for Clare football, their standards slumped yesterday which their manager freely admitted.
"You have to say that we didn't play well today, we played very poorly. We turned over ball, we didn't convert chances and were sloppy in a lot of ways.
No Hiding
"Some players looked a little dead on their feet, for whatever reason. There is no hiding from it, the better team won and fair play to them, you are only as good as you are allowed play."
Reaching a quarter-final is a milestone for Clare football but there was evidence of the road they still have to travel.
"I think it magnifies the work we need to do and the level that you need to play at. In club football in Clare you can get away with a lot of things which you will not get away with out there.
"The level of football that's played; the tackling, the strategies, all those things are education and unfortunately you have to pay for education and we paid for it out there today."
The42 is on Snapchat! Tap the button below on your phone to add!