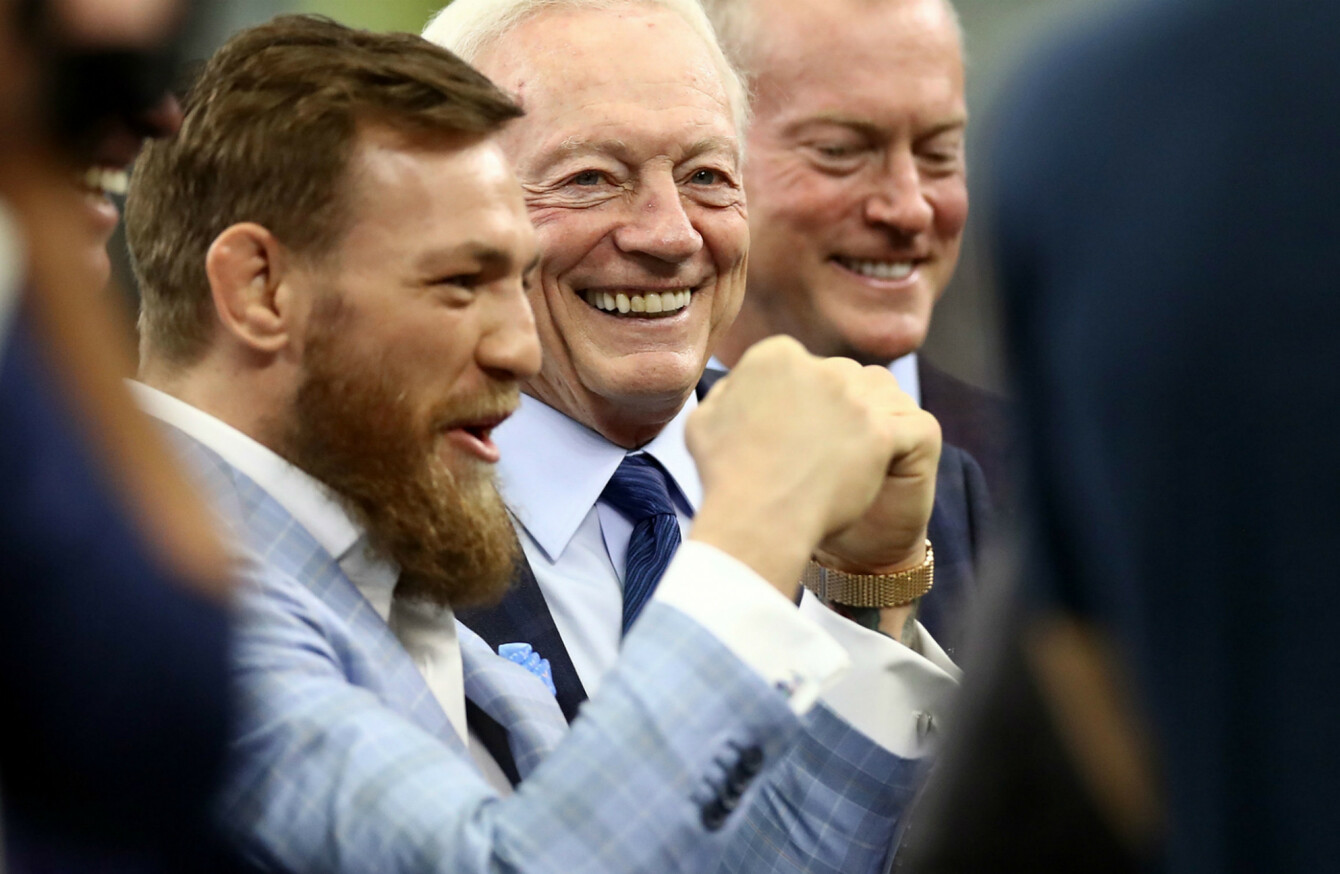 The Dubliner with team owner Jerry Jones.
The Dubliner with team owner Jerry Jones.
CONOR MCGREGOR SHOWED off his arm before the Dallas Cowboys' 40-7 win over the Jacksonville Jaguars on Sunday.
A guest of Cowboys owner Jerry Jones, McGregor – who lost to Khabib Nurmagomedov at UFC 229 in Las Vegas – threw a pass during the warm-up.
McGregor's throw was mercilessly mocked on social media but the Irishman's attendance at AT&T Stadium was appreciated by the players, including Cowboys quarterback Dak Prescott.
Prescott imitated McGregor's signature strut after his 17-yard touchdown in the first quarter.
"We watched the fight a couple of weeks ago, so a bunch of us are fans," Prescott said.
"To see the guy supporting us or here marketing for himself or whatever it was, we used it to our advantage. It was good to see that and all the guys have fun."
The Cowboys – who reached .500 with the win – used the arm of quarterback Prescott and eight different receivers to spread out the struggling Jaguars' defense.
Dallas shut out Jacksonville in the first half and followed with scores on four of their last five possessions to pull away. Prescott finished with one of his best performances of the season, completing 63 per cent of his passes for 183 yards and two touchdowns. 
Meanwhile, the Baltimore Ravens earned their first shut-out victory of the season, seeing off the Titans 21-0. Baltimore slowly and steadily built up their lead, scoring a touchdown in each quarter while holding Tennessee to just 106 total yards.
Tennessee could not get anything going, recording just seven first downs, and the Ravens took advantage. They tested a tired defense and had a 361-yard day.
Elsewhere, the Los Angeles Rams held off a Denver Broncos comeback and left the 'Mile High' city with a 23-20 victory to remain undefeated.
The Pittsburgh Steelers also came away with a win thanks to a late touchdown reception from wide receiver Antonio Brown against the Cincinnati Bengals.
An overtime blunder took place in Miami, and it was the home team that pulled out the victory. After fumbling on the goal line, the Dolphins survived a missed Chicago Bears field goal and followed with a game-winning 47-yard make of their own.
Meanwhile, Tom Brady became the first quarterback to 200 regular-season wins after the New England Patriots overcame the Kansas City Chiefs 43-40 in a thriller.
Week 6 NFL scores
Thursday's game
Philadelphia Eagles 34, New York Giants 13
Sunday's games
Atlanta Falcons 34, Tampa Bay Buccaneers 29
Pittsburgh Steelers 28, Cincinnati Bengals 21
Los Angeles Chargers 38, Cleveland Browns 14
Seattle Seahawks 27, Oakland Raiders 3
Miami Dolphins 31, Chicago Bears 28 OT
Minnesota Vikings 27, Arizona Cardinals 17
New York Jets 42, Indianapolis Colts 34
Washington Redskins 23, Carolina Panthers 17
Houston Texans 20, Buffalo Bills 13
Los Angeles Rams 23, Denver Broncos 20
Dallas Cowboys 40, Jacksonville Jaguars 7
Baltimore Ravens 21, Tennessee Titans 0
New England Patriots 43, Kansas City Chiefs 40