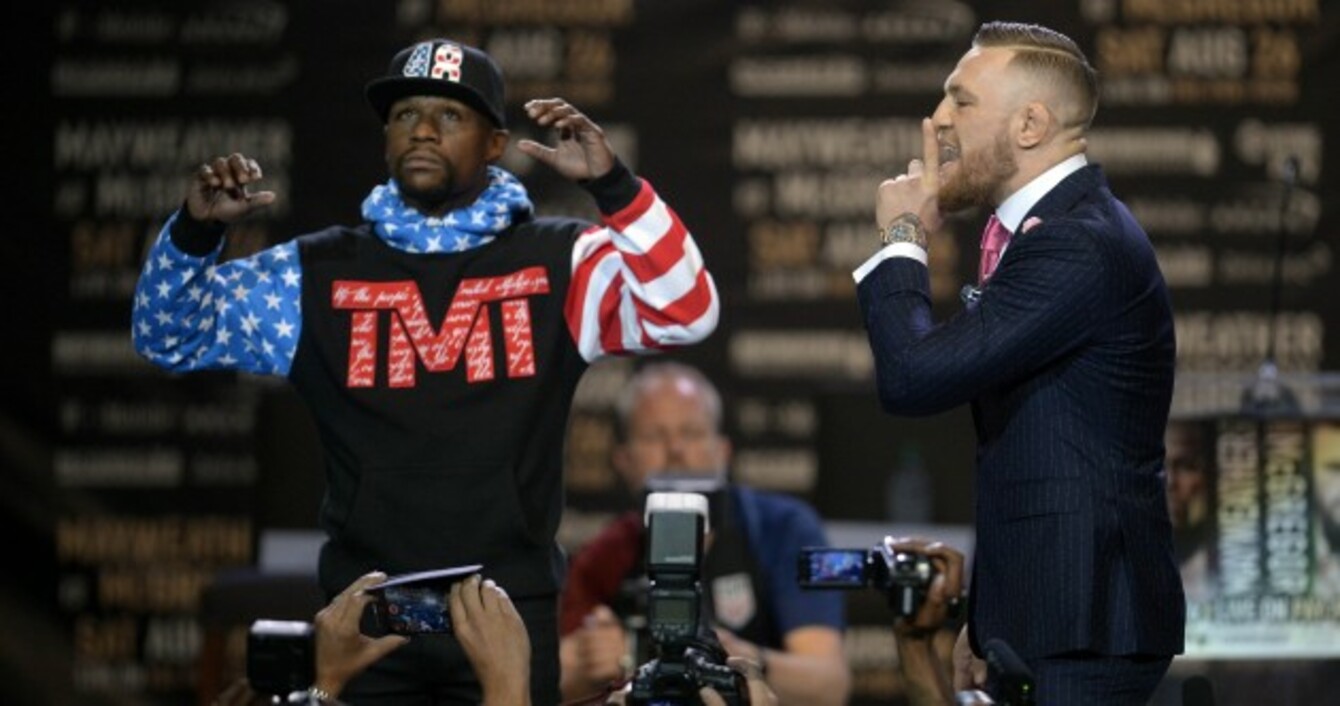 Image: SIPA USA/PA Images
Image: SIPA USA/PA Images
HOW DID YOU score that one?
Conor McGregor and Floyd Mayweather began their three-country, bi-continental promotional tour tonight in Los Angeles.
And though the underdog Dubliner is expected to win this week's verbal sparring, he may well have lost the first round on points.
McGregor emerged in front of 11,000 fight fans in downtown LA and was made to wait for the Vegas native. Given the way this fight has been arranged, it was apt.
When Mayweather did arrive to the stage in front of a seemingly pro-McGregor crowd, he sat inscrutably in a Rocky-era tracksuit, while the Irish UFC champion postured typically for the fans in a bespoke suit which he explained had pinstripes made up of the words 'Fuck you'.
After some redundant and ill-received remarks from the 'men that made this happen', the TV executives and promoters ultimately conceded the platform to a visibly pumped-up Dana White.
The red-faced UFC front-man loudly urged the LA audience to welcome his star employee.
And McGregor unpacked a few zingers he'd checked in at Terminal 2.
"He's in a fucking tracksuit," he laughed, pointing at Mayweather, who's attracted the unwelcome interest of the IRS. "He can't even afford a suit anymore."
And then for Mystic Mac's prediction: "He is fucked."
"There's no other way about it. I'm going to knock him out inside four rounds, mark my words.
"He will be unconscious inside four rounds. If this was a true fight it wouldn't even take one round," he added.
Before the SBG star wrapped up his speech in what was organised more like a drunk best man's wedding speech than a press conference, he acknowledged someone who'll witness his first McGregor fight on 26 August.
"Shout-out to my little son Conor Jr watching at home, I'm a daddy now," he said." I just look at him and he pushes me on to keep going and do these record breaking events."
The taxman has reminded Mayweather that Uncle Sam is still waiting on its cut of the Manny Pacquiao fight purse. But if it's bothering him, he didn't let it show.
Pacing the stage in front of a grinning Floyd Sr, the veteran boxer reminded his MMA counterpart who was 'the A side' on the bill. Repeatedly.
He then called on a young colleague to bring a backpack to the stage from which he revealed a cheque made out for — apparently — $100million. He held it up to the crowd like a kid who's pulled a shiny Brazil crest from a packet of Paninis.
"Tell that to the taxman" said an unimpressed McGregor.
When the temperature rose and the fighters grew increasingly more touchy, Mayweather asked the crowd "Y'all want me to give it to him, right now?
"Nah we gonna save that for the payday," he said. They do call him Money.
Tonight was Hollywood, tomorrow the sequel is Toronto and more trash talk.