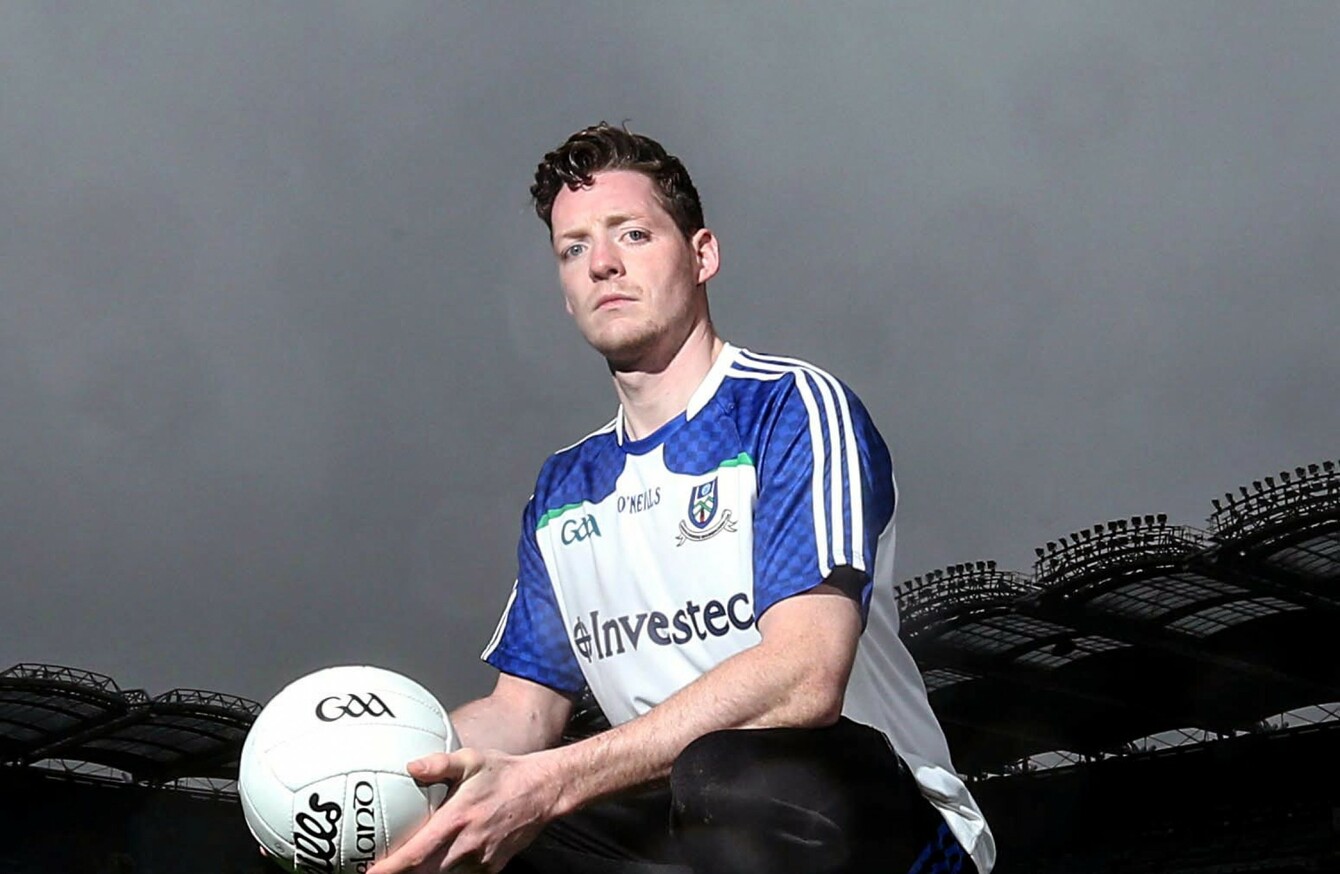 Image: Donall Farmer/INPHO
Image: Donall Farmer/INPHO
THESE DAYS CONOR McManus knows exactly what is required to ensure his body can endure another season of inter-county football.
In the last five years the Clontibret man rose to prominence as one of the most prolific scorers in the country, but he hasn't been without his fair share of injuries either.
McManus admits he may be facing the prospect of "hip replacement surgery down the line," as a result of poor training methods during his late teens and a hip problem that went unnoticed during his younger days.
"They reckon playing football at a higher level triggers it more so than if you weren't," he explains.
Surgery on his troublesome right hip at the end of 2011 kept the sharpshooter sidelined for six months. Doctors suggested a similar procedure on his left hip after he injured it during Monaghan's defeat to Tyrone in the 2013 All-Ireland quarter-final.
But McManus wanted to avoid going under the knife again and opted for a different approach, going down the time-consuming route of rehab and prehab to avoid another significant spell on the sidelines.
An extended 2014 season, where the two-time All-Star played into the winter with Clontibret and Ireland's International Rules side, meant McManus couldn't devote as much time as was needed to prevent injury.
Sure enough, in early 2015, his hip problem flared up again, forcing him to sit out the Dr Kenna Cup and Monaghan's first league game of the year.
Over five years on from that initial surgery, McManus takes a far more cautious approach to his body.
"I have to take a bit of time at the end of every year to tidy things up with the hip and that," he says.
"Over a period of time you have to manage it. It's basically a thing that will get worse over time and you just have to take a bit of time to keep it right and make sure it's bullet proof going into the league and championship.
"That's the plan, to get it into as good a condition as it can be so that as you go through the season that it won't break down."
The early part of the year involves submerging himself into the programme at least four or five times a week, before he returns to the field.
"I had surgery back in 2011 so it's just rehab and keeping on top of it. I probably could be training during that time but if I did it's likely to raise its head during the year and there is no point in that. I do my own bits and pieces away from the lads to make sure it's right for when you need it to be right.
"I'm certainly making progress and hopefully I'll get back on the pitch in the next week or so. Ideally, I'd (like) to get some of the McKenna Cup in.
"I'm going to go back onto the field this week and see how it reacts, but it's going in the right direction so if I could it would be great to get a bit of game time under my belt before we play the first game against Mayo."
Be part
of the team
Access exclusive podcasts, interviews and analysis with a monthly or annual membership.
Become a Member
It's fitting then that McManus is speaking with the media at the GAA-GPA announcement of an ERSI research project, which will look into the "challenge of lifestyle balance in the lives of senior inter-county players."
The inside forward, who turns 30 this year, understands as much as anybody the physical and mental demands of playing GAA at the elite level.
Still, he's not one to complain.
"​There's nobody throughout the country being forced to do it, it's your own choice. As far as I'm concerned you don't do it unless you're enjoying it so it's not a burden, it's an honour for any player to pull on his county jersey as far as I'm concerned.
"It's only natural that if you're doing something regularly and more often that you'll get better at working out your time and managing your time, balancing things. So you do.
"It's like anything else, it's easier when you're younger. In the first three or four years of my career I was in college and you can lie on in the mornings and maybe miss a few lectures and things like that. Whereas when you're working you have to get up and dedicate your time.
"There's no doubt when you're younger it's easier but you get used to it and you learn to manage it as you go."
The new Club Players Association are hoping to ease the burden on players like McManus by condensing the GAA season. The man heading up the new body, Declan Brennan is a familiar face.
"He's a club mate of mine, he only lives down the road. He would have managed Clontibret back in 2009 and 2010 when we won club championships.
"I think everybody is aware that there are issues with the fixtures and this is why this is being carried out today, to look after player welfare and to try and get a common ground.
"I'm assuming everybody is in the one boat in terms of getting a solution to it all. The CPA can only help that along.
"Everybody is in agreement about what needs to be done in the calendar. Talk to anybody in the GAA circles they are all in the same boat. It's just about condensing it a wee bit and allowing more time at the end of the year for the clubs and club football.
"I don't think any major fuss needs to be made of it. I think it's a fairly simple solution, just tighten up the county schedule and away you go."
The42 is on Instagram! Tap the button below on your phone to follow us!